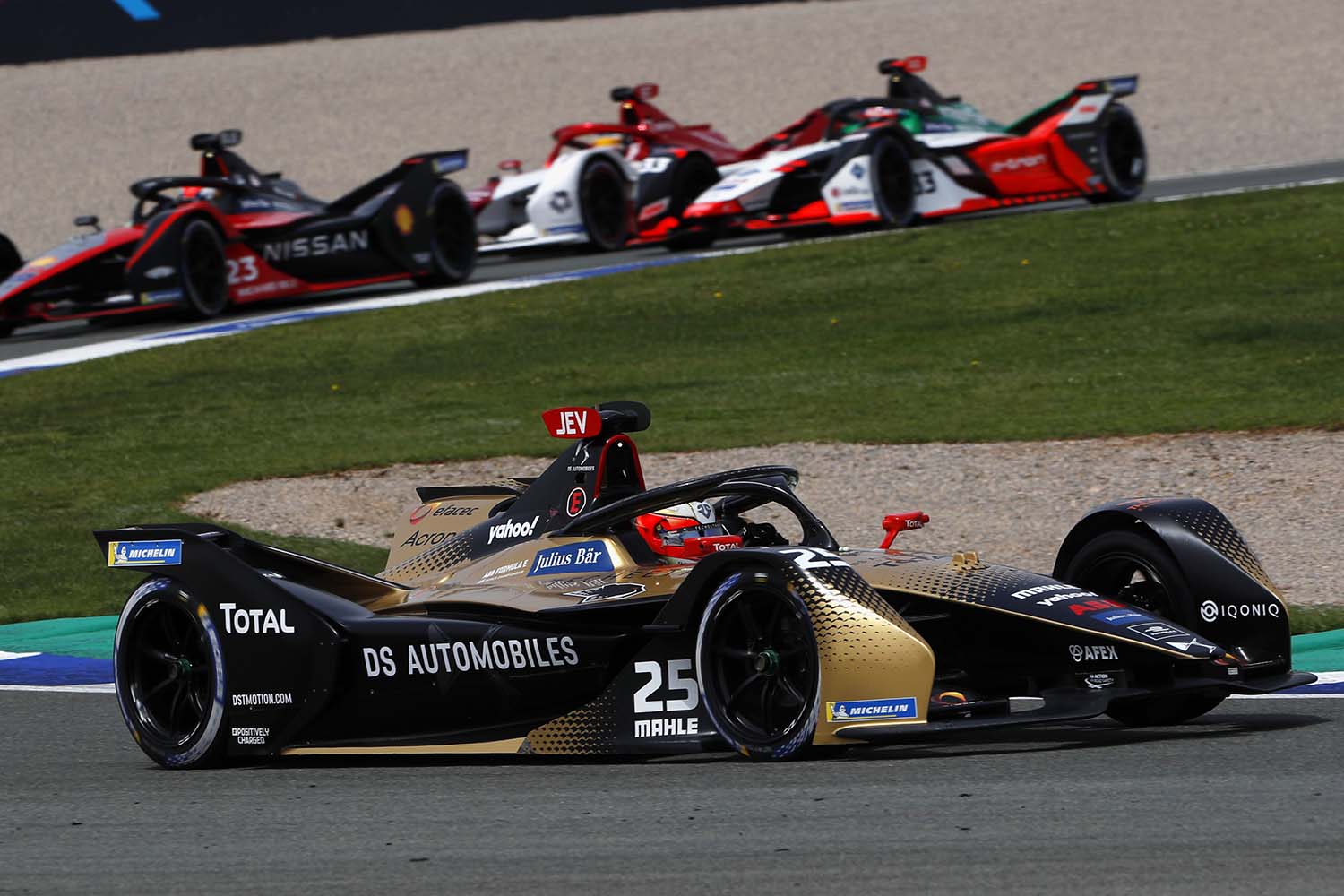 DS TECHEETAH scored points in the second E-Prix of the Valencia double-header, as Jean-Éric Vergne crossed the line in 7th position. Still, the journey to Spain leaves a sour taste after the chaotic end of the race yesterday, which deprived António Félix Da Costa of a certain win. Today the Portuguese driver was barred from securing a double point finish for the DS E-TENSE FE21 due to an issue with his ATTACK MODE.
It was a completely different day at the circuit Ricardo Tormo, with dry weather and no major incidents during the intense and closely fought race. Jean-Éric Vergne started from P7 and stayed with the front-runners for the entire race. Da Costa, who qualified 12th, quickly climbed up to the top 10, but a contact whilst in 8th and a drive-through penalty for improper use of his second attack mode put him out of contention for the points.
The ABB FIA Formula E World Championship will now head to Monaco for the 7th round. The only single E-Prix of the season is scheduled on 8 May in the Principality and will for the first time, see Formula E race a longer version of the iconic street course than it has in previous years.
Jean-Éric Vergne, P7:
"You know, you win some and you lose some. It has not been an easy weekend but at least we scored in both races, and as we know those could be the points we need at the end of the season to make a real difference, but it is going to be paramount to try and win the next race. So now it is full focus on trying to find every little piece of performance that we can get and come to Monaco with a full toolbox."
António Félix da Costa, P22:
"We have had super pace the whole weekend, pole position yesterday and I led the whole way. I also had a strong race today, coming from the mid-field to the front saving a lot of energy but then we had an issue with my ATTACK MODE and I got a drive-through penalty for that. Things aren't coming together naturally at the moment, but that is the position that we find ourselves in and this is where we put our heads down to turn that around and come back strong for Monaco. That is what I have told my guys, we are winners and working hard is what we do, so that is the plan."
Mark Preston, DS TECHEETAH Team Principal:
"Valencia didn't turn out to be the race weekend we were looking for but that is racing. JEV did a great quali today topping his group and the one after him. The final group all qualified ahead which proves that the track evolution came to play. Both drivers did really well to climb up the pack and at a couple of times, JEV was up in P4 so we definitely have the pace which was good to see. Antonio unintentionally triggered his ATTACK MODE too many times and therefore got penalized as he couldn't then take his second one. This triggered a drive-through penalty which then put him towards the back. If the race would have turned out like yesterday, he could have won with the extra 5% energy he had obtained, but that was not the case today so now we turn our focus towards Monaco. The last time we were there we had a great race with JEV winning and we are all looking forward to racing through the tunnel for the first time."
Thomas Chevaucher, DS Performance Director:
"We confirmed the performance level of our DS E-TENSE FE21 in qualifying, but the result of the second race is clearly disappointing for the team. Our drivers had the pace to climb up through the field, but it proved to be a tricky track with regards to energy management. It was also a very demanding track for tires, which is a problem that Jean-Éric encountered. António has accidentally switched on the ATTACK MODE when he was in mid-fight and got penalized for it as the number of activations for that mode is limited. Still, we scored some valuable points and remain in the fight to defend our titles."