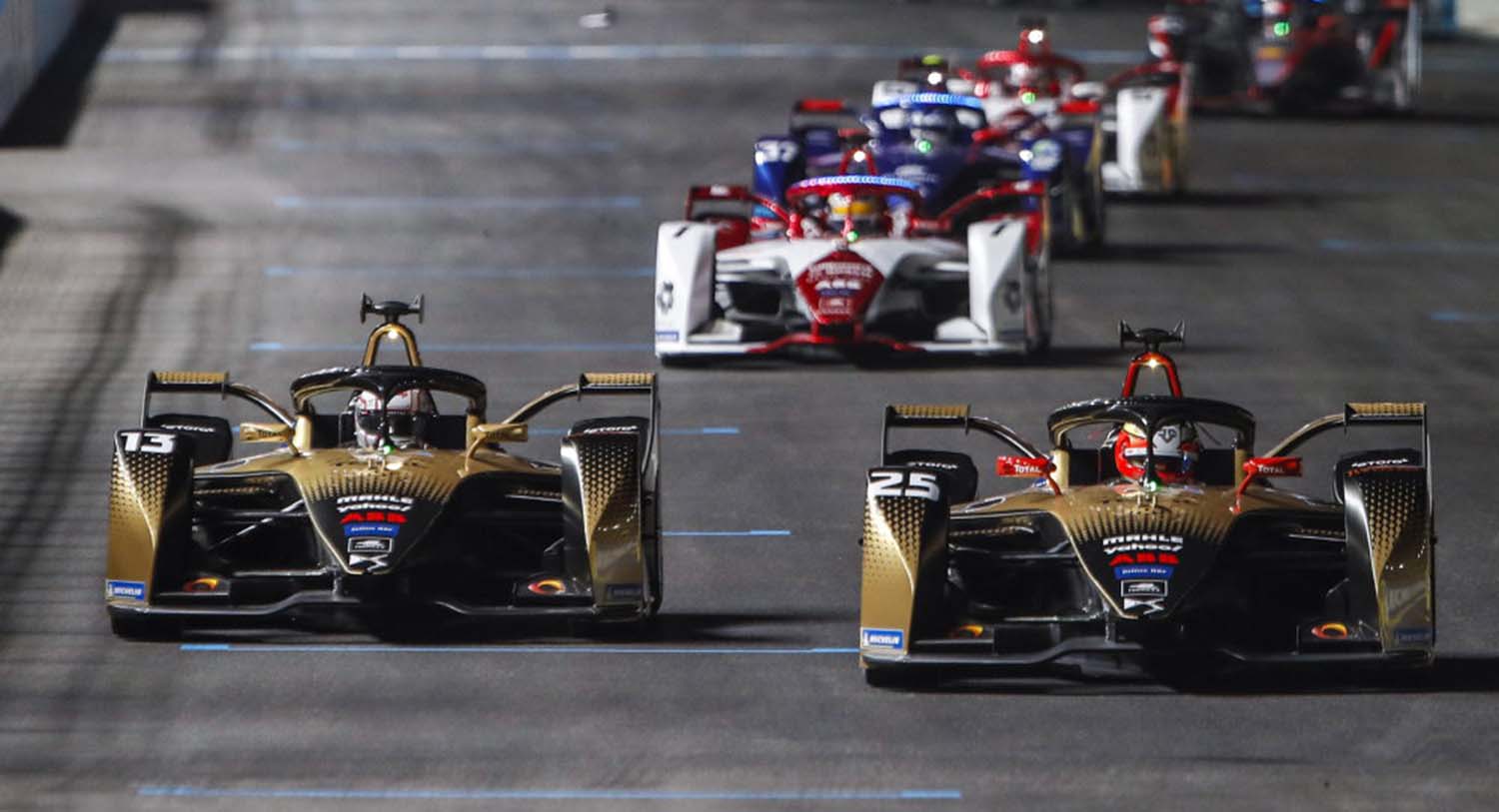 DS TECHEETAH and António Félix Da Costa claimed its first podium of the season during the second night race in Diriyah, Saudi Arabia, tonight.
As expected, the second E-Prix of the ABB FIA Formula E World Championship season-opening event at Diriyah yielded a completely different outcome from yesterday. On a track that proved one second faster, the DS E-TENSE FE 20 showed great competitiveness, qualifying 7th with Jean-Eric Vergne and 9th with Da Costa.
The second night race in Formula E history was intensely fought throughout, with both DS TECHEETAH drivers gaining one position in the opening laps. Excellent use of the first 'attack mode' allowed Vergne to take provisional third, right ahead of Da Costa, with both cars very close to the leading duo. A safety-car period occurred shortly after and, at the re-start, the two teammates put the show with a lively duel, exchanging positions twice.
The results were frozen following a double crash a few minutes from the finish, which prompted a second intervention of the safety-car and eventually led the race to be red-flagged. Vergne crossed the line in third ahead of Da Costa, but a post-race penalty for not having used his second 'attack mode' demoted the Frenchman to P12 and promoted Da Costa to third.
The third E-Prix of the season will see the ABB FIA Formula E World Championship move to Europe and the streets of Rome on 10 April.
Mark Preston, DS TECHEETAH Team Principal:
"What a race it turned out to be. The boys are keeping us on our toes at times, but that is what you get when you have two champions fighting for another title. Once the dust has settled, they will be back being friends and we continue to focus on the next race. This was the last race for the DS E-TENSE FE20 and given how well it has served us during Season Six and now, it was a worthy retirement with some good racing today."
Xavier Mestelan Pinon, DS Performance Director:
"Our drivers put the show, for the good and not only that…! What I really take away from this E-Prix is that we are back at the forefront and that we have what it takes to defend our titles. The team reacted perfectly after yesterday's race and this is very encouraging for the future. To be able to come back stronger is crucial! We need to keep this momentum in Rome where our new car will be a key asset."
Antonio Felix da Costa, Reigning Formula E Champion and DS TECHEETAH Driver:
"It was a good performance and a good result today, we showed that we have the pace again and I am super pleased with that. It truly was a fun race, with amazing overtakes and a great recovery. This was our last time with the old car, for the next race we will have the new one, which is now ready, and I can't wait to drive it!"
Jean-Eric Vergne, Double Formula E Champion and DS TECHEETAH Driver:
"Everything looked like it had come together today, but in the end I'm afraid to say that it didn't.
When there is a big crash like the one Alex had today the only thing that matters is that he is OK. Unfortunately, it meant that I couldn't take my second attack mode, which is compulsory, which in effect gave me a post-race penalty and cost me my third position. It would have been a really nice start to the season to have that place, but we have seen that you don't have to win the first race to win the season. It was nice to retire the DS E-TENSE FE20 with some eventful racing today so I will be taking that with me when I re-load for Rome."