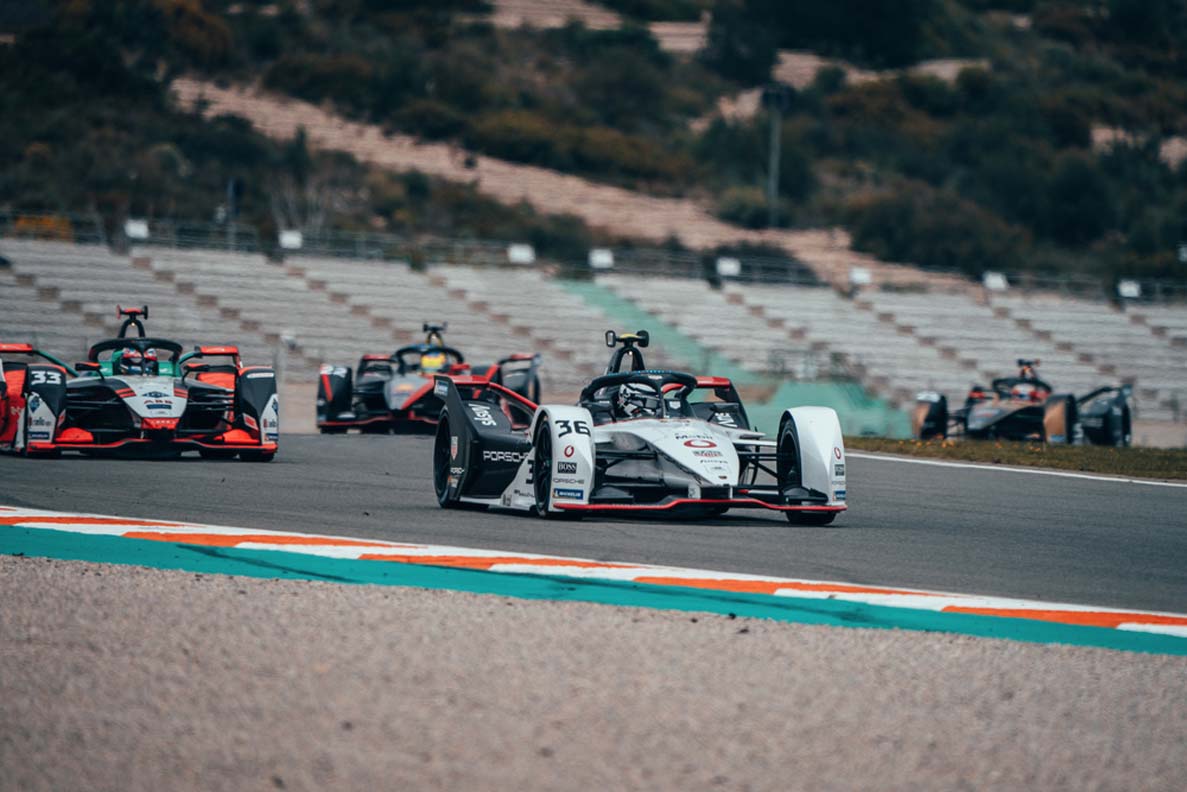 The TAG Heuer Porsche Formula E Team bounced back from a challenging Round 5 of the ABB FIA Formula E World Championship in Valencia (Spain) on Saturday to record its best result this season with second place in Round 6 yesterday for the No. 36 Porsche 99X Electric driven by André Lotterer.
The result gave Lotterer his first championship points and Porsche its second podium of the season after teammate Pascal Wehrlein's third place in Round 4 in Rome (Italy). The TAG Heuer Porsche Formula E Team now lies sixth in the team classification in only its second year competing in the world's first electric racing series.
Amiel Lindesay, Head of Formula E Operations for the TAG Heuer Porsche Formula E Team, said Lotterer drove a clever, efficient race to maximise his position: "That's a fantastic result for the team and of course for André. He's experienced a tough season so far but today he drove cleverly and efficiently and I'm confident that we'll continue to tackle the upcoming races at this level."
Round 5
In a rain-soaked race interrupted by an unprecedented five Safety Car re-starts, Pascal Wehrlein ended his race in the pits with a technical issue, concluding his points-scoring streak that to this stage, left him as the only driver to have scored points in every race so far this season. Starting from fifth position, Wehrlein drove a solid race but, for safety reasons, had to pit before the flag due to a technical problem.
Pascal Wehrlein, Porsche works driver (#99): "The day started well. We were pleased with qualifying and were strong at the start. I managed to gain a couple of positions so towards the end I was running in sixth but unfortunately had to pit."
Teammate Lotterer also retired from the race after a promising start that saw him narrowly miss Super Pole by two-hundredths of a second after penalties reshuffled two competitors in front of him. Having caused a collision in the first lap, Lotterer was handed a drive-through penalty, relegating him to the rear of the field. While he managed to make up positions in the final phase, a collision with a competitor resulted in him going off the track.
André Lotterer, Porsche works driver (#36): "Fifth on the grid was good but unfortunately, I couldn't avoid the collision with Sébastien (Buemi) on the first lap. I re-joined the race before retiring with brake troubles."
Amiel Lindesay said contact shortly after the start and a technical problem with the brakes cost the team important points. "We did well in terms of pace and energy. With about five minutes left on the clock, both cars experienced technical problems with the brakes, so it was a difficult race for us."
Round 6
Contrasting Round 5, the sun greeted drivers for Round 6 and Lotterer set the second fastest time in Super Pole qualifying but was relegated back to P5 for causing the collision in Saturday's race. Wehrlein topped his qualifying session early but started from 12th as subsequent times were set on a fast-drying track, bumping him down the order. He endured an uneventful race to finish 18th with technical difficulties.
Amiel Lindesay: "After another strong qualifying performance, Pascal experienced problems with the balance of his car. We'll analyse this so that he can be back on top in Monaco."
Pascal Wehrlein: "That was a difficult race. We don't know the exact reasons, so we still have to look at the data. In any case, I couldn't really attack over the whole distance so I'm looking forward to being back in the fight in Monaco."
Lotterer opted against taking risks at the start, sacrificing two places before steadily progressing through the field with a mature drive to settle into third which he held to the flag. The second-placed competitor was handed a five-second time penalty which elevated him to second.
André Lotterer: "I'm thrilled with my podium. My first points at last. As a team, we deserved this result and we underlined that we can deliver a top performance. We've always been fast over one lap but this time we proved that we're also efficient in energy management in the race as well."
Round 7 of the ABB FIA Formula E World Championship will be held around the historic streets of Monte Carlo for the Monaco E-Prix on May 8.