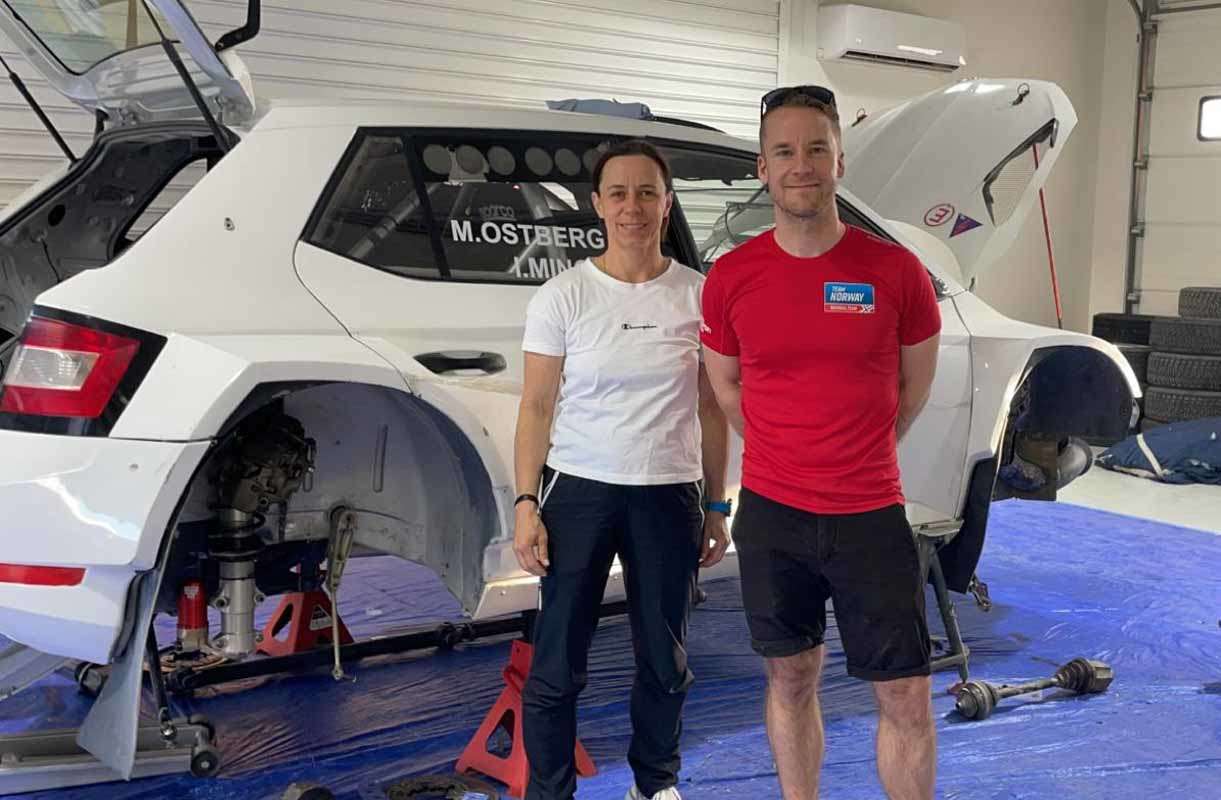 Eight RC2/Rally2 cars will compete for glory in this weekend's Qatar International Rally – a record number for a round of the FIA Middle East Rally Championship – and Nasser Saleh Al-Attiyah faces his fiercest ever test if he is to secure a 16th career success on his home rally.
Cars will be flagged off from the ceremonial start at the Losail Circuit from 19.30hrs on Thursday evening, as the international focus is drawn to what is likely to be a pulsating three-way battle between Al-Attiyah and his visiting WRC rivals, Kris Meeke and Mads Østberg, the latter competing in the southern Gulf region for the first time.
Add in the Qatari trio of Abdulaziz Al-Kuwari, Khaled Al-Suwaidi and Nasser Khalifa Al-Atya and the formidable Omani duo of Hamed Al-Wahaibi and Abdullah Al-Rawahi and the scene is set for an eight-way tussle for outright supremacy over a dozen gravel special stages on Friday and Saturday.
Škoda has strength in numbers with six Fabia R2 evos at the front of the field ready to do battle with Al-Attiyah's Volkswagen Polo GTI and Al-Atya's Ford Fiesta R5.
"It's going to be a very interesting weekend and Mathieu and I are excited for it, focused and ready to go," said Al-Attiyah. "The stages look great. They need to be respected as always. It's easy to throw away time here by taking risks. We need to manage our pace where possible."
Østberg added: "This is a completely new challenge for me with the desert rallies. I am ready. Two days of testing is done, the team and car is working well and Ilka (Minor) is doing a perfect job for me."
Al-Attiyah is bidding for a record-breaking 18th MERC title and arrives at the start in Qatar with an eight-point lead in the series after his recent seventh win in Oman.
Al-Atya is his closest rival and Oman's Abdullah Al-Rawahi is equal third in the series, 15 points adrift of Al-Attiyah after finishing seventh in Oman. Al-Wahaibi was sixth overall on his home event but is not registered for the regional series this year.
Al-Attiyah's co-driver Mathieu Baumel will be starting from scratch in his bid for another title after missing out on the Oman Rally because of personal reasons. In the absence of Alba Sanchéz Gonzaléz, who partnered Al-Attiyah to the win in Oman, Italy's Giovanni Bernacchini has an excellent opportunity to strengthen his quest for the regional navigators' title.
Five drivers will be embroiled in their very own battle for MERC2 glory. Jordan's Ihab Al-Shorafa holds an eight-point lead over Issa Abu Jamous, following his recent win in Oman, but the two Jordanians face the defending category champion, Meshari Al-Thefiri, on this occasion.
The Kuwaiti will compete in Qatar in a Mitsubishi Lancer Evolution X before jetting off to next weekend's Jordan Baja. He again teams up with Qatar's Nasser Al-Kuwari in a bid to kick-start the defence of his title.
Qatar's Mohammed Al-Attiyah and German female driver Edith Weiss will also compete in MERC2, the Qatari teaming up with experienced Cypriot co-driver Savvas Laos.
Former MERC3 winner Henry Kahy teams up with fellow Lebanese Carlos Hanna to head a three-car field in the Qatar National Rally. Like Kahy, Qatar's Ahmed Allouh and Ahmad Al-Mohannadi will drive T3 lightweight prototype versions of the Can-Am Maverick X3 that are not eligible for the main FIA rally.
Tomorrow (Thursday), is a hectic and varied day for competitors, starting with scrutineering checks at the Losail Circuit from 07.00hrs to noon. After a driver's briefing by rally officials, teams will be able to practice at rally speeds over a nearby shakedown stage between 14.30hrs and 16.30hrs.
Leading drivers will then attend the official pre-event press conference from 18.45hrs and the ceremonial start is scheduled for 19.30hrs at the Losail Circuit.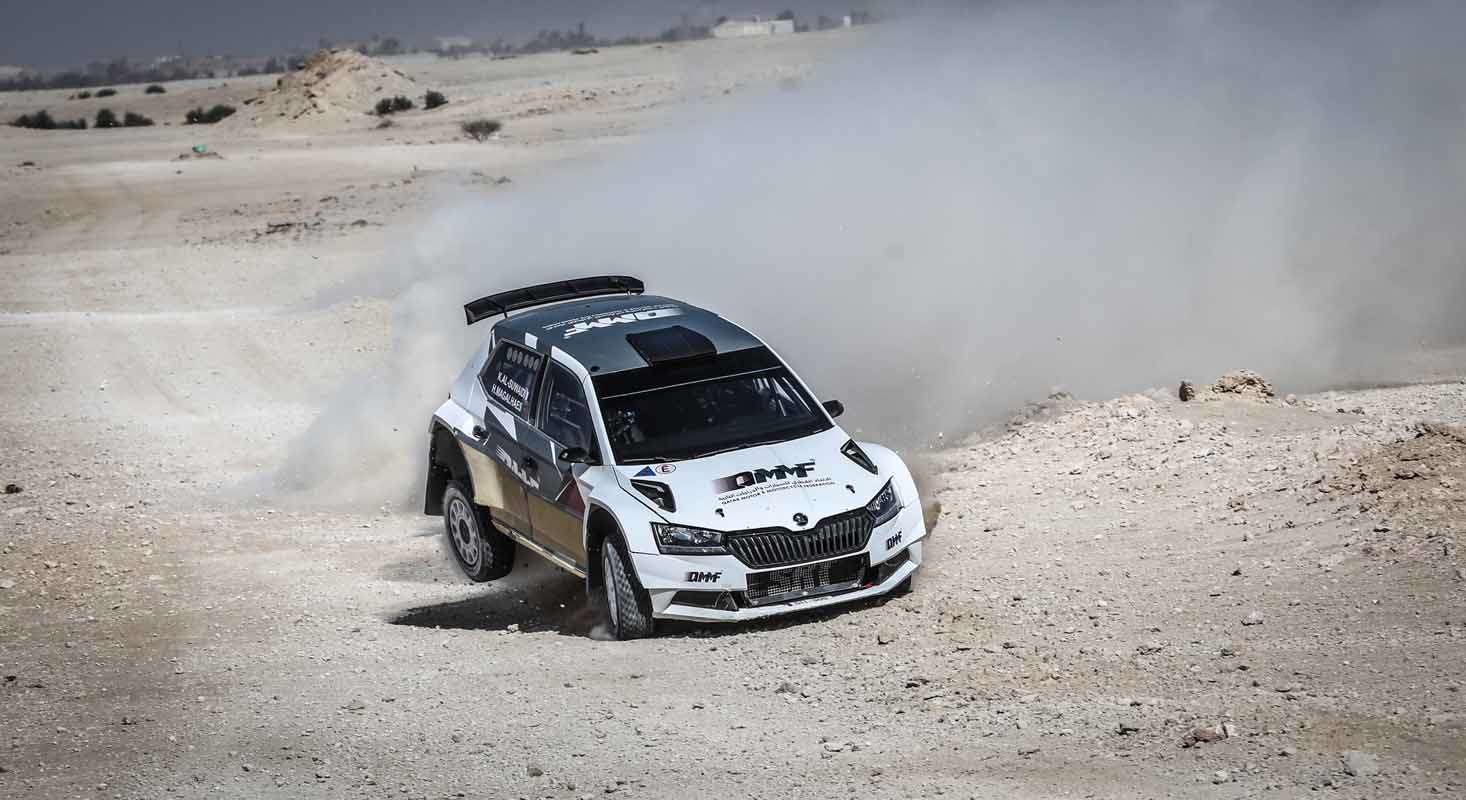 2022 Qatar International Rally – entry list:
Nasser Saleh Al-Attiyah (QAT)/Mathieu Baumel (FRA) Volkswagen Polo GTI
Kris Meeke (AND)/Chris Patterson (IRL) Škoda Fabia R2 evo
Mads Østberg (NOR)/Ilka Minor (AUT) Škoda Fabia R2 evo
Abdulaziz Al-Kuwari (QAT)/Dale Moscatt (AUS) Škoda Fabia R2 evo
Abdullah Al-Rawahi (OMN)/Ata Al-Hmoud (JOR) Škoda Fabia R2 evo
Nasser Khalifa Al-Atya (QAT)/Giovanni Bernacchini (ITA) Ford Fiesta R5
Meshari Al-Thefiri (KWT)/Nasser Al-Kuwari (QAT) Mitsubishi Lancer Evo X
Khaled Al-Suwaidi (QAT)/Hugo Magalhães (PRT) Škoda Fabia R2 evo
Hamed Al-Wahaibi (OMN)/Tony Sircombe (NZL) Škoda Fabia R2 evo
Ihab Al-Shorafa (JOR)/Yousef Juma (JOR) Mitsubishi Lancer Evo IX
Issa Abu Jamous (JOR)/Emad Juma (JOR) Mitsubishi Lancer Evo IX
Mohammed Al-Attiyah (QAT)/Savvas Laos (CYP) Mitsubishi Lancer Evo X
Zakariya Al-Aamri (OMN)/Mohammed Al-Aamri (OMN) Subaru Impreza
Edith Weiss (QAT)/Serena Mattivi (ITA) Mitsubishi Lancer Evo X
2022 Qatar National Rally – entry list:
Henry Kahy (LEB)/Carlos Hanna (LEB) Can-Am Maverick X3 (T3)
Ahmed Allouh (QAT)/Fares Allouh (QAT) Can-Am Maverick X3 (T3)
Ahmad Al-Mohannadi (QAT)/Mubarak Al-Khelaifi (QAT) Can-Am Maverick X3 (T3)
2022 FIA Middle East Rally Championship – standings after round 1:
Drivers:
Nasser Saleh Al-Attiyah (QAT) 39pts
Nasser Khalifa Al-Atya (QAT) 31pts
Ihab Al-Shorafa (JOR) 24pts
Abdullah Al-Rawahi (OMN) 24pts
Issa Abu Jamous (JOR) 20pts
Zakariya Al-Aamri (OMN) 3pts
Co-drivers:
Alba Sanchéz Gonzaléz (ESP) 39pts
Giovanni Bernacchini (ITA) 31pts
Yousef Juma (JOR) 24pts
Ata Al-Hmoud (JOR) 24pts
Emad Juma (JOR) 20pts
Mohammed Al-Aamri (OMN) 3pts
MERC2:
Ihab Al-Shorafa (JOR) 39pts
Issa Abu Jamous (JOR) 31pts
Zakariya Al-Aamri (OMN) 5pts