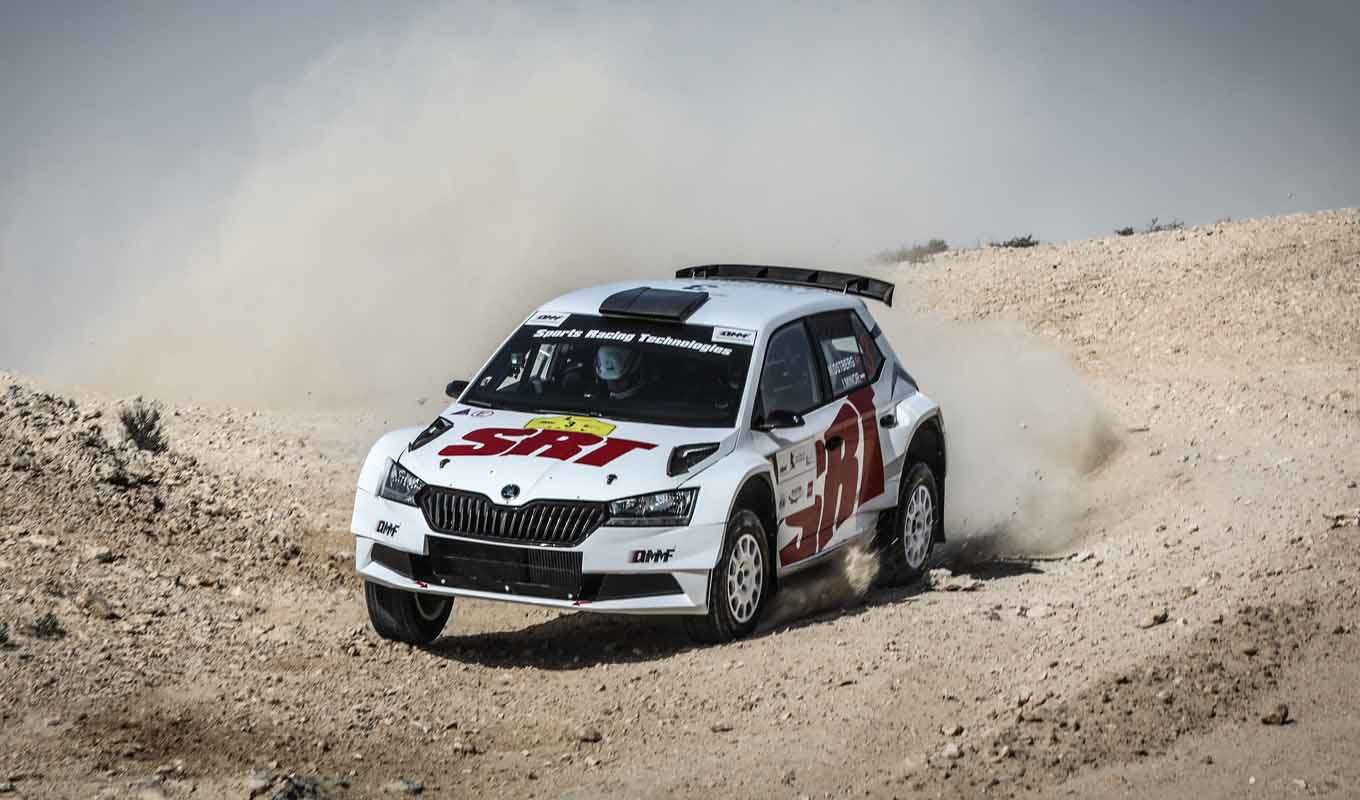 Norwegian driver Mads Østberg delivered a stunning performance on his first appearance at the Qatar International Rally to open up a 12.2-second lead after six gravel special stages on Friday.
Competing in the southern Gulf region and the State of Qatar for the first time, the Škoda Fabia R2 evo driver belied his lack of experience and teamed up effortlessly with Austrian co-driver Ilka Minor for the first time to win four of the day's six stages.
"I don't know what to say," said Østberg. "This is a brand new experience for me. I felt more and more comfortable through the day. I guess the approach we have had has been quite correct. It's not been easy and, for me, the more difficult part starts tomorrow when we open the road. We discussed if we should play some tactics and we decided not to. We are here to learn and we might as well learn by opening the desert. I have been lucky enough not to have any issues today but I am not saying anything until I am at the end."
Qatar's Nasser Saleh Al-Attiyah is bidding for a 16th win on home gravel but faces his stiffest ever test on Saturday. He and French co-driver Mathieu Baumel delivered a solid performance without problems to hold second overall.
"This will be good for us for tomorrow with Mads opening the road," said Al-Attiyah. "We can push. It's important that we finished today without any problems. We are quite happy. Kris (Meeke) will have a good line tomorrow. He has nothing to lose and will push. For me, it is important to win and score maximum points for the championship."
Andorra-based Ulsterman Kris Meeke showed a formidable turn of speed to win the first two stages and lead after the opening loop. But an unfortunate roll at the start of SS4 dented his chances. Meeke and co-driver Chris Patterson recovered well to finish the leg in fifth overall.
The former WRC star said: "First hairpin right of the stage. It was a junction and I came in, hand braked it in and I just caught the rut. I thought I had it, balanced it on two wheels but, unfortunately, it went over. We had to wait for spectators to push us back and I had to get out of the car. The car is fine. We'll hang in there. You never know. Punctures on this rally can happen. Two fastest times today. It's been enjoyable. It's just a pity….a silly hairpin right. It's nice out there. We will continue."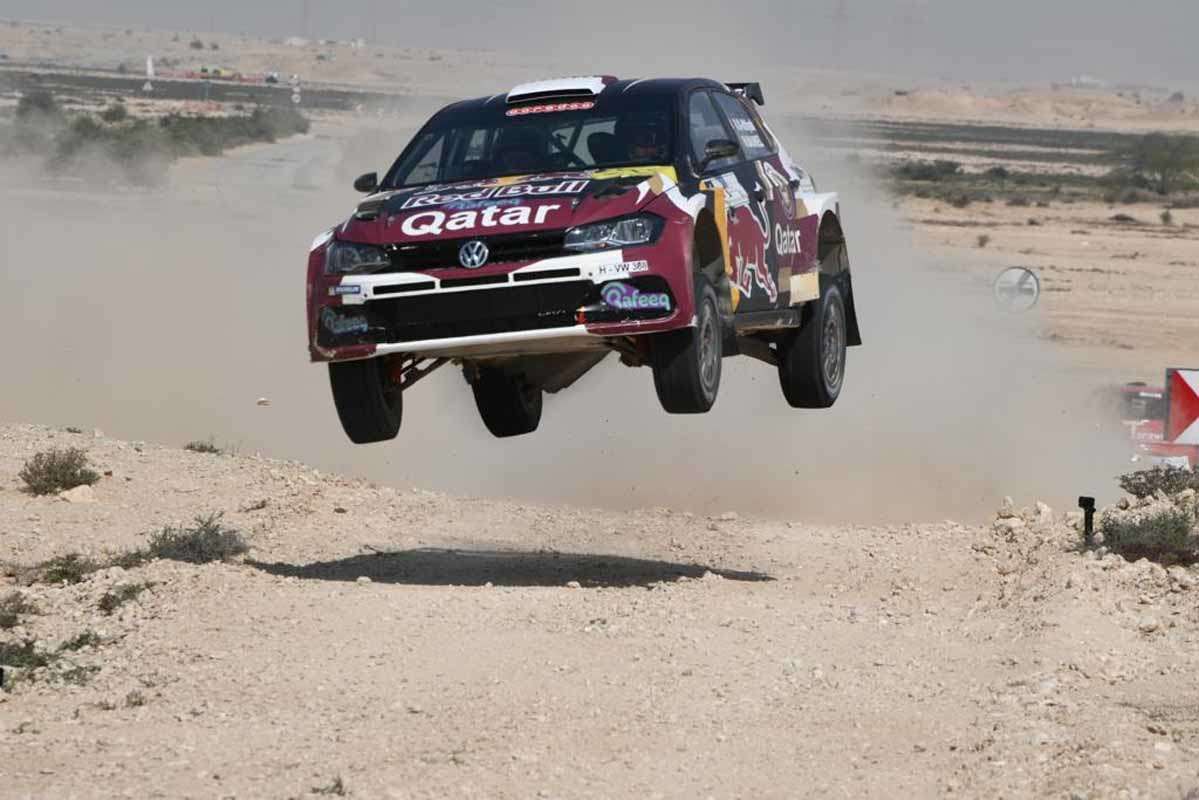 Qatar's Abdulaziz Al-Kuwari and Australian co-driver Dale Moscatt benefited from Meeke's problems and rounded off the podium places in their Škoda. The 2012 event winner said: "Good, second loop was better. We are trying our best but it is not easy and we are far away from not driving for a long time. But we are happy."
Khaled Al-Suwaidi and Hugo Magalhães were classified in fourth place and Oman's Abdullah Al-Rawahi delivered a measured performance to hold sixth in his Škoda.
Al-Rawahi said: "Quite happy, We are not quite used to stages which are fast. It was quite tricky in the first run. But we are getting used to it and we are getting used to the car as well. It is a new car for me. Tomorrow is another day. I think it will be even more tough than today. It is more rough, so we see how it goes."
Kuwait's Meshari Al-Thefiri was the class of the MERC2 field in his seventh-placed Mitsubishi Lancer Evolution X. The multiple winner of the showroom category won all six stages to take a lead of 4min 53.2sec over Oman's Zakariya Al-Aamri into the night halt.
MERC2 series leader Ihab Al-Shorafa and fellow Jordanian Issa Abu Jamous rounded off the top 10 and held third and fourth in MERC2. Qatar's Mohammed Al-Attiyah held 11th and Edith Weiss celebrated 30 years of participating in the event in 12th.
Hamed Al-Wahaibi's rally ended prematurely after he left the track at speed, clouted the front of the Fabia and sustained radiator and engine damage. The Omani said: "I lost the road about four times. The first time I lost it over a jump, I went straight. I couldn't see it. I hit a bump and we damaged the radiator and we continued and lost the road again. We didn't have a warning to the end of the stage. We were leaking, leaking, leaking. That's what happened. I guess it's not meant to be. Maybe I need more cautious recce and notes."
All three entrants in the Qatar National Rally suffered their own varied issues on the first loop of stages, but Ahmed Allouh and Henry Kahy were permitted to tackle the afternoon's action.
Friday – as it happened
Two loops of three stages were on the agenda for the opening leg, starting with the short 8.89km Eraida stage.
After all the pre-event publicity and hype it was down to the serious business of delivering competitive stage times: Al-Attiyah opened his account with a run of 4min 49.4sec and an average speed of 110.6km/h, but an inspired Meeke shaved 4.8 seconds off that run by the Qatari. Østberg also edged in front of the Qatari and finished the special 1.3 seconds adrift of the flying Ulsterman. It was a positive start for the visiting WRC duo, as Al-Kuwari settled into fourth.
Only six of the eight RC2 cars escaped without drama. Hamed Al-Wahaibi left the track and clouted the front of the car and Nasser Khalifa Al-Atya struck a metal fence pole on the track and that became entangled around the front of the car and penetrated the engine bay. He managed to finish the stage with the loss of over a minute, but stopped on the road section after the special. Al-Thefiri cruised into a 49.9-second lead in MERC2, but Lebanon's Henry Kahy retired from the National Rally with no turbo boost on his Can-Am.
The longer Al-Thakira stage (20.15km) followed and Meeke attacked again. He extended his lead over Al-Attiyah to 11.8 seconds, although the Qatari squeezed 1.2 seconds out of Østberg and remained in third place.
Al-Attiyah completed the loop with a time of 8min 16.8sec through Al-Khor but he was third quickest, with Østberg claiming the stage win by 2.6 seconds from Meeke. The second fastest time enabled the Ulsterman to take a 9.2-second advantage over his former team-mate into the Losail regroup. Al-Attiyah was 14.6 seconds off the lead.
The Qatari said: "I think we need to check the tracking system for the first three stages. I am sure some drivers are doing a different line. I am going really very fast. We know the level is very high between the three drivers but, just to be sure you know. To open the road, flat out, is not easy. We know where we lose. To open now, the second loop, should be better for us. No punctures, so we are happy."
Meeke said: "Okay, the first two stages I knew a little bit from last year. They were the only two stages I had done and I had an on-board video, so I was able to see. That's the only thing I had to watch and prepare for this year. In the third stage, I didn't really have an idea and I didn't drive that one last year. Look, it's the first loop of stages and there is a long way to go. Honestly, there were a few times this morning where I got a bit disorientated and a bit lost in the stage in fifth gear. It's still a huge challenge. You are in the desert, so everything looks the same. We have done the best job we could this morning, but Mads is also doing very well. I'm enjoying it."
Østberg added: "I had no idea what to expect during the stages. All of them felt quite similar to me. One I am missing 12 seconds and the next one I am winning. It feels a bit strange but I am enjoying it to be honest. We just try to hang on and find a way. I was only lost twice so that's not bad. I guess the second loop will be a lot of the same but maybe the second loop mighty me more difficult with everyone taking different lines. Even the cars in the front of me are following different lines. I just have to follow what I did on the recce. That's all I can do."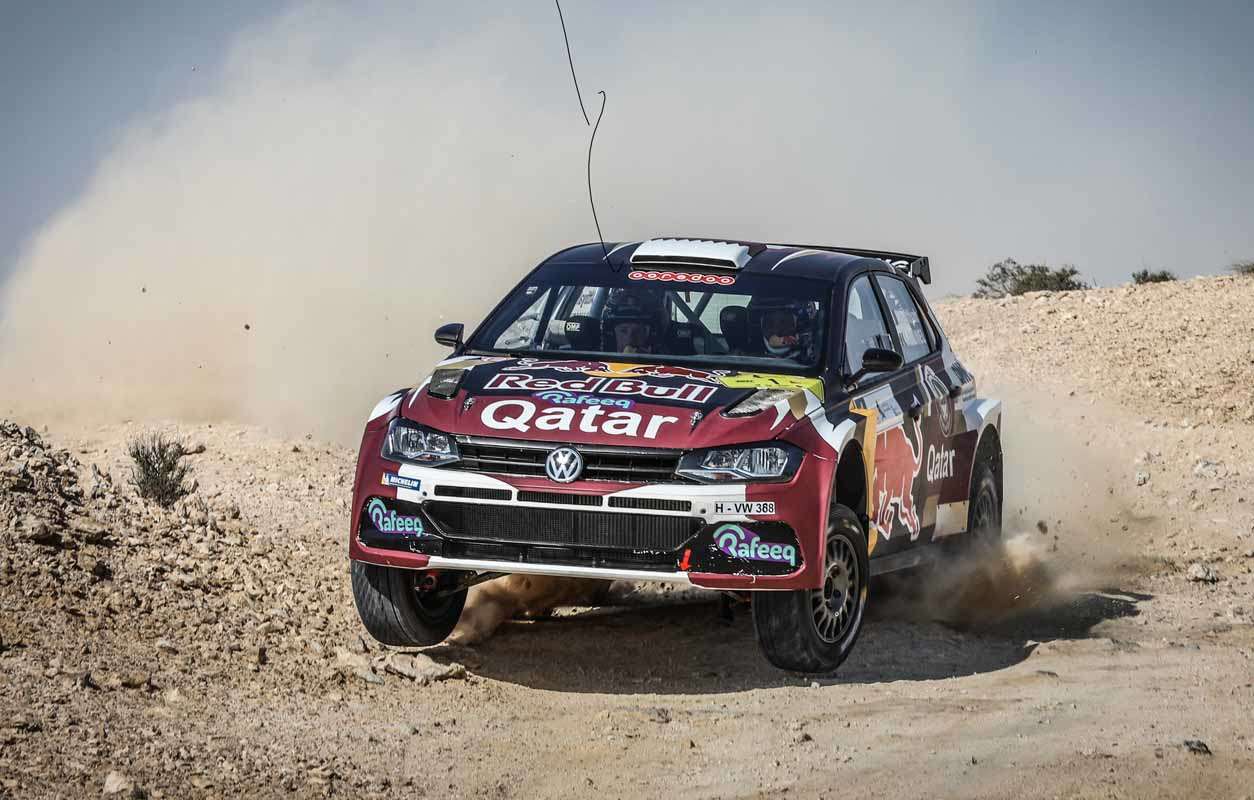 Al-Kuwari said: "We lost the road after the start of SS2. I lost eight or 10 seconds and then I came back to the road. Otherwise, everything was good. The tyres are working good. There are a lot of cuts in front of us. I cannot see who. But there are three cars in front of me and I can see some big cuts."
Khalid Al-Suwaidi held fifth. He said: "I have a good start. But the soft tyre is very soft and the car is more moving. I think the next loop we will used hard tyre. I think it's better for me. I try to push but I miss two corners in the third stage and second stage is difficult at the start. You cannot see the road. But the Qatar Rally is very difficult. We wanted to see what happened on the first three stages and we can push later."
Al-Thefiri held a comfortable 2min 34.6sec cushion over Al-Aamri in the MERC2 battle, as the leaders left Losail and headed out to repeat the morning's three stages.
Meeke dug into a section of soft sand and rolled his Fabia a short distance into the rerun of the Eraida stage, haemorrhaged 1min 27.9sec to Al-Attiyah and slipped down to fifth. Østberg was quickest again, shaving 1.1 seconds off his morning's run. He moved into the outright lead and increased his advantage over Al-Attiyah to 6.6 seconds, as Al-Kuwari moved up to third overall.
Al-Attiyah was 5.5 seconds faster on his second run through Al-Thakira, but the previous stage roll had not affected Meeke and he continued with minimal damage to the Fabia to beat the Qatari by 1.4 seconds. Østberg was again quickest and his lead over the defending champion grew to 9.3 seconds.
The Qatari averaged 118 km/h through the last stage of the day but he still ceded 1.2 seconds to Meeke and 2.9 to the rally leader. Østberg duly returned to Losail with an overnight lead of 12.2 seconds.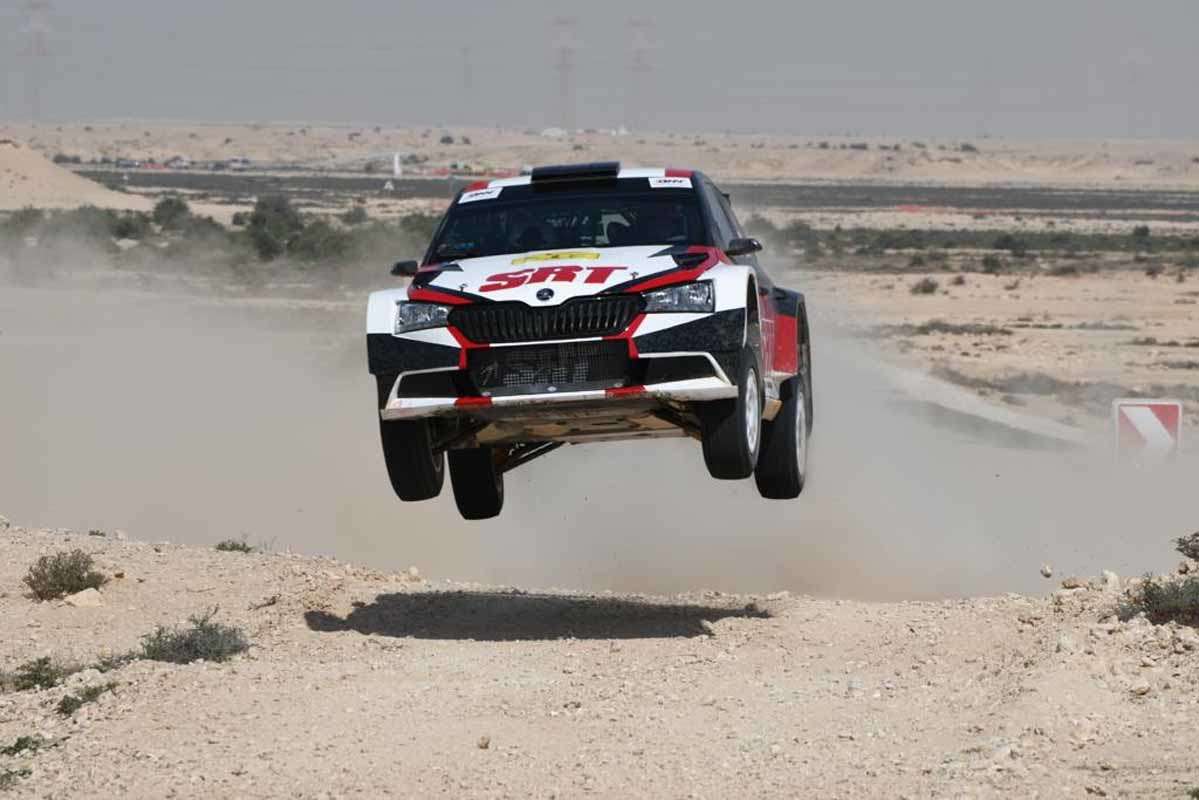 Saturday
Tomorrow, teams tackle a further two loops of three graded gravel stages in the north of Qatar. Action gets underway with the 14.50km Al-Waab stage between Al-Mashrab and Umm Al-Qahab from 08.53hrs. The longer Umm Birka (24.54km) stage follows at 09.28hrs and precedes a 21.33km at Ras Laffan from 10.20hrs.
Competitors then return to the Losail Circuit for a regroup and service before the three specials are repeated at 13.03hrs, 13.38hrs and 14.30hrs. The post-event press conference and podium ceremony will then take place from 18.20hrs onwards.
2022 Qatar International Rally – positions after SS6 (unofficial):
Mads Østberg (HUN)/Ilka Minor (AUT) Škoda Fabia R2 evo 46min 08.5sec
Nasser Saleh Al-Attiyah (QAT)/Mathieu Baumel (AND) Volkswagen Polo GTI 46min 20.7sec
Abdulaziz Al-Kuwari (QAT)/Dale Moscatt (AUS) Škoda Fabia R2 evo 47min 14.6sec
Khaled Al-Suwaidi (QAT)/Hugo Magalhães (PRT) Škoda Fabia R2 evo 47min 25.8sec
Kris Meeke (AND)/Chris Patterson (IRL) Škoda Fabia R2 evo 47min 31.4sec
Abdullah Al-Rawahi (OMN)/Ata Al-Hmoud (JOR) Škoda Fabia R2 evo 48min 19.4sec
Meshari Al-Thefiri (KWT)/Nasser Al-Kuwari (QAT) Mitsubishi Lancer Evo X 54min 05.1sec
Zakariya Al-Aamri (OMN)/Mohammed Al-Aamri (OMN) Subaru Impreza 58min 58.3sec
Ihab Al-Shorafa (JOR)/Yousef Juma (JOR) Mitsubishi Lancer Evo IX 1hr 03min 27sec
Issa Abu Jamous (JOR)/Emad Juma (JOR) Mitsubishi Lancer Evo IX 1hr 05min 56.1sec
Mohammed Al-Attiyah (QAT)/Savvas Laos (CYP) Mitsubishi Lancer Evo X 1hr 08min 31.8sec
Edith Weiss (QAT)/Serena Mattivi (ITA) Mitsubishi Lancer Evo X 1hr 08min 44.2sec
(note: entry nationalities determined by competition licence as per regulations)