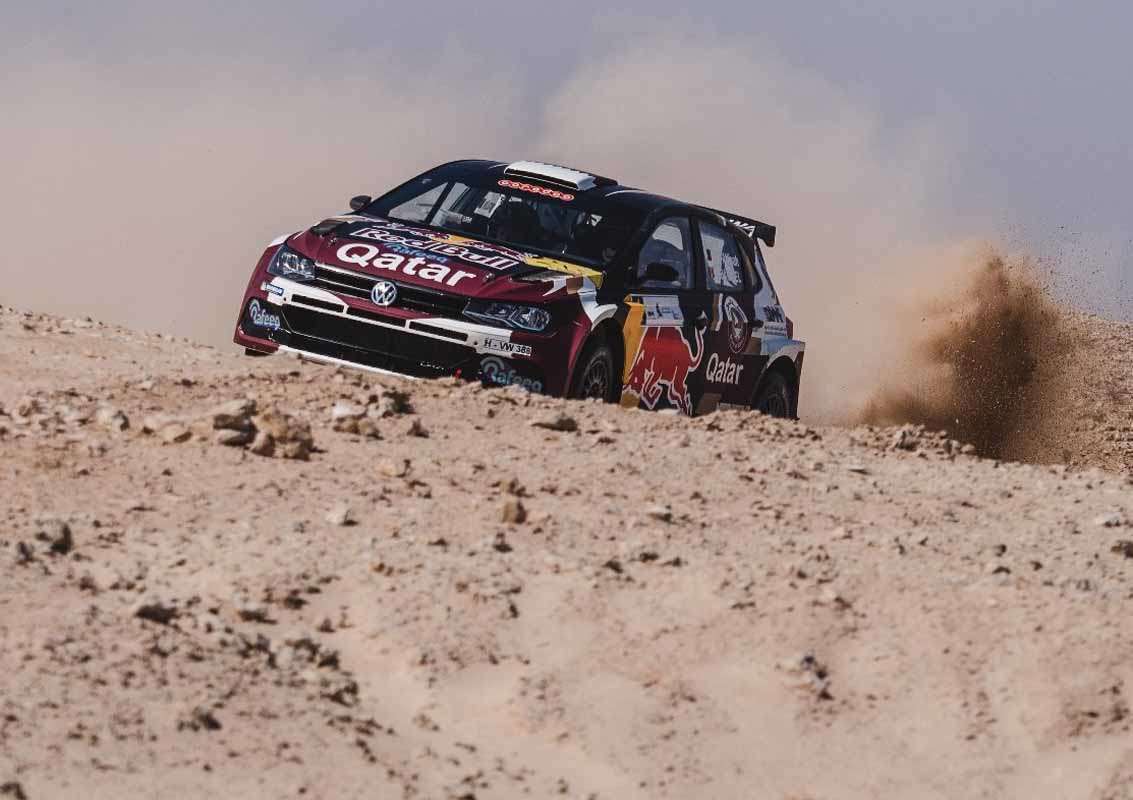 Qatar's Nasser Saleh Al-Attiyah overcame the most difficult challenge of his career at the Qatar International Rally to record a 16th victory at his home event and achieve a stunning milestone of 80 wins in the FIA Middle East Rally Championship (MERC) since 2003.
Driving his customary Autotek Volkswagen Polo GTI, Al-Attiyah only hit the front on the eighth of 12 gravel special stages in the Qatar deserts and survived a front puncture in stage nine to press home his advantage over the final three stages. Mads Østberg pushed him all the way to the penultimate stage, but Al-Attiyah hung on doggedly and eventually secured a winning margin of 4min 38.4sec after the Norwegian retired.
The success was a 28th for co-driver Mathieu Baumel in the MERC and his fifth in Qatar, while Al-Attiyah's 80th success as a driver equalled the number of wins achieved last month by French legend Sébastien Loeb in the FIA World Rally Championship.
"It is a good feeling," said Al-Attiyah, who duly extended his lead in the regional series. "I am really happy to win Qatar Rally. This is my home and in front of my people. This was not an easy race. It was tricky. The pace that we did from yesterday to today, me and Kris and Mads, was very hard. This was a fantastic win. I was trying to keep one pace. It was amazing.."
Østberg and Ilka Minor certainly took the fight to Al-Attiyah, led overnight and extended their advantage on the first stage of the morning. The Norwegian lost his way for a few seconds in stage eight and then a rear puncture cost him his lead before the regroup. He pushed hard during the afternoon to try and hunt down a charging Al-Attiyah, but it was in vain and a heavy impact in the penultimate stage damaged the Škoda Fabia R2 evo, caused a water leak from a fractured pipe and sidelined the former FIA WRC2 World Champion within sight of the finish.
Oman's Abdullah Al-Rawahi was patient and stayed clear of trouble as chaos ensued around  him. He and Jordanian co-driver Ata Al-Hmoud were rewarded with a stunning second place in their Oman Rally Team-run Škoda Fabia R2 evo and a useful haul of championship points.
Al-Rawahi said: "Quite happy. The guys in front were pushing too much and a few of them had technical problems. I was trying to be clean and take advantage of anyone who made mistakes. Overall, on the second day, the times were quite close and I am happy with my performance. It was really important that we finished second."
Andorra-based Ulsterman Kris Meeke and co-driver Chris Patterson led after two stages on Friday before rolling out of contention for the win in stage four. Meeke climbed from fifth to third during the final day and then overcame a damper issue on the final loop of three stages to regain third overall and the final place on the podium.
The former WRC star said: "Normally I like to be at the races. We were early on but I made that silly mistake on stage four. The speed was good all weekend. We had an issue at the rear to carry through the final stages, so we had to take it easy. Anything can happen here. We saw Nasser had his issues but still got through. He has proven why he is the king of the desert.
"No idea about the future at this stage. I am doing my testing with Škoda at the moment, the new R5. That is keeping me busy. As far as rallies are concerned, I have no idea but I would love to do more in the Middle East. You just learn so much. It is so unique and different. I learned more than I did last year. To beat this man (Nasser) on this terrain is nearly mission impossible."
Transmission issues accounted for Abdulaziz Al-Kuwari and cost the Qatari a potential podium finish, while a broken wheel hub was the cause of Khaled Ak-Suwaidi's retirement from fifth overall.
Kuwait's Meshari Al-Thefiri was the class of the MERC2 field in his fourth-placed Mitsubishi Lancer Evolution X. He and co-driver Nasser Al-Kuwari completely dominated the category to secure a winning margin of 11min 56.5sec over Oman's Zakariya and Mohammed Al-Aamri.
Jordan's Issa Abu Jamous moved ahead of fellow countryman Ihab Al-Shorafa on the final loop of stages, when the latter suffered tyre issues. They reached the finish in sixth and seventh overall. Qatar's Mohammed Al-Attiyah was eighth and Germany's Edith Weiss came home in ninth.
Ahmed and Firas Allouh overcame a dramatic first day of the Qatar National Rally to edge the win over their Qatari Can-Am rivals, Ahmad Al-Muhannadi and Mubarak Al-Khelaifi. Lebanon's Kahy dropped 17 minutes to his rivals on the first run through Umm Birka and finished third.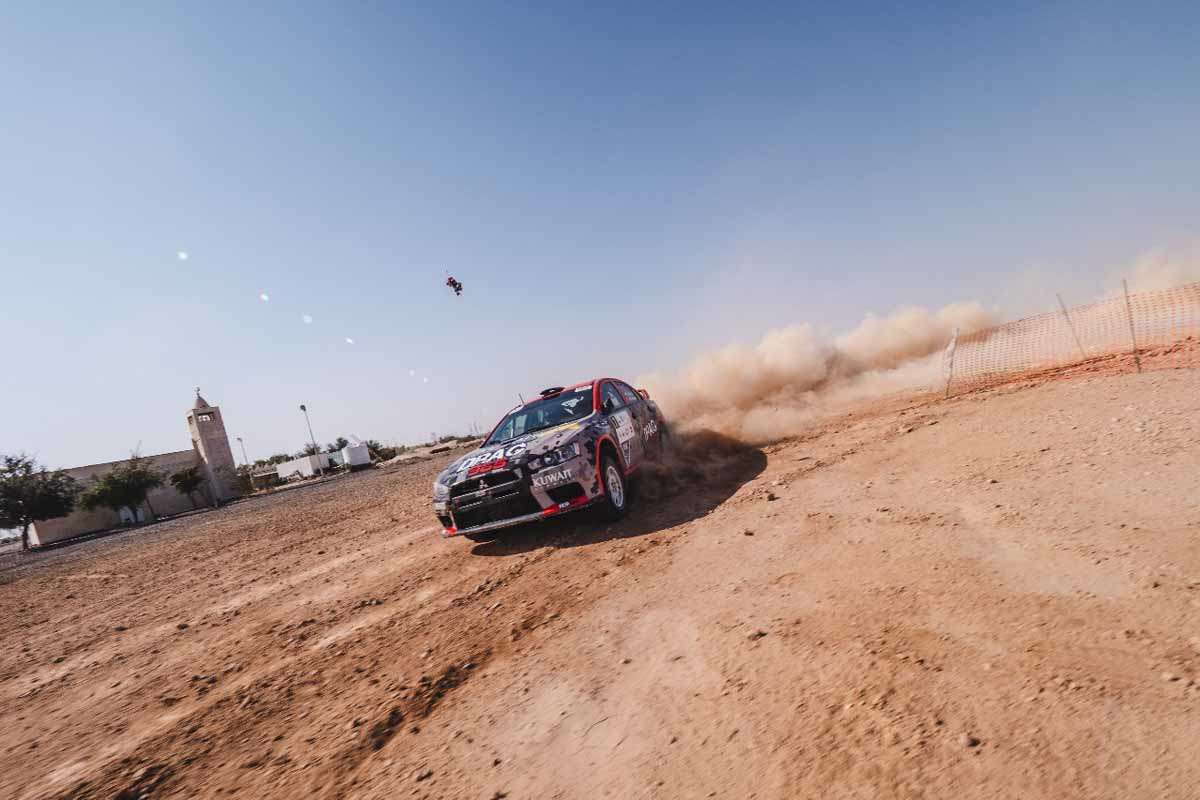 Saturday – as it happened
Nasser Khalifa Al-Atya had hoped to restart under Rally2 regulations, but the engine had been damaged after his first stage incident on Friday. It came to light once repairs had been made and the team took the Ford Fiesta R5 on a short test at Losail.
Østberg was faced with the additional challenge of opening the road through the 14.50km Al-Waab stage that ran between the settlement of Al-Mashrab and the Umm Al-Qahab village. But the Norwegian was in scintillating form and a stunning time of 6min 42.9sec enabled the Fabia driver to extend his lead over Al-Attiyah to 16.9 seconds with an average speed of 133.3km/h.
Meeke came home with the third quickest time and managed to pass Al-Suwaidi and climb to fourth. He was now only 4.1 seconds behind third-placed Al-Kuwari. Al-Thefiri saw his MERC2 lead grow to 7min 00.1sec, the Kuwaiti's cause helped overnight by a 1min 20sec time penalty for Al-Aamri.
The longest stage of the rally was Umm Birka (24.54km) that ran through the north-eastern deserts in the Al-Khor municipality. Østberg safely negotiated the potential hazards of the stony terrain to record a time of 11min 07.8sec, but he ceded 7.6 seconds to a hard-pushing Al-Attiyah and the Qatari whittled the difference down to 9.3 seconds.
Khaled Al-Suwaidi stopped with reported suspension damage and the Qatari's demise lifted Abdullah Al-Rawahi into fifth place. Meeke was again third quickest and closed to within 3.4 seconds of Al-Kuwari's third position
Ras Laffan is better known for being the major hub of Qatar's liquefied natural gas industry, but the nearby desert played host to the ninth 21.33km stage.
A flying Al-Attiyah stormed through to seal a second successive stage win and moved 9.6 seconds ahead of a troubled Østberg, as crews returned to Losail for a regroup and mid-loop service. Both drivers sustained flat tyres midway through the stage, with Mads suffering a delaminated rear left and Nasser wrecking a wing panel with a front-right flat.
Meeke was second quickest, a mere 3.6 seconds behind the Qatari, and moved up to third overall.
Østberg said: "What can I say? It seems to delaminate on the high speed. We had to go more than half the stage (SS9) like that. We were fastest on the first one and then we got lost on the second one. That happens. We lost only seven seconds and we know where we lost it. Just the last one, it was a shame. The game is still on. It's rough out there today, I guess punctures will finally make the result. We will see. Hopefully we can avoid any more issues."
Al-Attiyah added: "The first stage in the morning we were really careful. We lost four seconds and then we really pushed and took a lot of risks. The last one, in the middle of the stage, we have a flat tyre on the front and we carry on. We were lucky because Mads also had the same. We take 18 seconds. It was good, but it was very hard. We try to keep going like this. Still nine seconds and three stages. It's still everything open."
Meeke said: "We changed the springs on the car overnight and the mechanics didn't fit something properly. I wasn't sure if the suspension was perfect and fitted correctly. So I had to take care in the first couple, but it seemed fine. I knew today that Nasser was going to be so strong. These stages, there are not so many junctions and you have to thread your way through the desert. This is why he is the champion of the desert. Both have been very lucky and that's why I backed off a bit today. I knew it was going to be a big battle. I said, let the fireworks happen up front. I made my mistake yesterday. It's a bit frustrating. We are 1min 34 off the lead and we dropped 1min 30 yesterday. That's life. That's rallying."
Al-Kuwari reflected: "No way to keep Meeke behind me. We have to be logical. I have to keep going and finish the rally. No championship and nothing to worry about. Just finish the rally. I hope I don't have to wait one year more to drive. I'm much faster than what I am doing now. They are always in the cars. The last two stages I had a sound on the fifth gear. There is a noise and I hope nothing is broken. Let's do three more stages and finish the rally."
Østberg needed a clear run through Al-Waab 2 and he beat his previous time by 3.5 seconds. But Al-Attiyah delivered an astonishing stage time to beat the Norwegian by 7.4 seconds to increase his lead to 17 seconds.
But there was drama in the stage behind the battling duo: Al-Kuwari had been worried about gearbox issues at the service point but the team decided not to change the unit. Unfortunately, the transmission failed in the stage and sidelined the dejected Qatari. Meeke was also in the wars and dropped over three and a half minutes to his rivals with damper problems and lost out on third place to Al-Rawahi.
There was no respite for Østberg through Umm Birka and Al-Attiyah stormed to another stage win and headed to the final stage at Ras Laffan with a lead of 25.7 seconds. Meeke was continuing with damper issues and dropped a further 20.5 seconds to Al-Rawahi.
Østberg was not able to reach Ras Laffan, however. A heavy impact in SS11 had damaged the car, a water pipe became detached and the Norwegian ground to a halt on the road section. His demise lifted Al-Rawahi into second overall and Meeke back on to the podium after a dramatic afternoon.
Al-Attiyah noticeably backed off through the final kilometres to secure what developed into a comfortable 16th win in Qatar, with Al-Rawahi and Meeke rounding off the podium places, the latter setting the fastest time on the stage.
Action in the 2022 FIA Middle East Rally Championship resumes in Kuwait on March 17th-19th.
2022 Qatar International Rally – positions after SS12 (unofficial):
Nasser Saleh Al-Attiyah (QAT)/Mathieu Baumel (AND) Volkswagen Polo GTI 1hr 44min 44.5sec
Abdullah Al-Rawahi (OMN)/Ata Al-Hmoud (JOR) Škoda Fabia R2 evo 1hr 49min 22.9sec
Kris Meeke (AND)/Chris Patterson (IRL) Škoda Fabia R2 evo 1hr 50min 51.5sec
Meshari Al-Thefiri (KWT)/Nasser Al-Kuwari (QAT) Mitsubishi Lancer Evo X 2hr 08min 19.3sec
Zakariya Al-Aamri (OMN)/Mohammed Al-Aamri (OMN) Subaru Impreza 2hr 20min 15.8sec
Issa Abu Jamous (JOR)/Emad Juma (JOR) Mitsubishi Lancer Evo IX 2hr 28min 50.2sec
Ihab Al-Shorafa (JOR)/Yousef Juma (JOR) Mitsubishi Lancer Evo IX 2hr 29min 53.3sec
Mohammed Al-Attiyah (QAT)/Savvas Laos (CYP) Mitsubishi Lancer Evo X 2hr 32min 48.3sec
Edith Weiss (QAT)/Serena Mattivi (ITA) Mitsubishi Lancer Evo X 2hr 34min 32.9sec
(note: entry nationalities determined by competition licence as per regulations)
14 starters, nine finishers
2022 Qatar National Rally – positions after SS12 (unofficial):
Ahmed Allouh (QAT)/Firas Allouh (QAT) Can-Am Maverick X3 2hr 42min 13.4sec
Ahmad Al-Muhannadi (QAT)/Mubarak Al-Khelaifi (QAT) Can-Am Maverick X3 3hr 03min 07.1sec
Henry Kahy (LEB)/Carlos Hanna (LEB) Can-Am Maverick X3 3hr 27min 13.3sec