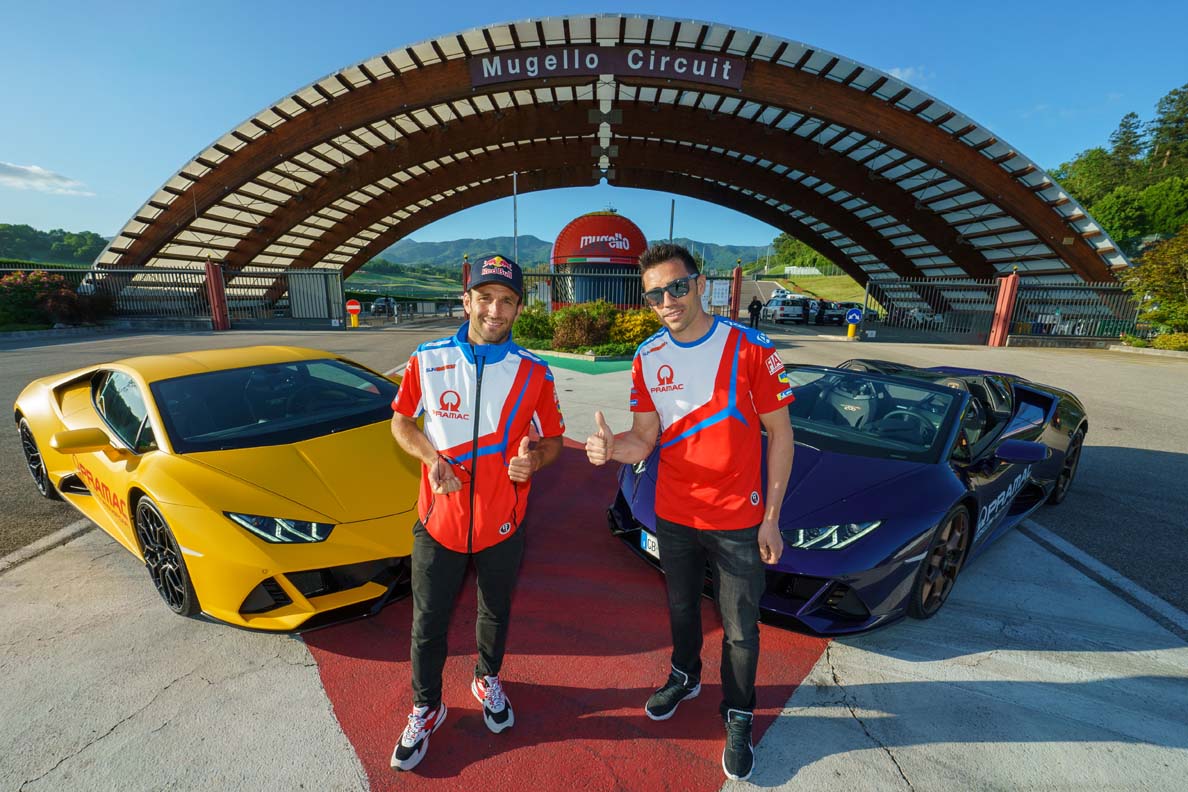 On the eve of the Italian MotoGP in Mugello, Pramac Ducati riders Johann Zarco and Michele Pirro, who was filling in for the injured Jorge Martín, spent a day of training at the Lamborghini Drivers Lab in Sant'Agata Bolognese.
Zarco, second in the MotoGP standings, and Pirro, a multiple-time CIV champion and Ducati test rider, visited the new Lamborghini Squadra Corse multipurpose facility and the hangar reserved for the Essenza SCV12 track hypercars, before working with official Lamborghini drivers Albert Costa and Franck Perera in a specific training session for endurance racing, conducted by Squadra Corse physiotherapist Jose Poletti.
Following a warmup session, the riders had the opportunity to try out Tecnobody latest-generation equipment, including the D-Wall, a hi-tech digital mirror used for improving posture, balance and strength. To complete the session, the riders also tried out the O2H cryogenic chamber, capable of reaching -140°C and useful for maximizing the effects of training.
"It was very interesting to train with the Squadra Corse drivers," commented Zarco, "as well as being able to try new technologies and different methods, because it helps you understand a lot of new things". "With Zarco we're almost neighbors," said his fellow countryman Perera, winner of the 2018 24 Hours of Daytona, "and it was interesting to compare training methods and race preparation. We will definitely get together in France to do some sessions together". Satisfaction also for Costa, the 2019 GT Open champion who took his first steps in motorsport on motorcycles: "I've always followed the MotoGP and I'm a big fan of motorcycles. It was exciting to train with top riders like Zarco and Pirro, an opportunity that doesn't happen every day".
At the end of the day, Zarco and Pirro got behind the wheel of two Huracán EVOs and drove to Mugello: "Having the opportunity to combine the world of two wheels with the world of four wheels is always something special," commented Pirro. "It makes you appreciate motorsport even more, in addition to the good fortune of being able to drive a Lamborghini, which is always a one-of-a-kind experience. The same goes for Ducati, of course! Let's hope there will be other occasions to bring together these two worlds that are so close yet so different".