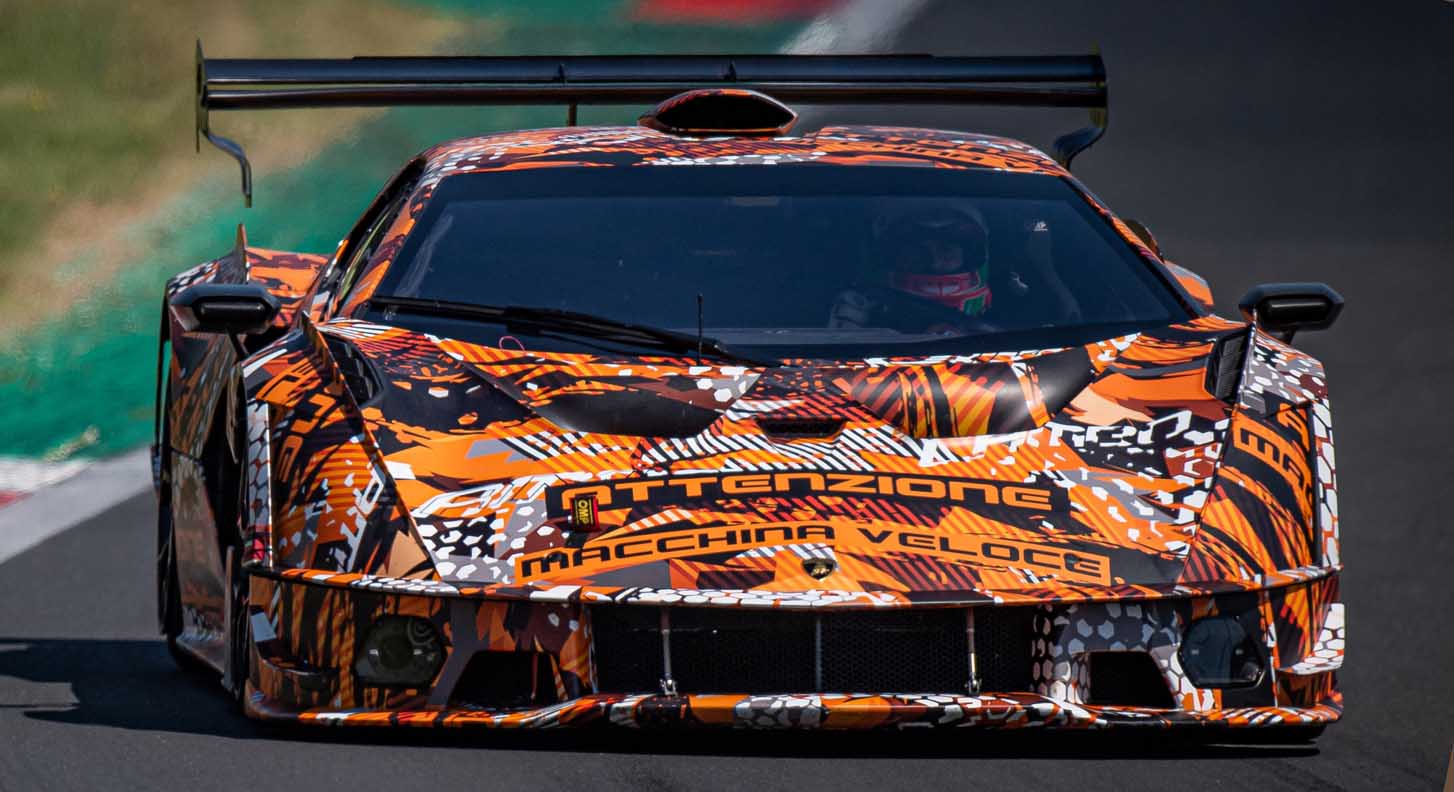 Emanuele Pirro is one of the fathers of the Essenza SCV12: the track-focussed hypercar equipped with the most powerful V12 engine ever designed by Lamborghini, presented in July 2020 and due to make its track debut in just a couple of months at exclusive events reserved for owner-drivers.
The former F1 driver, who won the Le Mans 24 Hours five times, was part of the project and its development from the very first day. For the first time he talks about the sensations and behind-the-scenes views from a test schedule that lasted two years and took in thousands of kilometres at circuits such as Monza, Portimao, Barcelona and Le Castellet. Pirro shared testing duties with Raffaele Giammaria: Lamborghini Squadra Corse's test driver, who is also in charge of the Youngster Programs.
"Our journey with the Essenza SCV12 was a beautiful and fascinating one," said Pirro. "That might seem like a banal thing to say, but it's true. This was the first time that I was involved from the very beginning of a project and followed the whole gestation period, as if it were a living creature. It was an emotional and really stimulating experience. Throughout my career I've contributed to the development of several cars but this was the first one where I followed every single step of the evolution, able to give my contribution at each stage."
Pirro drove thousands of kilometres at the wheel of the prototype, getting to know the car's every subtlety.   "Essenza SCV12 speaks to you, if you know how to listen to it," added the Italian driver. "It talks to you with sounds, vibrations, acceleration and handling. Sometimes it was a coded language, so deciphering it took time and effort, but the result is astonishing: both when it comes to sounds and sensations. Essenza SCV12 is a car that gives you powerful and unique emotions."
The objective of Squadra Corse's engineers, shared with Pirro and Giammaria was clear from the start. "We wanted to create a car that was not only capable of excellent lap times but also able to have a soul with an inimitable character, allowing the owner-drivers to mould it to their own requirements, thanks to a wide range of mechanical and electronic set-up options," said Pirro.
Essenza SCV12 is the most ambitious project that Lamborghini Squadra Corse has undertaken so far and there was no shortage of challenges. "It's a very special car, with a load-bearing transmission at the rear and an incredibly powerful engine, born to race but not compete, and destined to unite elegance, design, and top performance," continued Pirro. "Finding the right balance has been a real motivation; a case of just chipping away, but we did it: without ever accepting compromises, working as if we were doing an endurance race the following day. Suspension, brakes, tyres: everything has to be perfectly calibrated to allow even non-professional drivers to enjoy the enormous potential of this car without feeling intimidated by it."
Throughout his illustrious 40-year career Pirro has worked with some of the best teams in the world, but he has never lost the desire to get stuck in. "During the long months of work I've really got to know the Squadra Corse development team, appreciating not only their professionalism but also the human side; reinforcing my relationship with Raffaele, which was already excellent," he said. "I never thought that I would remain so deeply emotionally involved, but this car rekindled the fire of the driver that was always lurking inside me!"
With the test programme over and the first cars delivered, the Club Essenza drivers finally get their chance to take to the track. From summer 2021 onwards, Pirro will be their elite coach during the track days reserved for this exclusive hypercar. Now that the first chapter has been closed, an even more exciting one begins.  "I can't wait for the owners to finally get on track, so that I can share my experience with them and help them discover all the secrets this car holds," concluded Pirro. "But at the same time, I've got to admit that I feel a little bit sad. For me, I can say that the Essenza SCV12 project has been like bringing up a child and now it's a bit of a shame to see it go its own way."
The Essenza SCV12 events programme gets underway at the end of June at the Vallelunga circuit near Rome, before continuing over the summer and autumn at Spa-Francorchamps, Nürburgring and Barcelona, ahead of the final event of 2021 at the Lamborghini World Finals in Misano Adriatico.