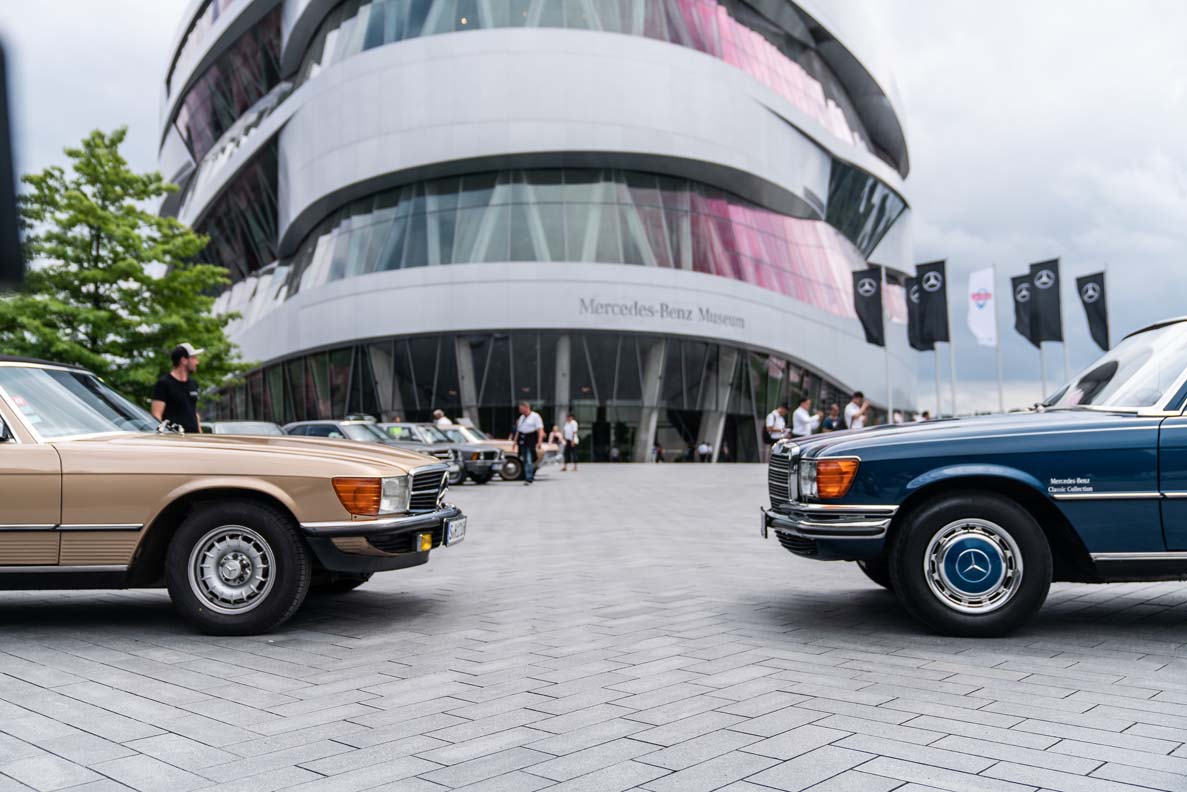 With immediate effect, the popular summer meetings for motoring enthusiasts will once again be taking place on the mound in front of the Mercedes-Benz Museum. As well as being part of the urban culture programme, they are a focal point of the Mercedes-Benz Museum's activities for the summer of 2021. In future, these open-air meets will be called "Classics & Coffee" (previously "Cars & Coffee") and "A Star among the Stars". The much appreciated character of these casual get-togethers of fans with and without their cars remains unchanged.
"The summer of 2020 showed that open-air gatherings of private vehicle enthusiasts, with adequate social distancing between participants and further hygiene measures, work well even under the exceptional corona conditions – which is why we've even expanded the programme this year. We can all hardly wait to launch the 2021 season with new momentum and proven flair," enthused Bettina Haussmann, Head of the Mercedes-Benz Museum.
"Classics & Coffee" all day on Sundays and after work on Thursdays
In addition to Sundays (all day until 6 p.m.), the meetings – which are open to all car brands – are now also held regularly as after-work meets on Thursday evenings (5 to 11 p.m.). For Mercedes-Benz drivers, there are also special-focus events: the programme includes "Mercedes-Benz SL Sports Cars", "Unimog & G-Class", "Commercial Vehicles" and the "Gentlemen's Drive".
"A Star among the Stars" will always be on Fridays
"A Star among the Stars" is a new format which is open to all drivers of a Mercedes-Benz – irrespective of whether they drive up onto the mound in a classic vehicle, a young classic or a new model. These meetings are always every Friday evening from 6 p.m. The Museum is also actively involving the recognised Brand Clubs in this series of events.
Catering
The team at Bertha's Restaurant will be offering all participants of "Classics & Coffee" and "A Star among the Stars" a food truck with a wide variety of summery food and beverages in addition to the obligatory coffee.
The Mercedes-Benz Museum is open Tuesdays to Sundays from 9 a.m. to 6 p.m.
The ticket desk always closes at 5 p.m.
Registration, reservations and latest information: Monday to Sunday from 9 a.m. to 6 p.m. by telephone on +49 711 17 30000, by email to classic@daimler.com or online at www.mercedes-benz-classic.com/museum.