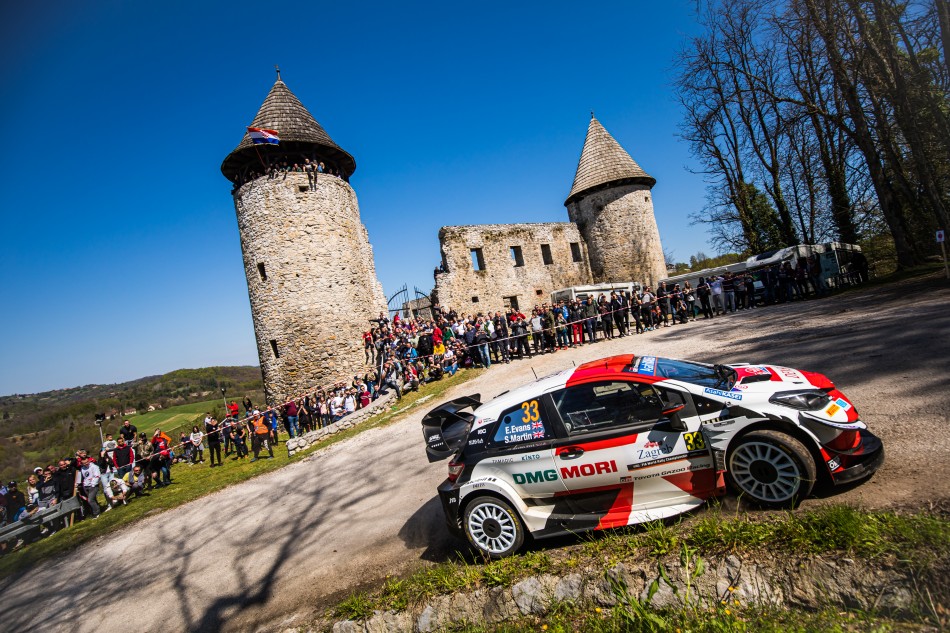 The battle to win the 2022 FIA World Rally Championship continues in Croatia next week (April 21-24) with the first asphalt event of the season free of ice and snow following on from Rallye Monte-Carlo in January.
A newcomer to the WRC in 2021, Croatia Rally proved a huge challenge for the drivers and teams when it took place last April with ever-changing grip levels and surface conditions characterising the first world-level rally in Europe's eastern region since Rally Bulgaria in 2010.
The Zagreb-based event also delivered a truly memorable finale as Sébastien Ogier beat Elfyn Evans, his Toyota Gazoo Racing team-mate, to victory by 0.6s following the winner-takes-all Wolf Power Stage.
Teams prepared for the second Croatia Rally to count for the WRC – and the first for the Rally1 era – during a series of tests on closed-public roads similar in character and challenge to what they'll experience on the event. However, the unseasonal cold temperatures experienced at the start of the month are likely to contrast to the warm weather expected during rally week.
Nevertheless, the early starts, particularly on legs two and three, coupled with the use of stages in the hills around the city will make for colder and potentially damp conditions in the mornings and could therefore result in tyre strategy becoming a factor in the outcome of the rally.
Official WRC tyre supplier Pirelli will provide the P Zero HA (hard) and SA (soft) tyres for Croatia Rally. The first-choice hard compound tyre is designed for warm and dry conditions. The soft-option tyre is better suited to colder temperatures and damp road surfaces. In the event of heavy rain, the Cinturato wet tyre can be used. A maximum of 28 tyres are available to teams running Rally1 cars during the event including four for Shakedown.
Croatia Rally is the third event of the 2022 WRC season and marks the resumption of action following the lengthy break after Rally Sweden, which concluded on February 27 with a third career victory for Finns Kalle Rovanperä and Jonne Halttunen, who top the provisional title standings as result.
FIA WRC2 and WRC3 points are also up for grabs in Croatia, while the event is round two of the FIA Junior WRC Championship.
THE 2022 ENTRY
A season best-equalling 11 Rally1 cars are entered for Croatia Rally, including a Ford Puma Rally1 for Pierre-Louis Loubet/Vincent Landais, winners of the WRC2 title in 2019. They are joined in the M-Sport Ford World Rally Team line-up by Irishmen Craig Breen/Paul Nagle, fellow French pair Adrien Fourmaux/Alexandre Coria and Briton Gus Greensmith, who is co-driven by Swede Jonas Andersson. Breen completed the Rallye Monte-Carlo podium in January, while Fourmaux returns to the scene of his debut in the WRC's top-level category last season. Fourmaux was also in action when Mexico hosted Rally of Nations Guanajuato, a round of the FIA NACAM Championship earlier this month.
Four Toyota GR Yaris Rally1 challengers appear on the entry list. In addition to Kalle Rovanperä/Jonne Halttunen, Toyota Gazoo Racing WRT is represented by British duo Elfyn Evans/Scott Martin, Japan's Takamoto Katsuta and his Irish co-driver Aaron Johnston, plus Finns Esapekka Lappi/Janne Ferm. While Evans and Katsuta completed the entire Croatia Rally distance in 2021, Rovanperä crashed into retirement on the opening stage, while the event wasn't part of Lappi's limited event schedule last season.
Hyundai Shell Mobis World Rally Team starts Croatia Rally boosted by Thierry Neuville/Martijn Wydaeghe's Rally Sweden podium and mindful of the Belgians' performance on the event last season, which they led after leg one before finishing third overall on the back of six stage wins. Estonian pairing Ott Tänak/Martin Järveoja drive a second Hyundai i20 N Rally1 and finished fourth in Croatia last year. Swede Oliver Solberg and Briton Elliott Edmondson's fledgling partnership netted sixth overall on Rally Sweden although Croatia Rally is unchartered territory for the duo.
THE SUPPORTING CATEGORIES
As well as the chase for overall success, Croatia Rally also hosts the latest round of both the FIA WRC2 Championship, for Rally2 cars, and FIA WRC3 Championship, for Rally3 cars.
Yacco ACCR Team's Erik Cais in a Ford Fiesta Mk II is the best-placed driver in the provisional WRC2 rankings where his opposition will include Frenchmen Eric Camilli (Sainteloc Junior Team), Stéphane Lefebvre, Yohan Rossel in Citroën C3s, Toksport WRT2's Nikolay Gryazin and Emil Lindholm as well as Kajetan Kajetanowicz or Chris Ingram in Škoda Fabia Evos, M-Sport Ford's Jari Huttunen, Georg Linnamäe in an ALM Motorsport-entered Volkswagen Polo GTI, Grégoire Munster in a Hyundai i20 N and WRC2 newcomer Miko Marczyk, a double Polish championship who finished third in last season's FIA European Rally Championship.
In WRC3, 2021 Junior WRC champion Sami Pajari heads the current WRC3 Open order over Lauri Joona and Jan Černý. In the FIA Junior WRC class, seven young talents are taking part to the second event following the opening round in Sweden in identical Pirelli-equipped Ford Fiesta Rally3s from M-Sport Poland. They include title leader Jon Armstrong, William Creighton, McRae Kimathi, Robert Virves and Jean-Baptiste Franceschi, who has recovered from serious injury to take up his prize drive for winning the FIA Junior ERC3 crown in 2021.
Meanwhile, Niko Pulić and Ivica Siladic will fly the flag for Croatia in WRC2 and WRC3 respectively.
THE 2022 ROUTE
The second WRC-counting Croatia Rally is based in Zagreb from April 21-24 and consists of 20 stages over a competitive distance of 291.84 kilometres. Crews head first to the hills of Samoborsko Gorje, Žumberak and Karlovac west and southwest of host city Zagreb for four stages each run twice either side of service in the capital on Friday April 22. Mali Lipovec – Grdanjci is up first from 08:33 hrs local time, while the 20.77 kilometres of Stojdraga – Gornja Vas is packed full of corners. Saturday's route, again to the west of Zagreb and featuring four double-use stages, begins with Kostanjevac – Petruš Vrh, the longest of the rally at 23.76 kilometres. The day also includes the new Platak test to the far southwest close to the Adriatic Sea. It's an early start on Sunday with Trakošćan – Vrbno, another untried stage – and the rally's most northerly – getting underway at 07:18. The second pass of Zagorska Sela – Kumrovec forms the event-deciding Wolf Power Stage. As well as the new Platak and Trakošćan – Vrbno stages, the 3.65-kilometre shakedown stage, scheduled for 09:01 hrs on Thursday April 21, is also new for 2022 and is located near the ancient town of Okić.
RALLY DATA
Total distance:                        1642.18 km
Stage distance:                        291.84 km
Number of stages:                  20
The opening hours are:
Tuesday April 19: 14:00 – 20:00 hrs
Wednesday April 20: 08:00 – 20:00 hrs
Thursday April 21: 07:00 – 20:00 hrs
Friday April 22: 07:00 – 20:00 hrs
2022 CROATIA RALLY TIMETABLE AND MEDIA OPPORTUNITIES
| | |
| --- | --- |
| Tuesday April 19 | |
| Autograph signing (P3, P4, non-priority drivers) Main Stage, Service Park | 18:30-19:30 hrs |
| | |
| Wednesday April 20 | |
| FIA Photographers safety briefing, Media Centre | 18:00 hrs |
| Team media functions (contact teams directly for information) | From 18:00 hrs |
| Autograph signing (P1, P2 drivers) Main Stage, Service Park | 18:30-19:30 hrs |
| | |
| Thursday April 21 | |
| Shakedown for P1 and invited drivers, SD Okić | 09:01 – 11:00 hrs |
| Shakedown for P1, P2, P3 + P4, SD Okić | 11:01 – 13:00 hrs |
| Shakedown for all drivers except P1 drivers, SD Okić | 13:01 – 15:30 hrs |
| Meet the Crews (top 3 in Shakedown), Main Stage, Service Park | 13:30 hrs |
| Pre-Event FIA Press Conference, Media Centre* | 14:00 hrs |
| Ceremonial Start, National and University Library and Zagreb Fountains | 18:30 hrs |
| | |
| Friday April 22 | |
| Start of Section 1 | 07:30 hrs |
| First car arrives for regroup, technical zone and media zone | 12:52 hrs |
| First car arrives for technical zone and media zone | 19:24 hrs |
| Meet the Crews (Manufacturer TPs, then top 3 drivers), Main Stage, SP | 20:00 hrs (approx.) |
| | |
| Saturday April 23 | |
| Start of Section 3 | 06:20 hrs |
| First car arrives for regroup, technical zone and media zone | 12:48 hrs |
| First car arrives for technical zone and media zone | 20:18 hrs |
| Meet the Crews (Manufacturer TPs, then top 3 drivers), Main Stage, SP | 21:00 hrs (approx.) |
| | |
| Sunday April 24 | |
| Start of Section 5 | 05:45 hrs |
| Podium Ceremony and Prize Giving, Service Park | 15:30 hrs onwards |
| Post-Event FIA Press Conference, Media Centre* | 16:30 hrs |