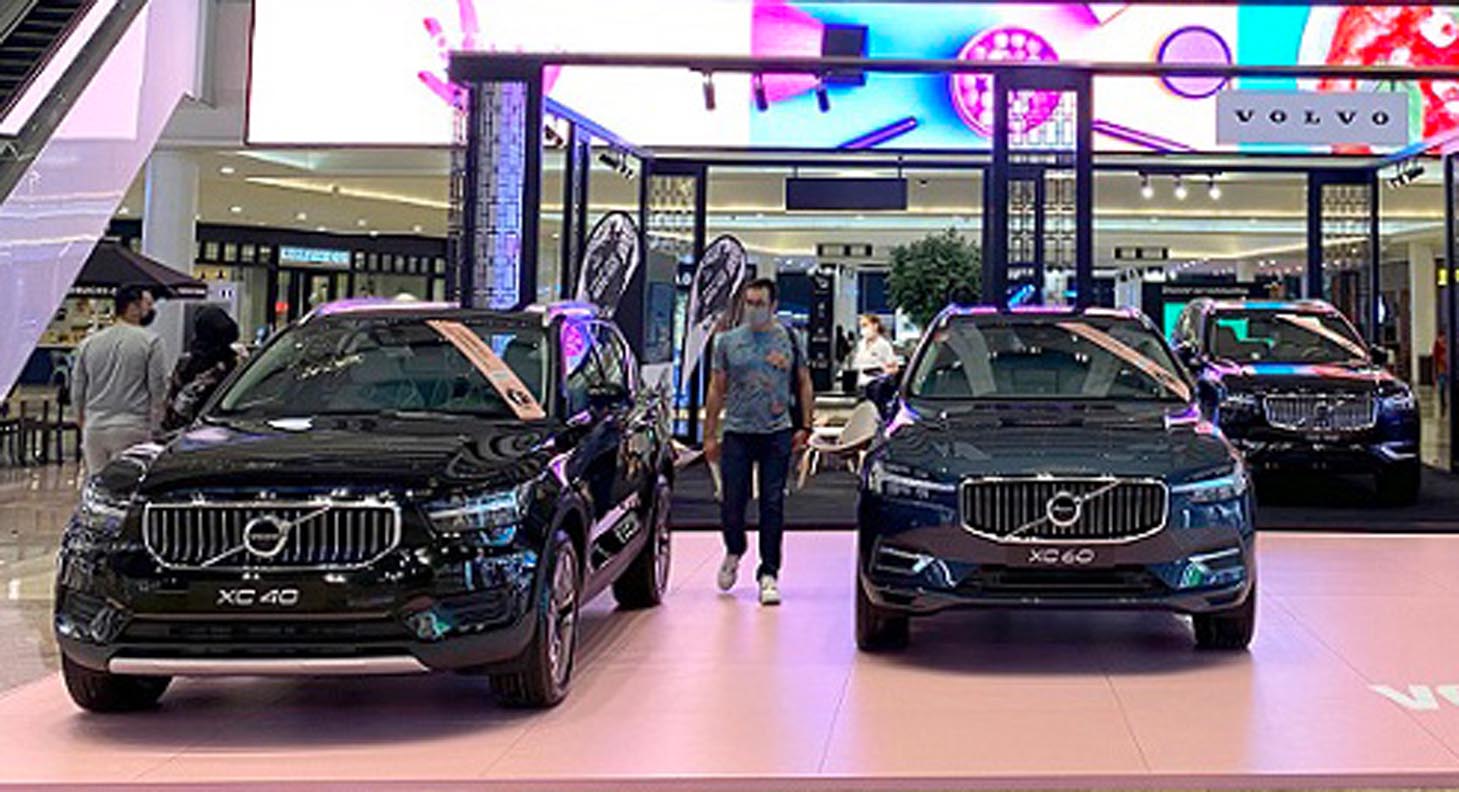 Al-Futtaim's Trading Enterprises, the official distributor of Volvo Cars in the UAE, will be presenting its latest 2021 line up at this year's Auto Fest that will be held at the Dubai Festival City Mall (DFCM).
Headlining the Volvo stand will be the brand's exclusive line up of Hybrid SUVs comprising the seven-seater XC90, the mid-size XC60 and the compact XC40. From 18th to 24th April, DFCM visitors will get the opportunity to explore Volvo's premium model range as they shop, as well as avail the exclusive Ramadan offers on the brand.
Visitors to Trading Enterprises Volvo stand at Auto Fest will also get an opportunity to have a complimentary test drive for a weekend and win a premium dining experience.
From UAE consumers are invited to visit Volvo Auto Fest stand at Festival Square in Dubai Festival City Mall, take a photo of their favourite Volvo car and post it on Instagram for a chance to win. All entries must include the hashtag #VolvoAutoFest and tag @VolvoCarUAE to be eligible for entering the draw and win. Winners will be announced at the end of the Auto Fest Volvo week.
Complementing the Hybrid line up, Volvo's premium sedan models, the luxurious S90 and the mid-size premium sedan – the S60, will be showcased at Auto Fest alongside the brand's standard SUV range of XC90, XC60 and XC40. Trading Enterprises will be extending Ramadan offers to Auto Fest customers who will have the opportunity to benefit from a trade-in bonus or receive down payment assistance worth up to AED 20,000 with the purchase of a brand-new Volvo.
Additionally, a comprehensive five-year complimentary package will be offered, which comprises of free aftersales service, extended warranty, and roadside assistance.
Oscar Rivoli, Managing Director at Trading Enterprises, said "As part of Volvo's commitment to sustainability, we are excited to present the brand's latest SUV hybrid range at Auto Fest, inspiring UAE motorists to adopt cleaner driving habits while benefiting from our exclusive Ramadan offers. Our participation at Auto Fest will give us the opportunity to engage the Volvo brand with a larger audience and further promote Volvo's electrification strategy."
Rivoli added, "At Trading Enterprises, we strive to give back to our UAE community and Ramadan is an ideal time for us to engage with our customers and provide them generous offers to elevate their driving experience with hybrid vehicles while being sustainable too".
Volvo's latest hybrid fleet is a no-compromise combination of plug-in battery electric power and an efficient petrol engine that provides low to zero tailpipe emissions, high flexibility and a powerful driving experience.
As part of the Ramadan offers, Trading Enterprises will be giving customers at Auto Fest a complimentary Volvo wall box charger with the purchase of a Volvo hybrid SUV model.
The flexibility of Volvo's offers in the UAE this Ramadan will also give customers an opportunity to drive a brand-new Volvo model on a long-term lease plan and enjoy a complete peace of mind experience, with the possibility to own the leased car.
Starting from AED 2,699 per month, the Volvo lease range will be complemented with a complimentary package of car insurance, service, warranty, and roadside assistance throughout the set payment plan.
The Volvo XC range offers premium SUVs that are versatile, beautifully designed, technologically advanced, and highly safe for drivers and passengers. Together with the larger XC60 and XC90, the XC40 completes Volvo's line-up of premium SUVs, all of which are available as Plug-in Hybrids and will be on offer this Ramadan.
Powered by Volvo's Drive-E powertrains including petrol variants, both the XC60 and XC90 are also available with a T8 Twin Engine AWD petrol plug-in hybrid that delivers as much as 407hp.
Built to give you the highest level of luxury and driving experience, Volvo sedans combine dynamic driving with the comforts of modern technology. Showcased at Auto Fest, both the Volvo S90 and S60 bear all the marks of the quality and attention to detail expressed in the Swedish design heritage.
Volvo stand visitors at DFCM will have the opportunity to avail Ramadan offers on Volvo sedans and experience their selective approach to materials and the design for performance.