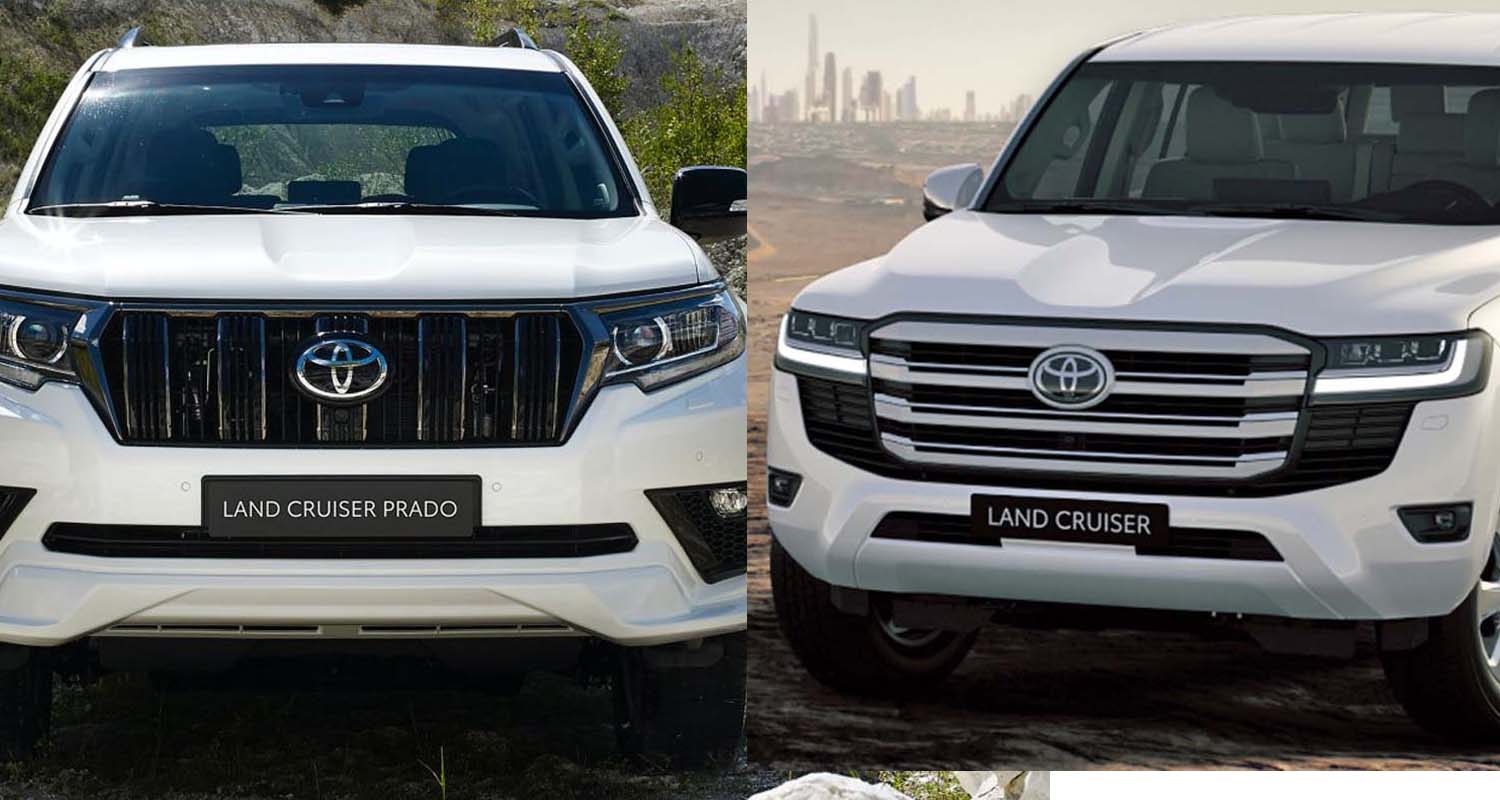 It's iconic, it's a legend, and it's one of the most respected 4x4s in the world. The Toyota Land Cruiser is everything you could possibly want from an off-road capable vehicle, with bags of style, low-end torque for those tricky hill-climbs, and rugged good looks. But has it been usurped by its younger brother, the Land Cruiser Prado? In the battle of the Toyota SUVs, which one comes out on top? Here's a quick run-down on the Land Cruiser vs the Prado, and how to tell which is the most reliable SUV and most suitable for your needs.
The Land Cruiser – the giant of the SUV world
Let's start with the Land Cruiser. With a 60-year heritage to fall back on, this doyenne of the 4×4 world had no rivals for decades. Its reach extends to every part of the globe, and it's trusted for its dependability, reliability, and sheer versatility.
Modern Toyota Land Cruisers also come with plenty of extras to keep today's motorist happy. These are not the basic, rough-and-ready explorers of yesteryear, but today come with leather seats, infotainment centres that wouldn't be out of place on a top-of-the-range sedan, and as much luxury as you want. Underneath the bonnet, there's a choice of 4.0 V6, 4.6 V8 or 5.7Litre V8 engines, depending on your specifications. Even the baby V6 delivers as much torque as you could ever need, whether you're dune-bashing or eating up the tarmac on a long road trip.
A host of safety equipment also makes the Toyota Land Cruiser one of the safest SUVs on the market, with Brake Assist, Vehicle Stability Control and Active Traction Control for off-road adventures. A 6 or 8-speed transmission (depending on the model) ensures that raw power is put down safely and in a controllable manner, making this big SUV remarkably easy to drive in any conditions.
So far, it's looking good for the Land Cruiser, and this legendary SUV has lost none of its shine over the decades. But what of the young pretender? Let's now take a look at the Prado.
The Land Cruiser Prado – there's a new kid on the block
While the Land Cruiser Prado certainly pays its respects to its elders, it's also a spritely, spirited addition to the Land Cruiser stable and is packed with features. This is a serious off-roader, as demonstrated by the additional innovative driving modes that are specifically suited to all types of driving terrain. There are five to choose from – simply dial the specified mode with a twist of the knob on the Multi-terrain Select console. Combine it with the Crawl Control and Kinetic Dynamic Suspension System and you have a Prado that really can go anywhere and do anything its big brother manages – and then some.
Power is delivered via a 2.7Litre 4-cylinder engine, which is very user-friendly and works well around town, or a torquey 4.0Litre V6 that has the low-down grunt you need to get up rugged tracks and sand dunes. Both are wedded to a 6-speed automatic electronically controlled transmission unit for super-smooth power delivery all the way through the range.
Inside, the Prado is tech'd up with all the latest gadgets, including a very useful Multi-terrain Monitor with panoramic views, helping you negotiate tricky rocky ground with ease. It's spacious, comfortable, and luxurious, with plenty of room for passengers, and a sophisticated, intuitive infotainment center console.
It's the additional touches that make the Prado the next-generation Land Cruiser for serious off-road fans. However, despite its rugged credentials, it's well mannered on the tarmac, and happy to take you into the city centre for an afternoon's shopping trip.
Which one is best for you? Well, that really depends on what you want from your Toyota. If you want sheer power and reliability, then the Land Cruiser with its V8 engine option is the one for you. If you love tech and want to challenge yourself on tricky terrain then the Prado with its additional features for off-road driving is the vehicle of choice.