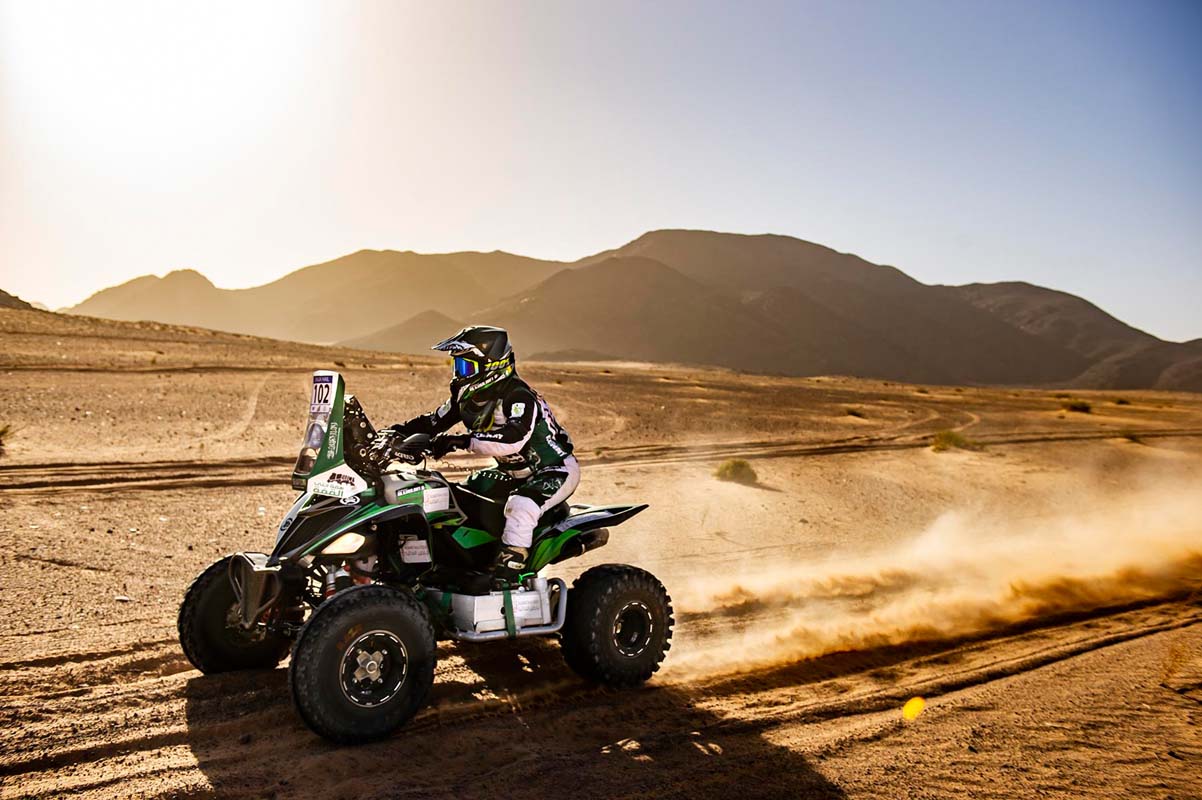 Saudi Arabian and GCC riders dominate the motorcycle and quad entry for this week's Hail Cross-Country Rally, the four-day finale to the world's 2021 off-road season.
While most attention this week in the north-central region of Saudi Arabia turns to the battle for FIA World Cup glory and the duel between Qatar's Nasser Saleh Al-Attiyah and Argentina's Lucio Alvarez for the Drivers' title, the two-wheel protagonists will be looking for their own success in the absence of the world's top cross-country riders.
Austria's Matthias Walkner clinched the 2021 FIM Cross-Country Rallies World Championship on a works KTM and, as teams such as Honda, KTM, Sherco, Husqvarna, Yamaha and GasGas make their final preparations for the Dakar Rally, the stage is left open for regional riders to shine.
Twenty-six bikes and 10 quads will tackle the four desert selective sections laid on by the Saudi Arabian Motor and Motorcycle Federation (SAMF).
The 2019 Sharqiya Baja winner Mishal Al-Ghuneim heads the two-wheel section on his Husqvarna FR 450 Rally and faces main competition from the likes of fellow countrymen, Fawaz Al-Toimi, Abdulhalim Al-Mogheera and Mohammed Al-Khater.
The State of Qatar is represented by Sheikh Mohammed Al-Thani (Honda) , Mohammed Al-Kaabi (Beta), Abdulrahman Al-Sheeb (Beta) and Ali Mubarak Al-Badi (Yamaha).
Sarah Khuraibet finished fourth in the Women's category of the FIM Bajas World Cup and represents Kuwait on her Husqvarna, while Salman Farhan is the sole representative from Bahrain, also on a Husqvarna.
With Mohammed Al-Balooshi missing the Hail event to finalise his Dakar preparations, Othman Al-Ghefeli leads the Emirati challenge on a Honda CRF. He is joined by Hamdan Al-Ali and Abdullah Lanjawi. Lebanon's Ehab Al-Hakeem and Italy's Mauro Torrini round off the international two-wheel contingent.
Abdulmajeed Al-Khulaifi won the quad category in Hail on six occasions between 2014 and 2019 and the Yamaha Raptor 700 rider heads nine Saudi rivals that include Sultan Al-Masoud, 2021 Sharqiya Baja winner Hani Al-Noumesi and Haitham Al-Tuwaijri, the 2021 FIM Bajas World Cup quad champion.
Scrutineering and technical checks will take place at the rally headquarters in Hail today (December 6th) and tomorrow, in advance of the ceremonial start at Maghwat, scheduled from 18.00hrs on Tuesday evening. Competitors will then tackle four desert stages from December 8th-11th.