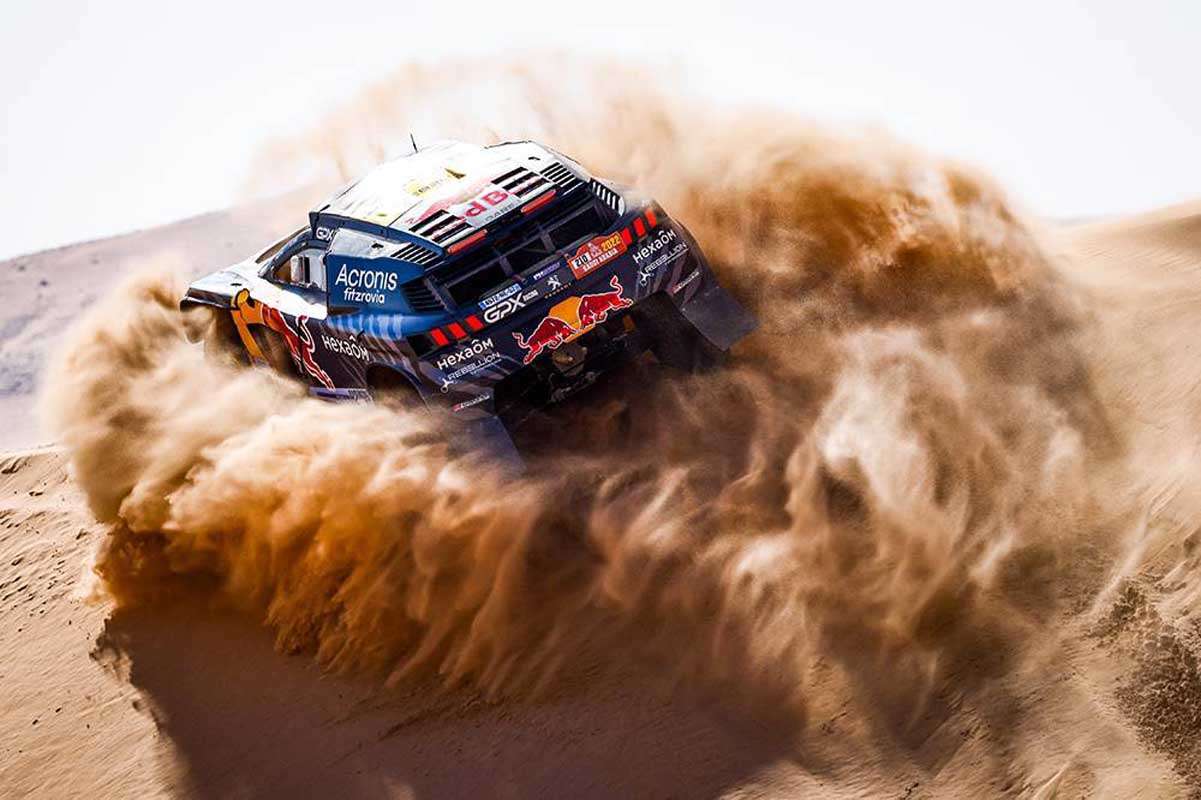 Swede and T3 racer Quintero win Stage 8 as Sunderland reclaims lead.
Mattias Ekström claimed his maiden Dakar Rally stage win at Monday's Stage 8 in his Audi RS Q e-tron as Briton Sam Sunderland reclaimed the bike lead with victory and teenager Seth Quintero moved one step closer to making Dakar history. Here is all you need to know:
– The 2022 Dakar Rally convoy were plunged into a 200km chain of desert dunes at the beginning of Stage 8 as navigation challenges came thick and fast on the day, which ended up measuring 394km.
– With 434km of liaison to be covered, it was the longest day of the world's toughest rally making it an extra special maiden Dakar stage win for Sweden's Ekström and compatriot co-driver Emil Bergkvist.
– The timed special stage between Al Dawadimi and Wadi Ad-Dawasir gave the Audi RS Q e-tron a second stage win of its fledgling Dakar career with Audi Sport's positive second week continuing thanks to fine Stéphane Peterhansel (FRA) and Carlos Sainz (ESP) displays.
– Sébastien Loeb (FRA) had led the stage at various points, but had to settle for the day's third fastest time bringing him seven minutes closer to car race leader Nasser Al-Attiyah (QAT) with Polish off-roader Kuba Przygoński now up to fourth as he seeks his first overall podium.
– American Quintero of the Red Bull Off-Road Junior Team wants to break the record of the most stage wins in a single edition – currently standing at 10 – and he duly picked up his eighth T3 stage victory.
– Leading overall is Chaleco Lopez (CHL) who is on to do the side-by-side double, after winning the T4 race last year, however Cristina Gutiérrez (ESP) lost over two hours due to mechanical problems.
– Back to record breakers, Team Kamaz Master completed yet another 1-2-3 result on Stage 8 for the sixth time this edition as leader Dmitry Sotnikov (RUS) won his third stage of the rally to extend his advantage over team-mates Eduard Nikolaev (RUS) in second and Anton Shibalov (RUS) in third.
– After dropping down to fourth, GasGas Factory's Sam Sunderland (GBR) reclaimed the bike lead by going hard on the throttle to win and open up a 3m45s gap to Austrian Matthias Walkner with fellow KTM Factory riders Kevin Benavides (ARG) and Toby Price (AUS) sixth and ninth overall.
– Slovakian Štefan Svitko is the highest placed 'privateer' biker in eighth overall, while Camille Chapelière (FRA) ranks third amongst Rally2 competitors with Tuesday's Stage 9 a 287km loop around the Wadi Ad-Dawasir bivouac featuring a mass of challenging mountains and canyons.
QUOTES
Mattias Ekström: "I was careful in the dunes, maybe a bit too slow. After that we felt more confident with the track. I enjoyed the ride and Emil did fantastic navigation the whole stage."
Stéphane Peterhansel: "We broke the bonnet while jumping the dunes so it was necessary to stop and get that fixed. It is a pleasure to drive this car and we are all working hard to improve the performance."
Carlos Sainz: "It was a really good day for Audi with the victory of Mattias. Stéphane came second and I nearly missed third place by three seconds. Considering I had two slow punctures I think our time was good."
Sébastien Loeb: "We pushed really hard from the start until the end. We wanted to stay ahead and not have Nasser following. We had one puncture and changed the wheel quickly. Then we lost our last spare wheel, so I controlled things after that. I think we still did a good stage."
Nasser Al-Attiyah: "We only had front wheel drive for the last 350km of the stage. I was scared we would get more problems but then decided to push for the last 50km."
Seth Quintero: "Today went great. We really feel no pressure, so we're just out there having a good time and today went well for us."
Chaleco Lopez: "I didn't lose any time today, but the race is still long. It was not easy today: even if I didn't have any problems, there were a lot of dunes and stones, so I'm happy to have finished."
Sam Sunderland: "I gave my all throughout the entire stage and tried to recuperate some time. I had a few crashes in the dunes when I was perhaps pushing a bit too much. It looks like the race is really close this year, so that makes it exciting for people watching at home."
Kevin Benavides: "It was another really good day for me. I've been working so hard to recover the time that was lost on the first stage. I stay motivated because everything is still possible, this is the Dakar."
Mohammed Jaffar: "I had the perfect stage today. On the previous stages I always had some problem like a penalty or a missed waypoint. Today I made zero mistakes so I guess I must be improving."
2022 Dakar Rally Standings after Stage 8
CAR RACE TOP 5
1. N. AL-ATTIYAH (QAT) TOYOTA 27:45:52
2. S. LOEB (FRA) BRX +37:58
3. Y. AL RAJHI (SAU) TOYOTA +53:13
4. K. PRZYGONSKI (POL) MINI +1:28:06
5. O. TERRANOVA (ARG) BRX +1:31:39
BIKE RACE TOP 5
1. S. SUNDERLAND (GBR) GAS GAS 27:38:42
2. M. WALKNER (AUT) KTM +03:45
3. A. VAN BEVEREN (FRA) YAMAHA +04:43
4. P. QUINTANILLA (CHL) HONDA +05:30
5. J. BARREDA BORT (ESP) HONDA +14:38
TRUCK RACE TOP 5
1. D. SOTNIKOV (RUS) KAMAZ 30:02:36
2. E. NIKOLAEV (RUS) KAMAZ +11:25
3. A. SHIBALOV (RUS) KAMAZ +40:23
4. A. LOPRAIS (CZE) PRAGA +1:29:27
5. A. KARGINOV (RUS) KAMAZ +1:41:01
LIGHTWEIGHT PROTOTYPE (T3) TOP 5
1. F. LOPEZ CONTARDO (CHL) CAN-AM 32:51:39
2. S. ERIKSSON (SWE) CAN-AM +1:19:01
3. F. ALVAREZ (ESP) CAN-AM +2:55:30
4. S. NAVARRO (ESP) CAN-AM +4:50:24
5. P. LEBEDEV (RUS) CAN-AM +4:51:35