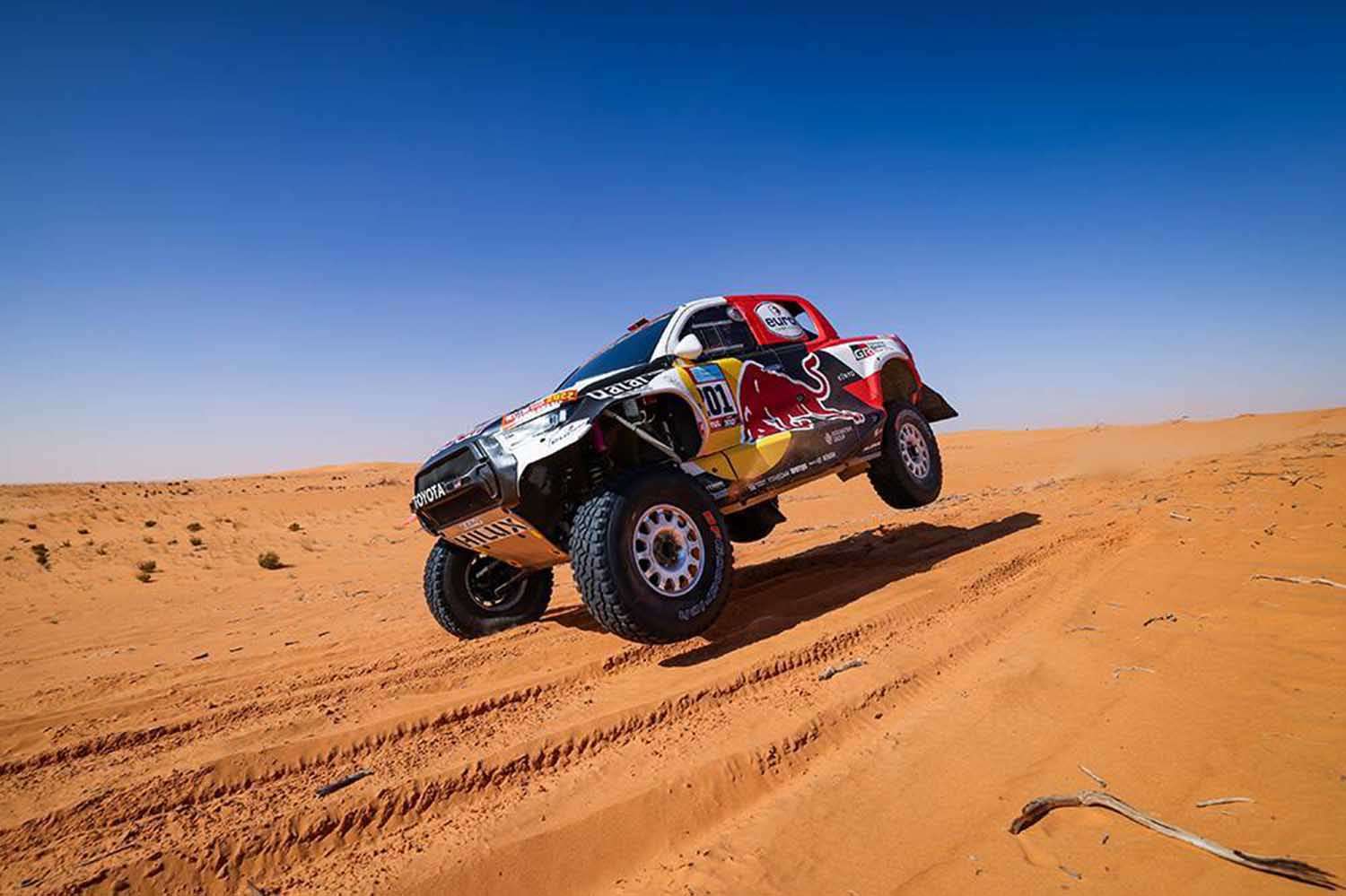 Petrucci claims maiden Dakar stage win as teenager Quintero triumphs again.
Frenchman Sébastien Loeb gained nearly three minutes on car leader Nasser Al-Attiyah after Stage 5 of the 2022 Dakar Rally as former MotoGP rider Danilo Petrucci picked up his maiden Dakar stage win and teenager Seth Quintero triumphed again. Here is all you need to know:
– Loeb put his Prodrive BRX Hunter into full attack mode with the off-road racing legend finishing second on the day behind Henk Lategan to take nearly three minutes out of Qatari Al-Attiyah's lead.
– Carlos Sainz (ESP), Stéphane Peterhansel (FRA) and Mattias Ekström (SWE) struggled on Thursday as they try out the electrified drivetrains of their Audi RS Q e-tron for the first time in the Dakar.
– The desert debut of Italian Petrucci keeps getting better as the two-time MotoGP race winner picked up his first-ever Dakar bike stage win today by just two seconds from Botswana's Ross Branch.
– Leader Sam Sunderland (GBR) stays at the head of the general classification despite the GasGas man suffering a second crash in two days, while Toby Price (AUS) and Kevin Benavides (ARG) made up time.
– 2018 Dakar winner Matthias Walkner (AUT) remains in hot pursuit and took another 30 seconds out of Sunderland's lead on Stage 5, reducing his overall deficit to just two and a half minutes.
– There was another T3 stage win for American Quintero making it five out of six stage wins so far (including the prologue) with fellow Red Bull Off-Road Junior Team driver Cristina Gutiérrez (ESP) recording a second consecutive fourth place as Chaleco López (CHI) retained his lead.
– Another display of absolute domination saw Team Kamaz Master record a superb 1-2-3-4 truck result, with Andrey Karginov (RUS) winning on the day and Dmitry Sotnikov (RUS) extending his overall lead.
– Friday's Stage 6 will be another loop around the Riyadh bivouac, this time in the desert sands to the right of Saudi Arabian capital, leading into the thoroughly deserved Rest Day.
QUOTES
Sébastien Loeb: "We got in front in Nasser who had a tough job opening the road with no bikes in front. Then we were passing each other as we found the way to the finish line. Unfortunately it was impossible to get back more time than we did today."
Carlos Sainz: "It was not a very good stage for us. It started OK but then we broke a damper and lost a lot of time. I have to thank my team-mate Stephane who stopped and gave me his damper so I could carry on."
Danilo Petrucci: "When I started today, speed was not my focus. I was working on my navigation. Then after a while I started to throw down. I eased off again in the dunes because I'm still worried about my ankle."
Sam Sunderland: "I hurt my neck and shoulder. I was more or less in survival mode today and just trying not to lose too much time. In the dunes I could push a bit but it was a pretty rough day."
Matthias Walkner: "It was a nice special stage until around 100km. I caught up with Sam and then we stayed together. We kept motivating each other to push. There was one strange moment with a waypoint, but I didn't lose too much time here. Overall everything is running to plan."
Seth Quintero: "That's win number five and we're going to keep ticking them off. Nine is the record, so we're going to see if we can break it."
Chaleco López: "An extensive stage with lots of stones. We got into a good rhythm and that took us to the finish. This is how we go, day by day."
2022 Dakar Rally Standings after Stage 5
CAR RACE TOP 5
1. N. AL-ATTIYAH (QAT) TOYOTA 17:24:23
2. S. LOEB (FRA) BRX +35:10
3. L. ALVAREZ (ARG) TOYOTA +51:15
4. Y. AL RAJHI (SAU) TOYOTA +54:46
5. V. VASILYEV (RUS) MINI +1:07:52
BIKE RACE TOP 5
1. S. SUNDERLAND (GBR) GAS GAS 19:01:50
2. M. WALKNER (AUT) KTM +02:29
3. A. VAN BEVEREN (FRA) YAMAHA +05:59
4. D. SANDERS (AUS) GAS GAS +08:01
5. L. SANTOLINO (ESP) SHERCO +15:27
TRUCK RACE TOP 5
1. D. SOTNIKOV (RUS) KAMAZ 19:09:20
2. E. NIKOLAEV (RUS) KAMAZ +09:53
3. A. SHIBALOV (RUS) KAMAZ +26:27
4. J. VAN KASTEREN (NLD) IVECO +52:16
5. A. LOPRAIS (CZE) PRAGA +01:01:13
LIGHTWEIGHT PROTOTYPE (T3) TOP 5
1. F. LOPEZ CONTARDO (CHL) CAN-AM 20:38:29
2. S. ERIKSSON (SWE) CAN-AM +22:16
3. P. PINCHEDEZ (FRA) CAN-AM +2:05:38
4. F. ALVAREZ (ESP) CAN-AM +2:19:25
5. C. GUTIERREZ (ESP) OT3 +2:22:20