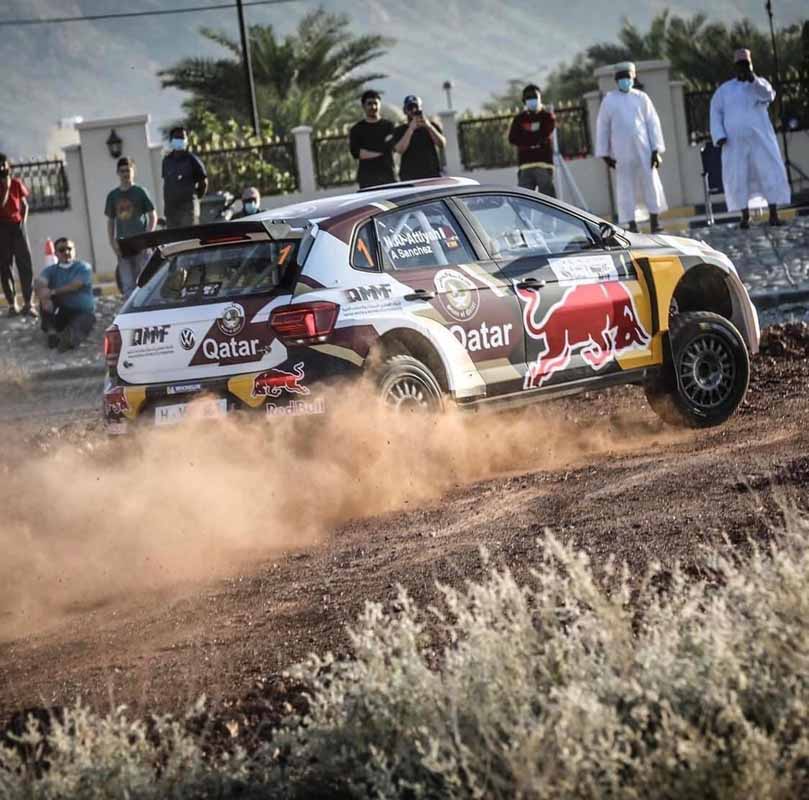 Qatar's Nasser Saleh Al-Attiyah and Spanish co-driver Alba Sánchez González cruised into a massive lead of 8min 39.5sec after the opening leg of Oman Rally Sohar International on Friday.
Following the premature retirement of both Hamed Al-Wahaibi and Abdullah Al-Rawahi just before and on the first run through the Misfah special, the Qatari managed his pace to protect his Autotek Volkswagen Polo GTI. He won every stage on the day and is firmly on course for a seventh victory in Oman and a 79th career MERC rally win.
Czech Petr Kačirek and co-driver Václav Kopáček reached the night halt in second place in their Duck Racing Škoda Fabia and Nasser Khalifa Al-Atya and Italian co-driver Giovanni Bernacchini rounded off the podium places in third in a Ford Fiesta R5.
Al-Attiyah started strongly and was able to extend his advantage over Al-Wahaibi from 3.3 seconds to 28.2 seconds after the first pass through the 21.98km of Al-Khoud when Al-Wahaibi lost power towards the end of the stage. The FIA field had already been whittled down to eight after the retirement of Oman's Jarah Al-Touqi before the restart.
The Qatari's cushion grew to a massive 3min 54.7sec after the subsequent Misfah stage: Al-Rawahi stopped with extensive rear suspension damage and Al-Wahaibi retired with turbocharger issues before the start of the Misfah special. Their demise lifted Kačirek and Al-Atya into the podium places. Al-Attiyah's lead then grew to five minutes after the Saal special and he reached service in relaxed mood.
The Qatari noticeably eased his pace on the re-run of Al-Khoud and headed for the last two stages of the day with an advantage of 6min 44.5sec. He continued to ease away from his rivals and had built up a comfortable cushion at the end of the day.
Oman's Zakariya and Mohammed Al-Aamri lead the MERC2 category in their fourth-placed Subaru Impreza and the Jordanian pairings of Issa Abu Jamous and Emad Juma and Ihab Al-Shorafa and Yousef Juma are fifth and sixth overall.
Al-Wahaibi and Al-Rawahi will now need to regroup and refocus in time to restart under the Rally2 ruling for the remaining six special stages on Saturday.
"This is the fourth Oman Rally that I have retired from," reflected Al-Wahaibi. "I have entered four and retired from four. Three I was leading and retired because of mechanical problems. Today it was a turbo. It was an engine one time and a ball joint, one time.
"All those retirements have been purely cruel luck and not driver mistakes. They have all been technical. I was excited for today's stages. They were really fun and enjoyable to drive. Unfortunately, I only drove the first one. Especially through the wadi and the water splash, it was something pretty special. The car was performing well and Tony (Sircombe) was completely in sync.
"I am obviously disappointed for the fans and the team. I am here for fun. I am back in the sport. I have no targets and just love driving fast. I adore rallying. It is passion-based, so it is not a problem."
Oman's Haitham Al-Hadidi had been the overnight leader of the Oman National Rally, but Haitham Al-Soomar snatched the advantage in SS2, where Musab Al-Soomar retired with technical issues.
Al-Soomar continued to lead as the day progressed in his Mitsubishi Lancer Evo VII and reached the end of the leg with a lead of 18min 6.5sec. Lebanon's Alain Nawfal moved up to second in a T3 Yamaha YXZ 1000R after Al-Hadidi hit trouble on the seventh stage.
2022 Oman Rally Sohar International – positions after SS7:
Nasser Saleh Al-Attiyah (QAT)/Alba Sánchez González (ESP) Volkswagen Polo GTI R5 1hr 20min 09.0sec
Petr Kačirek (CZE)/Václav Kopáček (CZE) Škoda Fabia R5 1hr 28min 48.5sec
Nasser Khalifa Al-Atya (QAT)/Giovanni Bernacchini (ITA) Ford Fiesta R5 1hr 29min 30.6sec
Zakariya Al-Aamri (OMN)/Mohammed Al-Aamri (OMN) Subaru Impreza 1hr 40min 47.6sec
Issa Abu Jamous (JOR)/Emad Juma (JOR) Mitsubishi Lancer Evo IX 1hr 41min 18.2sec
Ihab Al-Shorafa (JOR)/Yousef Juma (JOR) Mitsubishi Lancer Evo IX 1hr 45min 54.6sec
Abdullah Al-Rawahi (OMN)/Ata Al-Hmoud (JOR) Škoda Fabia R5                                        RETIRED SS3
Hamed Al-Wahaibi (OMN)/Tony Sircombe (NZL) Škoda Fabia R5                                         RETIRED SS3
Jarah Al-Touqi (OMN)/Issa Al-Wardi (OMN) Subaru Impreza                                               RETIRED SS2
2022 Oman National Sohar Rally – positions after SS7:
Haitham Al-Soomar (OMN)/Wael Al-Shabani (OMN) Mitsubishi Lancer Evo VII 1hr 37min 25.7sec
Alain Nawfal (LEB)/Bashar Qassimi (OMN) Yamaha YXZ 1000R 1hr 56min 12.2sec
Haitham Al-Hadidi (OMN)/Saif Al-Hinai (OMN) Mitsubishi Lancer Evo VIII 2hr 02min 29.4sec
Musab Al-Soomar (OMN)/Bassam Al-Qasmi (OMN) Kia Rio                                                 RETIRED SS2