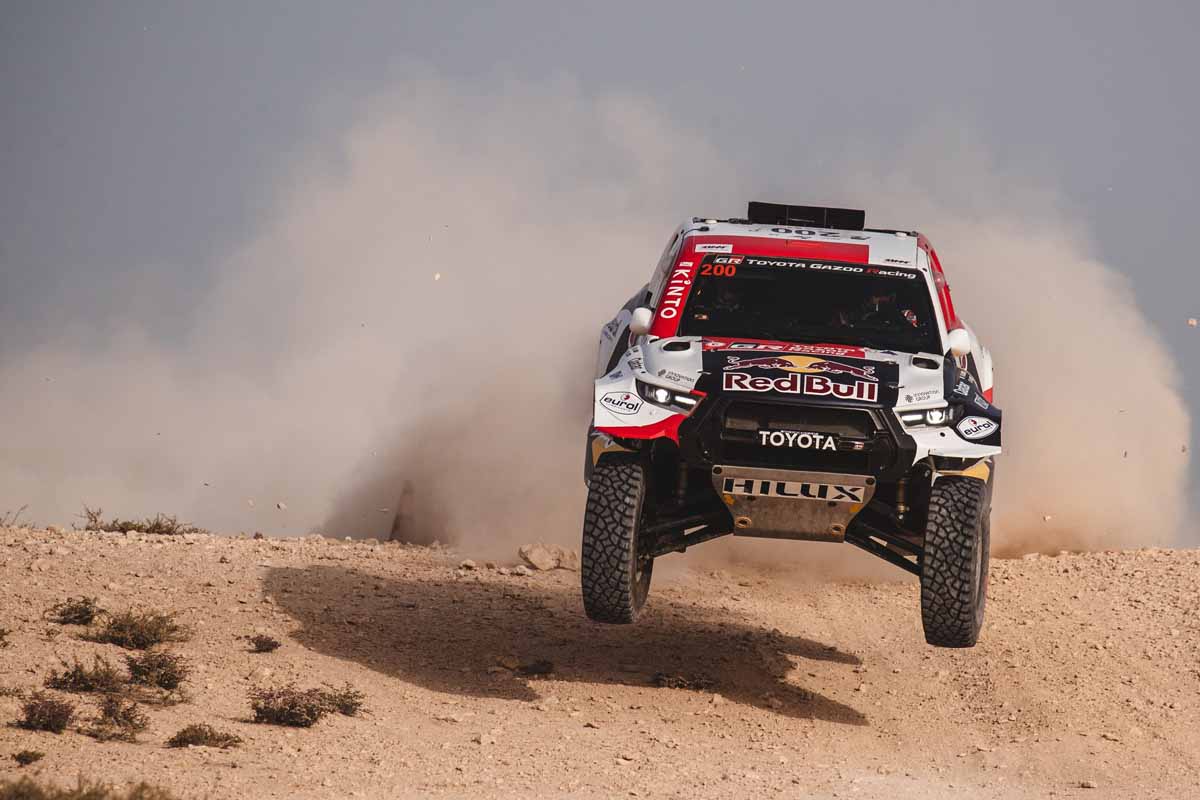 Qatar's Nasser Saleh Al-Attiyah and Polish junior rider Konrad Dabrowski set the quickest times in the car and motorcycle categories through the opening 9.20km Qualifying Stage of the Qatar International Baja on Thursday afternoon.
A time of 5min 11.8sec ensured that Nasser Saleh Al-Attiyah and Mathieu Baumel were the early leaders of the second round of the FIA Middle East Cup for Cross-Country Bajas. The defending Dakar champion guided the latest specification Toyota Hilux to a 4.3-second lead over Toyota team-mate Yazeed Al-Rajhi.
"A good start because it was not easy in a narrow place," said Al-Attiyah. "I think we did a good job without any mistakes. Tomorrow will be much faster. Maybe it's better for me to start first. I don't want to be behind the Can-Am. Maybe it will be more dusty. We will see."
Al-Rajhi added: "Happy we finish because the car switch off a few times. I think electric problem. But we only lose 4.3 seconds. We pushed very well. We continue to push. Most important for me is to enjoy. That's why I came here."
Dabrowski, the son of former cross-country rider and driver Marek, stopped the clocks in 6min 01.3sec to lead the motorcycle and junior categories on his Husqvarna FR450. With the time multiplied by a coefficient of four, the Pole headed into the night halt on the second round of the FIM Bajas World Cup with a comfortable lead and the choice of a favourable starting position for Friday.
Emirati Mohammed Al-Balooshi finished second and Great Britain's Maki Rees-Stavros rounded off the top three. Kuwait's Abdullah Al-Shatti and Jordanian Abdullah Abu Aishah set the fourth and fifth fastest times, while Poland's Joanna Modrzewska was the leading female rider in 14th.
Defending Qatar Baja champion Al-Balooshi said: "This is one of the toughest events you can tackle on a bike. The navigation is exceptionally difficult, especially when you are competing against the clock. I should know, I've had good results and I've also been evacuated by helicopter in the past. Riders will also need to be very careful on Friday when we do the second stage after the cars. There are sure to be ruts and tracks in the softer places and that will make it even more tricky for the bikes."
Andorra-based Ulsterman Kris Meeke began his campaign strongly in a Nasser Racing-entered Can-Am and teamed up with Frenchman François Cazalet to record the third quickest time in the car section to hold third overall and first in the FIA T3 category. Former WRC team-mate and desert debutant Dani Sordo finished fifth overall and second in T3.
"I have never been in this situation where all the categories are linked together," said Meeke. "I had half an idea that I would be ninth or 10th fastest, which means you are opening the road. I didn't want to end up playing the game. Today was totally different to what we can expect tomorrow. Today we made pace notes, so it was half a rally stage, half a cross-country stage. I did the whole Dakar in an open car. The temperatures today were not so bad. I enjoyed it. The South Racing Can-Am is so nice. It's balanced and everything works correctly."
"It is difficult to find the point to turn in to the corners (open desert)," added Sordo. "I need to know how much you can go out when the waypoint is coming. The only problem is the corners never arrive… We had a problem with the sun (vision). But it's good fun. Fifth today but we want more…"
Khalifa Saleh Al-Attiyah held sixth overall and a lead of 24.3 seconds over Sadoon Al-Kuwari in the FIA T4 category. Saudi Arabia's Muneef Al-Shammeri topped the FIA T2 standings.
Hani Al-Noumesi edged into a small lead over Saudi rivals, Faisal Al-Suwayh and Abdulmajeed Al-Khulaifi, in the quad category. Emiel Stuckens struggled to get his quad to fire up at the start of the stage, but the Belgian went on to finish fourth.
Eighteen FIA machines, including 11 in T3 and three in T4, were permitted to start, in addition to six vehicles in the National Baja. Several drivers, including Miroslav Zapletal, Saleh Al-Saif, Khalid Al-Feraihi and Mohammed Al-Tuwaijri, were not able to attend the event. Abdullah Al-Rabban was demoted to the National Baja after his Jeep failed to comply with the most recent safety regulations.
The FIM's starting list confirmed 22 motorcycles, four quads, an SSV and a further 16 riders in a National Baja. Germany's Philip Horlemann, Australia's Simon Francis and several Saudi riders, including quad entrants, Abdulaziz Al-Atawi and Sultan Al-Masoud, were non-starters.
Qatar-based Australian rider Martin Chalmers sustained a pre-event arm injury and was forced to withdraw his entry after racing so strongly at the opening round of the FIM Baja series in Jordan.
Talented Emirati rider Mohammed Meerza led the FIM National Baja on his Husqvarna from Saudi Arabia's Mishaal Al-Ghuneim. Al-Mashna Al-Shammeri clocked the quickest time in the FIA National Baja.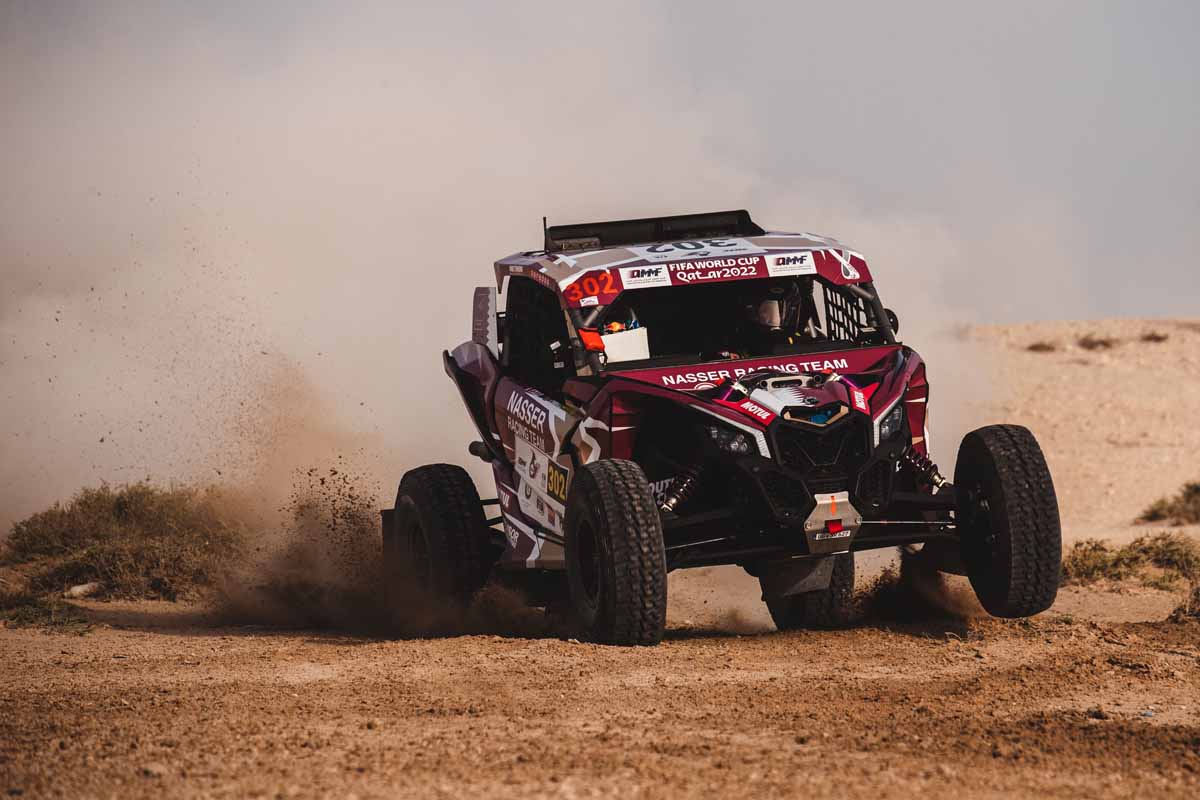 Friday
Tomorrow, FIA vehicles will leave Lusail on a liaison of 85.85km and then tackle two selective sections of 122.73km and 124.86km, starting at 09.05hrs and 11.25hrs, respectively.
Motorcycles, quads and the solitary FIM SSV will start the slightly longer of the two sections first from 09.25hrs and then move on to the shorter combined second section of 122.73km after a 20-minute neutralisation stop and refuel.
2022 Qatar International Baja – Qualifying Stage result (SS1):
FIM – Bikes
Konrad Dabrowski (POL) Husqvarna FR450 6min 01.3sec
Mohammed Al-Balooshi (ARE) Husqvarna FR450 6min 30.6sec
Maki Rees-Stavros (GBR) KTM 450 EXC-F 6min 30.6sec
Abdulla Al-Shatti (KWT) KTM 450 Rally Replica 6min 37.5sec
Abdullah Abu Aishah (JOR) KTM 450 EXC-F 6min 39.7sec
Alex McInnes (GBR) Husqvarna FE450 6min 48.1sec
Thomas Kongshøj (DNK) Husqvarna FR450 7min 05.6sec
Michael Anderson (RSA) KTM 450 EXC-F 7min 17.7sec
Mohamed Al-Kaabi (QAT) Beta RR 7min 21.0sec
Robert Wallace (GBR) KTM 450 Rally 7min 35.2sec, etc
FIM – Quads
Hani Al-Noumesi (SAU) Yamaha 8min 38.6sec
Faisal Al-Suwayh (SAU) Yamaha 8min 41.0sec
Abdulmajeed Al-Khulaifi (SAU) Yamaha 700 CC                 8min 52.6sec
Emiel Stuckens (BEL) Can-Am DS450 10min 03.5sec
FIA – Cars
Nasser Saleh Al-Attiyah (QAT)/Mathieu Baumel (AND) Toyota GR DKR Hilux 5min 11.8sec
Yazeed Al-Rajhi (SAU)/Michael Orr (GBR) Toyota Hilux Overdrive 5min 16.1sec
Kris Meeke (AND)/François Cazalet (FRA) Can-Am Maverick X3 (T3) 5min 46.1sec
Yasir Seaidan (SAU)/Laurent Lichtleuchter (FRA) Toyota Hilux Overdrive 5min 50.5sec
Dani Sordo (ESP)/Xavier Panseri (FRA) Can-Am Maverick X3 (T3) 5min 53.9sec
Khalifa Saleh Al-Attiyah (QAT)/Max Delfino (FRA) Can-Am Maverick XRS (T4) 6min 08.4sec
Khalid Al-Muhannadi (QAT)/Edward Lines (GBR) Can-Am Maverick XRS (T3) 6min 10.3sec
Ahmad Al-Muhannadi (QAT)/Mubarak Al-Khelaifi (QAT) Can-Am Maverick X3 (T3) 6min 15.0sec
Adel Abdullah (QAT)/Hugo Magalhães (PRT) Can-Am Maverick X3 6min 24.3sec
Ahmed Al-Kuwari (QAT)/Manuel Lucchese (QAT) Can-Am Maverick X3 (T3) 6min 26.2sec
Sadoon Al-Kuwari (QAT)/Nasser Al-Kuwari (QAT) Can-Am Maverick XRS T4) 6min 32.7sec
Abdullah Al-Kuwari (QAT)/Marc Sola (ESP) Can-Am Maverick X3 6min 39.7sec
Aliyyah Koloc (ARE)/Sebastien Delaunay (FRA) Can-Am Maverick DV21 (T3) 6min 41.6sec
Muneef Al-Shammeri (SAU)/Tamer Hijazeen (SAU) Nissan Patrol 6min 59.0sec
Yasmeen Koloc (ARE)/Stéphane Duplé (FRA) Can-Am Maverick DV21 (T3) 7min 22.8sec
Camelia Liparoti (SMR)/Xavier Garcia (ESP) Yamaha YXZ 1000R (T4) 7min 31.1sec
Rashid Al-Muhannadi (QAT)/Szymon Gospodarczyk (POL) Can-Am Maverick XRS (T3) 7min 45.4sec
Hamad Al-Harbi (SAU)/Waleed Al-Shegawi (SAU) Can-Am Maverick X3 (T3) 9min 38.7sec
2022 Qatar National Baja – Qualifying Stage result (SS1):
Bikes
Mohammed Meerza (ARE) Husqvarna 6min 27.7sec
Mishaal Al-Ghuneim (SAU) KTM 450 Rally 6min 57.4sec
Bader Al-Bader (SAU) KTM EXC 500 7min 15.5sec
Abdulrahman Al-Nasr (QAT) Yamaha 7min 58.6sec
Jaco Anderson (ZAF) KTM 500 EXC 8min 26.4sec
Dom Arnoud (BEL) Suzuki LT-R450 8min 26.6sec, etc
Cars
Al-Mashna Al-Shammeri (SAU)/Hani Al-Shammeri (SAU) Nissan Patrol 6min 47.4sec
Abdulaziz Al-Yaeesh (SAU)/Faisal Al-Ahmari (SAU) Nissan Patrol 6min 54.9sec
Motab Saud Al-Shammeri (SAU)/Bader Al-Ajmi (SAU) Nissan Patrol 7min 11.9sec
Abdullah Al-Rabban (QAT)/Pedro Santos (PRT) Jeep 7min 17.4sec
Dhari Al-Dhafeeri (KWT)/Saffah Al-Dhafeeri (KWT) Can-Am Maverick X3 7min 29.1sec
Salem Al-Thefiri (KWT)/Firas Al-Thefiri (KWT) Nissan Patrol 9min 09.0sec
Follow the race live: