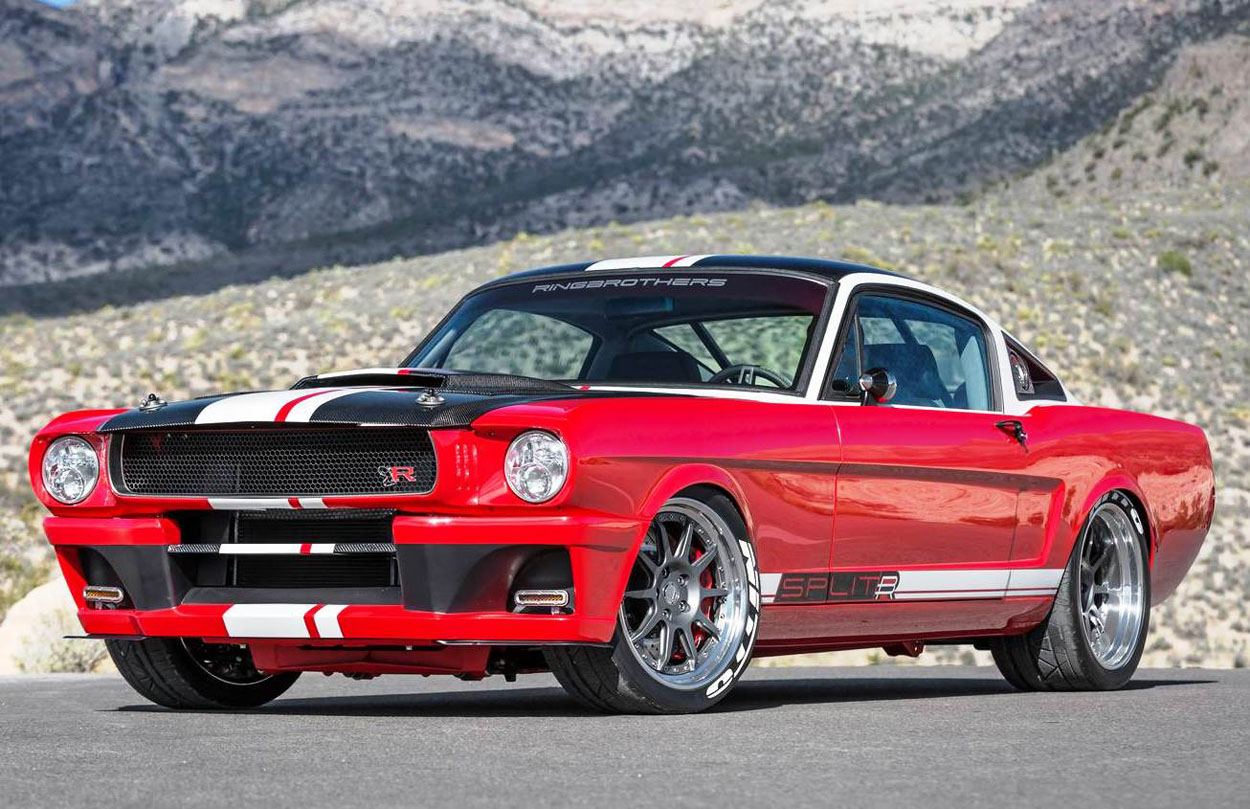 Mike and Jim Ring have always had a respect for the classics, but when it comes to their custom builds, keeping it "classic" is the last thing on their minds. Their newest vehicle, a 1965 Mustang Fastback, preserves the spirit of the '65 'Stang, but is a far cry from the original with a sleek, modified body and modern amenities. Ringbrothers revealed this resto-modded Mustang dubbed "SPLITR" in the Flowmaster booth at the 2015 SEMA Show in Las Vegas to a crowd of fans and enthusiasts.
"SPLITR" was a different creative experience for Jim and Mike. When the Rings were approached by a graphic designer with a rendering for his dream car, they were initially a little hesitant. The Rings were used to coming up with the vehicle designs on their own, but when they saw the renderings, they knew they had to take on the project.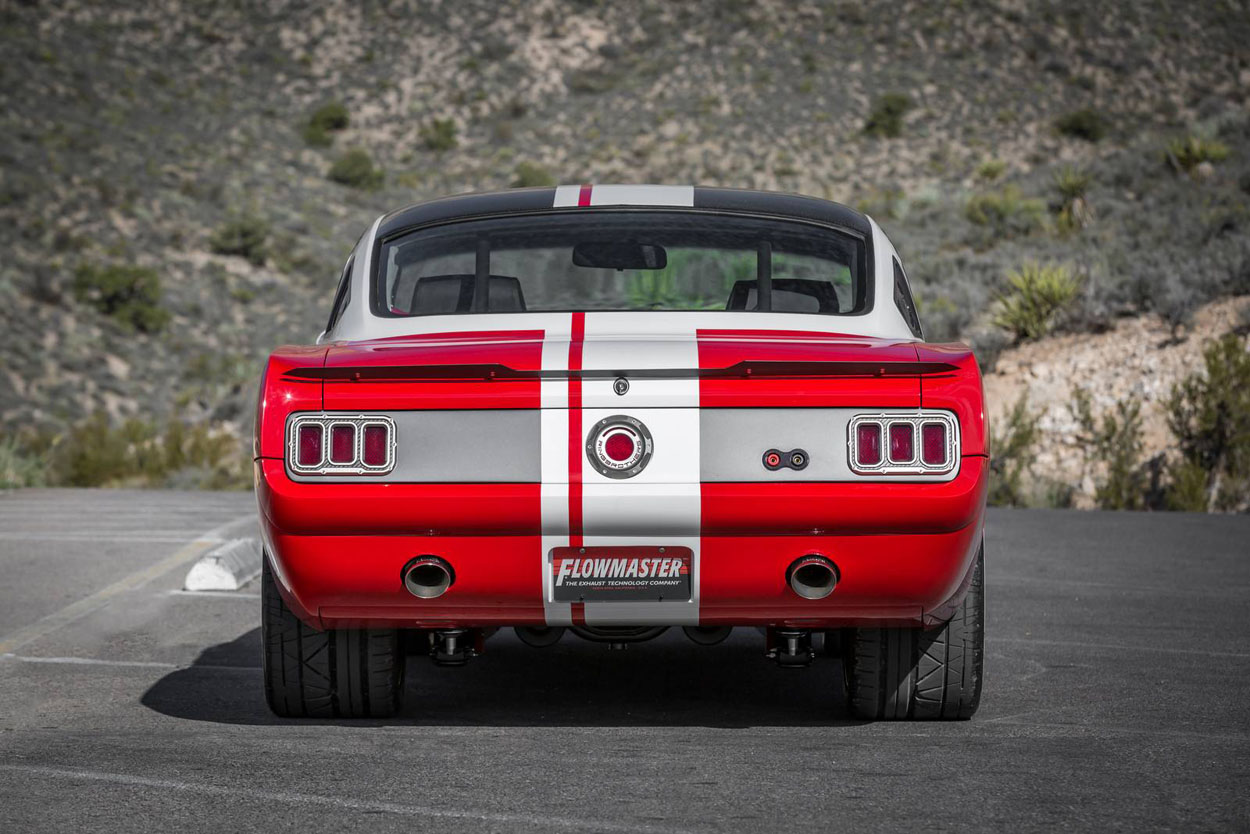 The Rings set to work altering the familiar pony car by trimming the bottom of the front fenders and extending the rocker panels forward to the bottom of the trailing edge of the front wheel arch. Then they took the rockers and extended them down by 1.5" and wrapped them under the chassis where they meet with a lower, flat secondary floor pan. This gives "SPLITR" a totally flat undertray (with the exception of the driveshaft tunnel) much like a modern racing car. They also gave this treatment to the rear of the car which hides things like the fuel cell. The body work was completed with a custom BASF Glasurit 90-Line Waterborne paint color named "Ford Race Red," and then finished with a satin clear finish to help keep things from looking too polished.
Under the carbon hood, Mike and Jim reworked the engine bay to smooth out the inner apron to make room for a massive 427 cubic inch engine from Ford Racing. The engine is fed its diet of air and fuel through an elaborate custom airbox of the Ring's design. The airbox is crafted from a combination of aluminum and Lexan which allows viewers to look down the throat of the throttle body and see the MSD Atomic fuel injection system. Power from the engine is fed back into a Tremec T56 six speed manual transmission by Bowler and filled with Royal Purple Manual Transmission Fluid to keep the transmission working at peak efficiency. Exhaust is funneled out by way of custom Ringbrothers headers with 1.5" primaries and into a custom exhaust system with Flowmaster Supper 44 Mufflers.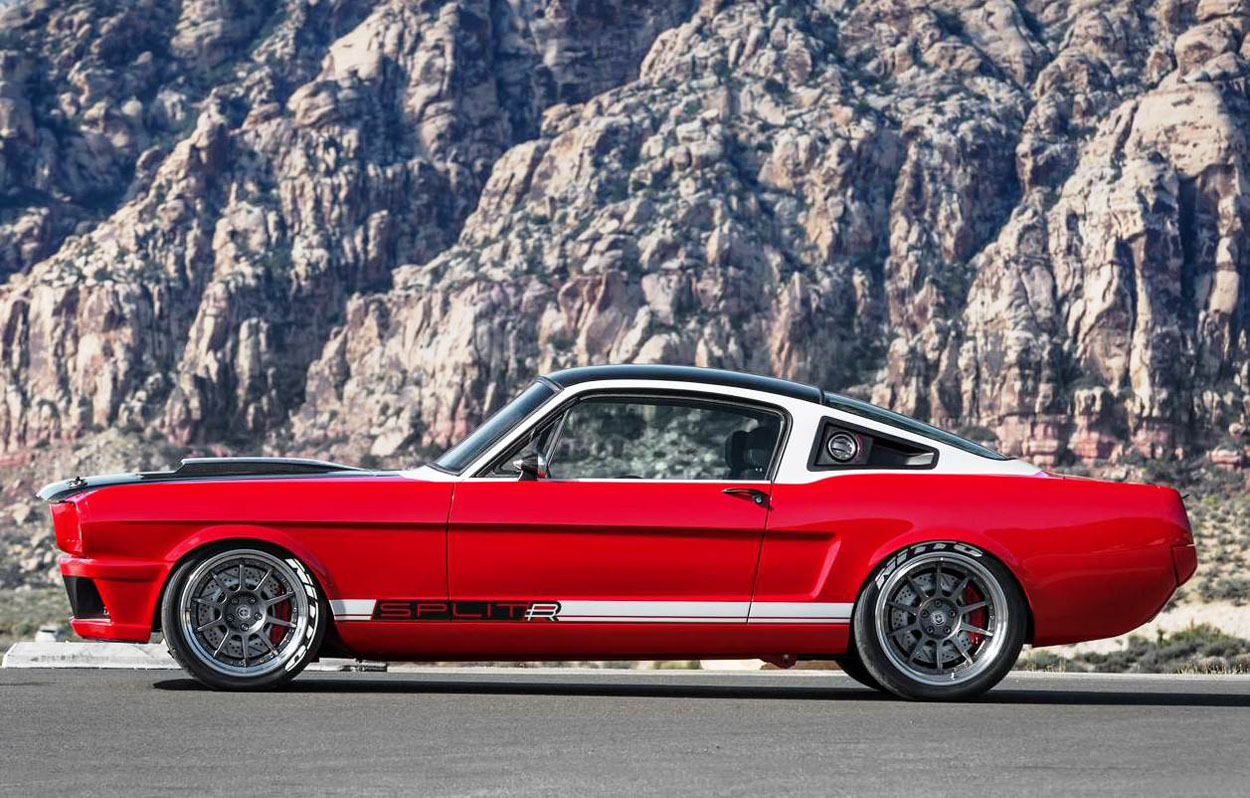 All of "SPLITR's" racy looks and massive power would be useless if the car didn't handle, but that's not an issue thanks to Detroit Speed Engineering. "SPLITR" uses DSE's AlumaFrame front suspension system which is comprised of a cast aluminum cradle, custom-tuned steering rack, tubular suspension arms, and custom valved adjustable JRI coilover shocks. The rear is kept in line with Detroit Speed's QUADRALink suspension system and custom valved JRI coilover shocks. Front and rear sway bars are also from Detroit Speed. Stopping power is provided by Baer with huge 6S Extreme calipers with 14-inch rotors front and rear. "SPLITR" rides on custom forged HRE Wheels wrapped in sticky Nitto Invo tires sized 265/35/18 in the front and 305/30/19 in the rear.
The interior of SPLITR feels as racecar-inspired as the exterior with comfortable and supportive Recaro seats, Ringbrothers billet components, an IDIDIT steering column, gauges by Classic Instruments, and a cabin kept at a comfortable temperature thanks to a Vintage Air SureFit system.