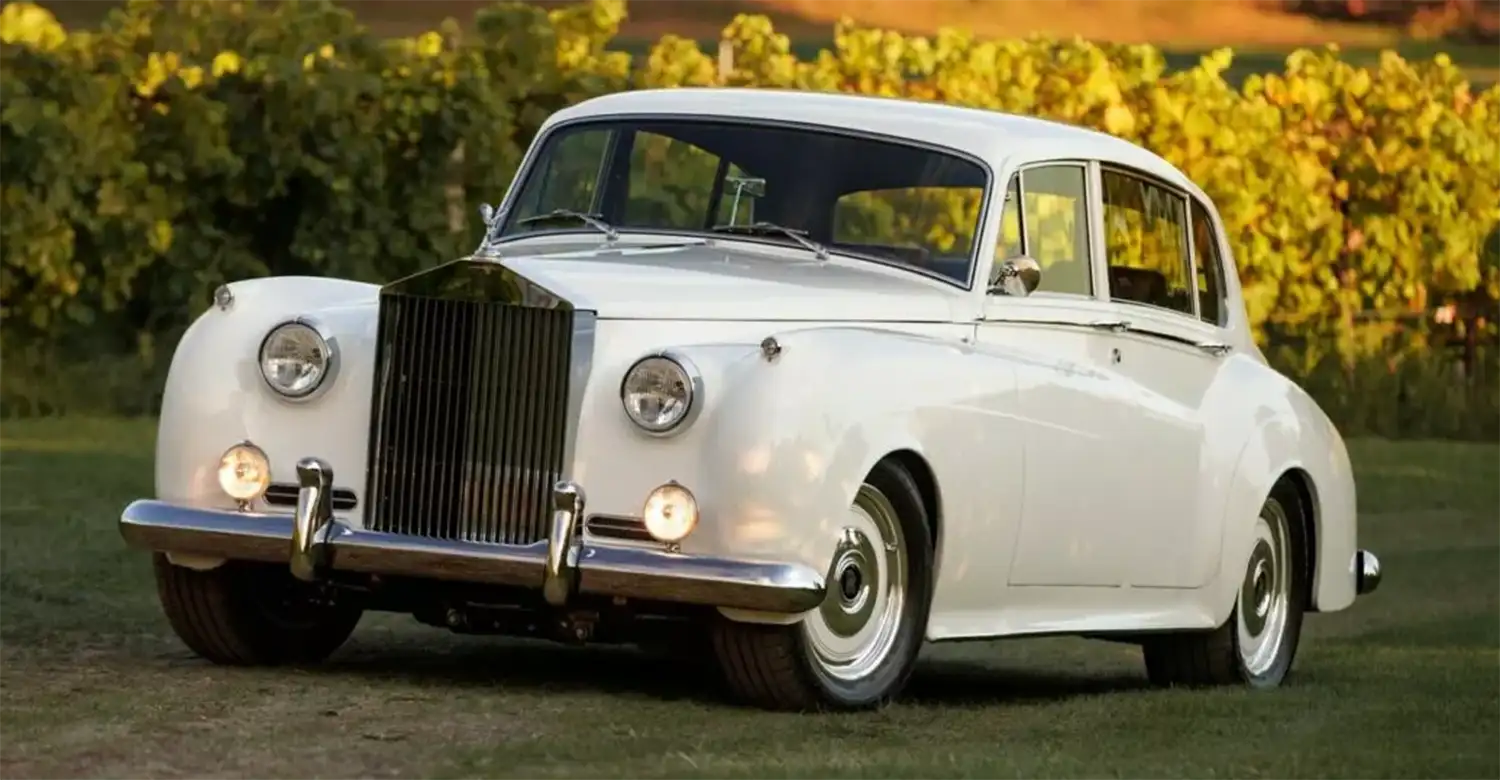 Ringbrothers, the world-renowned custom car builder and parts manufacturer, has unveiled its latest creation at the 2023 SEMA Show – "PARAMOUNT," a 1961 Rolls-Royce Silver Cloud II. Engineered from the ground up, PARAMOUNT embodies the quality and coachwork Ringbrothers is known for, shattering expectations of aesthetics and driving performance from one of the most storied luxury brands in the world.
Every part of PARAMOUNT was created to showcase its impeccable design and performance capabilities. The original bodywork was retained and stripped to bare metal, with the smallest imperfections hand-corrected before the application of BASF Glasurit's "White as Fluff" finish. With the exception of custom-machined badging and other subtle touches, the mostly stock exterior largely hides the complete transformation of the luxury icon.
"Unlike many of our builds, we chose to retain the original bodywork and lines of the Rolls, so at first glance, there are only hints to what lies beneath," said Ringbrothers co-owner Jim Ring. "That all changes when the door opens to show the completely custom interior or a press of the go pedal emits a telltale supercharger whine. This truly is the ultimate luxury sleeper."
The signature Rolls-Royce Pantheon grille does little to hide the supercharged snarl beneath the bonnet. The 6.2-liter LT4 engine delivers 640 horsepower and 635 ft-lbs of torque to the rear wheels by way of a Bowler Tru-Street 10-speed automatic transmission and custom QA1 carbon-fiber driveshaft. The drivetrain sits on a custom Roadster Shop chassis with Ringbrothers-fabricated two-piece clamshell control arms and custom 10-gauge steel boxed frame rails. A Roadster Shop Ride Line front suspension and Fast Link parallel four-bar rear suspension with Fox RS SV coilovers at all four corners provide ride comfort and handling. Custom EVOD Industries 18×7-inch front and 18×8-inch rear wheels are wrapped in Falken Azenis tires. An homage to the original Rolls-Royce wheels, the EVOD Industries wheels include gyro wheel center caps to ensure the logo, of course, remains upright.
The luxurious custom interior embodies uncompromising attention to detail. The dashboard is intricately laced with machined billet switch gear, while the instrumentation offers old-world charm with new-world metrics and infotainment. Custom-built floor pans enhance interior volume and comfort for both driver and passenger, while the interior divider has been removed. A starlight headliner curates an otherworldly interior space. Over 1,000 LED lights were hand-sewn into the headliner to create a constellation that softly lights the cabin in a cool hue, allowing passengers to enjoy the signature Rolls-Royce "picnic tables" with their preferred refreshment or condiment.
"Every part of this build is brimming with detail and character," said Ringbrothers co-owner Mike Ring. "The exterior keeps to the allure of traditional British luxury while the engine, chassis and interior all embrace a modern luxury sedan. This project combines Rolls-Royce's past and present with a 640-horsepower American accent. We invested over 3,400 hours in fabricating, painting and engineering this project and are grateful to our partners for working with us to further our craft and allowing us to explore an entirely new realm of art form."