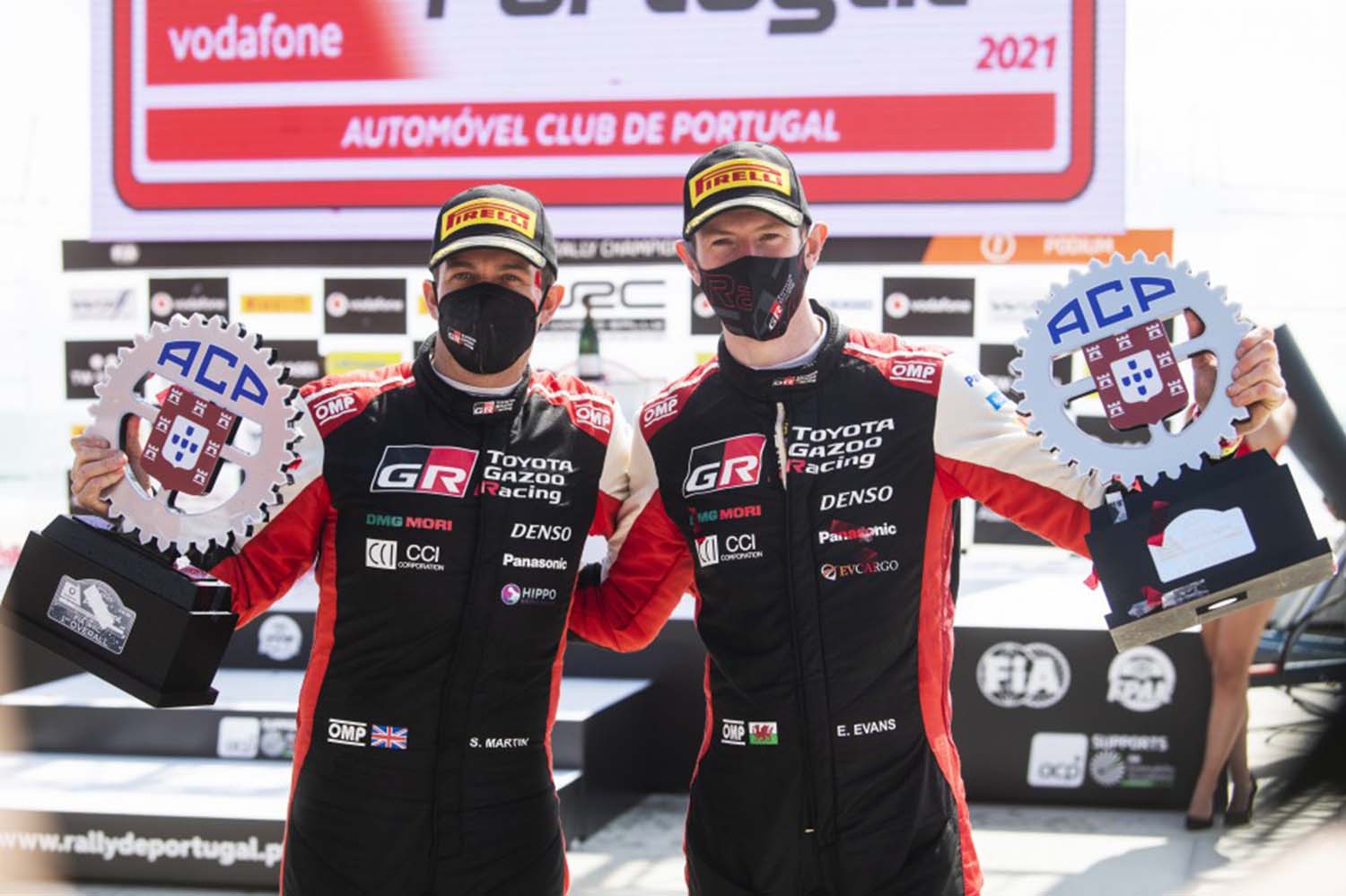 FIA WORLD RALLY CHAMPIONSHIP
Present:
1st – Elfyn Evans (GBR), Toyota Gazoo Racing World Rally Team
2nd – Dani Sordo (ESP), Hyundai Shell Mobis World Rally Team
3rd – Sébastien Ogier (FRA), Toyota Gazoo Racing World Rally Team
Jari-Matti Latvala (FIN), Team Principal, Toyota Gazoo Racing World Rally Team
Q:
Elfyn, congratulations on the win in the Rally of Portugal. It was incredible to watch the big battle with Dani Sordo from Saturday afternoon until this morning. What are your thoughts?
EE:
I am obviously happy to secure the win. A few have slipped away recently and I wanted to make sure we delivered this time. It wasn't an easy rally by any means and was quite long to be honest going back to a full-length rally and the recce was really intense. The days were quite long as well.
Q:
The win in Croatia slipped away. Does this win make up for that?
EE:
No, not really. It is what it is. What is done is done. We move forward now and score as many points as possible.  On the back of that I am happy to move forward.
Q:
We saw an incredible time from you this morning on a brand new stage and a tricky stage.  You seemed to go for it and really attack it. Was that the plan?
EE:
Obviously we didn't have so much spare time to play with. It was going to be a big fight today as far as I was concerned so it was important to go as well as possible from the off.
Q:
One of the challenges out there has been tyre management. How do you feel you played that game?
EE:
Not so bad until the super special last night. Other than that it was how we managed the package pretty okay. It was okay, but it was not ideal today having to push like that on tyres on the car doing a third loop.
Q:
In the past, maybe you have said you have been a bit too cautious and you could have pushed harder, but today seemed to be a different Elfyn Evans out there?
DS:
Naturally when you are not feeling 100% with the car and you go to push to the maximum, mistakes start to creep in. You still have to trust your feeling and, although you can feel quite frustrated at the end of the stage, it is often the correct thing to do not to take those last few risks when the feeling is not all there with you. It is important to have the car underneath you, which I did do this morning. Everything was feeling pretty good.
Q:
Dani, second position and you showed great pace over the weekend and led the rally. How do you see your second place and the weekend?
DS:
Obviously the weekend was quite okay, some issues with tyres like everybody and we lost 10 seconds with a stalled engine on one hairpin. Yesterday was quite good but, during the afternoon, Elfyn was faster all the time. Not for a little bit, but he was faster, faster and made a little gap. He started today really strong in the first stage. He was already 10 seconds in front and after nine more. So, second place at the end is good but we wanted a little bit more.
Q:
The positive is the pace was there and it worked well with your new co-driver. That is always a difficult relationship to get on board. But when you are so quick into a rally, he had no time to prepare.
DS:
It was more difficult than we expected to change. The experience is very important and he gets experience of this rally and I think, for the next one, it will be a little bit better.
Q:
We move to Sardinia next and that has been Sordo territory. How much are you looking forward to that?
DS:
This year it will be a difficult rally because we have some new parts and the rally is location in a new place. But, of course, we will try to defend our victory of last year. We have also a good road position there so we will see what we can do.
Q:
At the end of the opening stage this morning, you said you not feel quite confident enough to push. When you saw Elfyn's stage time, did you think at that point that I could not catch him with a 20-second advantage?
DS:
Twenty seconds in Portugal is a lot. If you are little bit intelligent you know it is difficult to catch. It's not like I win one stage by five and he wins by five. He was a little bit all the time faster and this stage I did not like a lot. It is difficult to catch this in 40km.
Q:
Seb, good points for you this weekend and you lead the championship heading to Sardinia. It seemed to get better at the end of every single day for you?
SO:
Yes, I mean even if it is definitely not the first time I am in this position to open the road. But it does not become easier. When you are not competitive it is always hard to take when you are not able to fight for the top position. From that perspective it was a hard weekend. But the final result, 18 points is good. I could not expect any better. I did not produce my best performance ever this weekend. Some little mistakes, a stall, a spin and that doesn't happen to me often actually. I was not perfectly happy with the car. So, at the end, to take this point out of this context is a positive from the weekend,
Q:
We were waiting for the Ogier push but you appeared to back off a little. In hindsight, a wise thing to do?
SO:
I think so. At the end we finished third, quite far from Dani and Elfyn, and I really believe even if I would have done a perfect performance I would have been closer but not able to battle with them with the road position. There are things we need to understand and work on to be sharper in Sardinia. Honestly I am happy to lead the championship. It is always good to be leading. No-one wants to open the road in Sardinia but points are taken and I have them and it is up to my competitors to catch me.
Q:
Jari-Matti, at the start of the weekend Hyundai were strong. Why was that?
JML:
Honestly, Hyundai were very strong that's fact. We didn't have the best performance. Why is that? I think because they were generally prepared better with the new gravel tyres. In our test we had damp and wet conditions and that didn't give us 100% clear view what it was going to be in the dry conditions. The element that our drivers had to experience the tyres and had to adapt and get the feeling for it and, of course, when they are opening the roads, they did a good job. Coming to this event we were not sure if we could win and we had a win and a third. This was a fantastic result for us.
Q:
Ten seconds between Dani and Elfyn on the first stage this morning. When Elfyn came through and doubled that, what did you think?
JML:
Honestly, I went through the stage in the recce. It was a new stage and demanding, a lot of downhills and blind crests and tightening corners and a slippery surface as well. It was one of those stages if you are confident and committed where you can make a difference. I saw the first split times and the commitment. It was great to see his performance. After that, you can bring a bit more freedom to yourself. Of course I was a little bit worried that he could stay on the road because the speed was pretty high.
Q:
Talk to us about Takamoto (Katsuta) and Kalle's technical issue?
JML:
Taka did a great weekend. We are really happy with the steps he has been able to take. Going to this morning, we said to him, basically he was battling with Seb yesterday – and that was very interesting to see – I told him this morning that the factors that we had been speaking with the team, Sébastien had two brand new soft tyres and has better tyres than you. Think about taking the position four for this event. It's your best ever result to this point. Your time for the podium will come. I think from that perspective and I think he wanted to make sure he took the fourth place. He did a clever drive. We had a technical problem with Kalle's car. We investigated last night. He was driving okay and he scored some points from the Power Stage but as I am not a technical director I cannot give you an answer.

Questions from the floor
Thomas Krauskopf, Rally Croatia press team (HVR)
Q:
How much of a relief and a reward to yourself has it been to get this win after the heartbreak finish in Croatia?
EE:
Like I mentioned, it was an important one to secure. I didn't want a repeat of Croatia. It was nonetheless important for seal the victory for the team and ourselves as well.
Q:
On the live broadcast we could see that you addressed the team at the end of the Power Stage. What did you say?
JML:
I wanted to say to the people that everybody is part of the team and what everybody has done is very important. The results that our drivers will do, a lot is coming from there. We have to remember that without the work they do, our drivers cannot perform this well.
Jason Craig, Autosport (GBR)
Q:
Road position aside, does this fourth WRC win feel especially significant given that you had to manage the car and know when to push for the win?
EE:
I was happy with how I drove yesterday. It has always been a bad day for me in the past, this Amarante stage. I was happy to be able put it right this year and drive a bit better.
Q:
Did Andrea Adamo's comment about he instructed you to push for the win put you under added pressure?
DS:
I want to win. Everybody wants to win. When you are in the track it is much more easy than when you are in the car. Andreas like this. He likes to feel the motivation he make for me. He's happy to bring the car and have second pace.
José Luis Abreu, Autosport Portugal (POR)
Q:
How difficult was the road opening in Arganil and how do you think it was possible to beat everyone in Mortagúa from first on the road?
SO:
I definitely suffered in Arganil. The road looked damp, I put one hard on the front and I struggled with under steer. Grip was so low and when you don't have confidence on a long downhill it cost me a lot of time. The only stage I won, the fact I had to open the road helped me to save my tyres.  I was having quite an advantage on this stage over my competitors. A lot of mistakes happened in there as well. It was a first positive sign of the weekend where we kind of came back in the fight. What we remember is the end result and I am happy with the points.
Q:
You have a Portuguese engineer, Rui. How important is that relationship, especially here?
EE:
All the team is important but the engineer has a key role. It is with him that I have the most contact. He is a real rally fanatic. He does his job and loves rallying. He is happy to win his home event and I am happy for him. It's a bit of a thank you for all his hard work.
Marco Giordo, Autosprint (ITA)
Q:
Why did you opt not to do a test in Sardinia where Hyundai has dominated for the last five years?
JML
We are limited with the test days and they are calculated on one day per driver. Now, of course, we have a new rally in Kenya and we were focusing more towards Kenya. We thought Sardinia and Portugal are similar events. One set-up for this and try to do more work for Kenya which is the new event for everyone.
FIA WRC2 CHAMPIONSHIP
Present:
Esapekka Lappi (FIN), Movisport
Q:
Esapekka, congratulations on your second win of 2020. It was a real battle out there and a big fight. What are your thoughts?
EL:
It was nice until Saturday evening. I really enjoyed it. I really missed it in the Arctic Rally. But here was good. The competition was really strong. Shame we missed out Andreas (Mikkelsen). But it was still really nice to have some good competition.
Q:
Everything run well out there?
EL:
Yes, I am very surprised in some ways, especially yesterday afternoon it was really rough but I think we drove quite smartly. Our team did an amazing job and the car was in one piece all the time.
Q:
It was interesting to watch the strategy with tyres. Were you happy with your tyre strategy?
EL:
I think so. Sometimes we made a different choice to the others and some times it paid off. I think I have never driven a WRC rally with a small amount of tyres. We had 26 tyres and I used only 16. Always when I left the service I had used tyres somewhere. It was quite funny in the end and we saved some money
Q:
Hopefully that can go towards the next rally for you. When is that going to be? Surely you have given your sponsors air time?
EL:
Yes, if you give me one million euros, then I can do, no problem. It doesn't make things worse. But in strange times it is not so easy to get sponsors and nowadays it is even more difficult. I will try but there is no guarantee we will continue.
FIA WRC3 CHAMPIONSHIP
Present:
Kajetan Kajetanowicz (POL)
Q:
Kajetan, two wins in a row for you in FIA WRC3 and the first time in Portugal. It was a big battle all weekend. You must be delighted?
KK:
Yes it was a big battle in WRC2. But I am still so far from these guys (Lappi). They have a fantastic speed. It has been a great weekend. It has been even better than three weeks ago. This is a debut for me on this famous rally because so many drivers know this rally well. Croatia was new for everyone. One mistake here and I lost a maximum of 20 seconds. What can I say more, I am smiling, believe me.
Q:
It was a fantastic result. There was a small gap this morning to Yohan Rossel and you managed to take the win. What was the feeling?
KK:
I can't tell you. It is difficult to say. A driver and co-driver know the feeling in this situation. It is amazing. You cannot compare it to nothing, this feeling, so big emotions in your head. You need to keep calm and, at the same time, the pressure is really high. At the end of the last stage, I thought I love this feeling. In the future I will miss it, for sure.
Q:
Second position in WRC3 and now you go to Sardinia?
KK:
It's a short time but I will be ready. I have experience there. But many drivers know this rally. It is going to be very difficult.
FIA JUNIOR WRC CHAMPIONSHIP
Present:
Martins Sesks (LVA)
Q:
Martins, a first win of the season for you. How are you feeling?
MS:
It is a big relief to be at the end, for sure, in our class. It was a really rough one. There were lots of retirements and technical issues, as well for ourselves. We went full first day basically with a kind of broken drive shaft and you need to find a tactical way to survive the day. At one point we really thought we were going to retire and no point to continue. But, here we are at the finish..
Q:
You are now leading the championship as well?
MS:
Yes, for sure, that feeling that you get in the rally is really magical. The emotions are down and then it suddenly happens. It is some kind of special thing in this sport.
Q:
We saw you in action in the Junior Championship last year. What do you think you took from 2020?
MS:
Every rally teach us some new things. I need to be more patient to look for some steps forward and to just drive fast.