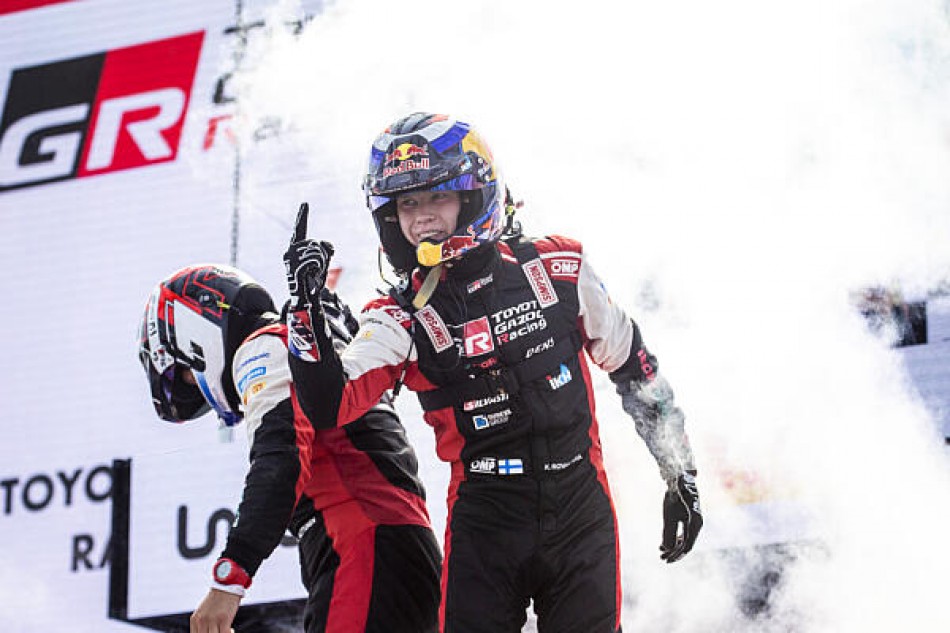 FIA WORLD RALLY CHAMPIONSHIP
Transcript of the post-event Press Conference organised by the FIA for the 2021 Rally Estonia.
Present:
Kalle Rovanperä (FIN), Toyota Gazoo Racing WRT
Craig Breen (IRL), Hyundai Shell Mobis World Rally Team
Thierry Neuville (BEL), Hyundai Shell Mobis World Rally Team
Jari-Matti Latvala, Toyota Gazoo Racing WRT Team Principal
Q:
Let's start with Kalle Rovanperä, Kalle, congratulations, your first WRC victory and you become the youngest driver to step on the top step of the podium, beating your Toyota team boss Jari-Matti Latvala to that honour. How are you feeling now it's all sunk in?
KR:
Of course, the feeling is really, really good. I think we have done a lot of work to be in this position and I think this weekend it was a really nice fight with Craig. I have to say he was pushing me really, really hard on Friday so a really, really big drive from him also and I think it was nice to have the win this weekend.
Q:
It was incredible pace from you but it was Saturday morning on the first stage that you really did stamp your authority on the lead you had. Tell us about that opening stage, how that felt and did you realise at that point that maybe you had done enough in terms of extending your advantage to win?
KR:
Yeah, I think Friday, like I said, was really tight but Saturday morning we could have a bigger gap already in the first stage and then after that, in that loop also we made it bigger on a few stages and then the gap was quite good so we could start to manage it quite well.
Q:
How did it feel today, you had a good gap but there were some tricky stages?
KR:
I think today was just trying to drive with some pace to enjoy the driving and not to have any silly mistakes if you slow down too much. It went quite well. The feeling was nice in the car, it was surprising but I didn't feel so big pressure or anything. It was quite calm in the car all the time so it was enjoyable.
Q:
You are a fairly calm person for your young years but what was the feeling like heading towards that flying finish knowing you had sealed the deal and the win was yours?
KR:
For sure when we finished then it was a really big relief when you finally get the win and you feel the pressure releasing a bit. Of course it's a really nice feeling at that point and it feels good. It was good to have a release of the pressure.
Q:
It's an embarrassing question but any tears of emotion?
KR:
I don't think so, I think Dad was doing that part quite well.
Q:
Understandably so and hopefully you will do it a bit more often now?
KR:
Hopefully, I really help that also.
Q:
Is it a really good confidence boost moving forward?
KR:
Of course it is but still it's a long way to go with the experience we don't have it so much. I think we just have to continue the same way, driving well and having clean races and more podiums.
Q:
Turning next to Craig Breen, a brilliant effort from you out there this weekend, equalling your best result of second from last year of course, and brilliant pace considering we don't see you in the car that often – your last gravel event in the WRC was this event last year. Did you think you'd be able to get on the podium again?
CB:
First of all, thanks. Obviously it was the ambition to try and do the best that we could but I had some reservations before the rally. Last year when we did a good result here everybody had been stopped for six or eight months and everyone was on the sidelines because of COVID. I felt the level was a little bit more fair for everybody, but this year the guys are coming out of three gravel rallies on the bounce and straight into this one here I thought it was going to be a more difficult task. But, in the end, it actually worked out pretty okay so I'm very happy.
Q:
It has been very good pace and, as Kalle mentioned, it was close, overnight Friday going into Saturday. With 8.5 seconds between you we were set for a really good fight and then he goes and does that on the first stage…
CB:
Surprised me?!
Q:
What did you think when you saw his time on the first stage on Saturday?
CB:
That was impressive I have to say, it was very, very impressive and something special. I honestly my best stage that I could, there's no point in trying to say I did something different, I did something wrong. That was all that myself and Paul had at that moment. It was half a little bit frustrating but it's just in these narrow, narrow places, when the road is a little more tricky, a little more unknown it's difficult to get that last not even one per cent but it's that last half a per cent just to let it flow and let it flow. Once he had done that it was as different objective for the rest of the weekend. I was blown away. The first thing I said to Paul when I saw the time come up on the radio was that was something really, really special so hats off to him.
Q:
You had some distractions on Friday, it was like somebody was trying to hinder your rally. You got caught in Gus Greensmith's dust and then there was the issue with the marshal slowing you down. It seems you were up against it with the distractions, you got the time back but Paul [Nagle] your co-driver seemed to keep you very calm in quite stressful situations?
CB:
Paul to be fair to him kept me under control. It was a strange day on Friday, some really weird things stood out that were stopping our rhythm. Obviously what happened with Gus and then on the following stage Gus stopped but the marshal completely tried to stop me in the middle of the road and I actually went on to road mode for 50 or 100 metres. Then I realised everything was completely fine again but it's difficult to switch your mind back to 100 per cent go flat out. Friday was a bit frustrating on that side but overall I was quite happy with it. More with the afternoon because we were quite strong in the afternoon, especially our road position because we didn't have such a huge advantage like we had in the morning but I was quite satisfied with what we'd done on Friday night and heading into Saturday quite optimistic but this guy here pulled out something quite big on Saturday morning.
Q:
Turning to Thierry Neuville, third overall for you but it was a difficult morning for you on Friday with that puncture but you really fought back in the afternoon and stayed ahead of Ogier for the rest of the event. Are you happy with what you achieved here?
TN:
Yeah, I mean obviously we knew coming here that it's going to be a tough weekend for us. I have never been the bravest on such fast rallies where taking risks is a major part of the race. So I knew it's going to be tough but my main target was to finish ahead of Sébastien and Elfyn and I'm pretty much still in the fight for the championship. I am the one with the less challenges and everything is still open and that's why I wanted to fight hard this weekend and stay ahead of them. Unfortunately, things didn't start so well with a puncture in one of the first stages, which cost me 15s more or less. But I was able to fight back hard on Saturday and as well today, increasing continuously the gap to Ogier and taking more Power Stage points than both of them.
Q:
You kept Ogier behind all day yesterday, did you feel you had to have that push this morning just to make sure he wasn't going to put his foot to the floor?
TN:
I mean I have been involved with many, many fights with Sébastien and I know him very well. It wasn't a surprise for me to see that he was still going on a decent speed and so he did. We were able to match his time and I was pretty much in control of the situation. I had the feeling I always could have gone a little bit faster but I just wasn't ready to take any more risks. It was enough with what we are doing. But still the rally was tough for me. Today with some technical issues brought a lot of stress in the car, twice the car wouldn't start, and we were late to the TC two stages before the finish. At the end our gap was only down to 10s. We knew if there was a strategy to play we had to be with more than 10s ahead of Sébastien so the Power Stage was very crucial for us as well.
Q:
Was that lateness to the time control due to the starter motor?
TN:
Yes.
Q:
What about the next event in your home country, the Ypres Rally in Belgium, an iconic event… are you feeling alright by the way, have you got a bit of hay fever or something?
TN:
No, I don't know. I'm struggling with a lot of pain in my right eye since this morning. It's getting a little bit better. Martijn [Wydaeghe] was driving on the road sections because I couldn't see anything. I didn't feel well all day but in the end the job is done.
Q:
Well done for that but how do you feel about heading to the Ypres Rally?
TN:
Looking forward, pretty much. We're going to see Alain Penasse again, he led the team this weekend but we're going to see him back soon. I'm looking forward to it. It's a challenging event. I know it very well from the past and I have been there a couple of times, as well in the World Rally Car. Hopefully those experiences are going to give me a little bit of an advantage for such a challenging race. I hope I'm going to fight for another strong result over there.
Q:
Turning to Jari-Matti Latvala, you know how special it is to take the first WRC win. For you it was in Sweden in 2008 when you stood on the top step of the podium and you were the youngest winner then at 22. A 20-year-old has now taken that record but you said records are made to be broken. Did you think it would be Kalle who would do it quite so soon?
J-ML:
Looking at the performance of Kalle already at the end of 2020 you could feel that it's coming and I said at the beginning of this season that there are two events that I do believe that Kalle has a high chance to take the victory, they were Arctic Rally and Rally Estonia. Arctic Rally he was in a very good speed but, unfortunately, the car wasn't exactly set-up-wise on its best and he couldn't really in the end fight for the victory. But after coming with the four quite demanding rallies for Kalle, his motivation was 120 per cent and the passion to get your first victory you could see that he was really committed from the shakedown onwards and I'm really pleased to see his victory and, of course, I was really happy he was breaking my record because we can keep the Finnish tradition being the youngest ever winners in the WRC.
Q:
Kalle seemed to have it all in hand, he was very calm, but were there tense times for you guys watching today?
J-ML:
It was really great to see Kalle that he was so calm and patient. I remember my first victory I wasn't that calm and patient. Like you mention he is like an ice man, this is a very strong point and also his co-driver Jonne [Halttunen] was also very calm. They are both doing excellent work, nothing about the winning but just going stage by stage and making it without mistakes to the end. It couldn't be better.
Q:
For Finland as a country it's now that 180th WRC victory, which is fantastic, but it's Kalle's first. Can we see more this year?
J-ML:
It's the first victory of many. But let's say, as Kalle mentioned himself, there are still a few events he has not done. And especially last year, because of the COVID, the season was only half a season and there were many rounds he could not do. He has done some with the WRC2 car but he does not have the experience with the WRC car. So for sure there are events where he might need a little bit more experience. But I am sure there will be events like Rally Finland where he will be fighting for the victory. I guess we'll see another victory quite soon.
Questions from the floor:
From José Luis Abreu, Autosport Portugal (PRT)
Q:
You are always so calm, were you ever anxious with this victory or did you know that it would come naturally?
KR:
I felt that we could really fight for the win in some rallies, I didn't want to take any big pressure from it. I just wanted to drive and also aim for the best place and for the win, and just let it comes when it comes, if it comes. It's nice to have it.
Q:
Do you believe it's still possible to fight for the championship, the pace of the Hyundai is good but are there enough events to turn the tide?
TN:
There are five to go and as we saw this weekend it's possible to catch back points. But we should be more clever sometimes and optimise our situation which we obviously didn't do this weekend. I mean I have done the part of my job 100 per cent and I can't do more than this.
From Tom Howard, Autosport (GBR)
Q:
What does it mean to you being the youngest ever winner, is it a special achievement?
KR:
For sure it's something special but that's not something I really think about much, not all these records and things like this I don't really think about them that much. But of course it was nice when Jari-Matti came to me and said he wanted me to be the guy who is taking the record from him. For sure that means something to me.
Q:
Do you feel that your performance has sent a message to the teams that you deserve a full-time drive and is there any chance we could see you in a full-time seat next year?
CB:
First of all, yes, I think it does. That's obviously what myself and Paul have set out to achieve. We want to be world champions and it doesn't take a mathematician to figure out you can't win a world championship doing half the rallies. We're obviously looking at all the options. I feel at home, I feel comfortable and snug let's say where we are at the moment in Hyundai but there are things outside my control. We just need to find that opportunity to get the full season and make the most of it.
Q:
Given the fact you were successful in the WRC at a young age have you given Kalle any guidance and what will you tell him now to continue his growth?
J-ML:
His father Harri has done a really good path and Kalle has learned with him. And then the same manager we have had, Timo Jouki, is now working with Kalle. For me they have made all the right steps. Personally I have not really been saying anything special, I've just tried to make sure he's having a good feeling and generally we have a feeling in the team that's a family spirit when you go out there on the stages you can be feeling confident and do the job as well as you can. There are little things we've always discussed but I said to him after Safari, 'four bad rallies in a row, no problem, I have had five bad rallies, so don't worry about it yet'.
From Bo Christer Bofeldt, Worldrally.se (SWE)
Q:
In your first year as team boss you've claimed 12 podiums and six victories on seven events this year, what's special at the Toyota team?
J-ML:
If I am very honest, for sure we have had an amazing period, it's been really something unique. But performance-wise we haven't necessarily been the fastest on some of the events. We also have to be realistic that Hyundai was strong in some of the events. They were having some problems and, in the end, we were inheriting the results. But as we know in rallying, the results are only given at the very end. One of the elements is the consistency but we have really great drivers, they've been doing a great job but they've also been strong and competitive all the time. I do believe the basic thing is, as I mentioned earlier, the spirit in the team, when there is a good spirit with everybody, everybody works 100 per cent and do their job as well as they can. Then you don't do mistakes and that is the way you grow and you can make results.
FIA WRC2 CHAMPIONSHIP
Present:
Andreas Mikkelsen (NOR), Toksport WRT (Škoda Fabia Evo)
Q:
Some great pace from you out on the stages, are you happy with your win that you said before the event you had to get?
AM:
It was important for our championship hopes to get a win on the table again, it's been a long time since Monte-Carlo. We knew it was going to be tough, there's some fierce competition. Quite from the beginning it was quite clear me and Mads [Østberg] were going to have the closest fight, [Nikolay] Gryazin as well a little bit but then he made a mistake. So on day one after Mads got a puncture I got a gap, which I tried to maintain and then he had some more troubles. From Saturday morning we were always a bit on the safe side trying to control, which I'm quite happy about, because seeing the stages, how rough they were, especially on the second pass, it was a war zone and I'm glad I didn't need to push very, very hard in these conditions.
Q:
You've competed here before so what did you think of the Estonian stages and how they compare to other WRC events?
AM:
I can only compare to 2019, that's the only year I did it and I really enjoyed it. Seeing the event grow already from 2019 into a really high-standard world rally in the championship is astonishing. The organisation is great, the roads are absolutely amazing. It's a bit different challenge from day one to day two, day one being all about flat-out wide roads to being more in the forests to more rough conditions, more ruts, so it's a great, great challenge for man and machine but I would say I prefer day one better.
Q:
Were there any hot moments for you out there this weekend?
AM:
No, not really. I had a spin on day two but just in a hairpin with all the lines. Other than that it was a pretty straightforward drive for us this weekend.
Questions from the floor:
From José Luis Abreu, Autosport (PRT)
Q:
Is it still possible for you to return to the highest category in the WRC next year?
AM:
I hope so, obviously not all seats are taken but in the end there are not so many seats available. I think there are a lot of good drivers out there who want the same positions. For sure there is no guaranteed seats. I am very fortunate that I have a very good programme this year together with Toksport and Škoda that I am able to compete for a lot of weekends and show my abilities so it's all about the results I think. If I deliver good then my chances will probablty be tere.
Q:
Would you be happy with a partial season if that was all that was available next year?
AM:
At the end of the day of course we want to fight for the championship. But since it's limited the amount of seats of course you would be open to have a partial season. Of course I enjoy driving the Škoda R5 but it's always different with the World Rally Car.
FIA WRC3 CHAMPIONSHIP
Present:
Alexey Lukyanuk (RAF)
Q:
You've had a dominant weekend on Rally Estonia and have finished within the WRC top 10 as well so you must be delighted with the result. But before we talk about that, what happened on the final stage because you rolled on the final stage after a brilliant weekend but still came through to win the class?
AL:
Yeah, something went wrong actually. I saw the video from the outside and it looks I was quite optimistic in this specific place. Over the jump I did not take into account the ruts that could be there and it caught me bad, we rolled two times. Big luck we landed on the wheels and I could restart the car and finish the stage. Actually it was a sandbox inside our car with a lot of gravel. I was digging for the start button in the stones and loose stuff and I was digging or it thinking where is the button. It was a strange thing but the greatest thing is we finished and finished first.
Q:
An incredible weekend and the performance and pace has been so strong from you. Did you expect it was going to be so good this weekend?
AL:
You never can expect to be so fast and so consistent because when you know the start list you expect an enormous fight and fierce battles at every level. We were hoping to get to the podium in our category but of course it's a bit on top of our expectations.
Q:
You have a busy season in the FIA European Rally Championship but it's fantastic to see you competing in FIA WRC3. Are there plans to do any more?
AL:
It's hard to make plans because it all depends on the support that we have. Of course I want to be one step higher than ERC but still, of course, ERC is the most enjoyable championship because the atmosphere is fantastic and the European events are just great. But, for me, at the moment I am happy that I have only one rally and I'm not bothered with points and tactics and so on. I could just go with the speed I wanted. Of course we managed since day two, as we saw from Andreas, I always tried to respond to his pace. We won the first stage, I dropped the pace and Andreas raised the pace fighting with Østberg and I think, 'ah, he's pushing, let's push'. So we changed all the time our plans. It was interesting and in the end I was completely consistent I would say in general despite this last occasion, I don't know how to say it. Actually it's so easy to roll the car in such nasty ruts. It looks like I was the only one who took this chance but, okay, we won it and I don't care about the rest.
Questions from the floor:
From José Luis Abreu, Autosport Portugal (PRT)
Q:
Can you compare the rhythm in WRC with ERC, tell us about the differences when facing an ERC or WRC event?
AL:
If you follow closely these events you'll know that sometimes the start lists are pretty the same. We have Andreas Mikkelsen in the European championship, Nikolay Gryazin, Mads Østberg sometimes comes to us, Craig Breen. The line-up is quite hard and we have quite strong competition now. A few years ago it was not an easy walk but the competition was not so tight. Now it's growing, we have two or three times more R5 cars in every event, the number of fast drivers is also growing. The problem of WRC events is they are just longer and you need to extend your resources and try to make it work for a longer time. In the ERC it's more like a shorter sprint, you need to push flat out from the beginning to the end. It also makes things exciting and the competition is everywhere and it's nice.
FIA JUNIOR WRC CHAMPIONSHIP
Present:
Sami Pajari (FIN)
Q:
Turning now to our winner in JWRC, Sami Pajari, following a super-strong weekend out there for you how does it feel to be on the top step of the podium?
SP:
It feels just so great. It's my second season doing the Junior WRC and Estonia was the only rally we did also last year so there were some familiar stages, which maybe made it a bit easier for us. But it wasn't just easy, steady driving and we tried to keep the good pace. We were all the time in front of the others so I would say it was a good, consistent and really well deserved.
Q:
You mentioned your consistency and your rivals were falling by the wayside but you kept it honest and true and very quick out there with the stage wins. When you look back across the weekend how happy are you?
SP:
Of course I'm really happy. Even with so many stage wins it didn't mean I was leading by a huge margin or anything like that. We were catching the stage wins but it was mainly one second or two seconds or something like this. It was really close until the last day. I'm just mostly happy we were able to be so consistent compared to the others. Even if we were first or second on the stages we were still the ones who were leading all the time. That's a really nice thing for myself.
Q:
It's been a tricky final day, not an easy one by any margin, were you feeling any nerves this morning knowing a win was on the cards here?
SP:
Of course there were some thoughts during last night that maybe I can make it, maybe not. But I just tried to focus on the driving and I think that was also… but let's say the time was so close that I need to push all the time so I could keep the rhythm and somehow the driving was really enjoyable during the weekend also. Only just before the very last stage did I have too much time to think and the rhythm on the last stage wasn't so perfect although the stage was also really difficult as the road condition was so bad but we also made it through without any problems and that's really good.
Q:
Kalle Rovanperä, your countryman from Finland, has just taken his first WRC victory at 20. You're 19 Sami, no pressure but you've got a year…
SP:
That's a clear thing, I will try to catch that also but now my focus is on the Juniors and we will see what happens next year. Kalle has no pressure from me on his shoulders because I don't think I will catch that!