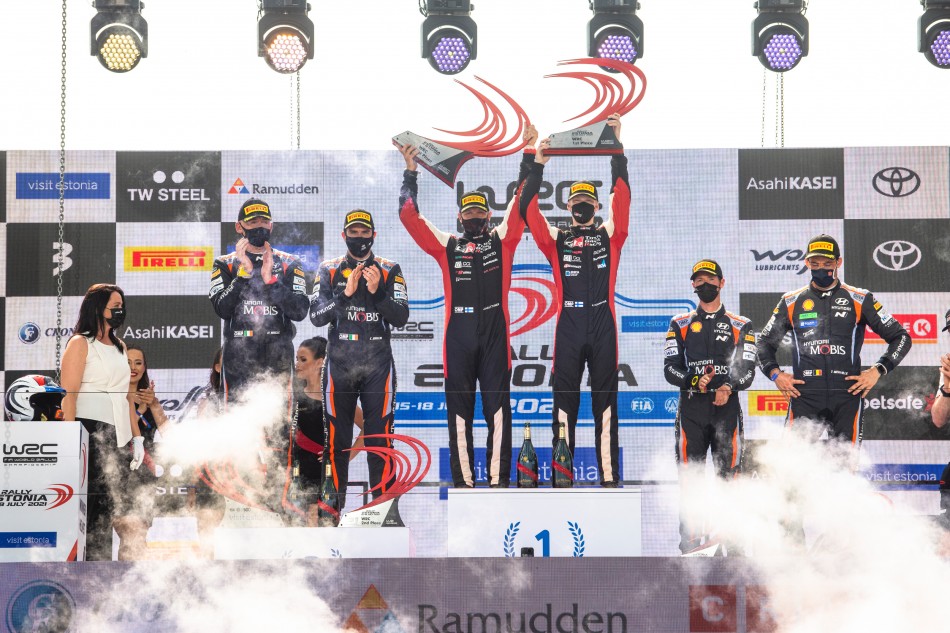 Kalle Rovanperä made history as the youngest winner of an FIA World Rally Championship round on Sunday after a masterful drive at Rally Estonia, with navigator Jonne Halttunen at his side.
The 20-year-old Finn is more than two years younger than fellow countryman Jari-Matti Latvala, now his team principal at Toyota Gazoo Racing, when he claimed the record in 2008.
After fending off a fierce early challenge from Craig Breen, Rovanperä and Halttunen stormed clear on dusty and high-speed tracks near Tartu to win this seventh round of the season by 59.9sec in a Yaris World Rally Car.
Rovanperä, who now lives in Estonia, celebrated on the podium with father Harri, who scored his sole WRC victory in Sweden in 2001. Today's win was the first for a Finnish driver in the championship since Latvala won Rally Australia in 2018.
Rovanperä has endured a barren run of results of late with just one top six finish in the last four rounds, but his maiden victory promoted him to fourth in the championship standings with five rounds remaining.
Estonia is proving a happy-hunting ground for Breen – he has now finished second at both the rally's two WRC appearances. His only scare came late on Saturday evening when he clipped a huge roadside rock and damaged his Hyundai i20's front suspension.
The Irishman headed team-mate Thierry Neuville by 12.5sec. The Belgian's hopes of reeling in his colleague were damaged by a 10sec penalty after checking in late at a time control on Sunday morning following technical problems.
Championship leader Sébastien Ogier finished fourth in another Yaris. The Frenchman ended 11.6sec behind Neuville, content to bag solid points in his quest for an eighth drivers' crown after opening the roads where traction was at a premium in Friday's first leg.
Team-mate Elfyn Evans finished 43.1sec behind in fifth after never truly getting to grips with the conditions. Ogier now leads the Welshman by 37 points in the championship, with their Toyota squad maintaining its 59-point lead in the manufacturers' standings.
Teemu Suninen was sixth in a Ford Fiesta, despite a final stage spin, while Pierre-Louis Loubet brought his i20 home in seventh.
FIA WRC3 winner Alexey Lukyanuk finished eighth, despite a final stage roll which almost dropped him into the clutches of FIA WRC2 victor, Toksport's Andreas Mikkelsen in a Škoda Fabia Evo. The pair were separated by only 13.8sec, with Mads Østberg in a TRT-run Citroën C3 completing the leaderboard.
Flying Finn Sami Pajari claimed victory in the FIA Junior WRC Championship category on the series' third round – his first ever victory in the championship. There was also drama in the final stage, as Martin Koci stopped with a suspected broken driveshaft. Pajari heads Jon Armstrong from the United States in 2nd and Martin Sesks from Latvia.
The championship returns to asphalt next month when Belgium makes its first WRC appearance. Renties Ypres Rally Belgium takes place on 13-15 August.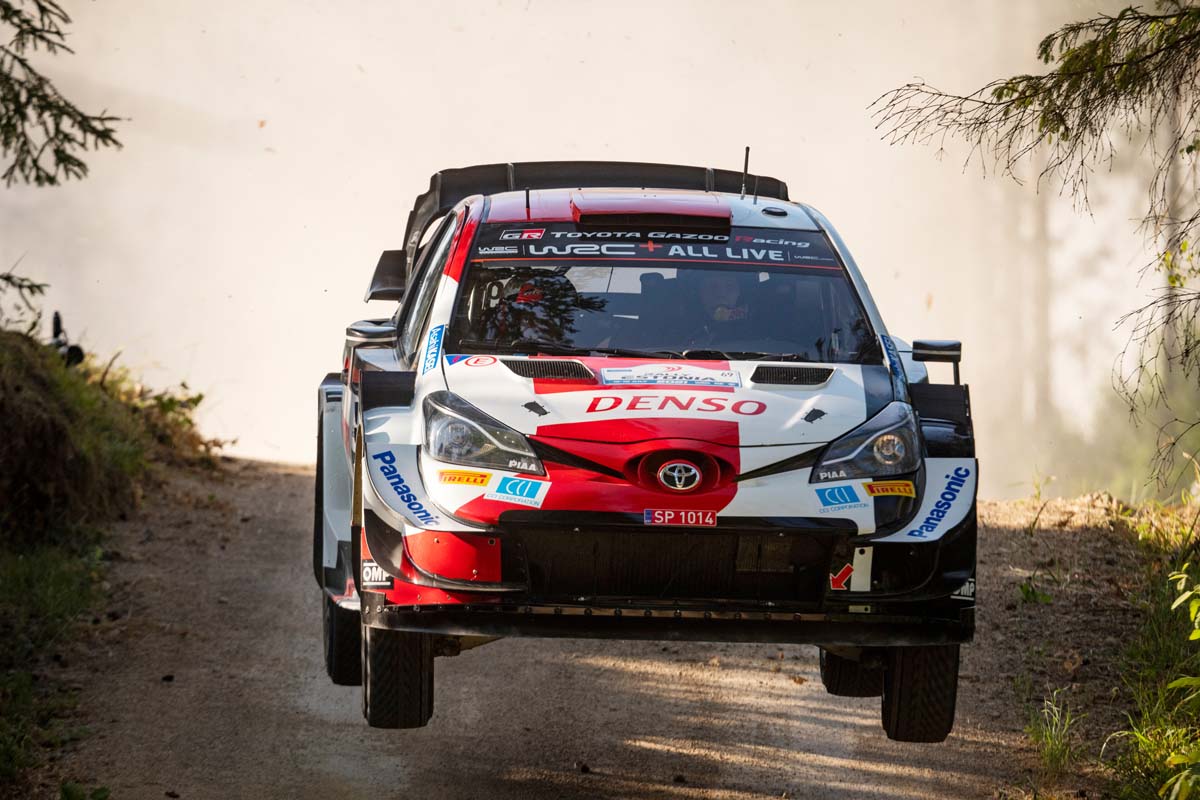 Results
| | | | |
| --- | --- | --- | --- |
| POS | DRIVER | TEAM / CAR | DIFF 1ST |
| 1 |  K. ROVANPERÄ |  Yaris WRC | 2:51:29.1 |
| 2 |  C. BREEN |  i20 Coupé WRC | 59.9 |
| 3 |  T. NEUVILLE |  i20 Coupé WRC | +1:12.4 |
| 4 |  S. OGIER |  Yaris WRC | +1:24.0 |
| 5 |  E. EVANS |  Yaris WRC | +2:07.1 |
| 6 |  T. SUNINEN |  Fiesta WRC | +7:07.3 |
| 7 |  P. LOUBET |  i20 Coupé WRC | +8:48.3 |
| 8 |  A. LUKYANUK |  Fabia Evo | +10:16.1 |
| 9 |  A. MIKKELSEN |  Fabia Evo | +10:29.9 |
| 10 |  M. OSTBERG |  C3 | +10:46.6 |
| 11 |  M. BULACIA |  Fabia Evo | +10:58.5 |
| 12 |  A. FOURMAUX |  Fiesta MkII | +11:26.0 |
| 13 |  K. KAJETANOWICZ |  Fabia Evo | +13:32.0 |
| 14 |  M. HEIKKILÄ |  Fabia Evo | +14:30.5 |
| 15 |  P. LÓPEZ |  Fabia Evo | +15:14.0 |
| 16 |  T. KRISTENSSON |  Fiesta MkII | +15:30.3 |
| 17 |  R. JEETS |  Fabia Evo | +17:33.8 |
| 18 |  G. LINNAMÄE |  Polo Gti | +17:38.3 |
| 19 |  V. JURKEVICIUS |  Fabia Evo | +20:14.6 |
| 20 |  F. ZALDIVAR |  Fabia Evo | +20:24.3 |
| 21 |  S. PAJARI |  Fiesta | +27:34.1 |
| 22 |  J. ARMSTRONG |  Fiesta | +27:58.2 |
| 23 |  M. SESKS |  Fiesta | +28:30.5 |
| 24 |  L. JOONA |  Fiesta | +31:17.8 |
| 25 |  R. BADIU |  Fiesta | +32:16.4 |
| 26 |  W. CREIGHTON |  Fiesta | +33:11.2 |
| 27 |  E. FERNANDEZ PIRAINO |  Fabia Evo | +34:32.7 |
| 28 |  O. TÄHT |  Fiesta ST Rally3 | +41:53.1 |
| 29 |  M. DIAZ ABOITIZ |  Fabia Evo | +45:16.1 |
| 30 |  J. NÕGENE |  Fiesta | +49:57.3 |
| 31 |  O. TÄNAK |  i20 Coupé WRC | +1:02:46.9 |
| 32 |  G. GREENSMITH |  Fiesta WRC | +1:20:36.1 |
| 33 |  E. KAUR |  Polo Gti | +1:21:12.6 |
| 34 |  R. VIRVES |  Fiesta | +1:41:32.1 |
| 35 |  K. KASARI |  Fiesta | +1:57:10.8 |
| 36 |  R. AL-RASHED |  Polo Gti | +2:00:05.3 |
| 37 |  K. SEI |  Fiesta | +2:56:03.2 |
| 38 |  T. HERRANEN |  Fiesta | +2:59:06.0 |