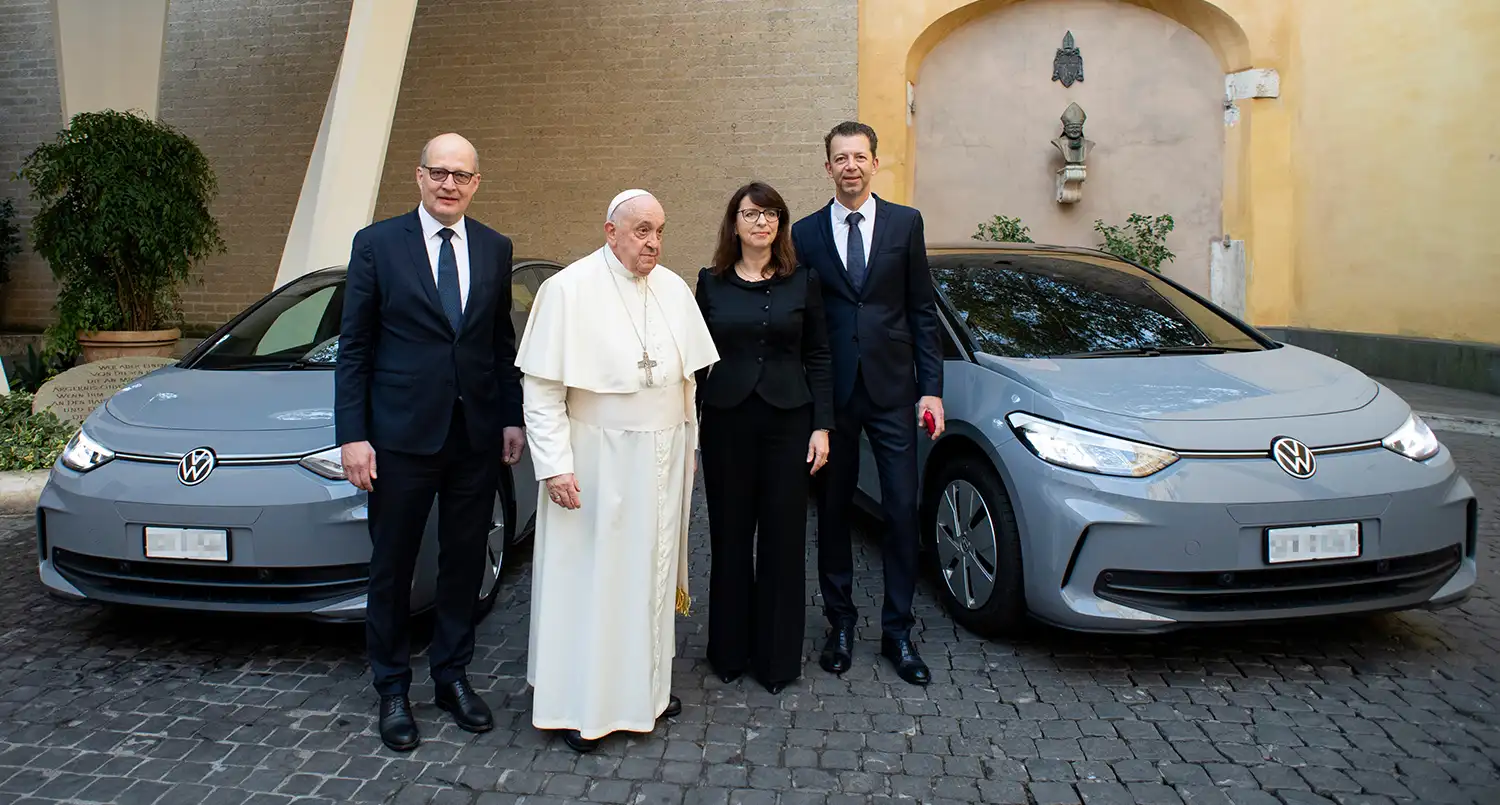 Volkswagen is supporting the Vatican City State in its transition towards sustainable mobility. At the beginning of 2024, the company will deliver just under 40 fully electric models from its ID. family, ranging from the ID.31 to the ID.4 and ID.5. The vehicles are part of the decarbonization strategy of the VCS, aiming to make the Vatican fleet climate-neutral by 2030. Imelda Labbé, Member of the Board of Management for Sales, Marketing and After-Sales at Volkswagen Passenger Cars, and Dr. Christian Dahlheim, Chairman of the Board of Management of Volkswagen Financial Services AG, have personally handed over the first two electric vehicles to the Vatican, two ID.3 Pro Performance2 models.
The Vatican City State is strongly committed to the implementation of innovative and sustainable solutions that make it possible to reduce, in concrete terms, the impact of human activities on the environment in order to protect the planet. Mobility is at the heart of a specific program called "Ecological Conversion 2030", which aims to reduce the CO2 footprint of the state's vehicle fleet. To achieve this, the existing vehicles are to be gradually replaced by electric ones to make the entire fleet CO2-neutral by 2030.
Volkswagen is the chosen partner for this project, and through Volkswagen Financial Services it will supply the Vatican State with a fleet starting from the beginning of 2024. At later stages, further zero-emission vehicles also from the Volkswagen Group brands will be progressively handed over up until the entire fleet has been completely replaced by 2030.
"The electrification of fleets is becoming increasingly important across the globe. The fact that Vatican employees will now also be among our ID. drivers in the future is a great target and honor for our brand and underscores the attractiveness of our all- electric ID. models," said Imelda Labbé during the vehicle handover in Vatican City.
Dr. Christian Dahlheim added: "We are delighted to support the Vatican in this important project. This is something very special for us and shows that we are absolutely competitive with our mobility solutions."