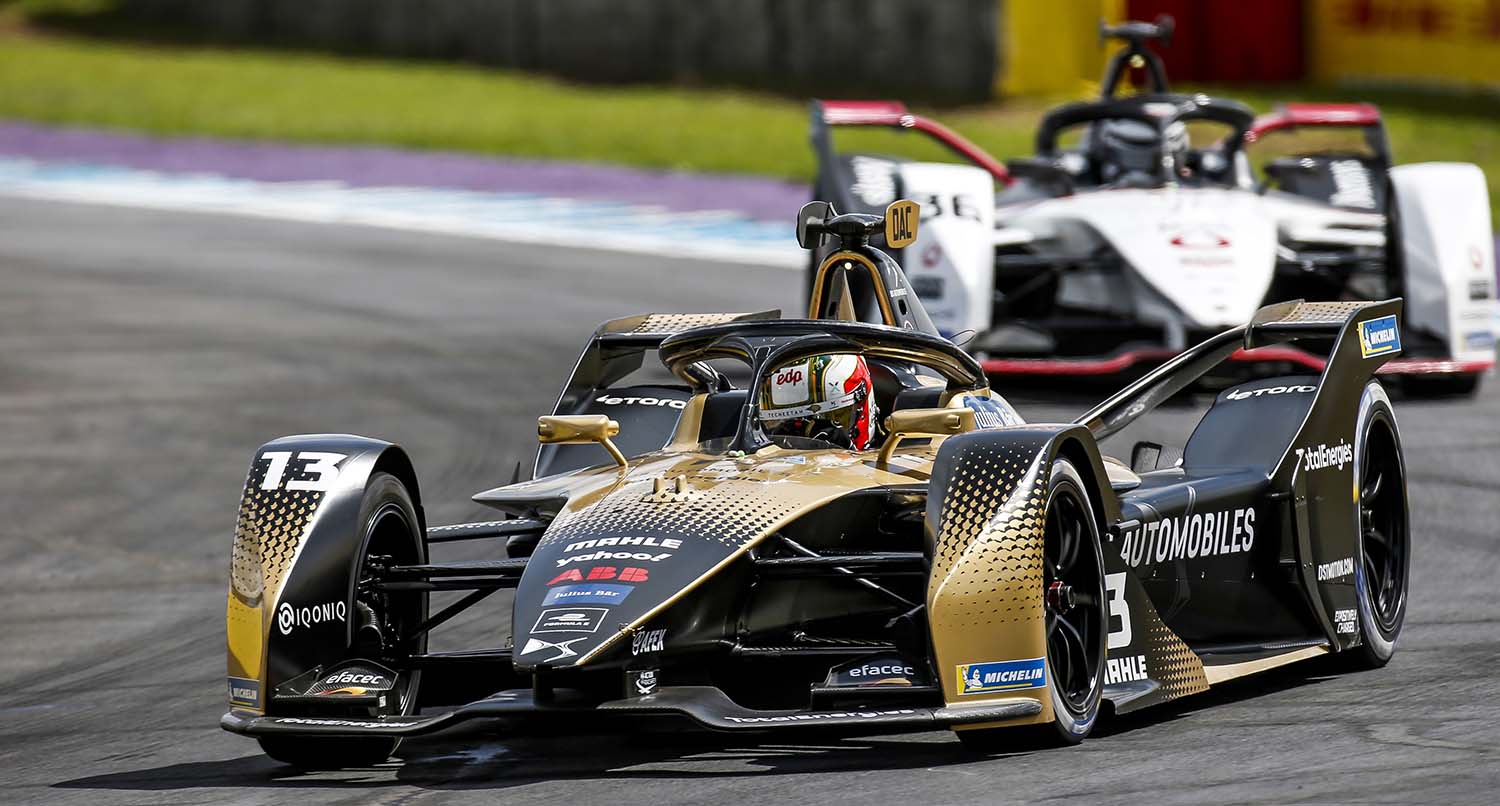 António Félix Da Costa finished sixth in the eighth round of the ABB FIA Formula E World Championship, acquiring valuable points for DS TECHEETAH and himself, in the series first visit to Puebla. The 2.982-long permanent track in the heart of Mexico is at an altitude of 2100 meters, which proved challenging for cars and drivers. Unfortunately, Jean-Éric Vergne was among the victims of the numerous race incidents. The Frenchman retired on lap 12 after being squeezed against the wall by a rival at the exit of the attack mode zone when he was in 4th position.
The DS E-TENSE FE21 proved competitive on Mexican track, with Da Costa and Vergne taking P2 and P3, respectively, in the second free practice session, held on a drying track. Vergne qualified 4th, having made it to the Super Pole, while Da Costa finally started 11th.
At the start of the Race, the Frenchman had to be extremely alert to avoid the car in front of him and maintained his 4th position in the opening laps, while Da Costa climbed up to ninth. Unfortunately, Vergne was hit by a rival and sent into the wall on lap 12, having to retiring due to damage sustained by his car. Da Costa continued to gain positions and found himself in a group fighting for positions during the final laps. Eventually, the regning champion crossed the line in sixth position.
Mexican fans will enjoy tomorrow the second part of the Puebla double-header, with the Round 9 of the 2021 season kicking off at 23:00 hours CET.
António Félix da Costa, P6:
"It's a good result towards the championship. Qualifying in group 1 is never easy and we came home with a P6. I felt we had good potential today, we could have done better and I made a few mistakes myself, but we'll have another chance tomorrow and we feel confident."
Jean-Éric Vergne, DNF:
"Unfortunately, it is not the result we had hoped for, and the day ended with a crash, when someone hit me at the exit of the attack zone and squeezed me to the wall. A suspension got broken and that was the end of my race. We have another opportunity tomorrow and hopefully, it will be a better day."
Mark Preston, DS TECHEETAH Team Principal:
"Puebla has turned out to be an interesting track for Formula E, although disappointing in some ways. We maintained our position in the Teams' championship and António has moved from 4th to 2nd in the Drivers' standings. As always with Formula E, it is tight at the top of the table. We have a fast car and we will now focus on tomorrow's race."
Thomas Chevaucher, DS Performance Director:
"A Formula E race always entails surprises and this first Puebla race was no exception. After a good qualifying, our drivers were somehow surprised by the configuration of the of the attack mode area, which cost quite a few points to the team. Still, we were able to score with António, who is now second in the standings only 2 points away from the top, et we maintain our third position in the teams' rankings. Our DS E-TENSE FE21 has proved again its performance level in this new track and we still have another race tomorrow to materialize the car's high potential."