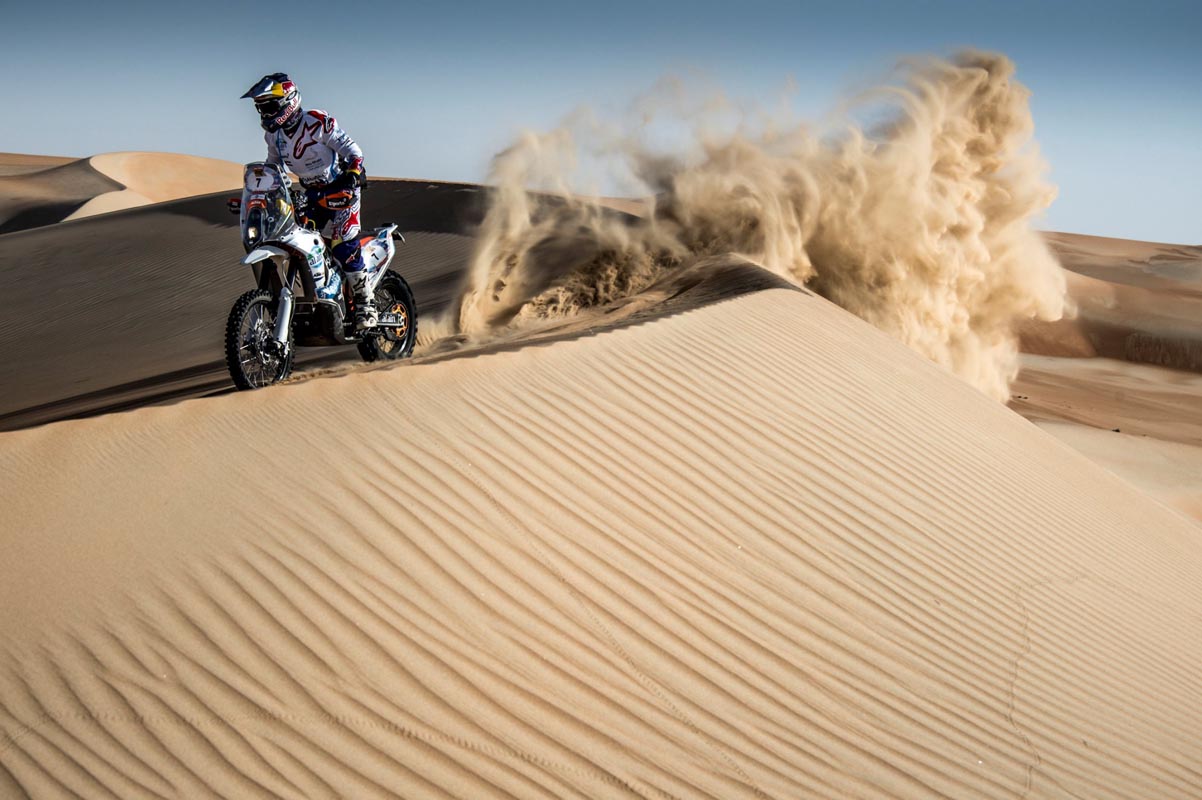 MX Ride Dubai's Mohammed Al-Balooshi will be hoping to extend his eight-point lead in the FIM Bajas World Cup's 450cc category when he starts as pre-event favourite to win the motorcycle section at this weekend's Qatar International Baja, the new fifth round of the series.
The KTM rider faces competition from nearest Jordanian rival Abdullah Abuaisheh and a host of GCC and European rivals over the three days of Qatar's premier off-road event in the 2021 calendar.
Several of the leading contenders are absent from the Qatar round, but Al-Balooshi has a perfect opportunity to close in on the title before the remaining two Bajas of the season take centre stage in Portugal next month.
Neither Mirjam Pol nor Margot Farre have made the trip to the Middle East and that has left the door open for Kuwait's Sarah Khuraibet to boost her chance of winning the Women's category.
Now recovered from an injury she incurred earlier in the season, the Yamaha WR450 rider trails Pol by 24 points and Farre by 14 and knows that a finish would catapult her into title contention.
Mozambique's Paulo Oliveira is visiting Qatar for the first time and hoping to extend his 11-point advantage in the Veteran's Trophy. Nearest rivals, Philippe Gendron and Mark Ackermann, are not present this week, but a host of British riders have made the trip to the Gulf and are among the seven riders hoping to test Oliveira to the limit.
Talented young Polish rider Konrad Dabrowski has a 10-point advantage in the Junior category but is absent from the Qatar International Baja. Young Briton Robert Wallace will be hoping to shine in the category on his KTM 450 RR.
The quad section will be fought out between five Saudi Arabian Yamaha entrants, three of whom hold the top three positions in the FIM Bajas World Cup after four rounds.
Haitham Al-Tuwaijri currently has a four-point cushion over Faisal Al-Suwayh, with Hani Al-Noumesi a further 10 points adrift in third. Both Sultan Al-Masoud and Abdulaziz Al-Atawi are also on hand to offer resistance.
Honours in the new FIM SSV category are up for grabs and Qatar's Ahmed Al-Kuwari, Khalid Al-Mohannadi and Abdullah Al-Khelaifi will lock horns with Jordan's Ahmed Allouh, Lebanon's Henry Kahy and Italy's Stefano Marrini.
The event gets underway at the new Al-Bayt Stadium in Al-Khor on Thursday afternoon from 15.30hrs.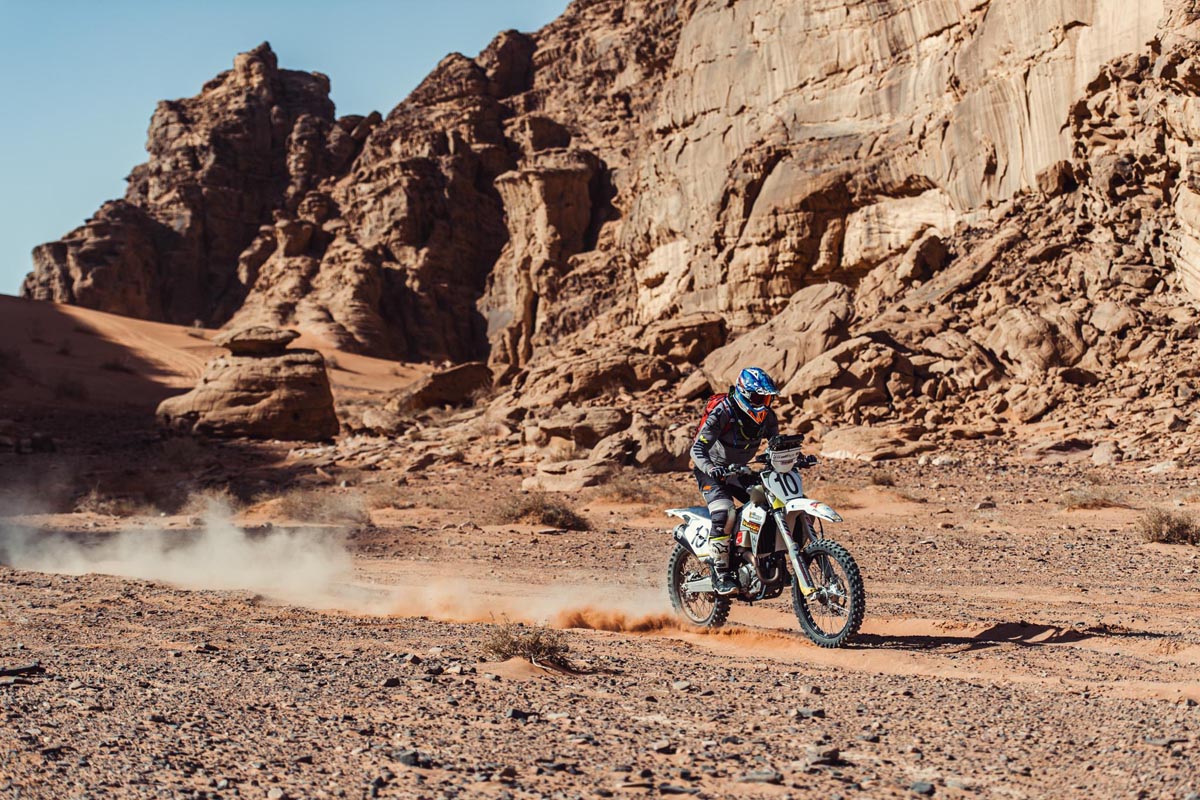 FIM Bajas World Cup – positions after round 4:
450cc
Mohammed Al-Balooshi (ARE) 41pts
Abdullah Abuaisheh (JOR) 33pts
Martin Michek (CZE) 31pts
Sebastien Buhler (DEU) 25pts
Joan Barreda Bort (ESP) 25pts
Sam Smith (GBR) 25pts
Matthieu Doveze (FRA) 23pts
Stefan Svitko (SVK) 20pts, etc
Women's
Mirjam Pol (NLD) 50pts
Margot Farre (ESP) 40pts
Sarah Khuraibet (KUW) 26pts
Sara Garcia Alvarez (ESP) 25pts
Olga Roučková (CZE) 16pts
Aishawarya Pissay (IND) 16pts
Veterans
Paulo Oliveira (MOZ) 36pts
Philippe Gendron (FRA) 25pts
Mark Ackermann (ZAF) 25pts
Tony Vingut Riggall (ESP) 20pts
Pedro Prata (PRT) 16pts
Rui Ferreira (PRT) 13pts
Walter Dalmasso (ITA) 10pts
Juniors
Konrad Dabrowski (POL) 50pts
Margot Farre (ESP) 40pts
Neels Theric (FRA) 25pts
Jean Loup Lepan (FRA) 20pts
Kevin Giroud (FRA) 13pts
Quads
Haitham Al-Tuwaijri (SAU) 45pts
Faisal Al-Suwayh (SAU) 41pts
Hani Al-Noumesi (SAU) 31pts
Juraj Varga (SVK) 25pts
Alexandre Giroud (FRA) 25pts
Jerôme Connart (FRA) 20pts
Tony Vingut Riggall (ESP) 16pts
Olga Roučková (CZE) 13pts
Kevin Giroud (FRA) 13pts