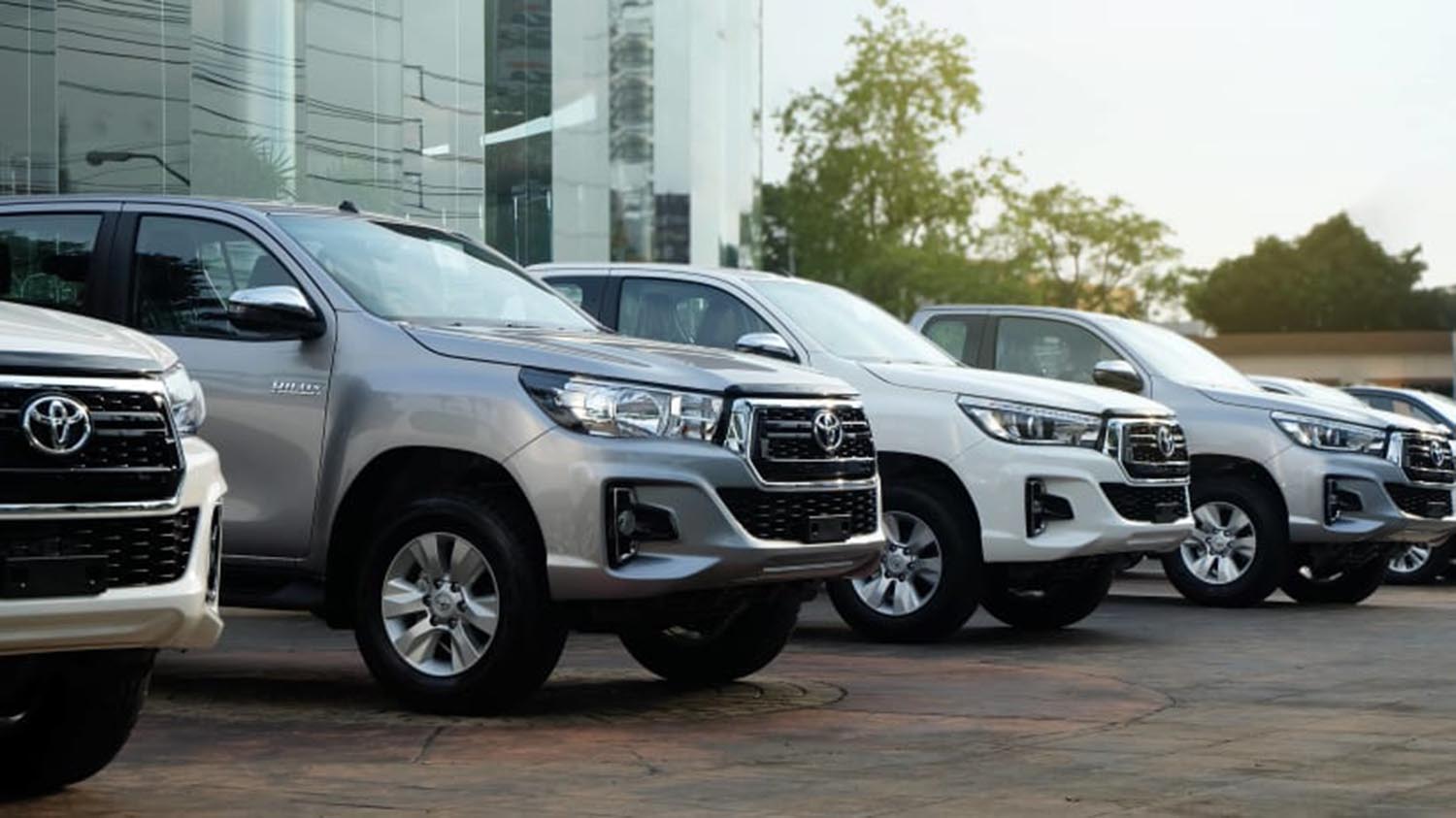 Toyota cars have a reputation for reliability, innovation, and quality. Their trucks and pickups are some of the most iconic vehicles on the planet – go anywhere in the world, whether it's a desert or a jungle, and you'll find a Hilux. Choose any Toyota hybrid and you'll find it packed with 21st-century technology that makes motoring kinder to the planet and your wallet. Have a growing family? A Toyota SUV has the space for all your little ones and a safety record that gives you total peace of mind when you're on that long family trip.
But which one do you choose? We've put together a shortlist to help you make the right choice, whether it's a Toyota SUV or a commercial truck that can cope with some off-road challenges.
SUVs
SUVs are go-anywhere -do-anything vehicles that are equally at home on the tarmac of the city streets as they are on desert or mountain tracks. Their 4-wheel-drive systems give them the traction to cope with difficult terrain, steep slopes, and everything in between. However, don't think that you have to must sacrifice luxury and comfort for all that practicality. Toyota has developed a range of SUVs that are suitable for a wide selection of on and off-road situations, but with cabins that are spacious, comfortable, and filled with all the little touches you'd expect from a good quality luxury car.
The Land Cruiser has a heritage stretching back decades and is one of the original SUVs. Rugged, tough, and ready for anything, it still incorporates those luxury extras inside with a bold on-road presence and premium quality finish. It's the UAE's most popular SUV, and one look at that distinctive silhouette and it's easy to see why.
If you're looking for an SUV with a little more on-road capability bias and city chic looks then the RAV-4 has to be at the top of the list. Sleek, sophisticated, but with those essential off-road abilities as well, it's one of the world's most popular SUVs with families, who love its extensive safety sheet and ENCAP rating. If you want something in the same bracket but a little larger, the Rush is a great option, with higher ground clearance and a raised seating position, it's ideal for those long road trips with the family.
Hybrids
Hybrids use two sources of power to drive the car – usually a combination of a standard combustion petrol engine and an electric motor. This makes them more economical, giving you greater range than a fully electric vehicle, but cutting down on emissions in traffic when the electric motor can be used. Toyota is one of the world's great innovators in hybrid technology and still sets the benchmark for hybrid excellence today. Their Corolla HEV and Camry HEV cars combine saloon sophistication with some seriously green credentials, while the RAV-4 HEV represents the best in SUV hybrid technology, proving that SUVs don't have to be gas guzzlers.
For something a little different, the Corolla Cross 2021 is a hybrid SUV with plenty of on-road presence, combining a 1.8-liter engine with Dual VVT-i and Atkinson Cycle for more efficient power delivery and no loss of driver experience.
Trucks
If you want a pickup truck that can go anywhere and do anything then there's no question that it has to be the Toyota Hilux. This exceptional vehicle has a heritage stretching back decades, and now comes with a spacious and fully fitted 4-person cabin as well as the tough flatbed cargo area that will take everything from several bags of cement to a goat! For a larger cargo payload, the Hiace is a great option, which can also be converted into a multi-people carrier. The Granvia 2020 is a great choice for ferrying your VIP guests around, thanks to its luxurious interior complete with power captain seats with an ottoman for even greater luxury. Or for the ultimate in rugged off-road trucks, the LC pick-up is like a Hilux on steroids, with high ground clearance, 4×4 capabilities, and a large cabin.
If you're not sure which Toyota is right for you, why not book a test drive? At Al-Futtaim Toyota, they have a wide choice of SUVs, hybrids, and trucks for every type of driver and every type of requirement. With great finance options and plenty of both new and pre-owned options, there's never been a better time to buy a Toyota.