Advertised as a First Class Decision for commercial vehicle operators and businesses who want to roll out the red carpet for VIPs and guests, the Toyota Granvia sets a new benchmark in excellence when it comes to moving people around. This exceptional people carrier has all the heritage of the Toyota brand, but with a host of new features that set it apart from its rivals.
Offering passengers aircraft-standard luxury and space, this is no ordinary people carrier. It's a sanctuary of luxury and comfort for five passengers and the driver for executives who want to arrive at their destination in true style.
An interior worthy of an Airbus
Inside, the power captain seats are what you'd expect to encounter in Business or First Class in an Airbus. Deep leather seats each have their own Ottoman so your passengers can relax and stretch out in complete comfort. The deck-side trim features a handy tray and USB charging point, as well as a water bottle holder.
The centre console has clever storage spaces for smaller items to avoid the cabin becoming cluttered or untidy. A zone system air conditioning unit and independent front and rear temperature control keep your passengers comfortable, and even has its own bacteria and odour removal filters for a cleaner, fresher interior.
To keep your passengers cool and protected from the sun as well as providing a little extra privacy, sunshades can be deployed while reading lamps and illumination allow passengers to read or work on longer journeys.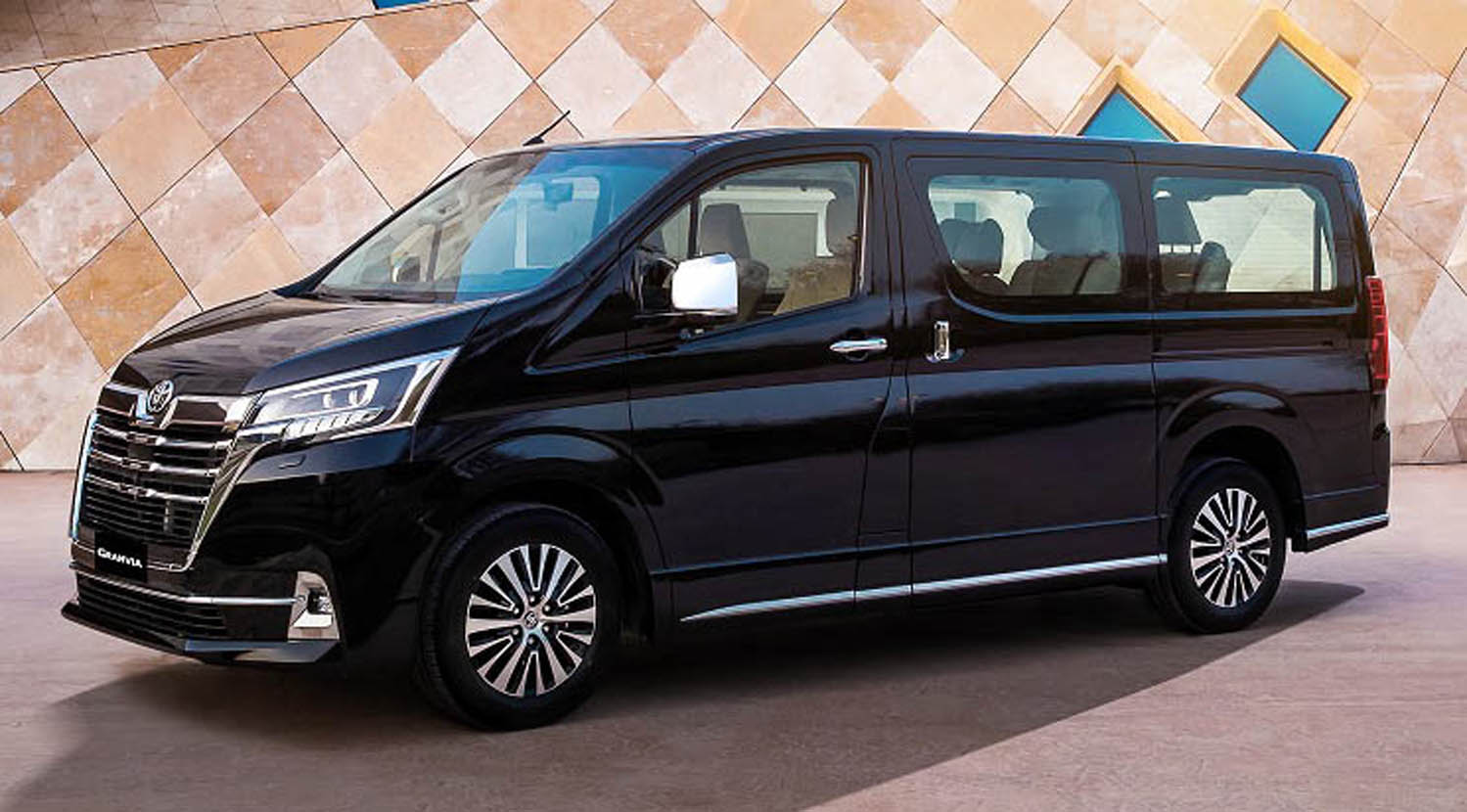 A power plant of exceptional quality
Underneath the bonnet sits Toyota's innovative 7GR-FKS engine. This 3.5-Litre V6 produces 277bhp with a fuel efficiency of 9.1km/litre. The engine runs through a 6-speed automatic transmission and has a McPherson strut suspension system on the front and a 4-link coil spring suspension on the rear for a smoother ride.
The engine has D-4S, Dual VVT-i (intake: VVT-iW) technology fitted, making this a surprisingly economical and powerful people carrier. The cabin is incredibly quiet, so your passengers won't hear that powerful V6 as it works.
Reassuring safety features
People carriers often fall a little short when it comes to internal safety features. Not so the Toyota Granvia. Fitted with Toyota's exceptional Toyota Safety Sense system, there are multiple safety options throughout the vehicle designed to protect both passengers and driver.
The package includes Pre-Collisions System Detects, which uses cameras and radar to detect potential hazards such as cyclists, other vehicles, and pedestrians, activating the braking system if it detects a potential front impact.
Long-distance drives can cause fatigue, which can be fatal. The Granvia comes with full Lane Departure Alert, which activates a buzzer when the vehicle starts to drift or deviate from the traffic lane.
As buzzers can often be missed, it also causes the steering wheel to vibrate as well, ensuring the driver responds in time to prevent a potential accident. The Granvia also has airbags all around, as well as Dynamic Radar Cruise Control, Panoramic View Monitor, Digital Rear-view Mirrors, and Rear Cross Traffic Alert to prevent the driver from backing out into traffic.
With so much technology and Toyota's legendary no-compromise approach to build quality, the Toyota Granvia is a genuinely exceptional people carrier designed for transporting VIPs and guests in real style.