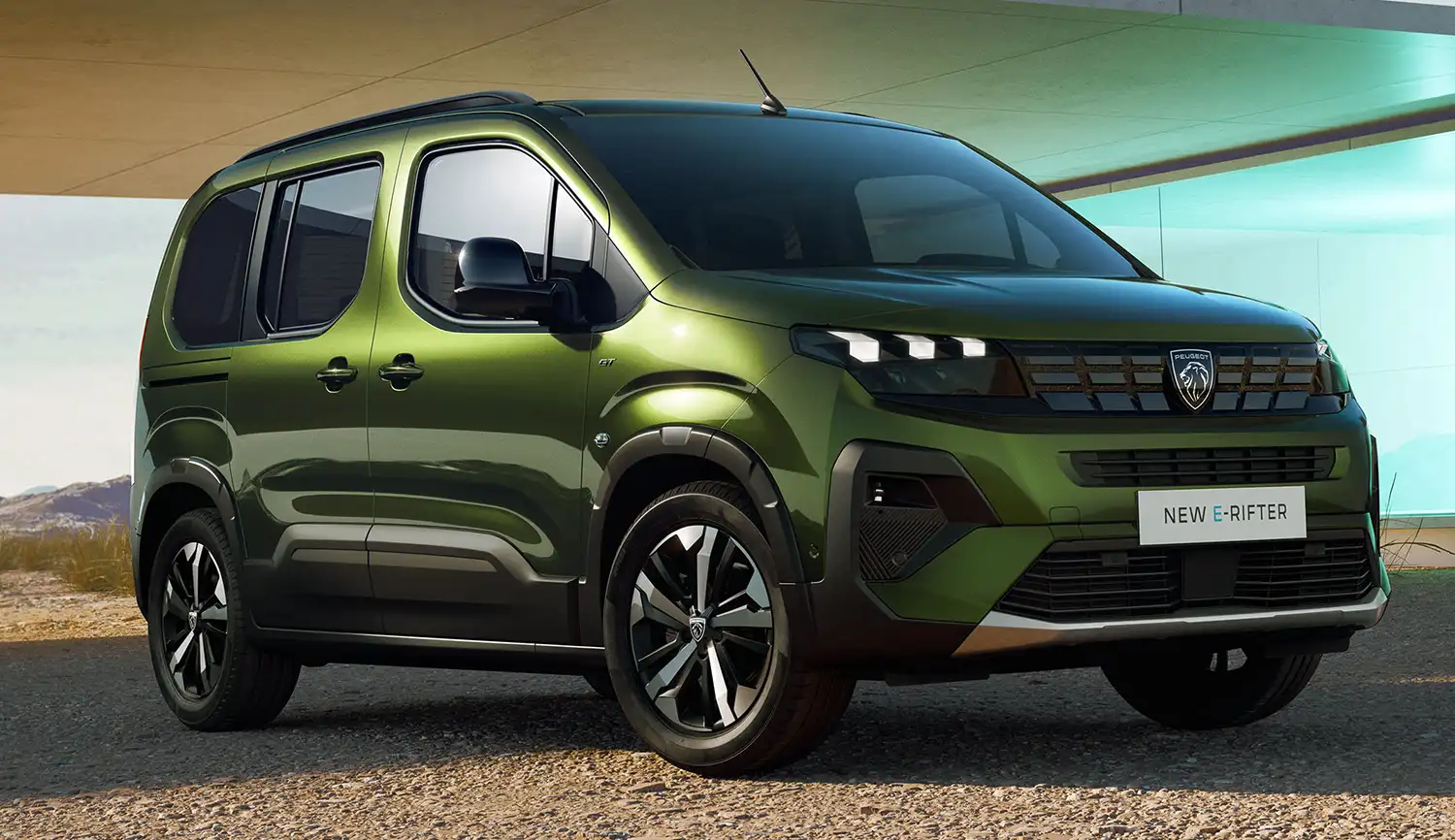 Like the rest of the PEUGEOT range, the E-RIFTER evolves in term of electrification and efficiency. The E-RIFTER demonstrates an ability to offer a variety of different customers a remarkable level of user-friendliness, ready for an exciting daily life.
ALLURE: Even more expressive design for an adventurous character.
EMOTION: New technologies to enhance the pleasure of driving and travelling.
EXCELLENCE: Connected and efficient, with an electric motor offering a range of up to 320km.
PEUGEOT's goal is to be the leading brand in the electric market by 2025.  The PEUGEOT E-RIFTER is part of the broadest electric range of any European manufacturer, with 9 electric passenger cars and 3 electric light commercial vehicles.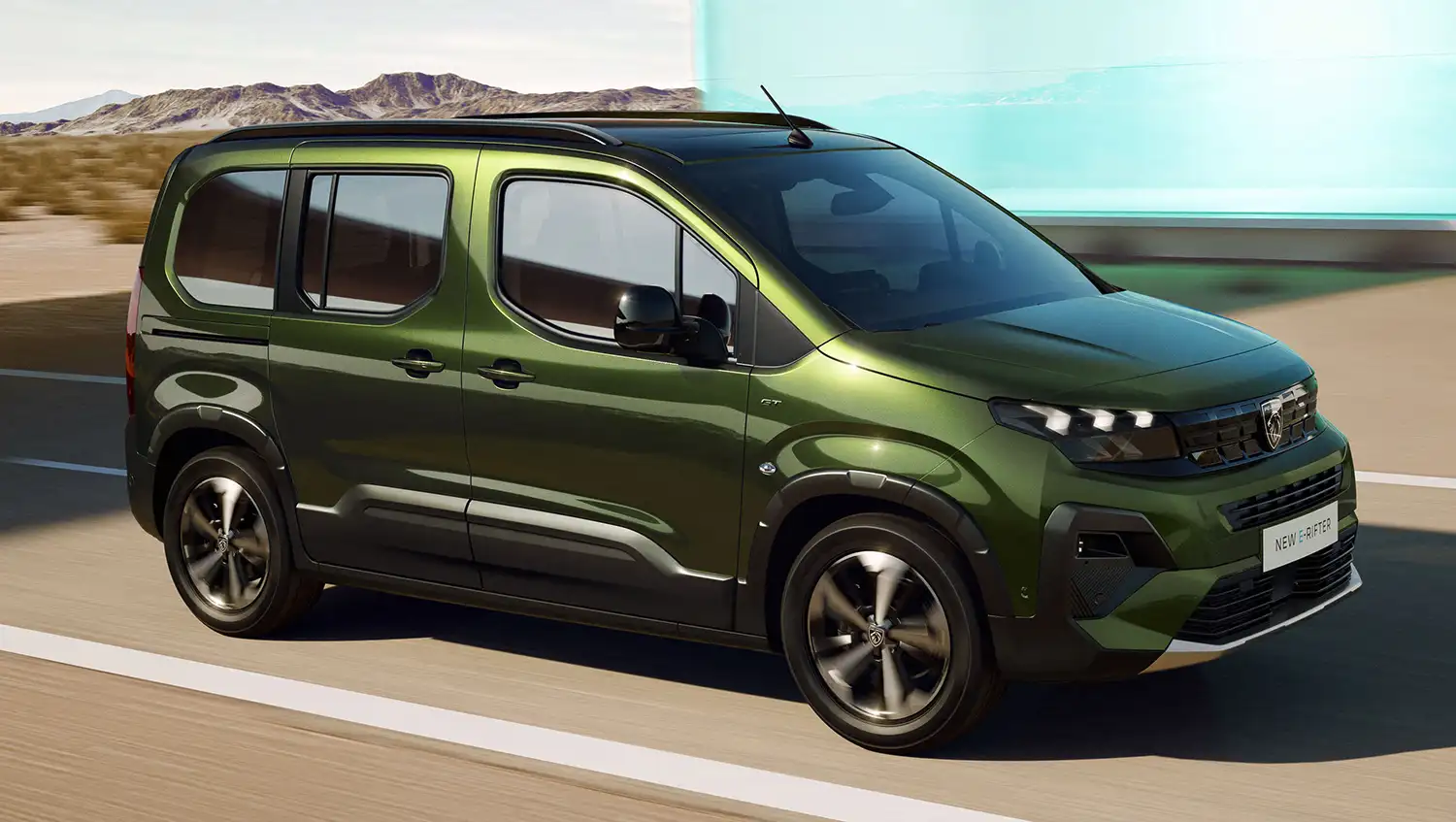 As part of this strategy, the new E-RIFTER goes from strength to strength in terms of electrification, with an electric range that now reaches 320km, while optimising the qualities that have made this multipurpose leisure vehicle such a success: a comfortable, spacious and modular passenger compartment, a high level of technological equipment, remarkable driving pleasure and an attractive outdoor look.
ALLURE: AN ADVENTUROUS DESIGN
The new PEUGEOT E-RIFTER introduces the brand's new design language, while retaining the muscular, solid and friendly style that underpins its strong adventurous character.
Allure comes in many shapes: The new PEUGEOT E-RIFTER is in line with the values ​​and concerns of its customers who are optimistic and active, looking for a vehicle with a modern look, with the latest connected technologies. The want a vehicle that is close to nature, contributing to the energy transition, with plenty of space inside for optimum comfort.
They appreciate the stature of the E-RIFTER that satisfies an array of weekend leisure activities (trips with friends, sporting and cultural activities, video games, photography, music, etc.) and everyday requirements (family travel with children, pets, etc.).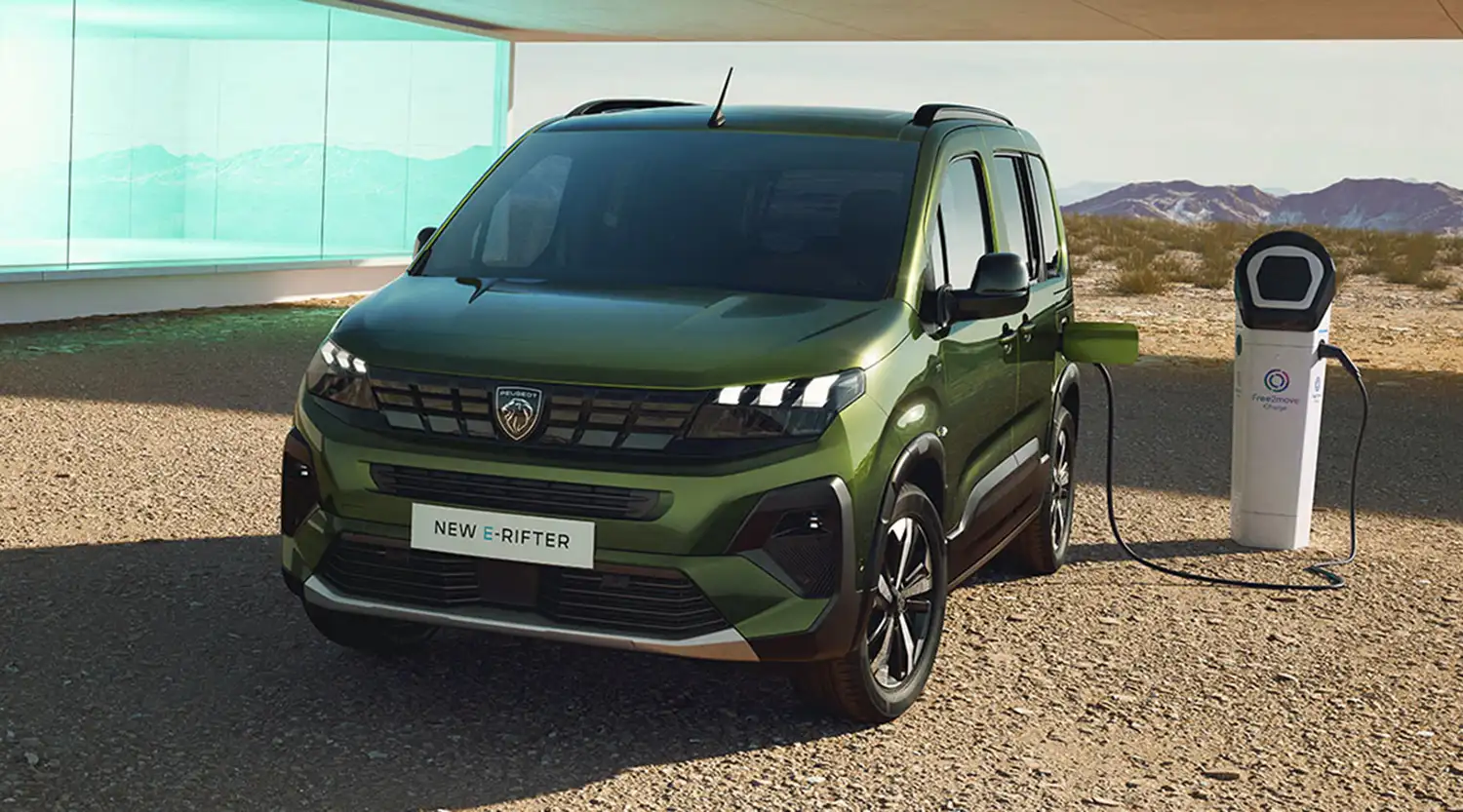 A new front end: The E-RIFTER has a new, more dynamic front end, with the new radiator grille coupled with the new PEUGEOT badge at its centre. It is surrounded by the brand's iconic three-claw light signature.
A practical, robust design: The assertive style of the E-RIFTER is further enhanced by the new Sirkka Green and Kiama Blue colours. They help to highlight the vehicle's generous shape, which is particularly well-suited to outdoor use, with its wide wheel arches, imposing side guards, roof bars and high ground clearance.
A new dashboard: The E-RIFTER has an all-new dashboard providing superior ergonomics and a quality finish. It is based around the iconic PEUGEOT i-Cockpit® and features an all-new 10-inch high-definition touchscreen in the upper centre (see below).
An inviting passenger compartment: The seats are covered in a new light grey fabric, bright and warm, in harmony with the new cabin materials. The generous glazed surface area, further ened by the iconic Zenith roof and its numerous storage compartments, makes the cabin even brighter.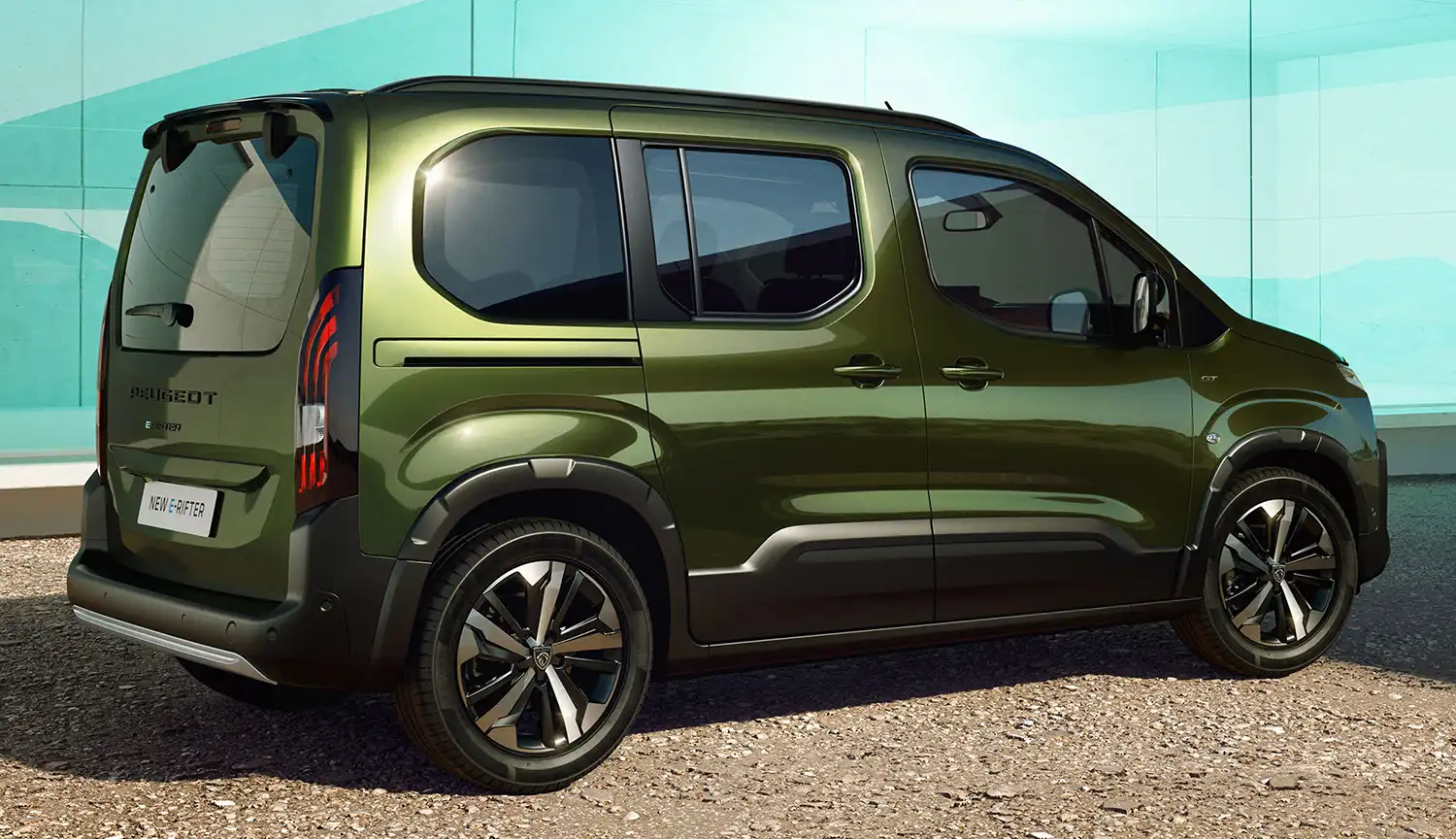 EMOTION: AN E-RIFTER THAT CAN DO ANYTHING
The PEUGEOT E-RIFTER is more versatile than ever before. Its new technologies and ultra-adaptable interior mean that it can fulfil every need and every desire…
More driving pleasure thanks to an even more technological PEUGEOT i-Cockpit®.
The new E-RIFTER features a new 10-inch, 100% digital colour instrument cluster, with an optimised and customisable display of essential information, including information from the navigation system and information relating to energy flow and charging.
A new large central 10-inch HD touchscreen for controlling the audio system and connected navigation.
A new compact, leather-covered, heated steering wheel with integrated control buttons. The PEUGEOT compact steering wheel has become a key part of driving pleasure!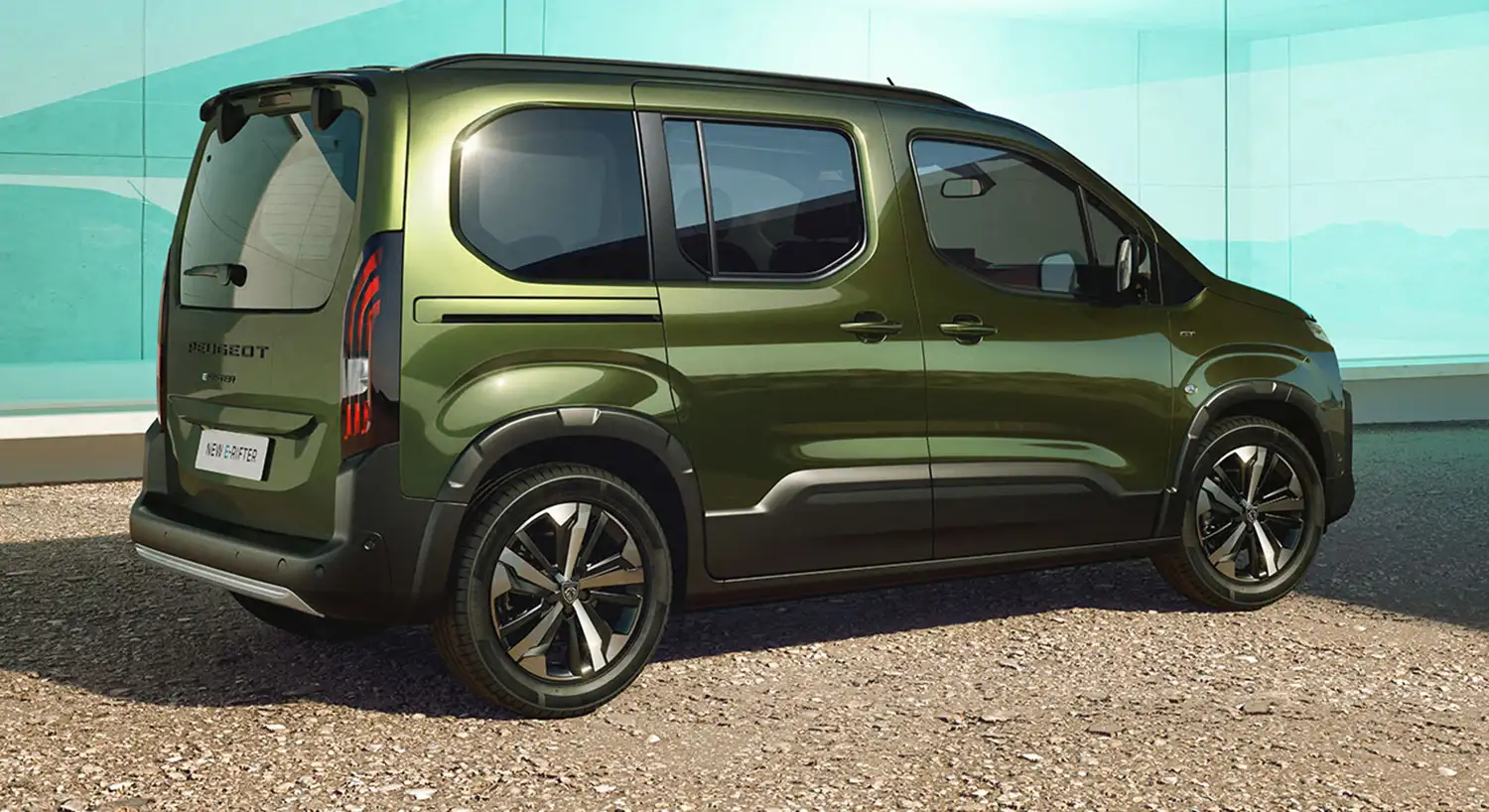 New cutting-edge technologies for optimum safety
A comprehensive range of driving aids: driver tiredness warning, traffic sign reading, lane keeping assist, automatic emergency braking with pedestrian and cyclist detection, speed limiter… the E-RIFTER has 18 driving assistance systems, which have been optimised on this new model with an adaptive cruise control system.
Parking assistance has been improved with 12 sensors distributed between the front and rear, as well as a VisioPark 180° system now equipped with a high definition reversing camera.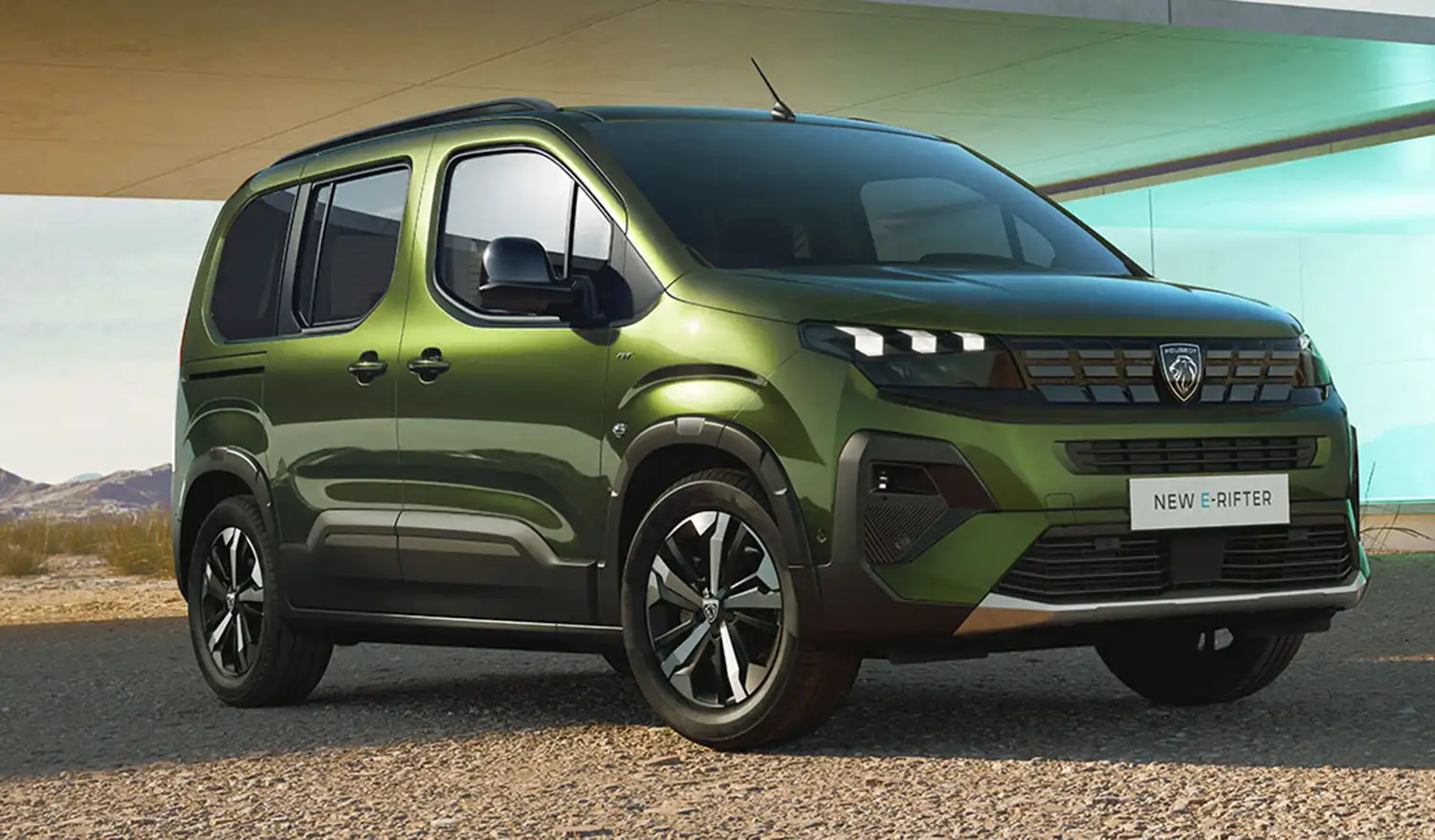 And as always, exceptional adaptability…
The new E-RIFTER is available in 2 versions, with 5 and 7 seats in each of two lengths: Standard (4.40m) and Long (4.70m). The latter adds length both in terms of wheelbase and overhang, for even more space.
Individual, folding seats. In row 2, each of the 3 individual seats can be easily folded into the floor.
Easy loading and unloading. The E-RIFTER has two sliding side doors and a large rear tailgate, with an opening window that is unique in the segment.
Generous payload volume. The E-RIFTER's batteries are located under the floor and have no impact on the vehicle's interior volume. The boot offers a load area ranging from 775 litres under the parcel shelf for the 5-seater Standard version to 4,000 litres under the roof with the seats folded down on the Long E-RIFTER. There's plenty of storage space, up to 186 litres depending on the version. Transporting long objects is easier thanks to the front passenger seat, which folds away into the floor.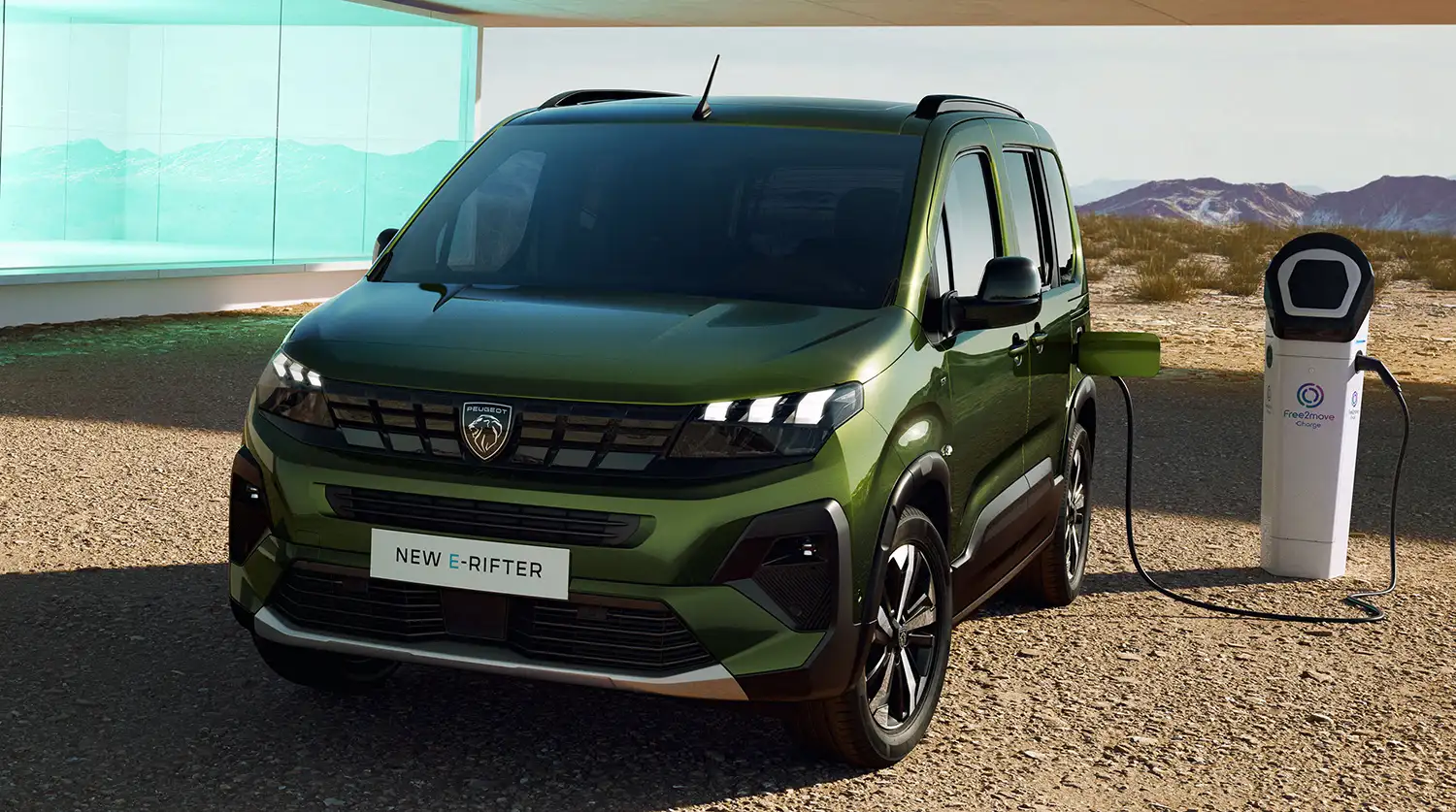 EXCELLENCE: IMPROVED EFFICIENCY AND CONNECTIVITY
The new E-RIFTER is equipped by the latest PEUGEOT technologies, both in terms of 100% electric powertrains and connectivity…
A 100% electric powertrain that's more efficient than ever
Up to 320km range. Work on the vehicle's overall efficiency has made it possible to maintain the same performance levels – 135 kph top speed, 0 to 100 kph in 11.2 seconds – while at the same time improving range, which now stands at up to 320km (WLTP combined cycle currently being certified).
Comfortable power that can be used in three driving modes. The PEUGEOT E-RIFTER offers maximum power of 100kW (136hp) and maximum torque of 270Nm. Three driving modes are always available: Eco to maximise range, Power for maximum performance under full load, and Normal.
A new regenerative braking system. To optimise range, the new E-RIFTER has a regenerative braking system that can be activated at three different regeneration levels using paddles located behind the steering wheel. This is a feature that is unique on the market.
The new E-RIFTER is now equipped with a heat pump (depending on countries). It improves passenger comfort while helping to optimise efficiency, and hence range.
Efficient charging. With a 7.4kW on-board charger and – as an option – an 11 kW three-phase charger, the E-RIFTER can charge its useful 50kWh battery efficiently, regardless of the infrastructure available. DC charging is available up to 100kW.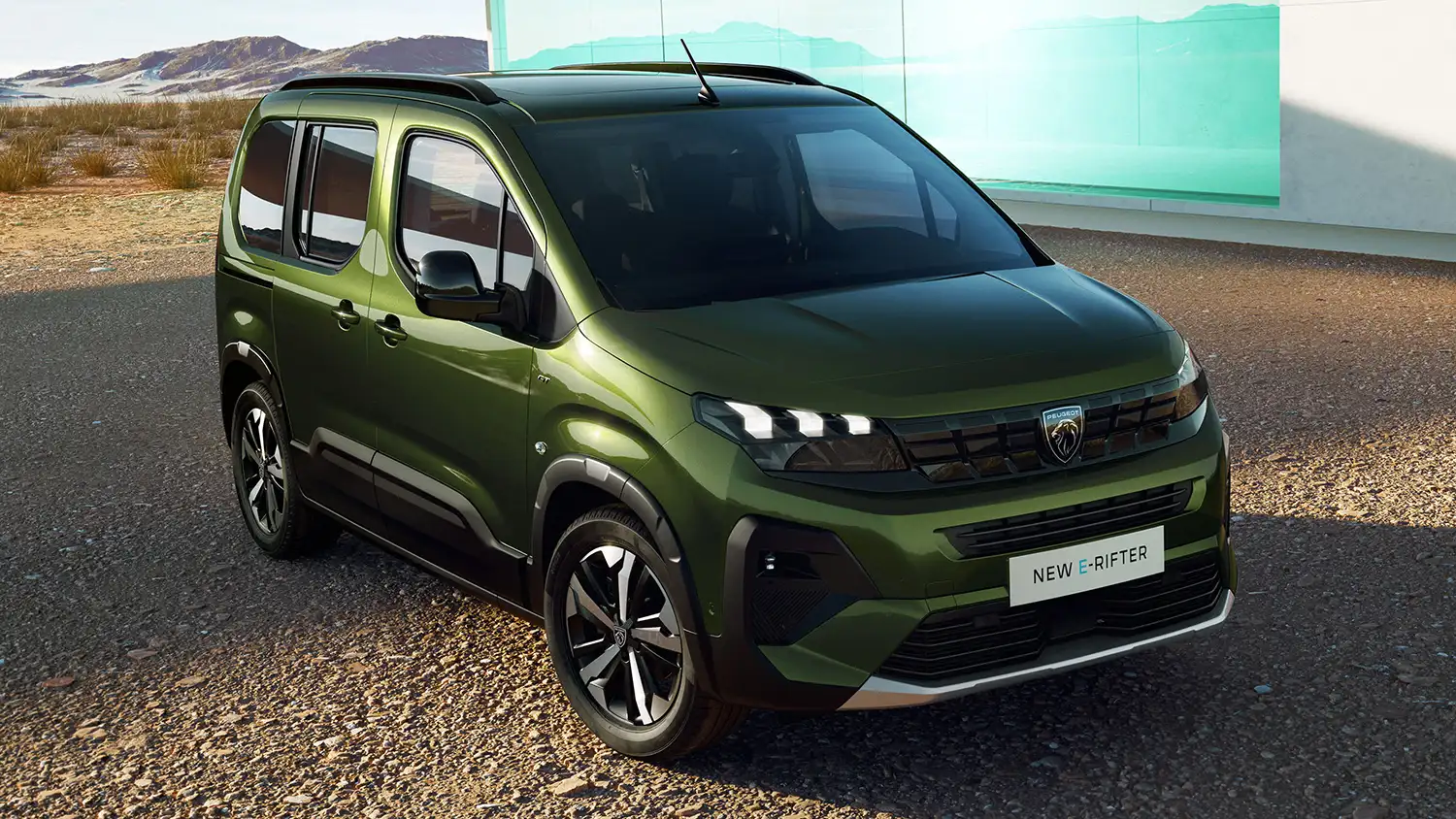 Estimated charge times are:
At a 100kW public charging point: 30 minutes (0-80% charge).
On an 11kW wallbox: full charge with the 11kW on-board charger in 5 hours.
On a 7.4 kW wallbox: full charge with the 7kW on-board charger in 7.5 hours.
On a 16A reinforced domestic socket: full charge in 15 hours.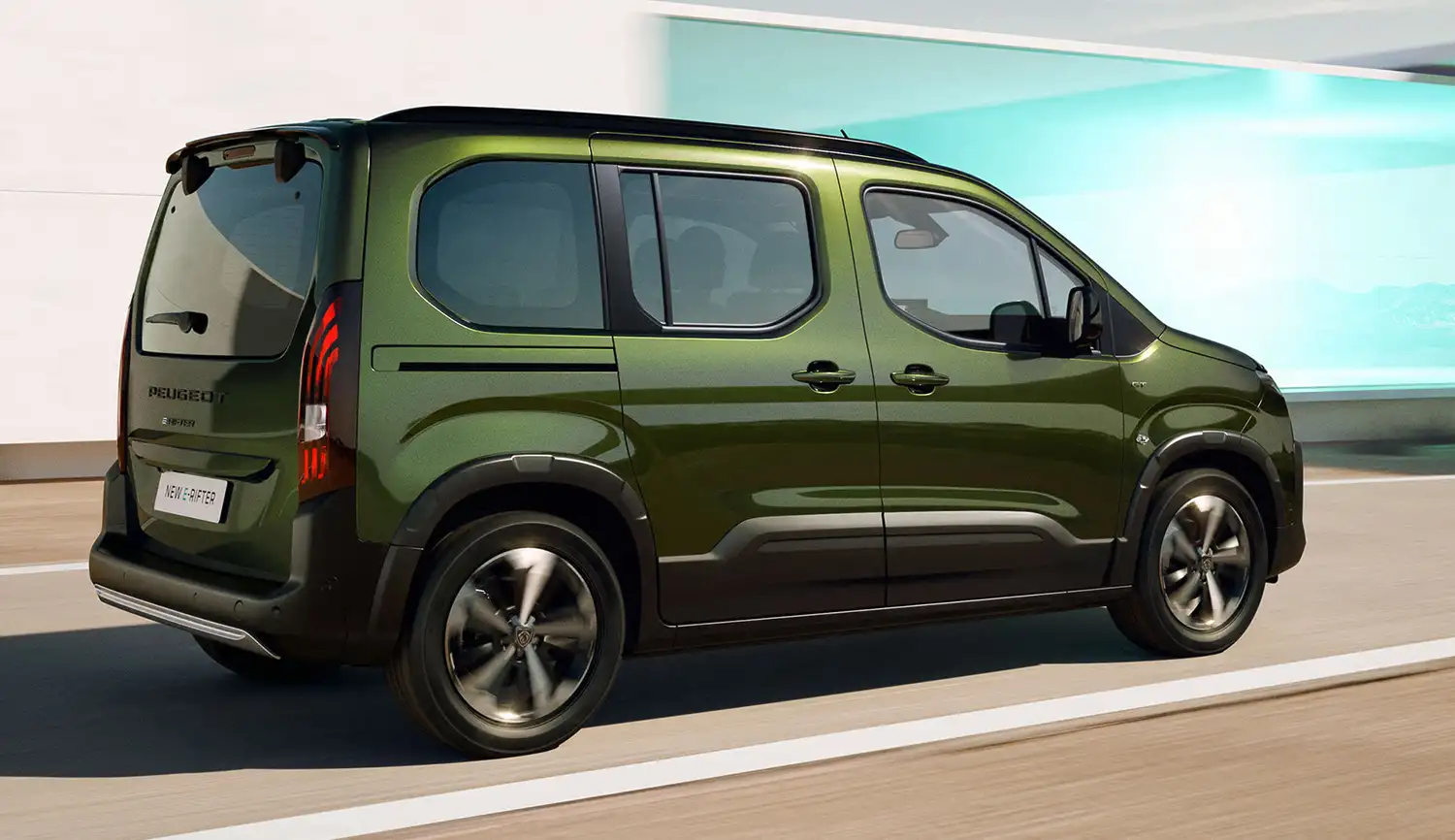 Latest-generation connectivity
A large central touchscreen. The new E-RIFTER comes as standard with a central 10-inch HD colour touchscreen for controlling the connected information system. For even more comfort, the OK PEUGEOT voice assistant allows you to control the main functions in natural language.
The PEUGEOT i-Connect® and PEUGEOT i-Connect® Advanced connected information systems. The PEUGEOT i-Connect® system offers comprehensive and highly responsive connectivity thanks to a wireless mirroring function (Apple CarPlay/Android Auto). The technological experience is complete with the optional PEUGEOT i-Connect® Advanced, which also features high-performance TomTom connected navigation. System updates are carried out 'over the air'.
A wireless smartphone charger is located on the centre console.
More sockets: 2 USB-C, 1 USB-A and a 230 V socket.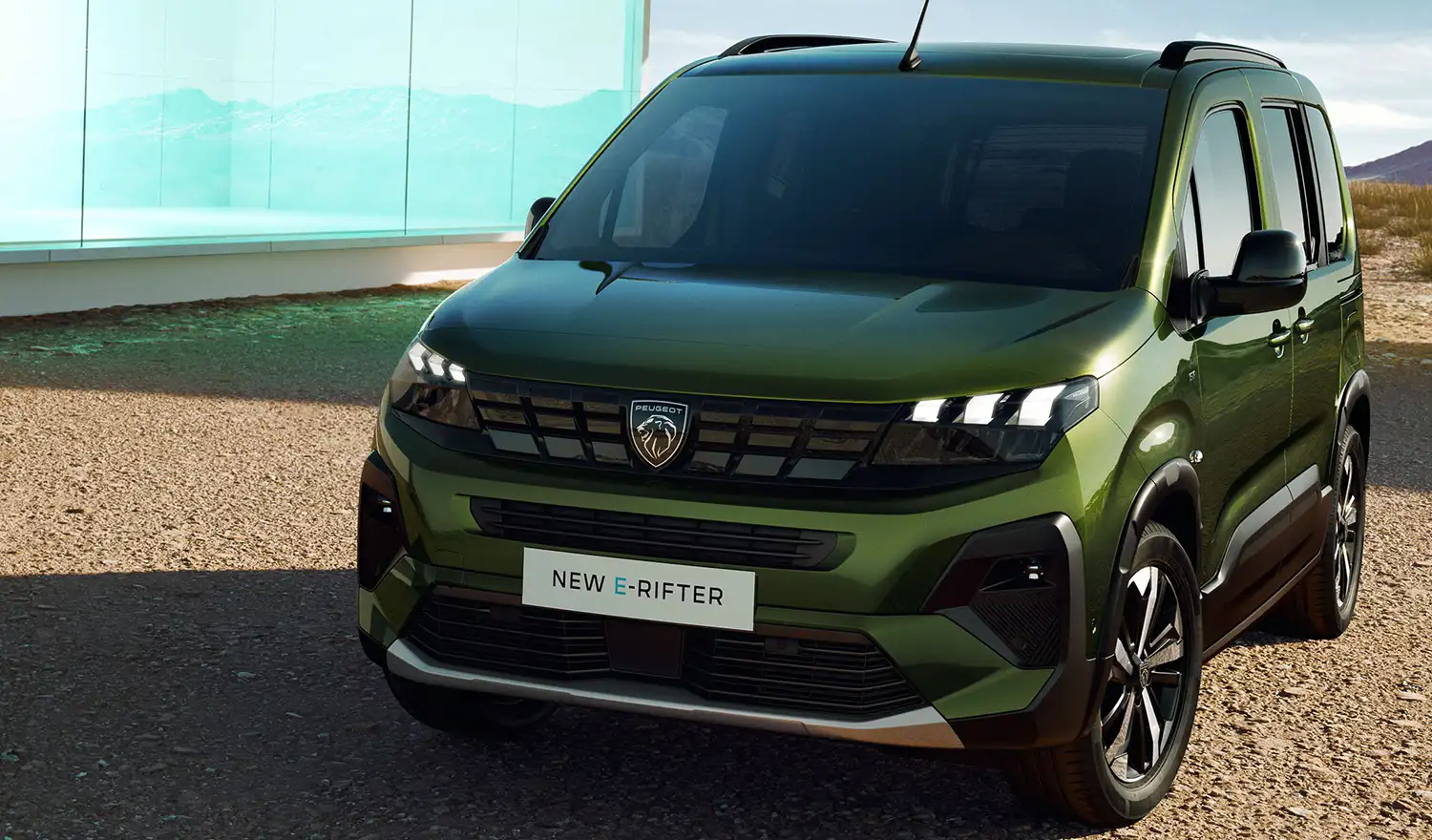 With Free2move Charge, PEUGEOT makes it easier to access different charging solutions:
At home or at the workplace, via a wide range of equipment (reinforced socket, Wall box, Smart Wall box, etc.), a diagnostic to assess the electrical installation required and the best charging solution, as well as the final installation by recommended partners.
Public charging via Free2Move Charge, with access to a network of over 580,000 charging points across Europe.
The MyPeugeot® smartphone application adds new features and connected services to the new E-RIFTER: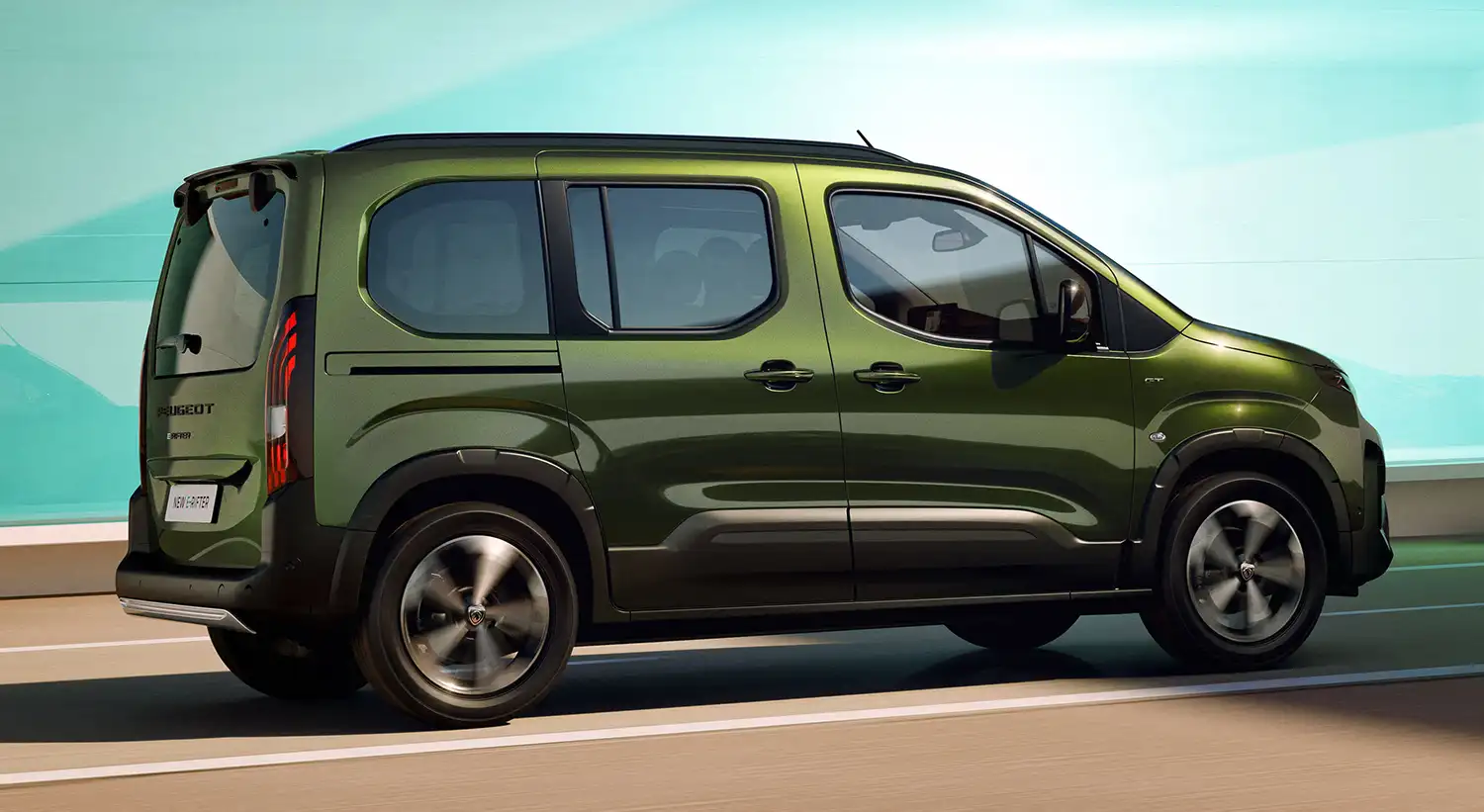 Send the journeys made remotely beforehand to its on-board navigation system from your smartphone. Navigation is pre-set to carry out your spoken instructions. And with TomTom, the map is updated seamlessly.
Anticipating the vehicle's charging points to optimise your journeys, while anticipating the level of charge available when you arrive at your destination. By scheduling your journeys in MyPEUGEOT, you can charge your vehicle at the best times and according to the availability of charging stations. Available via the eRoutes application, you can also take advantage of this service via your navigation system's mirroring function. It's up to you!
Manage the central locking of doors, activate lights and the horn remotely.
No need to worry about finding parking spaces, thanks to this new service, which will suggest the car parks with the most available spaces when you arrive in town.
You always have the option of starting or scheduling thermal pre-conditioning and checking, scheduling, starting or deferring battery charging remotely.