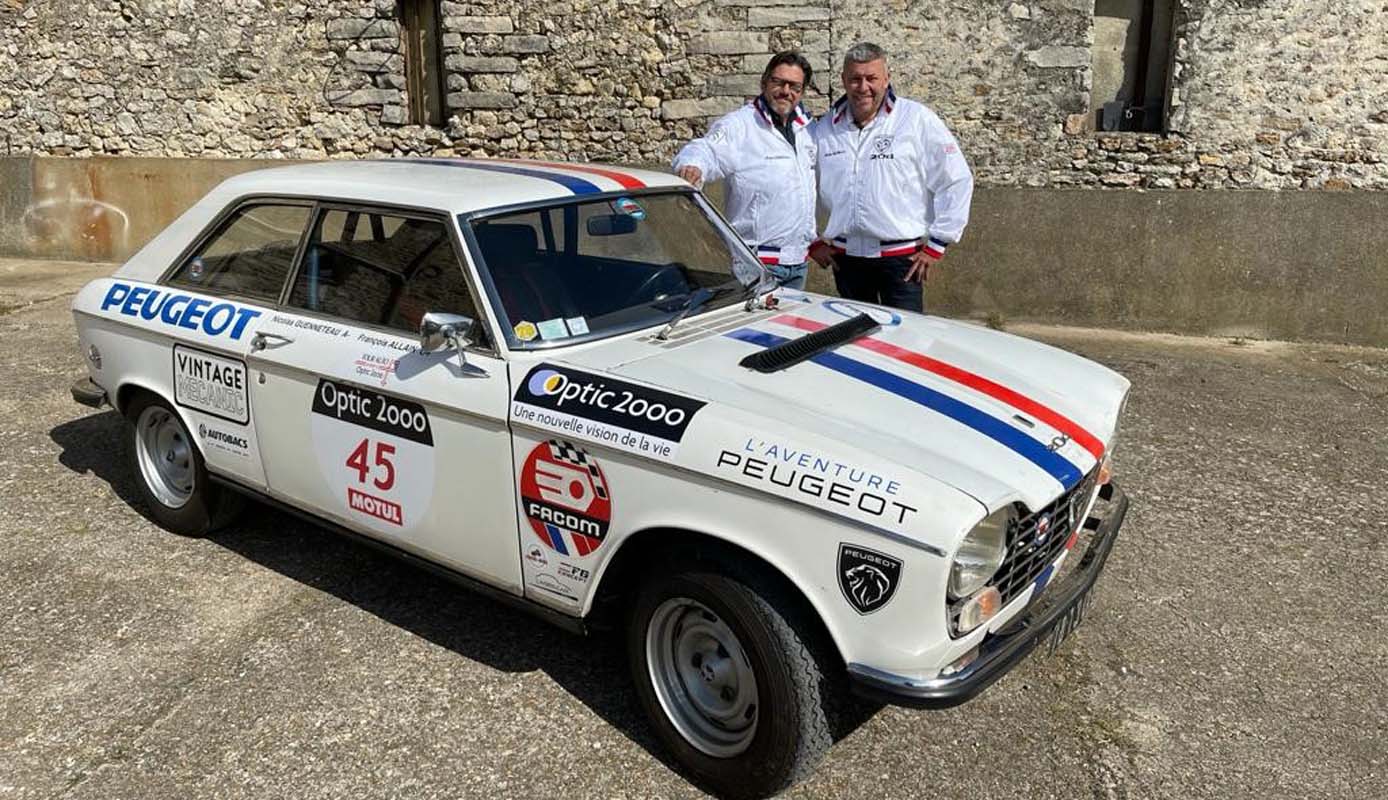 For the 30th edition of the AUTO Tour, which takes place from August 30 to September 4, 2021, PEUGEOT is supporting the number 45 crew of François Allain and Nicolas Guenneteau entering the restored PEUGEOT 204 coupe in the Vintage Mecanic show. This coupé is the only PEUGEOT brand car to be entered in this edition.
On this occasion Amandine Petit, Miss France 2021 came to encourage our team of enthusiasts.
A seasoned crew for this 30th edition
François Allain is a famous automotive journalist, creator of Club PEUGEOT 204 and 304 in 1990 and is undoubtedly the journalist who has written the most on PEUGEOT heritage with hundreds of written press articles, hundreds of television subjects and five books. reference published in 25 years on the various models of the brand. He hosts the program Vintage Mécanic broadcast on RMC Découverte.
Nicolas Guenneteau, member of the PEUGEOT 204 and 304 club, is a recognized restaurateur and a collaborator of the Vintage Mecanic show for which he restored the PEUGEOT 201 for the Normandie Beach Race, the PEUGEOT 304 from the "Carnets de Julie" and the coupé PEUGEOT 204 entered in the Tour Auto 2021.
The crew forms a shock tandem to drive the PEUGEOT 204 coupe, this is the second participation of these two car enthusiasts, they were already entered in the 2019 edition.
The PEUGEOT 204 coupe
The PEUGEOT 204, emblematic vehicle of the lion brand's 2 series, was the best-selling car in France from 1969 to 1971. In its Coupé version, created by Paul Bouvot, head of the PEUGEOT Style department, it was sold to nearly 43,000 copies.
The PEUGEOT 204 marked automotive history. It took part in the Tour de France Automobile in 1971 in the 3GT category. Its modern dynamic handling and innovative technology for the time allowed it to finish in an honorable 49th place.
The Peugeot 204 coupe engaged was the subject of an episode on the program Vintage Mecanic which aired on May 27th. This car which had remained without running from 1978 to 2021 has been completely restarted, it is a coupe from the last production vintage in 1970.
This copy was also vice-champion of France in regional rallies, 45 years ago and it was also in 1976 that the pilots Dominique Restellini and Jean-Louis Forest offered it its first place of vice-champion of France, two good reasons to wear number 45.
The PEUGEOT and PEUGEOT Classic Adventure
The PEUGEOT Adventure, created in 1982, brings together all enthusiasts and collectors for whom it develops services such as spare parts and restoration. There are more than 210 years of history, unique automobile collections and also the PEUGEOT Adventure Museum in Sochaux and the Terre Blanche archives center in Herimoncourt.
The PEUGEOT Classic spare parts department of Aventure PEUGEOT collaborated by supplying numerous parts which were used to restore the vehicle.