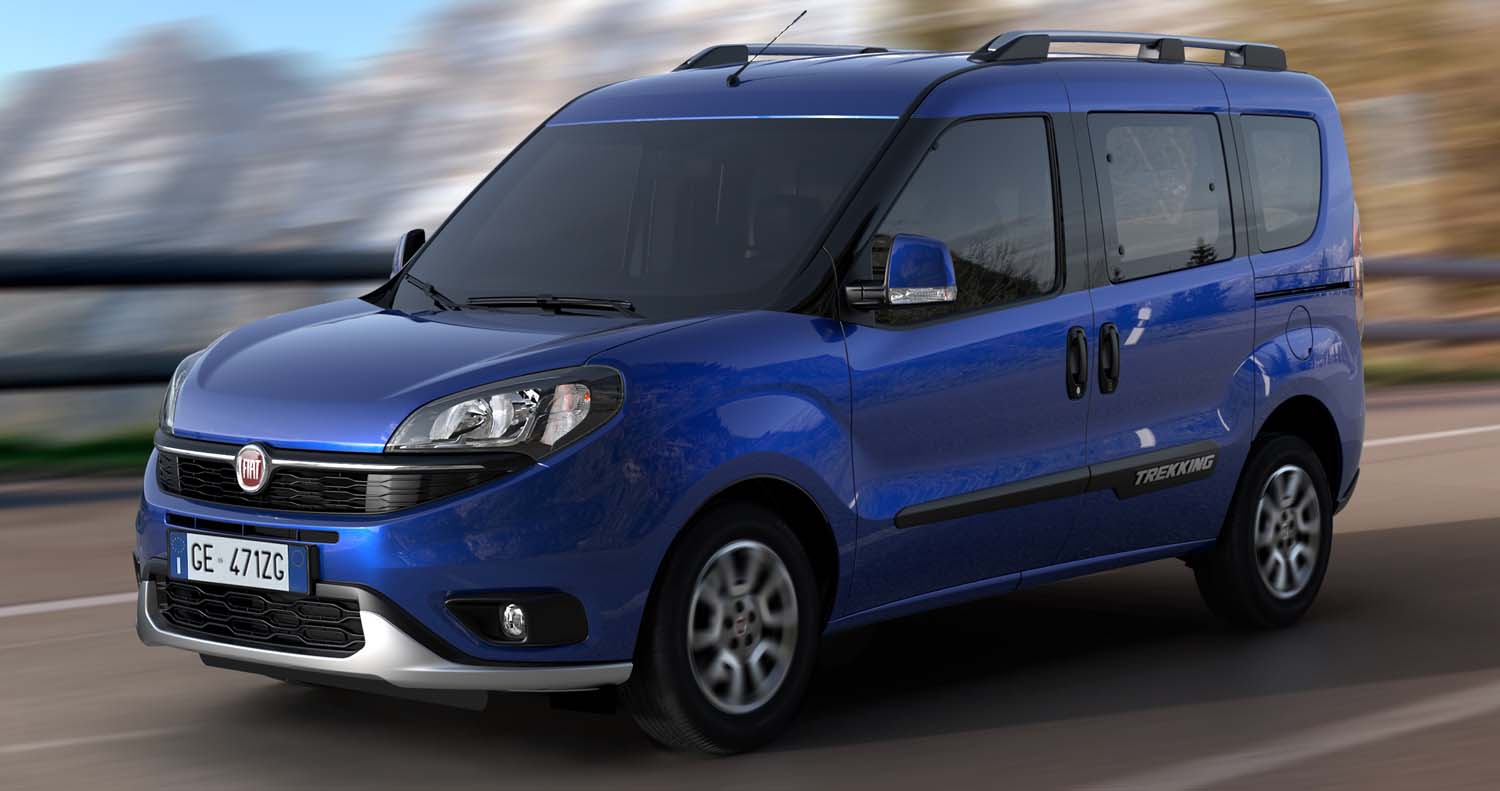 Now in its fourth generation and the heir to a winning model – since the year 2000, it has been selected by over 1.8 million customers, the new Doblò MY 2022 is a best-in-class vehicle for performance and functionality, load capacity and reduced running costs. The major new features include the new Euro 6D-Final-compliant 1.6 MultiJet2 engine – with three levels of output (90, 105 and 120 hp), to meet a variety of professional requirements, and the new Trekking version with an off-road look, packed with specs as standard.
Also worth a mention are the new 7" touchscreen multimedia system, including built-in Apple CarPlay and Android Auto™ compatibility so you can always stay connected, also available with built-in satnav, plus the useful connectivity services offered by Mopar® Connect.
All this increases the appeal of a model already renowned for handling, load capacity (up to 1 ton) and volume (up to 5.4 m3), putting it at the very top of its class. It is the only model with Bi-Link independent wheel rear suspension with anti-roll bar: the upshot is best-in-class driving comfort.
Efficient, eco-friendly engines
The new Euro 6D-Final-compliant 1.6 MultiJet2 engines (90, 105 and 120 hp) are fitted with advanced Start&Stop, low-friction tires, low-viscosity oil, smart alternator, variable displacement oil pump and aerodynamics pack. All designed to improve consumption and emissions for customers who always pay attention to the environment.
The new and exclusive Doblò Trekking
For the first time, the Doblò MY 2022 line-up offers the Trekking model, available in Cargo, Cargo Maxi and 5-seater people carrier configurations with N1 type-approval, featuring a distinctive style and off-road footprint. Courtesy of the "Traction+" control system, it can completely safely deal with rough, low-adhesion routes.
The standout content in the new model consists of the new side moldings with the Trekking logo, roof bars, and specific body-color front and rear bumpers with skid plates. Also available are diamond-cut Trekking alloy wheels, included as standard with the Combi.
In terms of safety and driving comfort, the Doblò MY 2022 Trekking comes with parking sensors, rearview camera and manual air conditioning, as well as the new 7″ touchscreen multimedia system with DAB radio, satnav, built-in Apple CarPlay and Android Auto™ compatibility.
The Trekking Combi also boasts specific interiors, fog lights, blacked-out rear windows, electrically adjustable wing mirrors and raised suspension, all as standard.
Mopar® Connect
The Doblò's tech specs are complemented with the state-of-the-art connectivity services offered by Mopar® Connect: remote assistance and remote vehicle control ensure a safe drive in complete freedom, along with easier vehicle maintenance:
my: Assistant means you can travel safely, receiving assistance in the event of an accident, breakdown or if theft is attempted
my:RemoteControl offers remote control of the vehicle, for example enabling you to lock or unlock the doors from the Uconnect™ LIVE app, or to find your vehicle on a map and take the fastest route to get to it
my:Car keeps the vehicle in perfect condition by remotely providing up-to-date information, including fuel level and tire pressure, and sends an annual report on vehicle health, with added useful indications on how to look after it
my:Journey lets you view and manage all journeys via the Uconnect™ LIVE app
My Fleet Manager simplifies fleet management of company cars and light commercial vehicles with maximum efficiency and safety, providing all the planning, management, monitoring and analysis tools you need
But the benefits of Mopar® Connect do not end with the proprietary services: the vehicle's telematic data can be used to enjoy exclusive benefits, developed in collaboration with industry leaders.
New features for the Fiorino too
The pioneer in the small van segment, the Fiorino has also been refreshed with the addition of the two new Euro 6D-Final-compliant 80- and 95-hp 1.3 MultiJet2 turbodiesel engines, offering improved efficiency in terms of emissions and consumption. Of course, confirmation is provided of the trump cards of the model, the ones that make it the ideal solution for use in the city.
Its compact dimensions enable it to zip through traffic and make it easy to park, without sacrificing its considerable load capacity of up to 2.8 m3 and payload of up to 610 kg. It is also best-in-class for performance, running costs, comfort and functionality. Depending on the market of sale, the Fiat Professional vehicle is available in 2 configurations (Cargo and Combi) and three trim levels (Base, SX and Adventure).