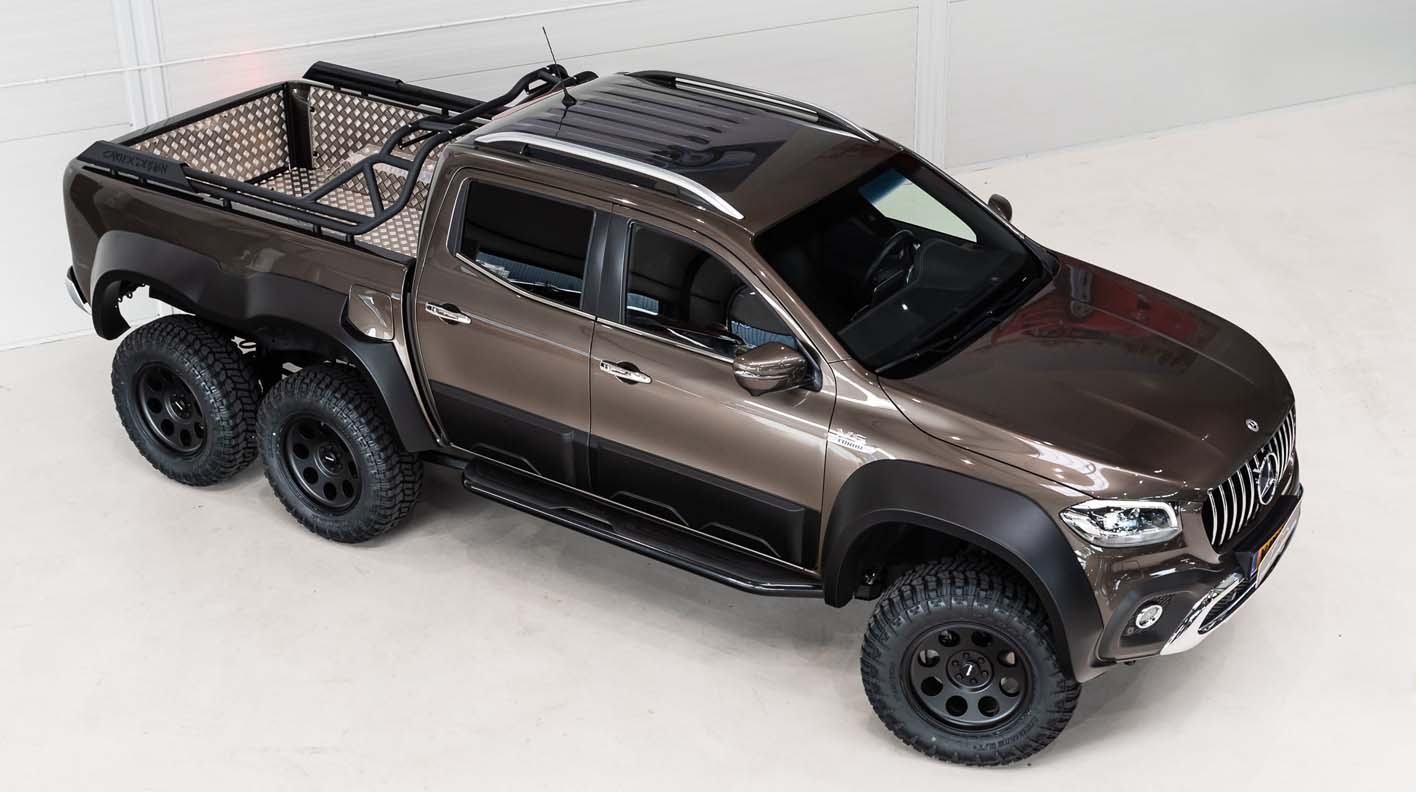 What Mercedes-AMG did to their G Class, we did it with the Mercedes-Benz X Class: giving it 6 wheels and so much attitude, it almost scares you. The Mercedes X 350d 6 Wheeler is a unique off-road vehicle. And by unique, we mean there's only one.
Our latest project has a custom-made subframe, giving it some extra room for a separate, third axle. Basically you're looking at a commercial vehicle with plenty of room for four passengers plus a driver! And yes, you sure want to drive a Mercedes including a powerful 350 V6 turbodiesel engine. Especially when it has 6 wheels… Are you scared yet? You should be. Because before you know it, it will be sold. So, no time to waste!
Background
Sure, we were inspired by the mighty Mercedes G63 AMG 6X6: the most effortlessly superior and extravagant off-roader ever to be developed and built by engineers with 544 PS of bi-turbo V8-power. But let's be honest, how many people will use the outstanding off-road skills and performance of this incredibly expensive vehicle for real? That's why we made a Mercedes 6 wheeler of our own.
A car that is much more focused on the practical use of it. This is exactly the reason why the Mercedes-Benz X 350d 6 Wheeler is based on a commercial vehicle. Indeed, with a diesel engine. Because in the end of the day, you want to drive this ultimate Mercedes off-road truck instead of just looking at it at the nearest gas station.
Design
We were determined to produce the most brutal Mercedes commercial vehicle ever. This means we gave it everything to create the same scary looks as the Mercedes-Benz 6X6.
For instance, we lifted the cab for 10 centimeters, allowing the custom-made alloy wheels with huge off-road tires to be mounted. The Mercedes GTR grille in front, extreme fender flares and door protectors are also customized.
The detachable pick-up bed has been extended too and comes with a custom roll-bar. So, what didn't change you might ask? Well, the exterior paint is original Mercedes. And the black leather interior is quite intact as well. With the exception of the 6 Wheeler badge on the dashboard of course…
Engine
The Mercedes-Benz X 350d basically is a luxurious pick-up truck. However, giving it one axle and two wheels extra, makes this car complete madness. In particular on rough roads and unpathed paths the X Class 6 Wheeler is insane. Insanely good.
Under the hood lies a 3,0 liter turbo-V6 diesel engine with 258 PS and some serious traction.  And since it's a real eyecatcher, why not roll along boulevards as well? Fact is that this 6 wheeler Mercedes is even rarer than the G Class 6X6, so the attention is guaranteed.
ٍSrouce: classic-youngtimers