Designed to hint at the Delica of the future, the Mitsubishi D:X Concept is an electrified crossover MPV concept car that embodies Mitsubishi Motors-ness and inspires a sense of adventure.
Combining the convenient, pleasant and roomy cabin space of an MPV with the superb road handling of an SUV, and providing the powerful and comfortable driving performance of a PHEV with no limits to the activities it can take on, the Mitsubishi D:X Concept supports an active mobility lifestyle as a reliable companion for various adventures.
A design embodying "Maximum Space and Safety for Humans, Maximum Off-Roader for Boundaryless Adventure"
Inheriting the spacious interior and high-level safety of the Delica and bringing them into the future, the Mitsubishi D:X Concept features a vastly spacious cabin and a protective body to keep it safe, based on the design concept of "Maximum Space and Safety for Humans, Maximum Off-Roader for Boundaryless Adventure."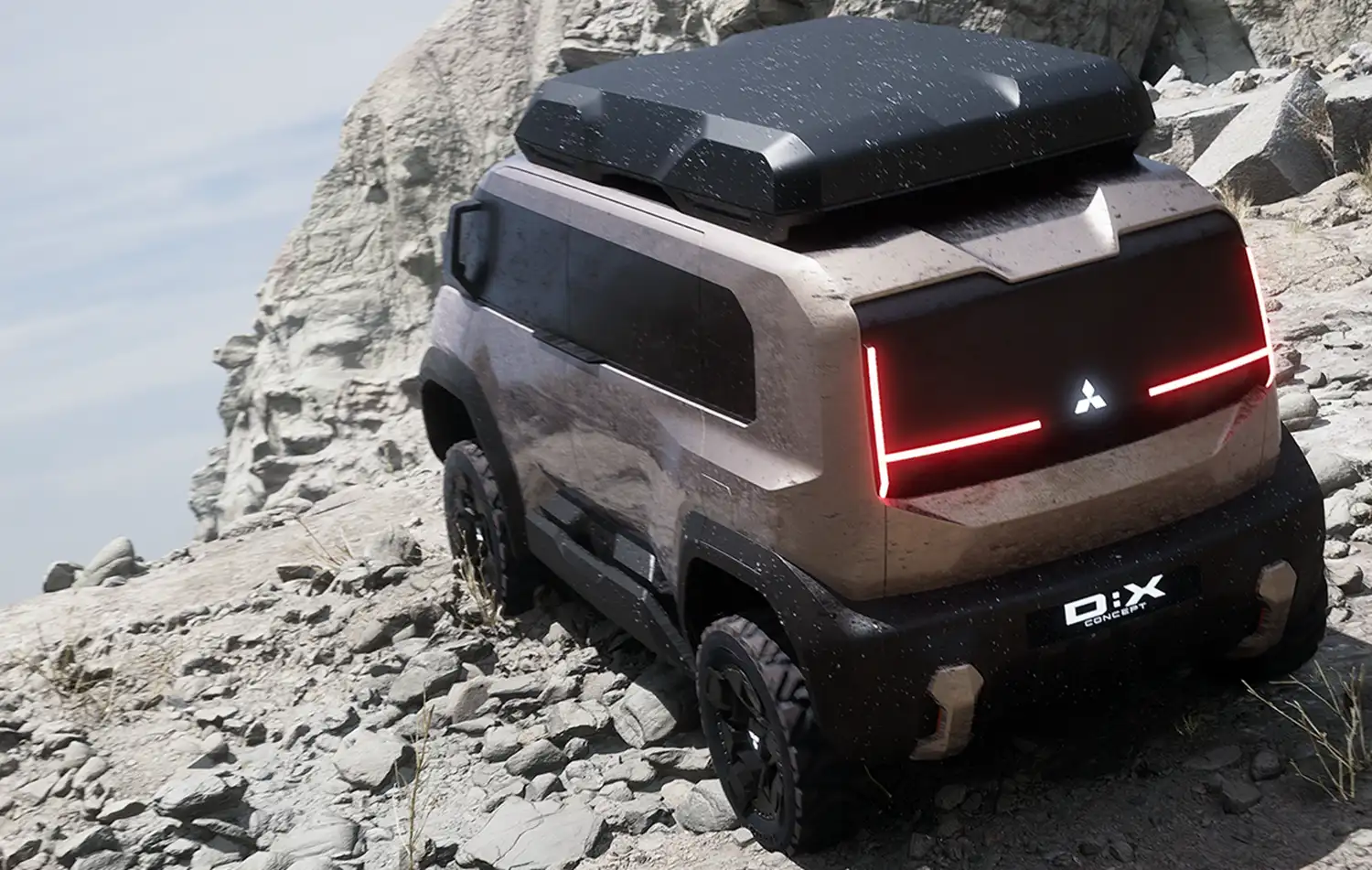 The character of the Delica is expressed by the side window graphics extending from the front of the cabin to the D-pillar and by the robust D- pillar. In addition, spaciousness is created by the front window that wraps around to the bottom.
The sturdy over fenders and large-diameter tires convey a sense of strength, while the front and rear skid plates and side step protectors provide excellent road performance that enables safe, secure ride even on rough road conditions.
The Dynamic Shield front face design concept, which conveys powerful performance and protection for people and cars, has been further evolved to protect the cabin with an integrated shield that extends from the sides, with a skid plate providing an enhanced sense of protection.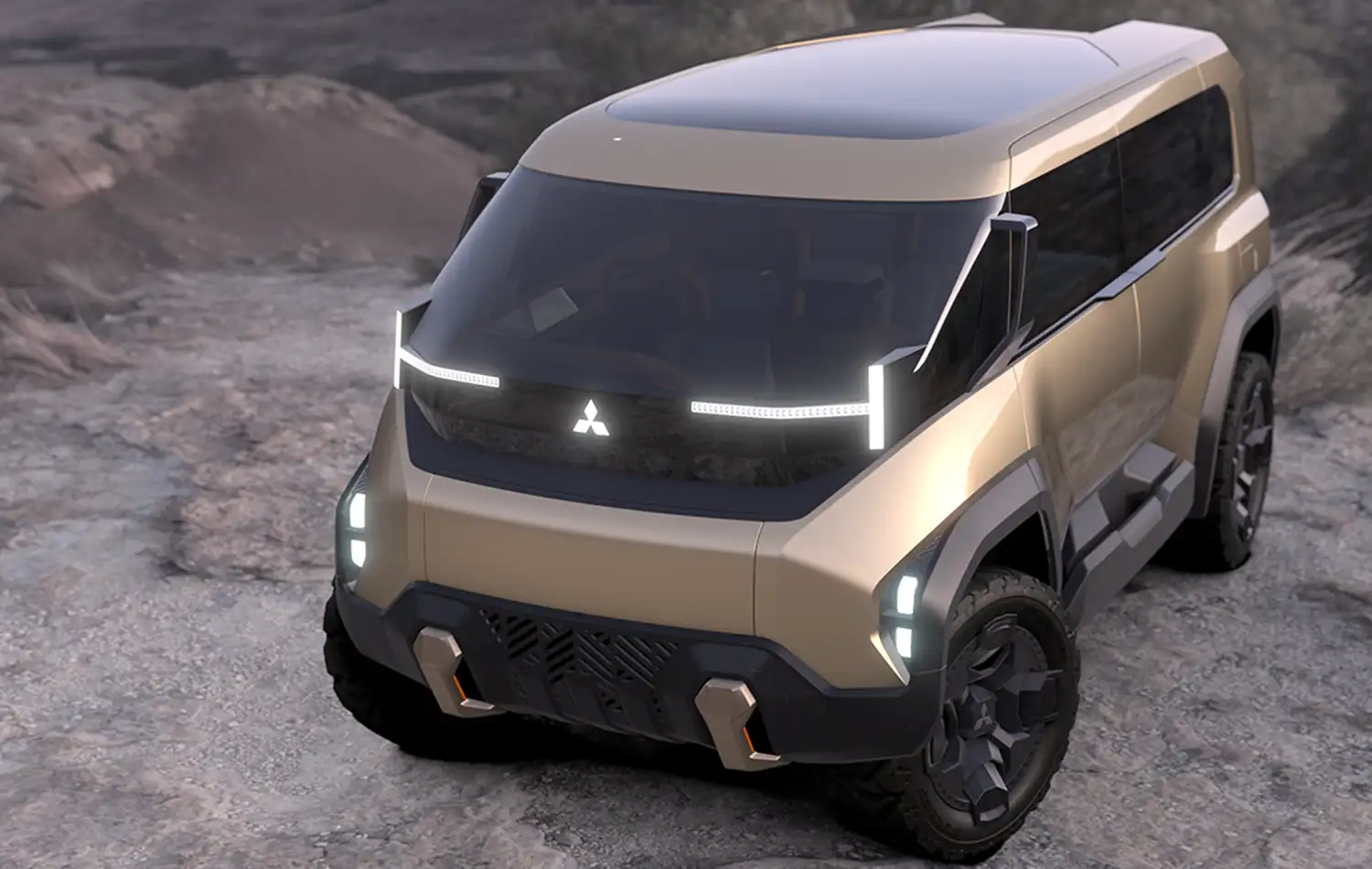 Projection laser lights are used for the distinctive T-shape lights, which extend to both ends to produce an impression of width. In addition, the bright lights that illuminate the road allow the driver to accurately assess road conditions ahead for peace of mind even on narrow roads.
The body color is a luxurious glamping-inspired copper with a new semi- gloss texture that exudes a sense of quality.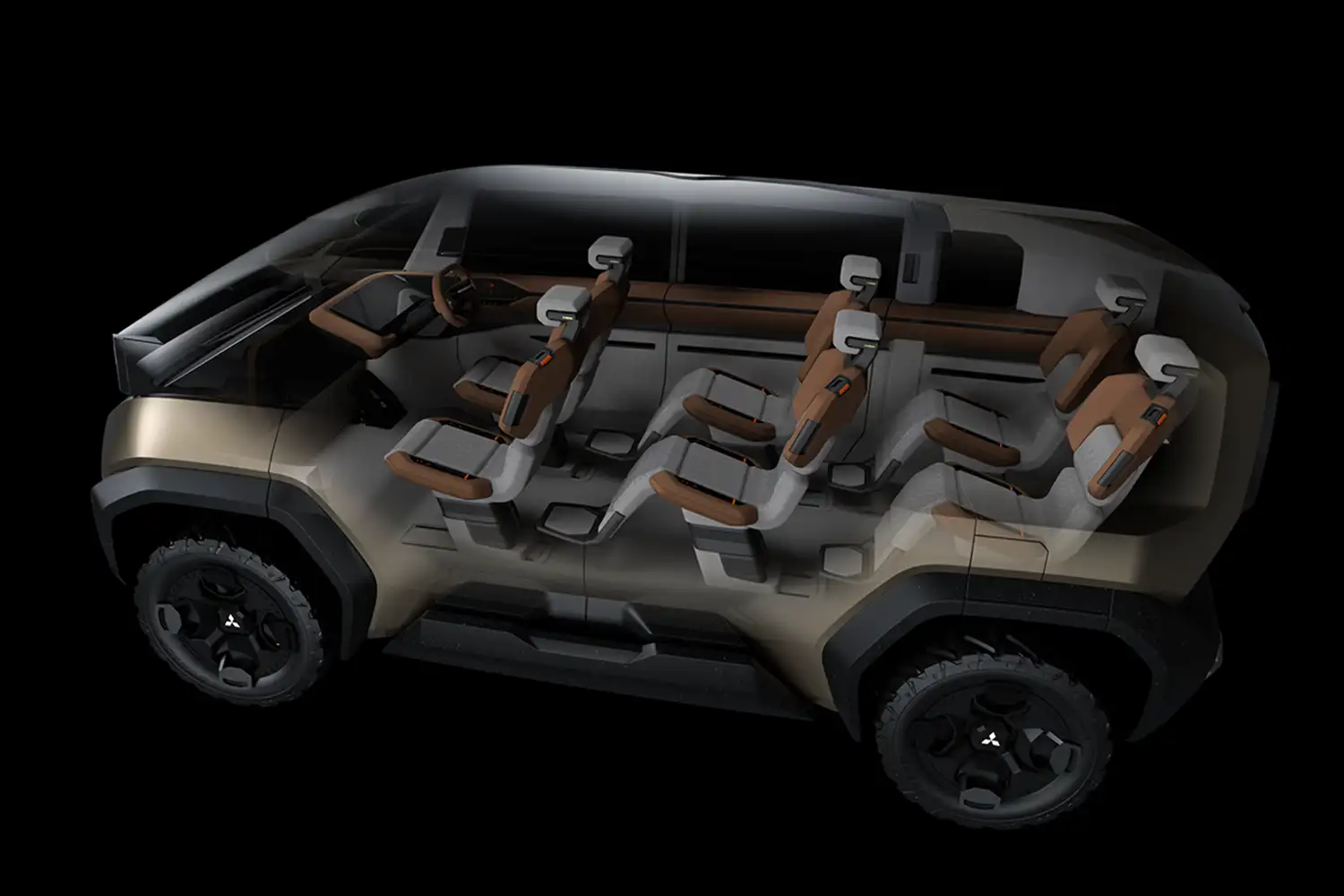 The convenient, comfortable and roomy cabin space of an MPV
The spacious monobox interior provides ample room for all occupants. Panoramic seats that rotate and move up and down, and a front window and see-through hood that provide an open, wide field of vision create an aerial cockpit, offering an unprecedented driving experience as if floating in the air.
The panoramic seats can be moved up and down for an optimal seating position. The high eye position ensures forward visibility, making driving easier and creating a sense of openness. During breaks, the front seats can be rotated backward to create an interior space where all occupants can enjoy conversation.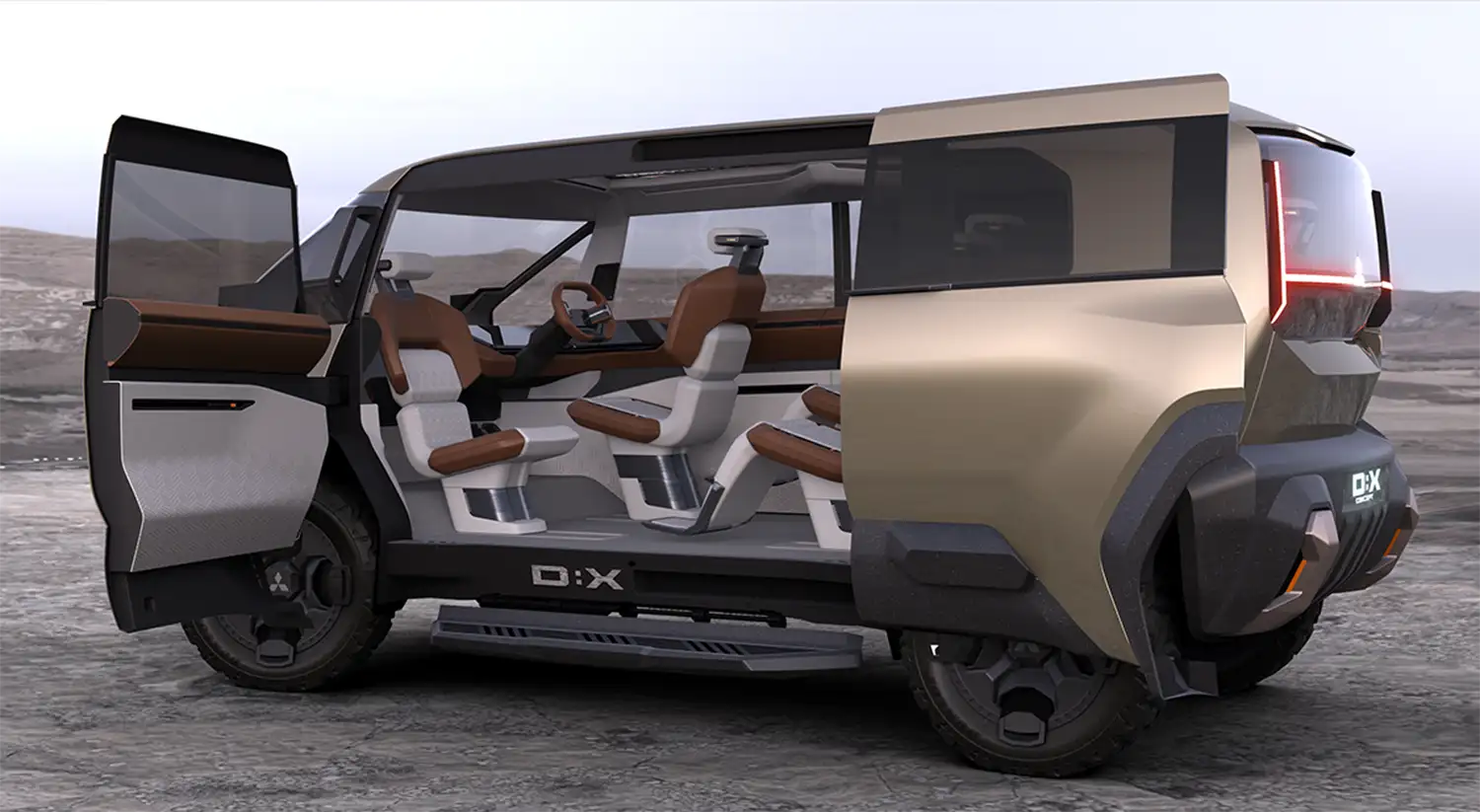 The see-through hood, which extends from the front window glass to the bottom, displays a combination of information such as the road surface conditions ahead and the turn angle of the front tires. An open and expansive field of vision is provided, allowing for a driving experience with peace of mind.
A voice-interactive AI concierge provides information on routes to destinations, weather conditions and other information to help ensure a safe and stress-free driving experience.
A premium feel is provided by the tan-colored genuine leather used for the instrument panel and seats, while the metal parts in alumite gray are used as accents to express a sense of high quality gear.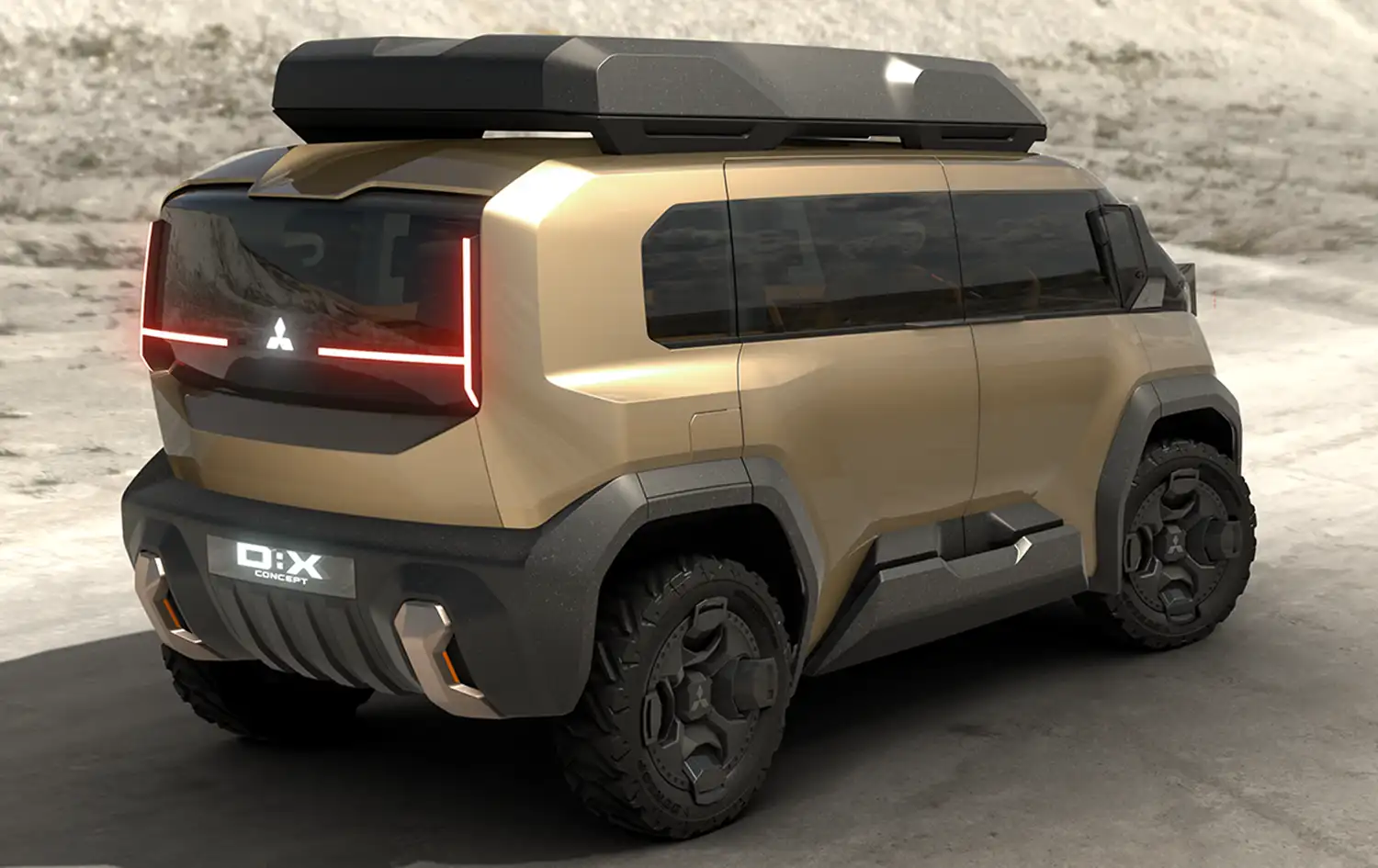 A new generation sound system developed in cooperation with Yamaha Corporation has been further evolved. To provide powerful, three- dimensional sound, numerous speakers are positioned in the headrests and other appropriate locations, achieving an unparalleled, high sense of immersion in a roomy cabin. All passengers can enjoy a quality, immersive music experience, ening the excitement of adventure as well as providing soothing comfort during breaks.
The pillar parts, including the robust D-pillar, are made using a reinforced rib-bone frame with a circular framework structure, known for the excellent safety performance it delivers in the Delica D:5. It allows for high-level safety and spacious interior that envelops the occupants with a sense of security.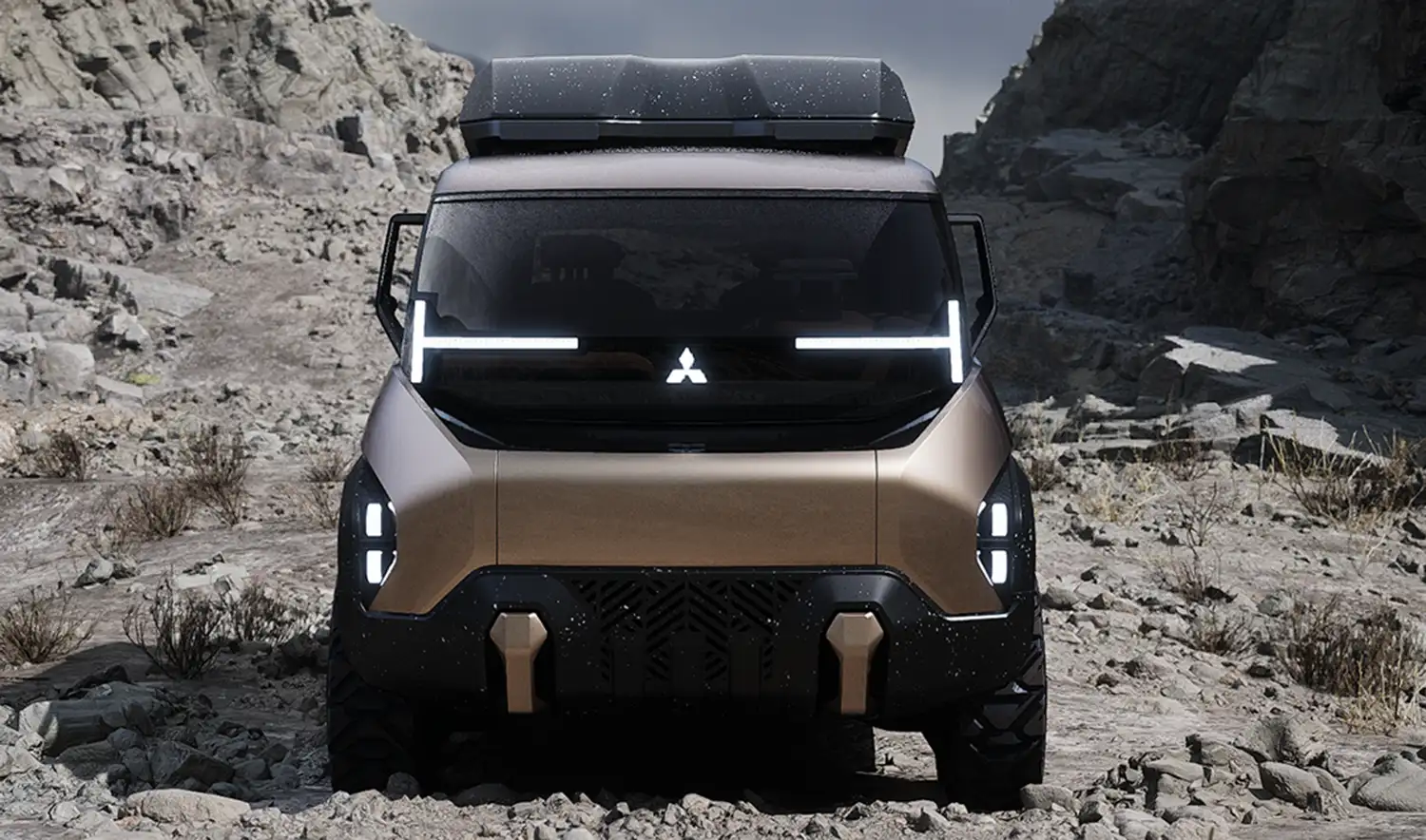 Safe, secure and comfortable electric 4WD that offers the superb road handling of an SUV
The S-AWC integrated vehicle dynamics control system is adopted for the electric 4WD system. It provides a safe, secure and comfortable ride in any weather or road conditions, allowing drivers to embark on various adventures in peace of mind. The system enables a pleasant, precise handling for drivers while offering a comfortable ride with minimal swaying for passengers. Despite the high-profile monobox design, the Mitsubishi D:X Concept provides the ride of a standard passenger vehicle.
A PHEV that awakens drivers' adventurous spirit and expands their horizon
The Mitsubishi D:X Concept uses an environmentally friendly PHEV system that offers an exhilarating driving experience. It awakens drivers' spirit of adventure and expands their range of activities by offering an EV mode for daily use and hybrid mode for long-distance trips. Different driving modes can be selected to suit the conditions, making the car ready for any kind of adventure.