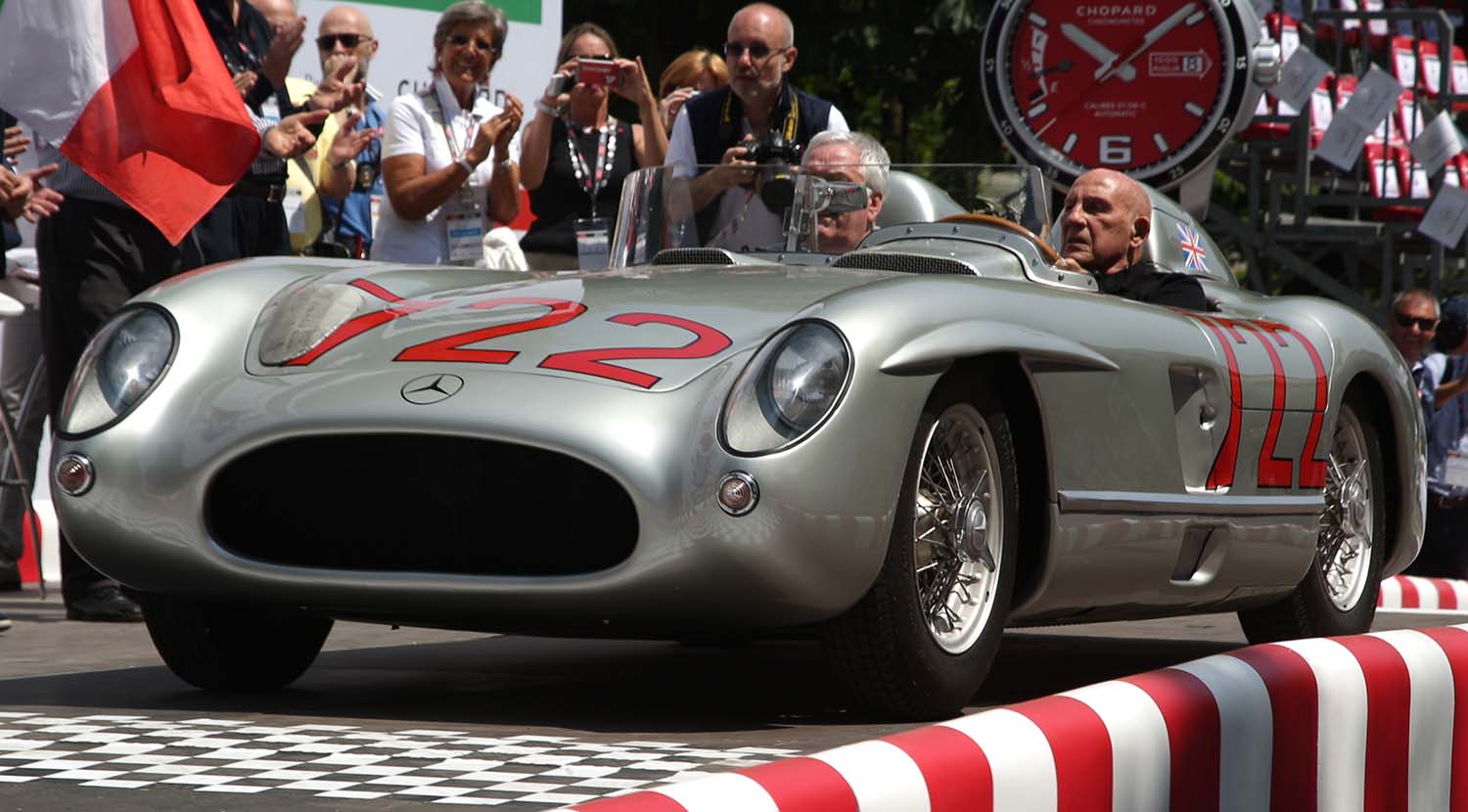 Sir Stirling Moss is unforgotten. In his honour, Mercedes-Benz Classic will present the 300 SLR (W 196 S) at exclusive appearances in England in the summer of 2021. This is the most famous racing car used by Englishman Stirling Moss: with starting number 722, the Stirling Moss/Denis Jenkinson team won the legendary Mille Miglia in 1955 with a record set up for eternity.
It took them just 10 hours, 7 minutes and 48 seconds to cover the 1,000 miles from Brescia in northern Italy to Rome and back. Their average speed of 157.65 km/h was never surpassed in this classic road race, which was held until 1957.
Stirling Moss was born in London on 17 September 1929 and was knighted in 2000 for his services to British motorsport. He passed away in London on 12 April 2020 at the age of 90.
"As a tribute to a great man and racing driver, Sir Stirling Moss, Mercedes-Benz Classic will take the original 300 SLR '722' to the UK again this year," says Christian Boucke, Head of Mercedes-Benz Classic. The 300 SLR is initially scheduled to be on display at the Goodwood Festival of Speed from 8 to 11 July.
At the Goodwood Revival from 17 to 19 September, the two-seater racing sports car with its unmistakable sound will also be doing some fast laps. The 300 SLR is powered by an enhanced Grand Prix engine with eight cylinders, three litres of displacement and 228 kW (310 hp). Its top speed is over 300 km/h.
The Mille Miglia winner will be accompanied at both Goodwood events by a Mercedes-Benz W 196 R with exposed wheels. Juan Manuel Fangio won the Formula One World Championship in 1954 and 1955 in racing cars of this model, and Stirling Moss was runner-up in 1955.
The legendary high-speed racing car transporter, also known as the "Blue Wonder" by its fans, rounds off the two racing cars' visit to the UK this summer. Further events in memory of Sir Stirling Moss with the 300 SLR in the UK are being planned. All measures are subject to changes according to the current situation.
In 1955, Stirling Moss participated in both the World Sports Car Championship and Formula One World Championship as a Mercedes-Benz works driver in the 300 SLR and the W 196 R. In the six races making up the World Sports Car Championship, Moss not only won the Mille Miglia, but also, together with John Fitch, the RAC Tourist Trophy in Northern Ireland and, with Peter Collins, the Targa Florio in Sicily.
It was as a result of these victories that Moss was able to make a decisive contribution to Mercedes-Benz securing the championship just ahead of Ferrari. In the Formula One World Championship, local man Moss celebrated his first of a total of 16 Grand Prix victories in the British Grand Prix at Aintree on 16 July 1955 and finished second in both the Belgian and Dutch Grand Prix.
Even if he was never crowned Formula One world champion, Moss was an outstanding and successful racing driver. In 1955, 1956, 1957 and 1958 he was runner-up in Grand Prix racing and in each of the years 1959 to 1961 he finished third. His career came to an end on 30 April 1962 as a result of an accident in a Lotus at the "100 Miles of Goodwood".
He recovered to a large extent from the severe head injuries he had sustained, but his reaction time was not what it had been before the accident.
This was why, at the age of 32, Moss decided to end his career as an active racing driver. He became a Brand Ambassador for Mercedes-Benz and continued to drive "his" cars from the Mercedes-Benz Classic collection at many historic motorsport events right up to an advanced age. A comment he was often heard saying: "I've always been proud to be part of the Mercedes-Benz family."