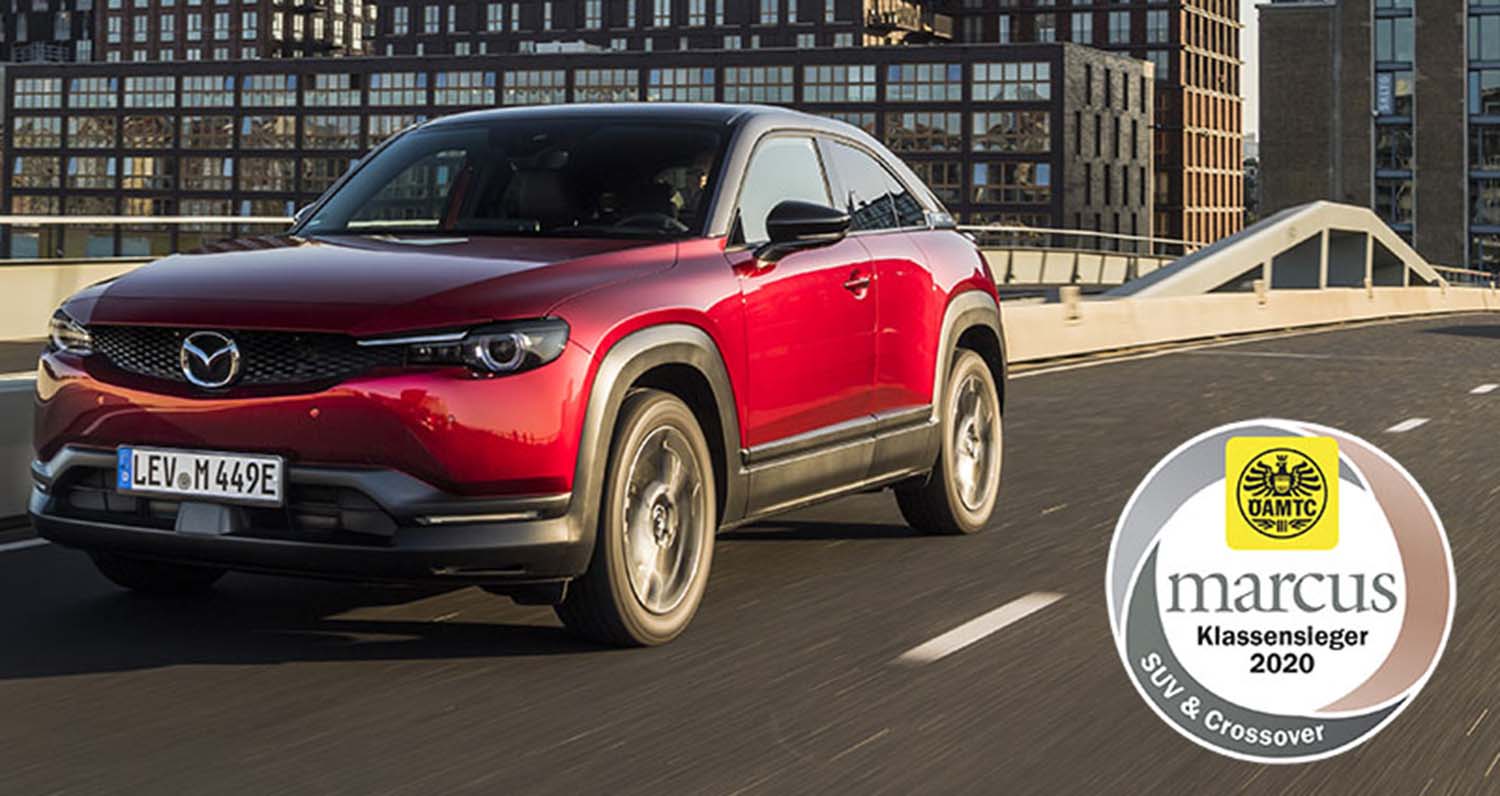 The Austrian automobile club ÖAMTC named the MX-30¹ the best sports utility vehicle of the year. For this achievement, the electric Mazda model is now being honoured with the Marcus Award.
Barely half a year after its market launch in Austria, the new Mazda MX-30 can take pride in receiving the renowned Marcus Award. A jury of experts from the ÖAMTC has chosen the brand's first fully electric model as the winner in the SUV/crossover category, where vehicles with classic combustion engines as well as alternative drives compete for the coveted award.
The Marcus Award is presented by the ÖAMTC to honour the best new cars of the year. Cars are judged on the same standards customers prioritise when deciding which car to buy: How economical they are to run, how environmentally friendly and the safety features included as standard. These factors are assessed based on a calculation scheme which evaluates aspects such as value retention, operating costs and safety, as well as emission levels. In the case of purely electrically powered vehicles, electricity generation is also factored into the energy balance.
The MX-30 celebrated its debut in Austria in September 2020. The stylish SUV's sustainability concept is reflected not only in its all-electric drive, but also in the use of renewable and recycled materials in the interior design. Futuristic freestyle doors add a touch of extravagance to this electric Mazda. The MX-30 also sets new benchmarks in terms of standard equipment and safety systems – another decisive factor for the good rating given by the Marcus Award jury.
The MX-30 is Mazda's second Marcus Award winner: The e-Skyactiv X powertrain received the Marcus Innovation Award in March 2020.
In addition to the Marcus Award, the MX-30 has also won a number of other awards in the recent times. Only five months after its market launch in Austria, the Mazda MX-30 has been named 'Fleet Car of the Year 2021' chosen by the readers of the trade magazine Firmenwagen. The coveted title was won in the category alternative powertrains and prevailed against competitors such as BMW X1 xDrive Plug-in Hybrid, Audi e-Tron Sportback.
It was recognized with the 'Red Dot Award 2020' for best car design and has been awarded the maximum five-star rating by Euro NCAP in its latest series of tests, with 91% and 87% scores in its respective adult and child occupancy categories. 91% is the best Adult Occupant Protection result yet registered amongst all vehicles tested in the latest 2020 Euro NCAP ratings.