Author: DAN HODGDON
Photos: LUCAS PRIAMO
Source: Chevrolet
——
In the Arizona desert lies a truck named after a state 1,800 miles to the east. Sam Goldsmith lived in Atlanta for more than 35 years, so it seemed only fitting he named his 1949 Chevrolet 3100 after the Peach State – even though he now resides in Tucson. The pickup was built by Young at Heart Customs and is a prime example of a restomod build, complete with a Chevrolet Performance Connect & Cruise Crate Powertrain System.
And the entire project known as "Georgia" was inspired by his wife, Dana.
"In 2018 we were living in a small town just outside of Atlanta when we spotted a young couple driving a '50's-era pickup truck," Sam Goldsmith said during last fall's Goodguys Speedway Motors Southwest Nationals in Scottsdale, Arizona. "It was then that my wife made a comment that took me by complete surprise. She announced out of the clear blue sky that she has always wanted an old truck. I remember thinking, 'Who is this woman, and what have you done with my wife?' Then my next thought was, 'How cool is she?' That sentence sparked the idea of making her dream come true and surprising her with a truck for a milestone birthday she had coming up in a couple of years.
"I knew it would probably take at least that long to find one, let alone get it in good enough shape to give it to her. As fate would have it, I found one in a small town in South Carolina, just a couple of hours away. I drove up and made the deal for a '48 Chevy that, at some point in its life, had a 'backyard restoration' to get it back to its original 216 straight six-cylinder, three on the tree, steering wheel as big as a stop sign, 48 mile-an-hour top speed condition."

The truck was a huge surprise and Dana Goldsmith fell in love with the truck, wanting to drive it every day. That meant some major work would be required.
"We found a shop that does a lot of restomod work on these trucks and shipped it to them in Minnesota to work their magic," Sam Goldsmith said.
Goldsmith was one of the owners of a live events business in Atlanta for decades, but without many events taking place during the Covid era, the hard decision was made to close the business and move to Tucson. Both he and his wife had spent some time in the Southwest, with Dana Goldsmith having once lived in Durango, Colorado, while Sam at one point opened a branch office for a company in Phoenix.
They decided the desert was the next chapter of their lives, and today they do freelance work which includes running the booths for manufacturers at major auto shows, while also occasionally taking on entertainment programs and corporate events.
While still in Georgia, Sam Goldsmith had also been finding and flipping a few trucks on his own, but it was during the build of his wife's truck that he began the search for a project for himself. He bought the 1949 Chevrolet 3100 online in April 2019 after finding it listed by a seller in Dallas. The truck featured a 235 cu.-in. six-cylinder engine but it didn't run or drive. In fact, part of the cab is really all that remains from the original incarnation.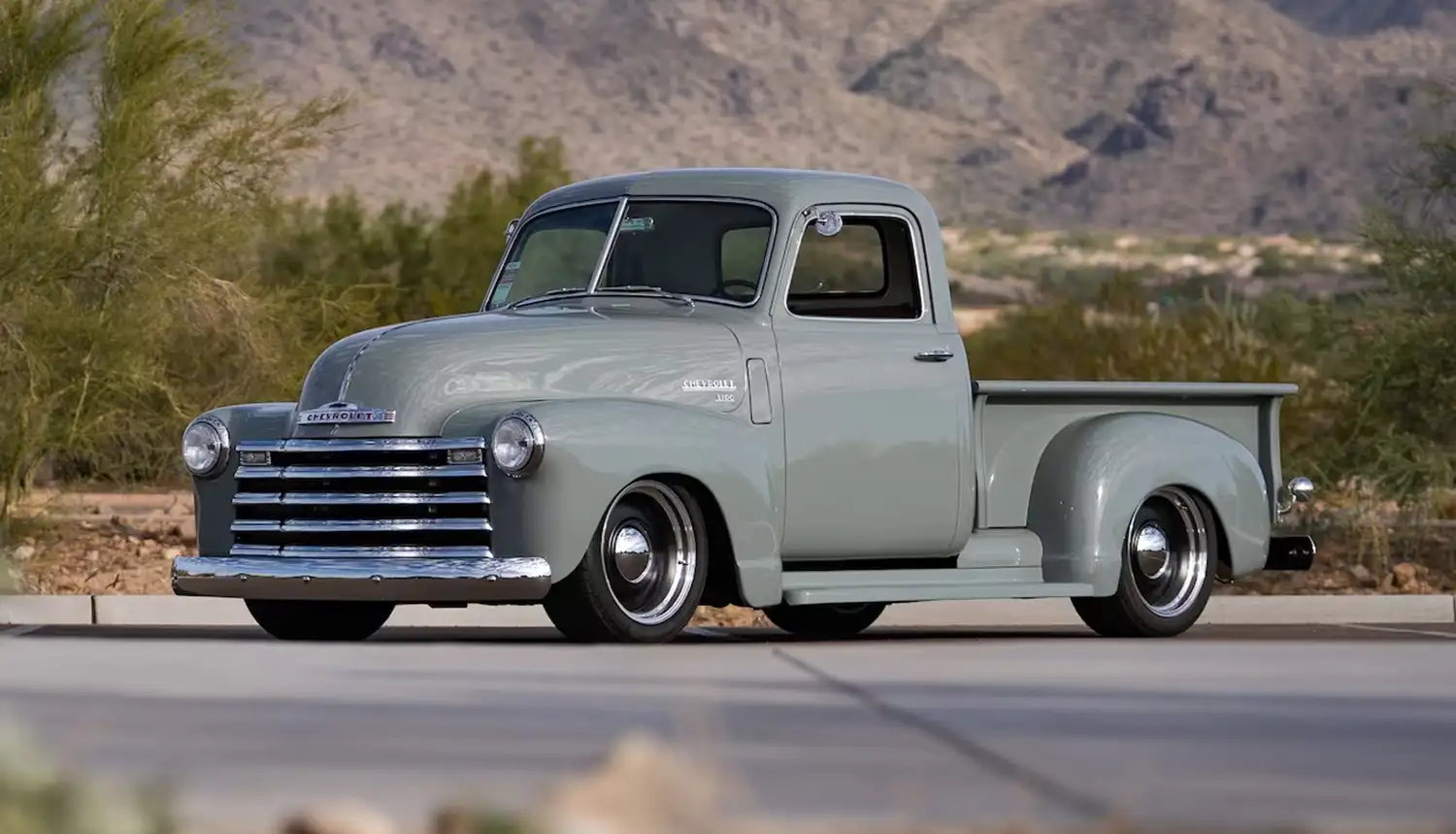 After buying the '49 online, Goldsmith had it shipped to the shop in Minnesota, thinking they could start on the build right after they completed his wife's truck. But after taking delivery of her vehicle, he realized that he wanted something more.
"Don't get me wrong, they did a good job on that truck," Goldsmith said. "So much so that we flew to Minnesota, fired it up and did a three-day 1,800-mile road trip in it the first day we got it and she still loves and drives that truck almost every day."
In his quest for something better, Goldsmith took inspiration from the late chassis builder Craig Morrison's "Farm Truck," figuring that if it was good enough for him, it would certainly be good enough for this new project.
Goldsmith placed an order for an Art Morrison GT chassis through MetalWorks in Eugene, Oregon, and the company also provided the Connect & Cruise package and the rest of the driveline.
Today Dana Goldsmith's truck is LS1-swapped, and at first her husband hesitated to select an LS engine because he better understands carbureted Small-Blocks and knows how to tune them, whereas he was unfamiliar with the electronic elements of the LS. But after speaking with a variety of enthusiasts who suggested the LS platform, he decided to go that route.

"There's no doubt once it gets up and running and everything, you can't beat it," Sam Goldsmith said of the LS engine.
However, his wife's build utilizes an LS1 swapped from another vehicle, meaning there were certain unknowns about the power plant's history. As a result, Goldsmith selected a Chevrolet Performance LS376/480 crate engine* for the 1949 3100 and backed it with a SuperMatic 4L70-E four-speed automatic transmission. A factory-matched Connect & Cruise Crate Powertrain System like Goldsmith's is designed to take the guesswork out of selecting the proper components.
"We wanted something that was drivable and dependable, which really the whole platform is," Goldsmith said. "That fit the bill from a budget standpoint. But of course once you do it, well, we've got to put a cam in it, right? Which led us to the engine with the Hot Cam."
Indeed, the LS376/480 is based on the standard 6.2L LS3*, but the aggressive hydraulic roller Hot Cam helps the 376 cu.-in. engine make 495 horsepower and 473 lb.-ft. of torque. It does so by allowing the valves to draw in more air from the L92 rectangular-port cylinder heads than the original LS3 does with its stock camshaft.
"Armed with a basic roller, I now needed someone to put everything together," Goldsmith said of his 1949 3100. "I knew I wanted to find a builder with whom I could work together and not someone who would take the attitude of 'This is how I do it, and if you don't like it, you can go somewhere else.'"
He soon found Ryan Close of Young at Heart Customs, an independent builder originally from Monkton, Vermont, who today operates out of Greenville, South Carolina.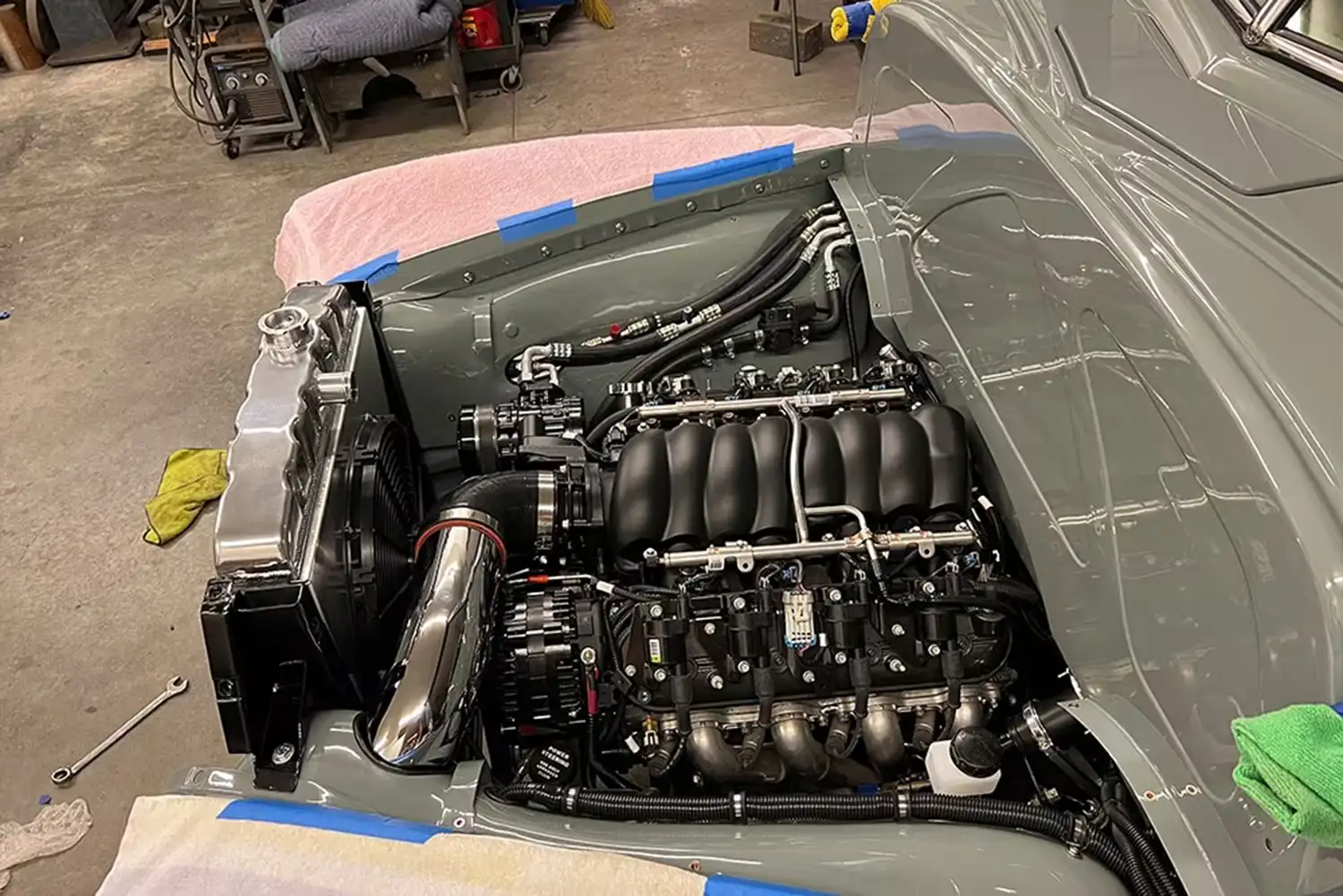 "With Ryan's talent and that vision of what I wanted he just hit out of the park," Goldsmith said.
Close delivered the truck during the Goodguys Scottsdale event, where Goldsmith experienced the build for the first time.
"It was amazing how much power the thing's got with very little effort," he said. "I know they're historically light in the back end anyway because it's a pickup, but nonetheless you crack the throttle and it'll move. It's a super tight build, all the things we wanted, all the things we were looking to upgrade from the original build in my wife's truck."
The truck is a true restomod build with its original style intact, but with many modern performance upgrades. Even the paint – an eye-catching bluish gray called Lunar Rock – looks original. Yet it is actually a modern color. The truck was painted by Stephen Coggins at Southern Muscle and Classic Restorations.
"I didn't want a metallic or anything flashy, part of the goal with this truck was to make it very original-looking inside and out," Goldsmith said. "We didn't want buckets in it, we didn't even want a video monitor in it. It's got some tricks here and there, but everything is concealed for the most part. If you put old skinny tires on it, you could think it was a restored original."
The tires are from BFGoodrich and wrap around custom Circle Racing 18-inch billet aluminum wheels. Wilwood brakes provide stopping power. In addition, suspension components including Strange coilovers on all four corners and a nine-inch rear end came with the Art Morrison Sport GT chassis.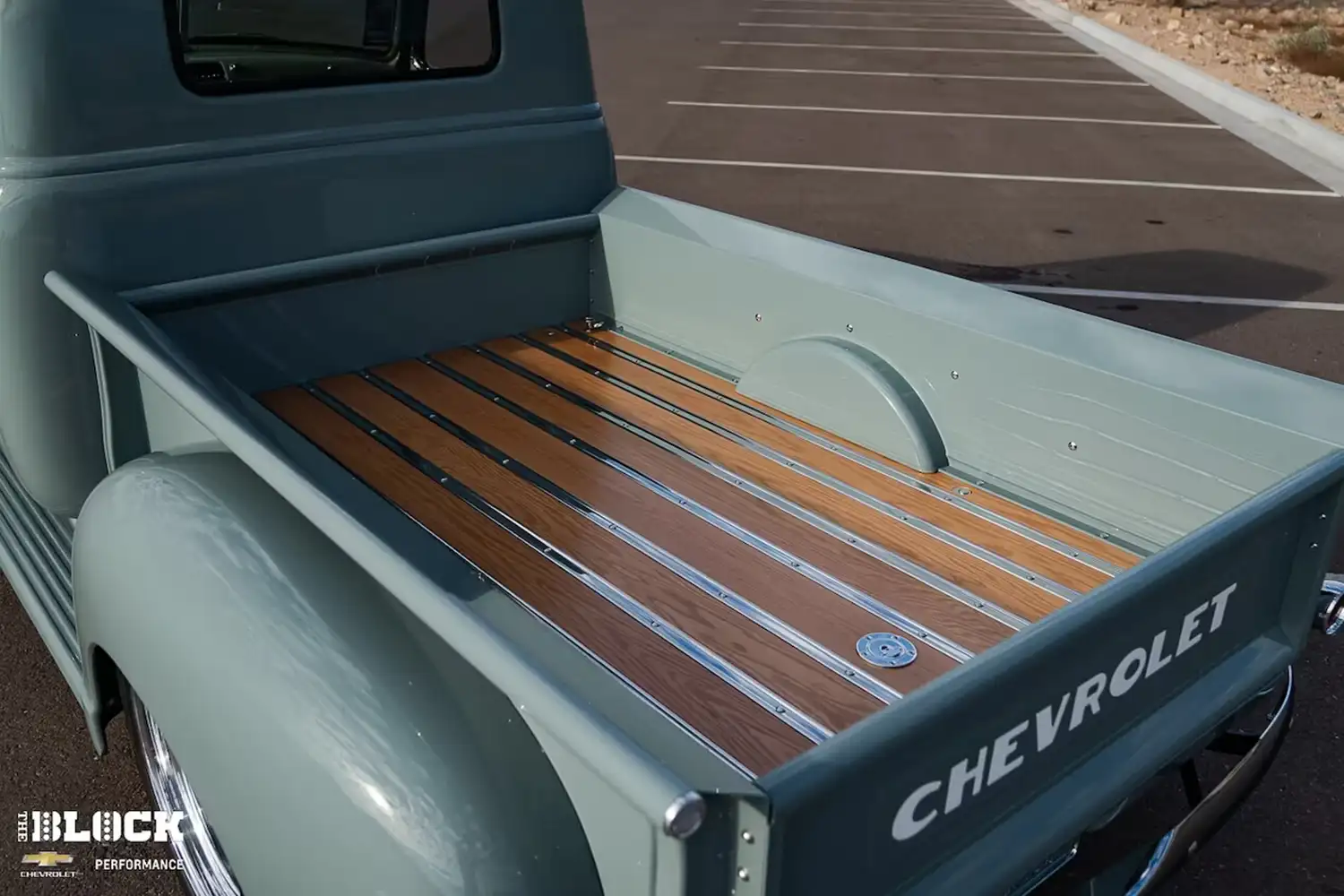 The chassis is designed to add a factory body, so despite the truck's age, Ryan Close was able to make the modern powertrain fit in the truck relatively easily.
"It has a very small transmission tunnel, I just had to add a little bit of clearance," he said. "It was so small that I actually faked it on the floor so that it looks like a flat floor. You don't actually see a tunnel. The harness was nice and long … We put all the GM electronics under the seat, which worked out really well."
In fact, with his being used to LS swaps, Close was surprised by the Connect & Cruise system's simplicity.
"It's very nice because the average individual could wire that and get it running," he said, but noted they should still plan on getting it professionally tuned, especially if it is a Hot Cam package.
Close also builds his own chassis when necessary, and the Chevrolet 3100 has a great deal of his subtle fabrication work including a totally one-off engine bay with a custom firewall, inner fenders, and specially built engine covers.
A raised floor Mar-K bed built for the Art Morrison GT chassis was fitted with small custom tubs, flush mount removable tie downs and hidden LED reverse lights. The rear bumper was replaced with a '54 bumper combined with a roll pan and finished with custom Greening LED tail lights.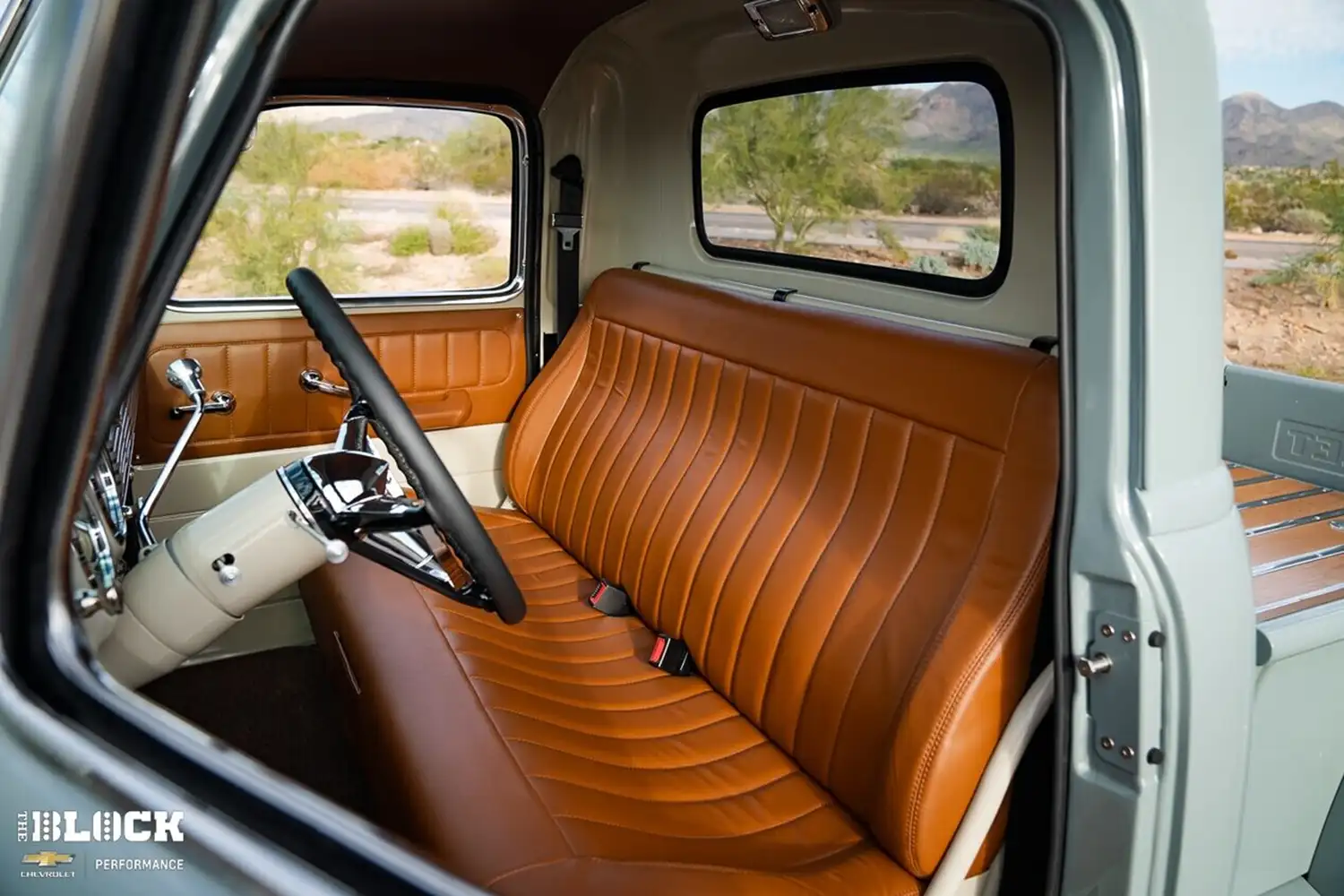 The interior is another of the truck's highlights and features cashew-colored Moore & Giles leather upholstery by Jason Mode and the team at New Creations. Close meanwhile was responsible for the rest of the interior, including forming and fitting the seat by customizing Snowden seat foam and bringing the comfort level up to modern standards.
"We did a fair amount of tweaking to get the pedals where (Goldsmith) wanted them to be, the column where he wanted it to be, the seating where he wanted it to be," Close said. "It actually feels very natural when you sit in it."
Among the interior upgrades are a one-off, under-dash AC vent panel and custom factory looking control knobs, ididit steering column, custom Tri-Five steering wheel, Vintage Air, Retro Sound Audio, Focal speakers in custom kick panel enclosures, and Dakota Digital RTX Series gauges with the Young at Heart Customs logo. (Goldsmith spent countless hours having the gauges modified as a surprise for his builder.)
In keeping with the original theme, even the truck's New Relic power windows are crank-actuated and the original throttle and choke pulls are a power cowl vent and accessory switch.
Close is primarily known for subtle restomod builds and for his fabrication work. He is self-taught in the latter area, but he also has an engineering degree that allows him to approach each project in a way few builders can. He got into the automotive hobby from his father and souped up his family's lawnmower when he was 8 years old, prior to moving on to the family 1957 Chevy Bel Air four-door sedan. It was his first car and will someday be his kids'.
He got involved with a welding shop when he was in middle school, which led him to work for Restoration and Performance Motorcars, an exotic car restoration shop. He was employed there in high school and for a few years after.
After graduating from college, Close began providing engineering for wind turbines. He worked for the same company for 15 years, starting with a short stint in the Northeast, before his job brought him to South Carolina. He always built cars on the side, but eventually made the move to working part-time in both engineering and car-building. He and wife have two young kids, and after the first year of the pandemic, something had to give, so Close decided to become a full-time builder and dad.
He's built a business out of focusing on large-scale projects like Goldsmith's truck. That allows him to focus his attention on the details and control the quality of one build at a time while also maintaining consistent work and keeping his overhead low. Builds like the 1949 Chevrolet 3100 fit right into his wheelhouse.
"I love the original cars, but really the restomods are where it's at for me," he said. "Because for it to look like a classic old truck, but then to get in it and (have it) drive like a modern car is just awesome."
Sam Goldsmith also appreciates a variety of vehicles, but he has a special affinity for trucks like his 1949 model.
"I've always loved this particular body style, they just appeal to me," he said. "The big fenders, the swoopiness, the deco of it all. It's just iconic."
Today, with an LS3-based engine under the hood, it is also powered by an icon of modern performance.