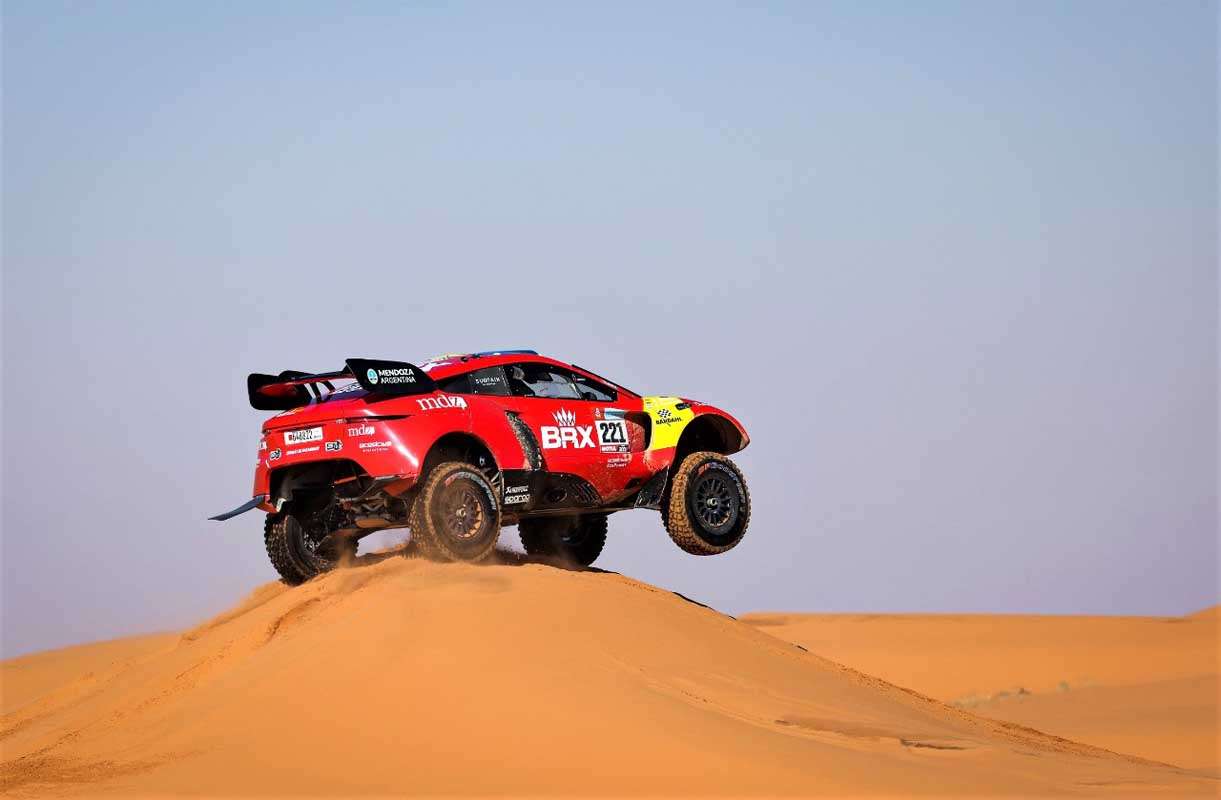 Sebastien Loeb delivered another powerful reminder today that Bahrain Raid Xtreme intend to keep the Dakar pressure on Nasser Al Attiyah as the nine-times World Rally Champion won an enthralling duel with his big rival.
The two giants of the new FIA World Rally-Raid Championship fought out a dramatic tussle on the 346-km fifth stage, and it was Loeb who came out on top in in his BRX Prodrive Hunter, reducing the Qatari's overall lead by almost three miniutes.
"We had a great side by side battle with Nasser, with me catching him and him catching me, and I think we passed each other fifteen times in the stage," said the Frenchman after setting the second fast time for a third day alongside Fabian Lurquin.
"The car is good and still strong which is why we are in second overall, so I cannot thank the guys in service at BRX, and Fabian, enough."
With South African Henk Lategan taking the stage honours, Loeb cut Al Attiyah's overall advantage to 35 min 10 secs, with another seven specials totalling 2,373-km left in the battle.
Orlando Terranova and Dani Olivera, who were on course for a top four position at the halfway point in their BRX Prodrive Hunter, lost ground over the second part of the stage but still set the ninth best time, two spots behind Al Attiyah, to climb to eighth overall in the standings.
After the BRX team had worked through the night until 6am to repair his car following the previous day's roll, Nani Roma still finished the stage within ten minutes of the winner, setting the 13th fastest time.
Terranova said: "It was a good day today even if we made some small mistakes, but it is nearly impossible to make a perfect stage on the Dakar. I feel quicker with more confidence and the car is running very well."
Roma completed the stage to say: "Today is the day to thank the mechanics after their work last night. It was incredible to see the car all ready to go again when I woke up. It's amazing what they've done and I cannot thank them enough.
"Alex and I found it a little difficult this morning, but soon we got the feeling back to be faster and to be close to Sebastien every day to help him. It's not the job that I thought of when we left Jeddah, but it's part of the sport and part of the BRX team to be able to change and help for the best result."
BRX team principal Gus Beteli said: "Seb managed to catch Nasser and have a race with him for the majority of the stage, overtaking regularly, trying to pull a gap on him. Finishing second on the stage and ahead of Nasser is what we need to do, little by little.
"Orlando had the pace to win it today, but got stuck on a dune to lose a little bit of time but is still easily in the top ten overall. And Nani and Alex are back in the rally after the guys worked all night to get the car back together, They didn't have a single issue, so we will carry on with this spirit the for the remaining 2000 kilometres."