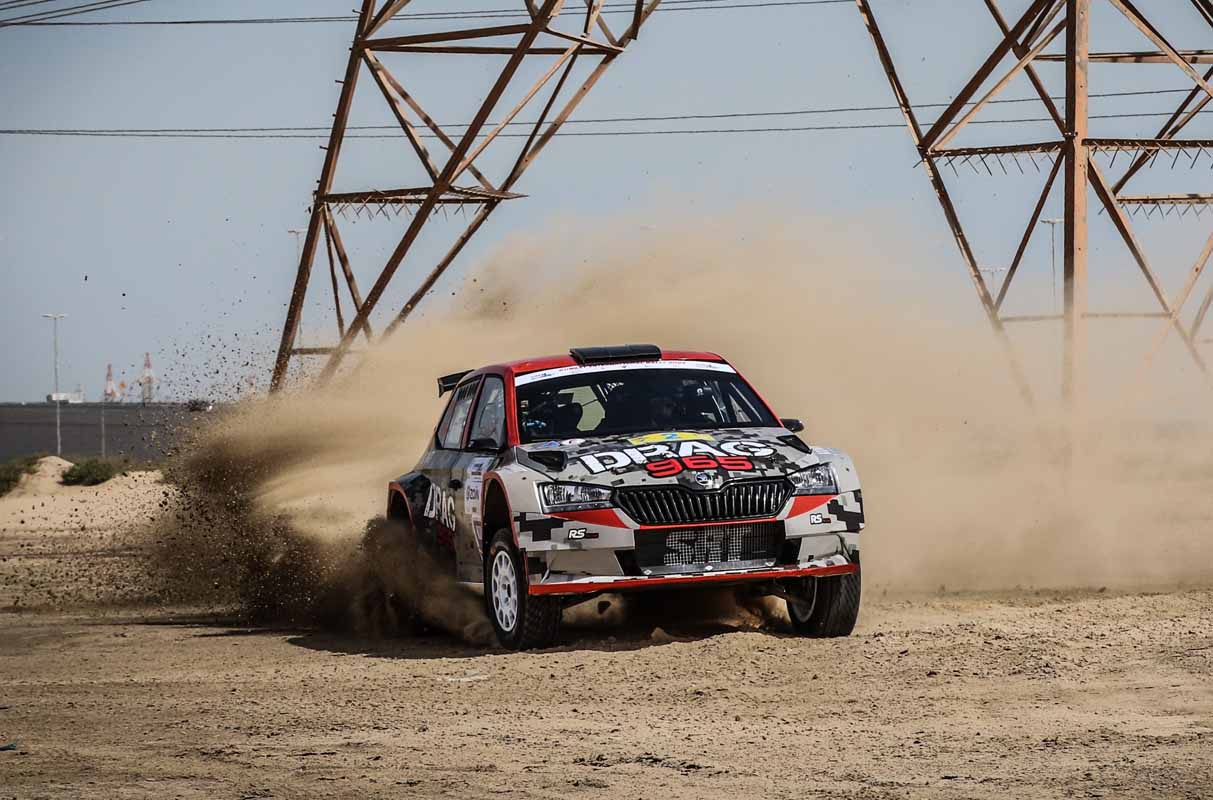 Local hero Meshari Al-Thefiri and Qatari co-driver Nasser Al-Kuwari stunned their rivals to lead the 26th Kuwait International Rally after six desert special stages on Friday.
Driving an SRT-run Škoda Fabia R2 evo for the first time, Al-Thefiri won the second and third stages, led outright at the midday service point and then regained the overnight advantage when Nasser Saleh Al-Attiyah sustained a sixth stage puncture. The Kuwaiti will take a lead of 15.7 seconds into the final day.
Al-Attiyah and French co-driver Mathieu Baumel looked set to take a slender advantage into the night halt, but they were forced to stop and change a front puncture on the last stage of the afternoon and lost well over two minutes as a result.
The Autotek Volkswagen Polo GTI driver won two of the three specials on the second loop of desert tests, south of Kuwait City, but had erred on the side of caution over the morning's loop after sustaining two slow punctures. He holds fourth overall, 2min 13.4sec behind the leader, and faces a fascinating fight back over the remaining stages on Saturday.
Qatar's Abdulaziz Al-Kuwari and Irish co-driver James Fulton had been quickest on the opening stage, but a puncture cost them vital time and Al-Kuwari finished the day in third, 13.1 seconds behind second-placed Qatar's Khaled Al-Suwaidi and his Portuguese co-driver Hugo Magalhães. The 2012 event winner was quickest overall in stage six and is well placed to challenge for a second MERC win on Saturday.
MERC2 front-runner Mohammed Al-Thefiri and co-driver Mubarak Al-Dhafiri held fifth overall in a Mitsubishi Lancer Evo X and a lead of 4min 56.7sec in the showroom category.
Former MERC runner-up Nasser Khalifa Al-Atya teamed up with Italy's Giovanni Bernacchini and was classified in sixth place in a Motortune-run Ford Fiesta.
Kuwait's Jassim Al-Muqahwi and the Jordanian duo of Shadi Shaban and Issa Abu Jamous rounded off the day's finishers in seventh, eighth and ninth overall.
Engine issues sidelined the MERC2 series-leading Jordanian Ihab Al-Shorafa, Oman's Zakariya Al-Aamri suffered gearbox woes and a heavy landing after a high-speed jump cost Abdullah Al-Rawahi his fifth place with front damage and a broken radiator on his Škoda Fabia R2 evo.
Friday – as it happened
Al-Kuwari edged into a 1.6-second lead over Al-Attiyah through the opening 17.70km stage where both current MERC2 leader Ihab Al-Shorafa (engine) and Yousef Al-Dhafeeri failed to finish. Al-Rawahi and Al-Thefiri came home in third and fourth and Mohammed Al-Thefiri topped the MERC2 times.
The second 20.65km special was named in memory of Kuwaiti rally driver Saleh bin Eidan and it was fitting that his hard-charging countryman Meshari Al-Thefiri should set a fastest time on his debut in an RC2 Škoda.
The Kuwaiti beat Al-Attiyah by two-tenths of a second but the Qatari snatched a 3.2-second lead on a stage where Al-Aamri also retired with gearbox issues. Al-Kuwari punctured after 14km and dropped 14.5 seconds to the stage winner.
Stage three (20.73km) was named in memory of local rally driver Gazi Al-Thefiri and Al-Thefiri was again the fastest driver, the Kuwaiti belying his lack of RC2 experience to beat Al-Attiyah by 4.6 seconds and take a 1.4-second advantage back to the service break at Kuwait Motor Town. His cause was helped by two slow punctures for Al-Attiyah, who erred on the side of caution with only one spare tyre available.
Al-Suwaidi, Al-Kuwari and Al-Rawahi rounded off the top five, although the Omani had suffered radiator and front panel damage after a heavy landing over a jump and was not able to continue. His demise lifted Mohammed Al-Thefiri into fifth overall.
Al-Attiyah shaved nine seconds off his morning run on the second pass though the KT stage and regained a 6.9-second outright lead over Al-Thefiri. The second quickest time enabled Al-Suwaidi to maintain third and close to within 11.9 seconds of the Kuwaiti. Khaled Juma held ninth in his Mitsubishi Lancer Evo VII, but the Jordanian stopped in SS4 with electrical issues.
Al-Attiyah was seven seconds quicker on his repeat run through the next stage and was able to extend his lead over Al-Thefiri to 9.2 seconds.
But there was drama for the defending regional champion on the last stage; he stopped to change a front puncture, haemorrhaged 2min 24sec to the stage-winning Al-Suwaidi and slipped to fourth overall, as Al-Thefiri reached the end of the leg leading his home rally by 15.7 seconds.
Saturday
Crews will tackle two runs through two special stages on Saturday. Action commences with the 18.60km of the Al-Zour stage from 11.05hrs and continues with a shorter 12.66km special from 11.58hrs. The two timed tests will be repeated at 14.23hrs and 15.16hrs, respectively.
2022 Kuwait International Rally – positions after SS6 (unofficial):
1. Meshari Al-Thefiri (KWT)/Nasser Al-Kuwari (QAT) Škoda Fabia R2 evo                               55min 48.5sec
2. Khaled Al-Suwaidi (QAT)/Hugo Magalhães (PRT) Škoda Fabia R2 evo                               56min 04.2sec
3. Abdulaziz Al-Kuwari (QAT)/James Fulton (IRL) Škoda Fabia R2 evo                                                  56min 17.3sec
4. Nasser Saleh Al-Attiyah (QAT)/Mathieu Baumel (FRA) Volkswagen Polo GTI                                    58min 01.9sec
5. Mohammed Al-Thefiri (KWT)/Mubarak Al-Dhafiri (KWT) Mitsubishi Lancer Evo X            1hr 03min 02.3sec
6. Nasser Khalifa Al-Atya (QAT)/Giovanni Bernacchini (ITA) Ford Fiesta                           1hr 04min 20.0sec
7. Jassim Al-Muqahwi (KWT)/Thamer Al-Mutairi (KWT) Mitsubishi Lancer Evo X                                 1hr 07min 59.0sec
8. Shadi Shaban (JOR)/Suleiman Al-Helal (KWT) Mitsubishi Lancer Evo IX                           1hr 12min 35.5sec
9. Issa Abu Jamous (JOR)/Emad Juma (JOR) Mitsubishi Lancer Evo IX                                                      1hr 14min 00.3sec