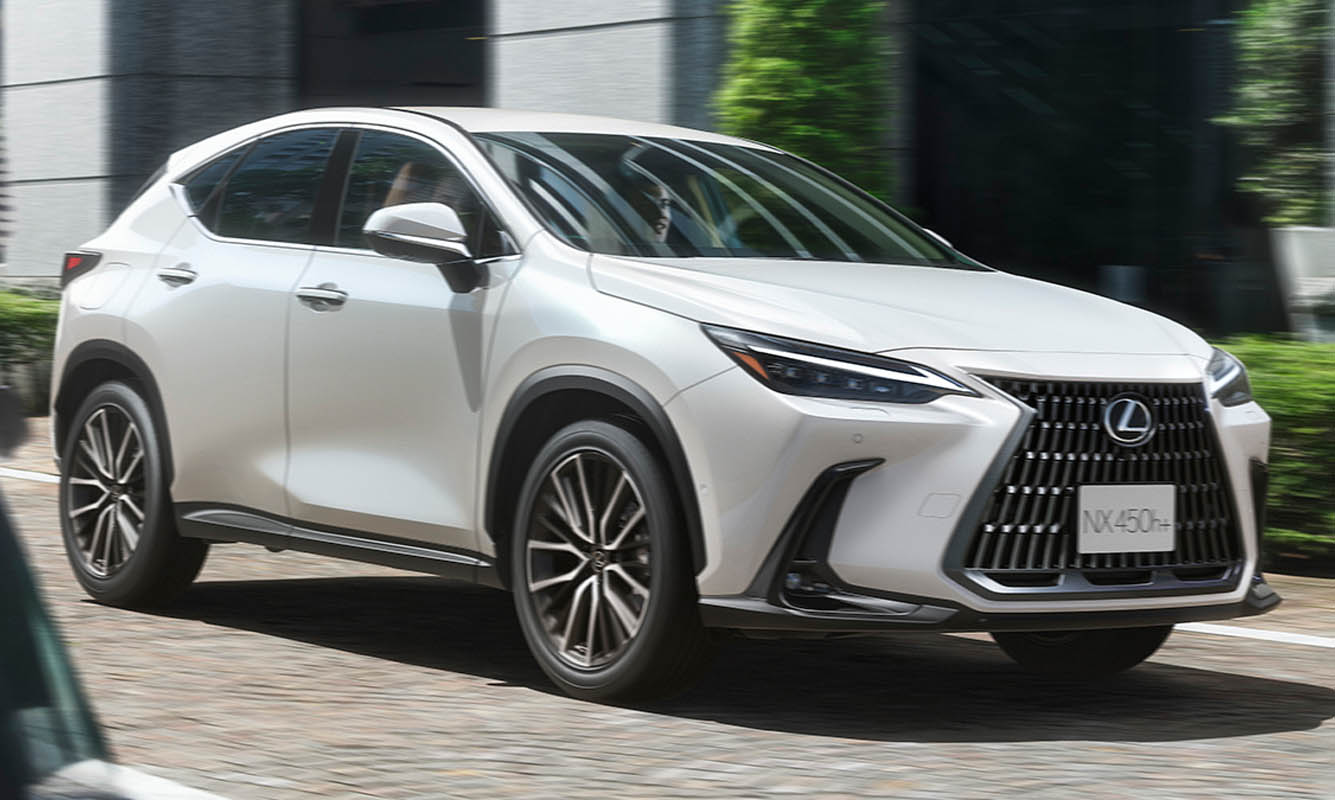 Lexus Australia will advance its electrification leadership in early 2022, when the high-performance, low-emissions NX 450h+ plug-in hybrid electric vehicle (PHEV) will arrive as the flagship all-new Lexus NX.
The first-ever Lexus PHEV delivers a class-leading 87km of electric driving range1, fuel consumption from 1.3 litres per 100 kilometres2 and exhilarating performance with 227kW of power and zero to 100km/h in 6.3 seconds.
The NX 450h+ will complement the hybrid-electric NX 350h – expected to be the top-selling powertrain in Australia – to provide customers with the luxury of choice and continue the Lexus Electrified vision.
Headlining the advanced NX 450h+ powertrain is an electric motor mounted on the front axle and delivering 134kW of power and 270Nm of torque, supported by a second electric motor on the rear axle delivering a further 40kW/121Nm.
An 18.1kWh lithium-ion battery package enables the Lexus NX 450h+ to drive purely on electricity and with zero tailpipe emissions for up to 87km1.
The significant power and torque generated by the pair of electric motors is further supported by a 136kW/227Nm 2.5-litre petrol engine to enable a total 227kW and high performance characteristics with instant response.
When utilising the renowned Lexus hybrid-electric system, the NX 450h+ can deliver 1.3 litres per 100 kilometres2 and emit only 29 grams of CO2 per kilometre3.
Drivers are able to choose from multiple hybrid and EV driving modes that best suit the driving conditions.
EV Priority mode ensures the electric motors will power the NX 450h+ even when the accelerator is fully pressed, continuing to operate solely on electric power for a maximum amount of time.
In Auto EV/HV mode, the petrol engine will only activate when the accelerator is fully pressed or in situations that require brisk acceleration, for example during high-speed overtaking.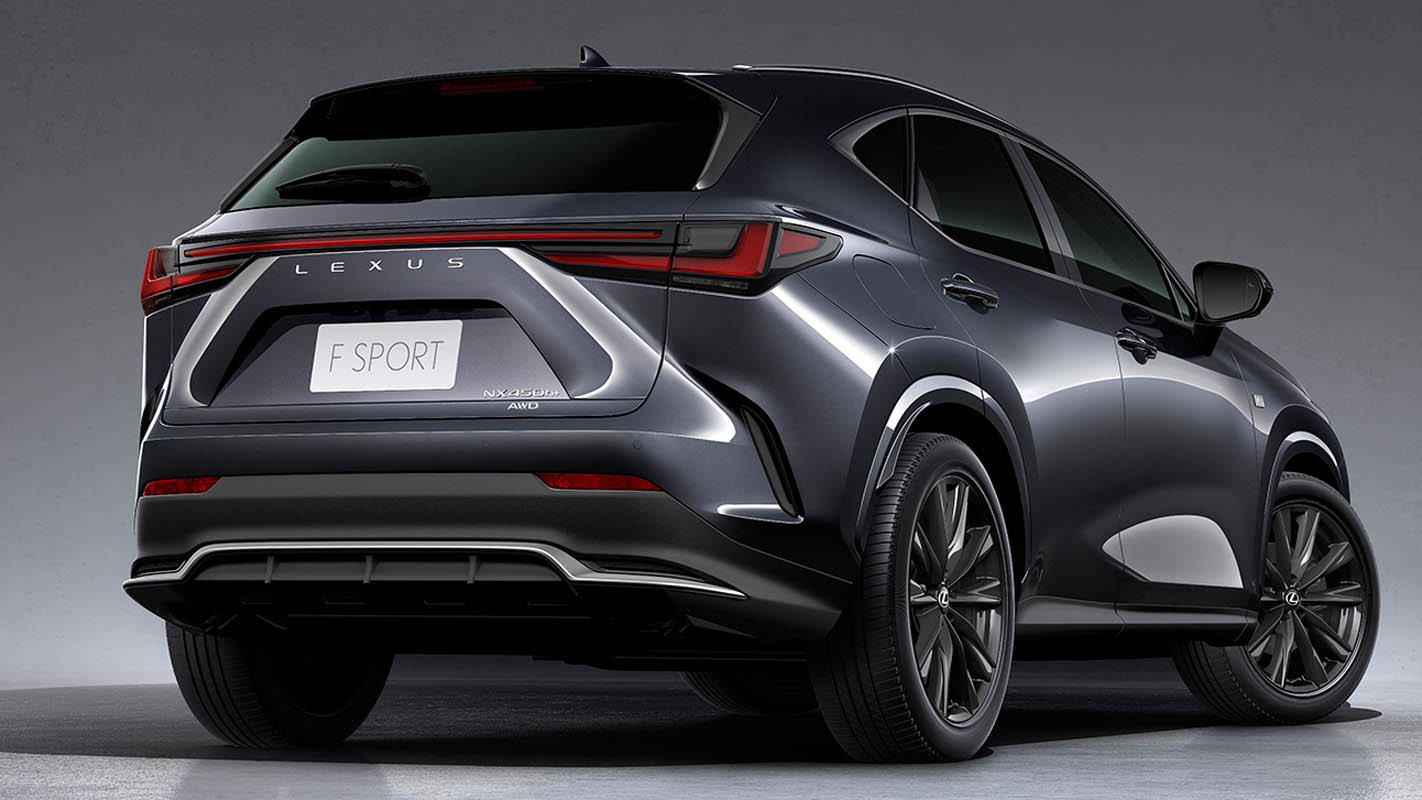 In HV mode, the powertrain emulates the balanced performance of the renowned hybrid-electric Lexus systems, maintaining a level of battery charge by starting and stopping the petrol engine as required.
Battery Charging mode engages the petrol engine to help recover charge if it drops below the level required for EV-only driving, for maximum driving flexibility and assistance in ensuring situations such as city driving can then utilise electric power.
Drivers will also be able to choose from performance-oriented drive modes that control the powertrain, transmission, suspension and vehicle stability control to best suit particular roads and a driver's preferred driving style.
The Lexus NX 450h+ even further leverages the Lexus Driving Signature by enhancing the highly rigid and dynamic Global Architectue-K (GA-K) platform, complete with E-Four all-wheel-drive including variable torque distribution.
Using a range of sensors measuring G forces, yaw rate, speed and steering angle, the E-Four system can split the front-to-rear torque distribution in ratios between 100:0 and 20:80.
Combined with the standard Adaptive Variable Suspension (AVS) incorporating a firmer Sport S+ damping mode, the NX 450h+ provides a balance of ride comfort and refinement matched with direct steering and agile handling.
Lexus Australia Chief Executive Scott Thompson said the introduction of the NX 450h+ highlighted the luxury lifestyle brand's commitment to expanding its portfolio approach to electrification, and providing exciting high-performance models.
"The NX 450h+ represents both a performance high watermark and a low emissions benchmark for the highly anticipated all-new NX line-up, reaffirming the Lexus commitment to luxury vehicles that are fun to drive and efficient," Mr Thompson said.
"When the first Lexus PHEV arrives in Australia early next year, it will complement the UX 300e BEV and our renowned hybrid-electric Lexus range to provide customers with a portfolio of advanced choices most suitable to their lifestyle."
The all-new Lexus NX represents the next generation of Lexus vehicles, debuting the human-centred Tazuna cockpit concept that focuses on positioning all driving functions within reach of the driver for ease of operation and intuition.
The centrepiece of the Tazuna cockpit concept is the 14.0-inch touch display with a state-of-the-art multimedia interface, featuring natural voice recognition and compatibility with Apple CarPlay®5 and Android Auto™6.
Details including specification and pricing will be revealed closer to the arrival of the Lexus NX 450h+ in Australia early next year.
The NX 450h+ will join the petrol NX 250, turbocharged petrol NX 350 and hybrid-electric NX 350h in the new-generation Lexus luxury medium SUV line-up.
1 Based on European Driving Cycle (NEDC) mode.
2 Achieved in test conditions for comparison purposes only. Actual fuel consumption varies depending on driving conditions/style, vehicle condition, load and options/accessories fitted. Source: ADR81/02 combined (litres/100km)
3 Emissions vary depending on driving conditions/style, vehicle condition & options/accessories fitted. 
4 Driver assist feature. Only operates under certain conditions. Check your Owner's Manual for explanation of limitations. Please drive safely.
5 CarPlay® is a trademark of Apple, Inc. registered in the U.S. and other countries.
6 Android Auto™ is a trademark of Google LLC.