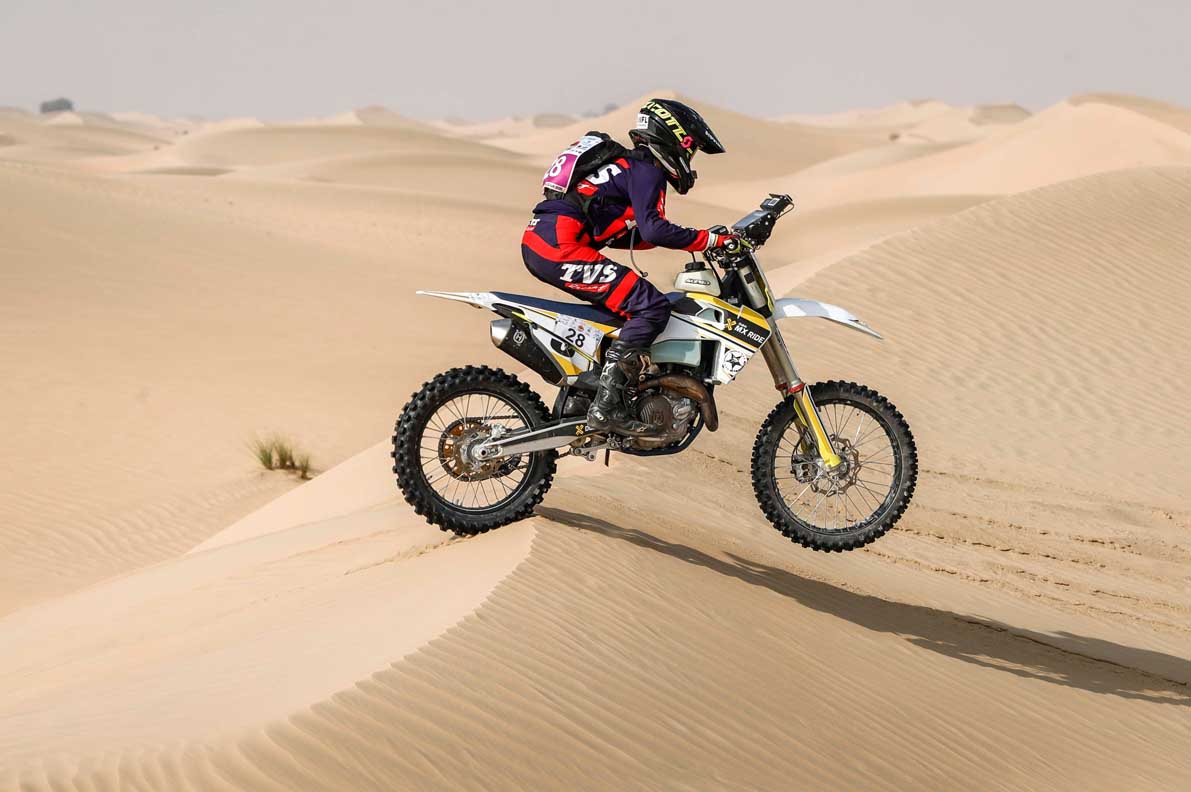 Three Jordanian riders will be hoping to challenge their international rivals for success in this weekend's Jordan Baja, the new second round of the FIM Bajas World Cup.
Talented young rider Abdullah Abu Aisheh is seeded at two behind Abu Dhabi's Mohammed Al-Balooshi and has a superb chance of giving the Hashemite Kingdom a second outright victory in the Baja: Ata Al-Hmoud won the inaugural event on a Beta 390 when it ran as a candidate round for the FIA series in 2018.
Abu Aisheh is the national champion and trained in Dubai with Al-Balooshi before taking part in some desert races. He won the MX2 class in the Dubai Endurocross Championship and finished fourth overall in last month's Dubai International Baja.
"I'm very excited to race the second round of the FIM Bajas World Cup in my home country," said Abu Aishah. "The terrain is fantastic and the route should be fast. Wadi Rum is one of the highly known tourist attractions in Jordan and what makes it a great setting for the Baja is the diverse and dynamic terrain.
"It changes very quickly from sand to rocky sections to dunes. It makes the Baja a fast and technical route. What makes it even better is the breathtaking landscape, so we get to race and enjoy a great view. I will participate with my KTM Rally Replica and I'm aiming for the win. It should be a very challenging race, but I'm confident in my abilities to achieve the result I have in mind. I look forward to it!"
Zaid Jaber and Tal'at Al-Shishane also ride a pair of KTMs and represent the host nation. Twenty-one-year-old Jaber is taking part in his first Baja. He started riding motorcycles when he was only five under the influence of his father Ammar.
"I started riding professionally a year ago," said Jaber. "My goal is the 2024 or 2025 Dakar. I came here for training with Mohammed Al-Balooshi. I wanted to race in the first round of the World Cup, but I dislocated my shoulder during training for the Dubai Baja. I watched the race in the Al-Qudra desert and learned a lot. I realised that the time is important, but the rules are even more important and if you don't do any mistakes you have a big chance to win. I'm still in recovery, but was back to riding one week ago."
Two Jordanian crews are also aiming for the podium in a National Baja that runs behind the main event and includes a shorter second day's action in the deserts to the north of Aqaba. Haitham and Saif Al-Abbadi and Ghaith Qubti and Moath Al-Arja have entered a pair of T2 Range Rovers and will compete against three Palestinian crews and competitors from Saudi Arabia.
Dania Akeel finished eighth in her rallying debut at the Sharqiyah International Baja two weeks ago and the Saudi girl will be tackling her first event outside Saudi Arabia with French navigator Stéphane Duplé.
Akeel is part of the new SHERO Rally Team by Duust and has entered the event in a Can-Am Maverick X3 in the FIA T3 section. She had been looking forward to competing against fellow Saudi female Mashael Al-Obaidan, but her Jordanian navigator Musa Djierian confirmed on Monday morning that unseen issues had forced them to withdraw their Can-Am entry.
Akeel will now compete in T3 against fellow Saudi driver Ibrahim Bin Salamah and his co-driver Adel Al-Muhaia.
Two female riders will line up against 13 male rivals in the motorcycle category: India's Aishwarya Pissay and Kuwait's Sarah Khuraibet will duel for FIM Women's category glory on their respective Huqsvarna and Yamaha.
Pissay, 25, finished third in the Women's category in Dubai last month and hopes to challenge for the title in 2021. The Bengaluru rider was the first Indian athlete to win a world title on a motorcycle – the FIM Bajas Women's Championship – and has already secured six combined national titles in circuit racing and rallying.
"I'm excited about the second round of the FIM World Baja Rally Cup," said TVS Racing-backed Pissay. "This will be my first time racing in Jordan. I'm going in with a positive mindset and hoping for a good finish without any technical difficulties."
Restrictions on travel have forced the Argentine duo of Orlando Terranova and Franco Caimi to withdraw their entry. Terranova competed in Jordan in 2019 and finished second overall in his quest for FIA Baja Drivers' Championship honours. The Mendoza driver lists the Jordan Baja as one of his favourite events and vows to return next year to tackle the unique desert stages in Wadi Rum.
The Jordan Baja gets underway with a ceremonial start in Aqaba from 19.39hrs on Thursday evening.
Competitors will then tackle two challenging sections of 210.72km and 112.9km on Friday, March 19th and a further 236.06km through the deserts to the north of Aqaba on Saturday, March 20th.