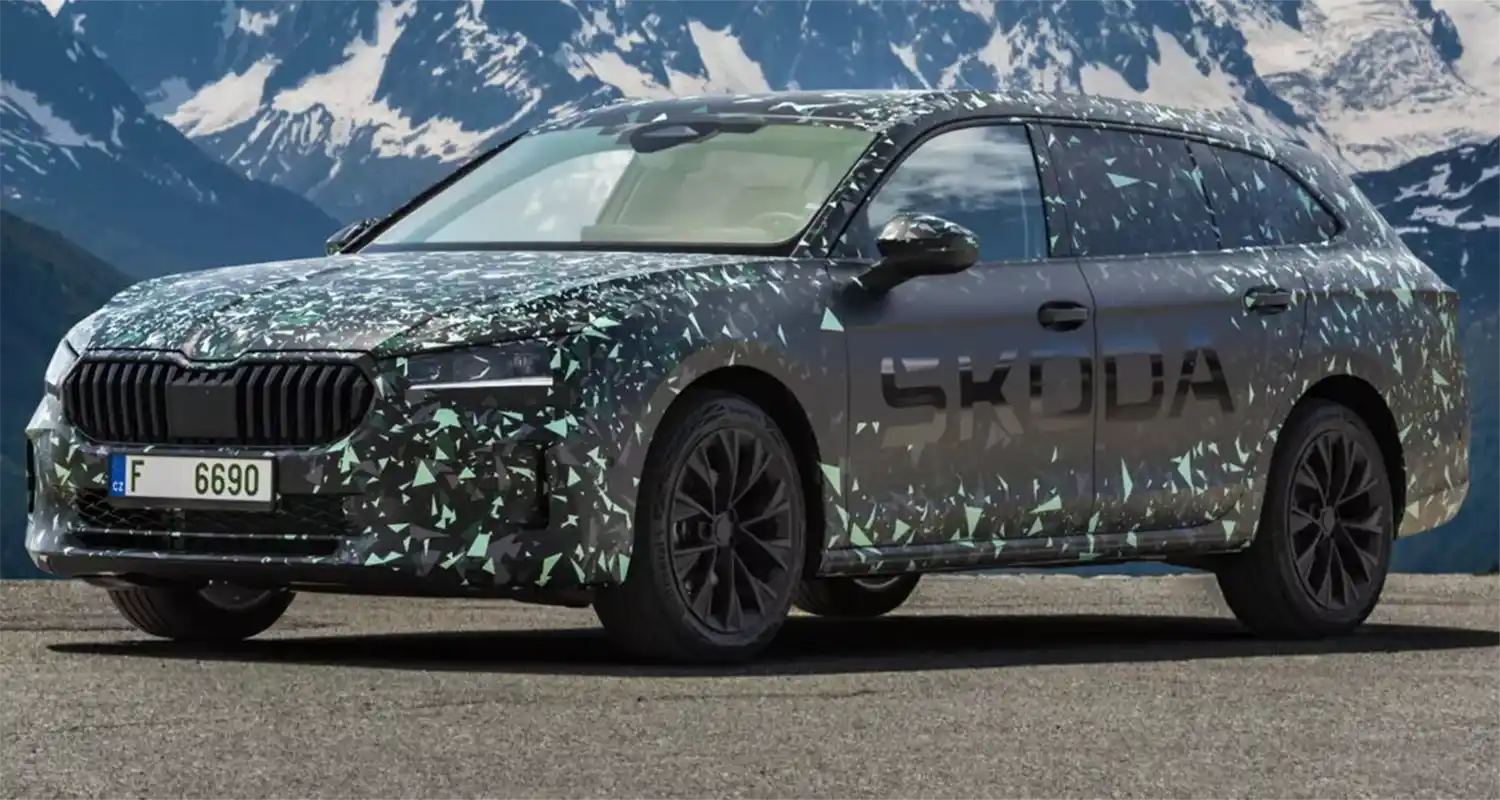 Škoda is set to unveil its fourth-generation Superb in November 2023 – 90 years after the launch of the historic first model. Like its predecessors, the new Superb combines a striking design concept with advanced technology. Safer and more spacious than ever before, the new model is ready to add another chapter to the Superb's longstanding tradition at Škoda. Delivering outputs from 110 kW (150 hp) to 195 kW (265 hp), the Superb will be available with a choice of three petrol engines, two diesels, a plug-in hybrid with an even greater electric range of over 100 kilometres, and – for the first time – a mild hybrid. Three brand new features further expand the list of distinctive Simply Clever ideas, taking their number up to 28.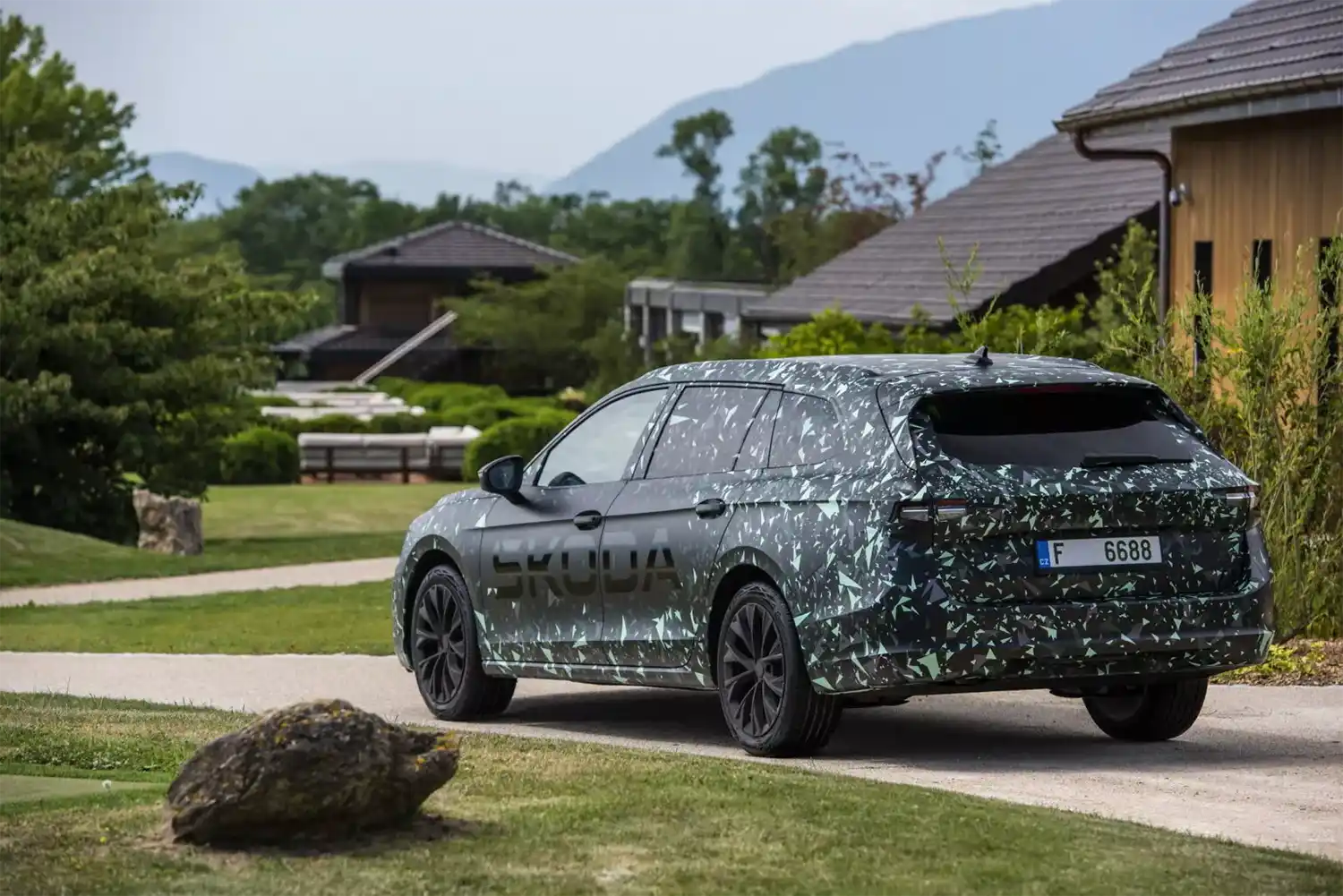 "For decades now the Škoda Superb has been synonymous with exceptional comfort, space, state-of-the-art technology and maximum safety. We have brought in all our expertise to further improve all of these qualities for the upcoming generation of our ICE flagship model. The new Škoda Superb will perfectly round off our portfolio, which includes the right product for every customer. On top of that, our customers can choose from a wide range of powertrains – be it a plug-in hybrid, one of our highly advanced and efficient ICEs or, in a first for the Superb, a mild-hybrid powertrain."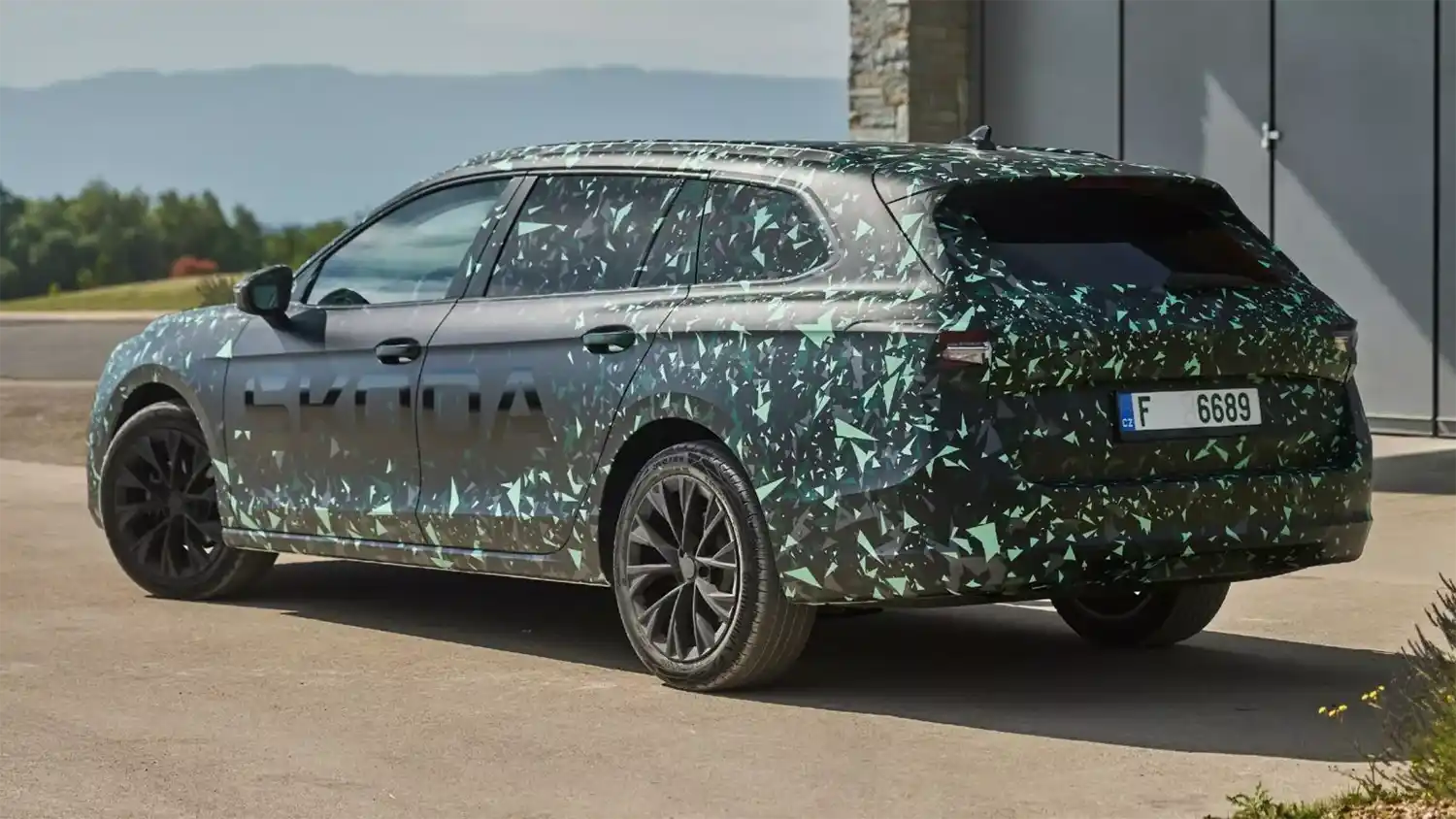 Klaus Zellmer, Škoda Auto CEO
"The upcoming Superb has everything it takes to be just as successful as its predecessor. It will be available in two body versions which will both offer more interior space and headroom. Furthermore, it will provide the latest safety features and an extensive range of assistance systems. This highly attractive package is a testament to the great expertise of our Technical Development team, just like the fact that Škoda was tasked with the technical development of both the next-generation Škoda Superb and the upcoming Volkswagen Passat."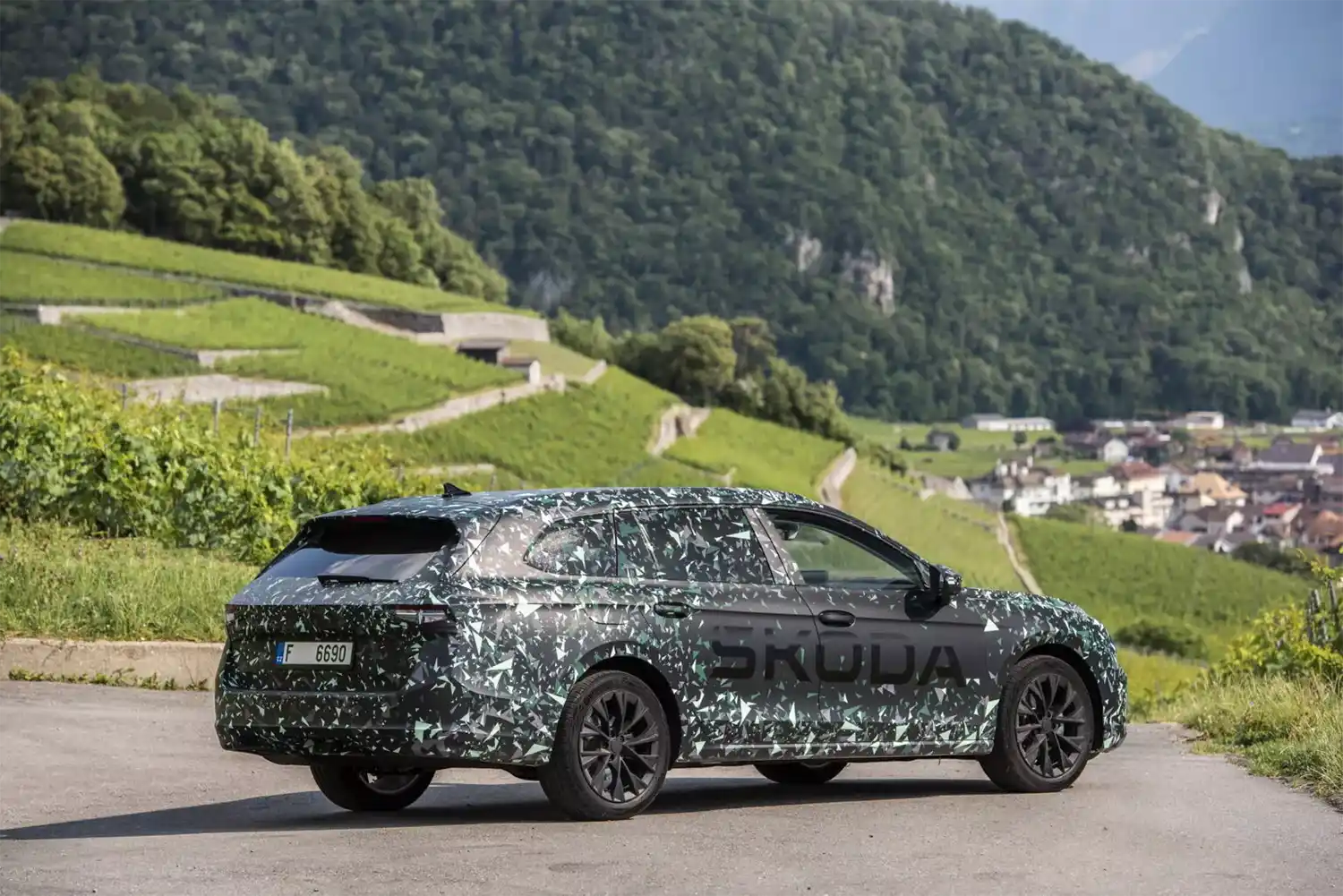 State-of-the-art technologies and a centre console without shift lever
About to enter its fourth modern generation, the new Superb will continue to impress with an emotive design that has seen further refinements, and with state-of-the-art technology. This car is now even more spacious while also being safer than ever, courtesy of ten airbags, numerous assistance systems and a total of 28 Simply Clever features. Moreover, the Superb combines excellent fuel economy with great performance. Three modern and highly efficient petrol engines, two state-of-the-art diesels and a new plug-in hybrid with an increased electric range of more than 100 kilometres cover an output spectrum from 110 kW (150 hp) to 195 kW (265 hp). For the first time, a mild-hybrid powertrain will be available, and all models are fitted with an automatic DSG transmission as standard. One of the key interior modifications is the gearshift lever mounted on the steering column. This frees up space on the centre console, providing the driver with even more comfort and additional storage space.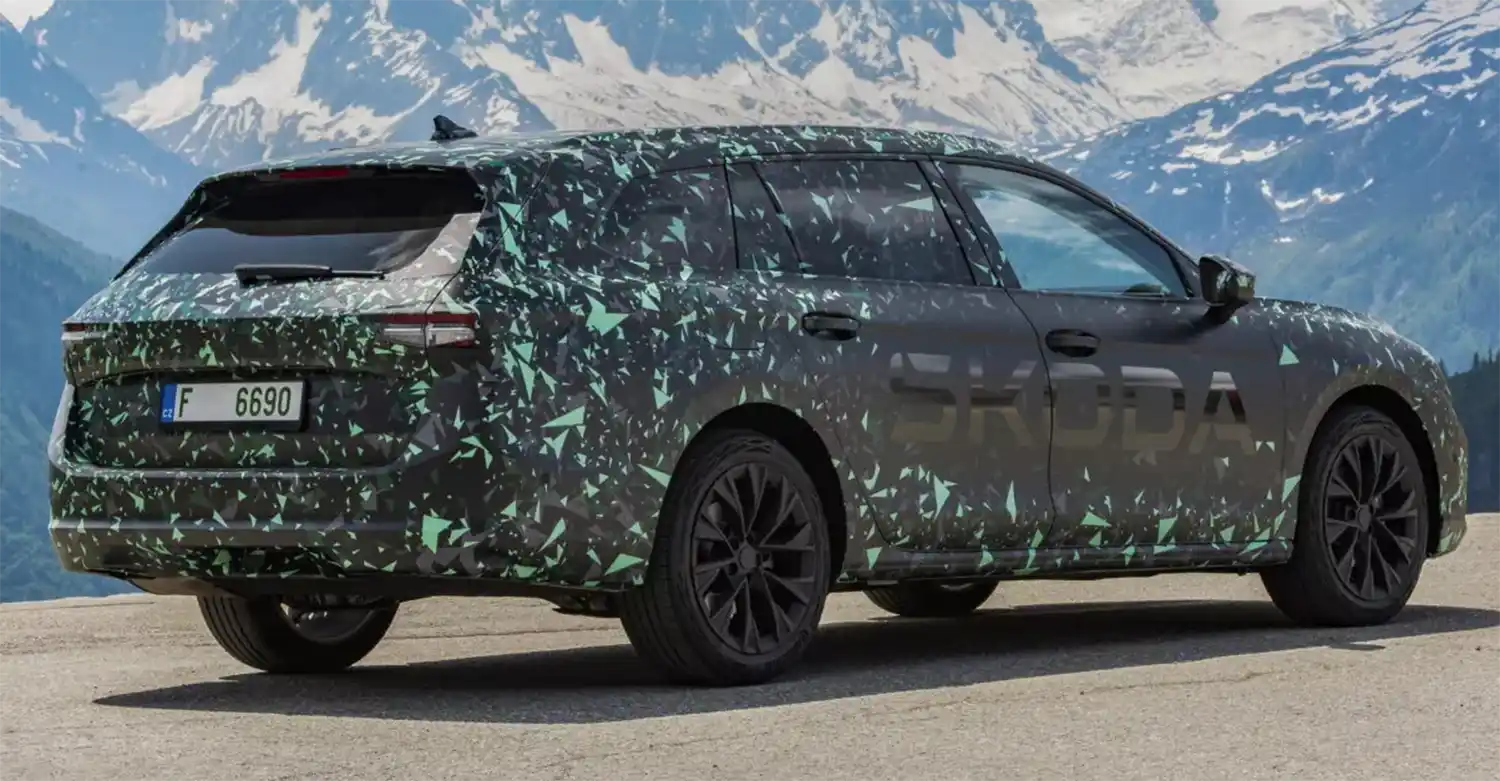 Even more Simply Clever ideas
Up to 28 Simply Clever details increase driver and passenger comfort in the new-generation Superb. Some of them are completely new to Škoda overall: a unique electrically controlled roller blind acting as a luggage compartment cover in the Superb Combi estate, a centre armrest for the rear seats with integrated tablet holder and a double storage pocket on the back of each front seat to hold documents or magazines as well as a smartphone. A first for the Superb is the integrated funnel in the windscreen washer reservoir cap. Incidentally, Škoda presented the first of what has become a very wide range of Simply Clever details in 2001, when it introduced the initial modern-day generation of the Superb. At the time, these included numerous cup holders in the rear armrests, on the centre armrest and inside the glove compartment, as well as the premiere of a 12-volt socket for the rear-seat passengers. The iconic umbrella in the driver's door and the smart luggage hooks in the boot can still be found in Škoda cars today.
Particularly popular in Germany, the Czech Republic and Poland
The popularity of the Škoda Superb has increased with each generation. The first modern edition sold a total of 137,000 times between 2001 and 2008. The second generation was built from 2008 to 2015. It was the first to offer customers a Combi estate version and saw Škoda deliver 618,000 vehicles. The third generation, in production since 2015, took overall Superb sales past the one million mark. By the end of May 2023, it had sold 805,000 units. Sales figures for 2022 show that most Superbs went to Germany, with 14,300 units equating to 25 per cent, followed by the Czech home market (6,900 units or 12 per cent) and Poland (5,600 units or 10 per cent). To date, more than 1,560,000 Superbs of all generations have been sold worldwide. Škoda Auto will unveil the fourth-generation Superb in November 2023. The new generation will be built at the Volkswagen Group plant in Bratislava, Slovakia, and will continue to be produced in hatchback as well as Combi estate format.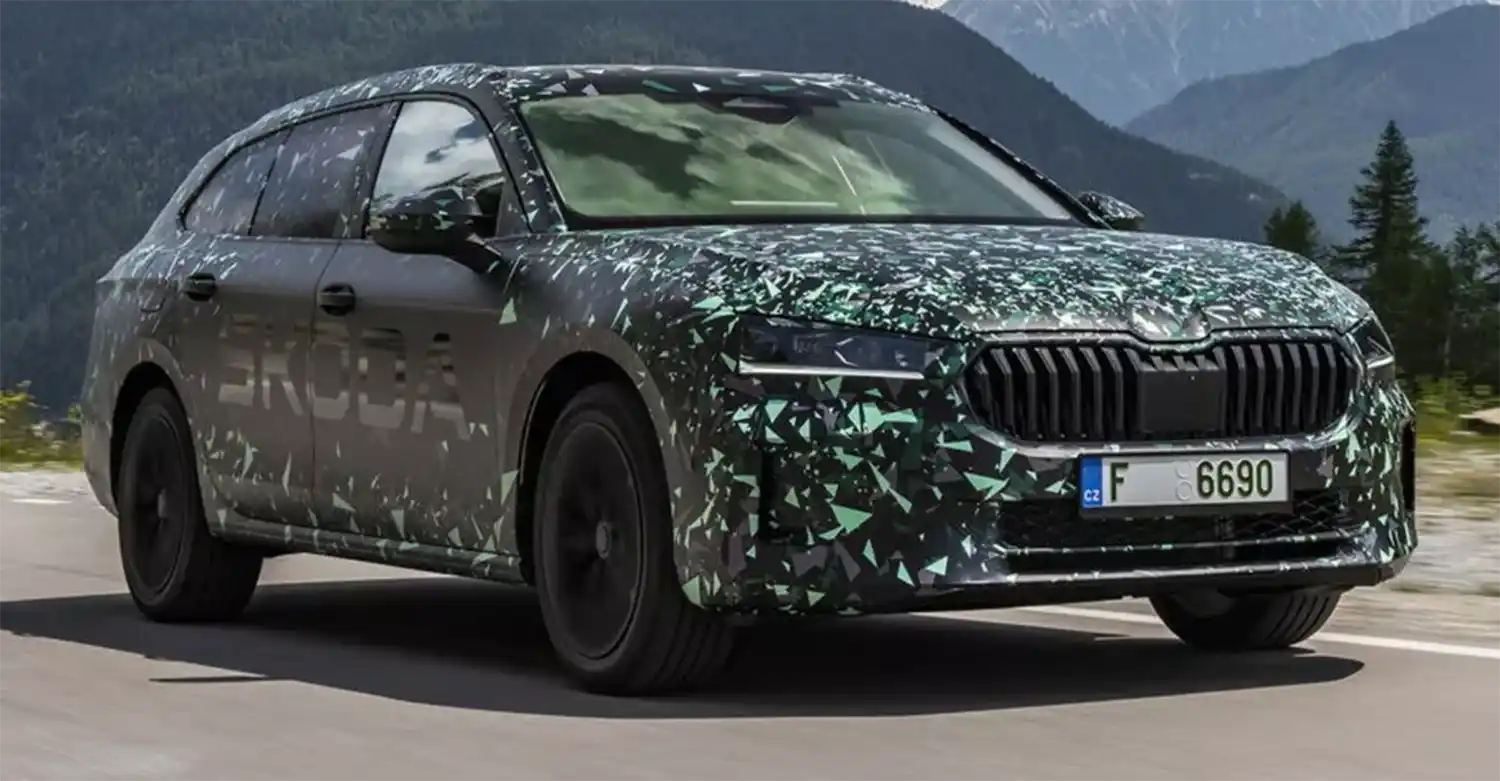 Exterior and interior: Improved proportions, new lighting design, completely redesigned interior
Featuring Škoda's updated design language, new lights and revised proportions, the fourth-generation Superb is bigger, more emotive and dynamic than its successful predecessor. Škoda has also redesigned its interior concept with a clear focus on customer centricity and an optimal user experience. The cockpit now features a brand-new architecture that cleverly combines manual and digital controls. The new infotainment display measures up to 12.9″. The centre console has a clean and uncluttered design, as the gearshift lever is now mounted on the steering column.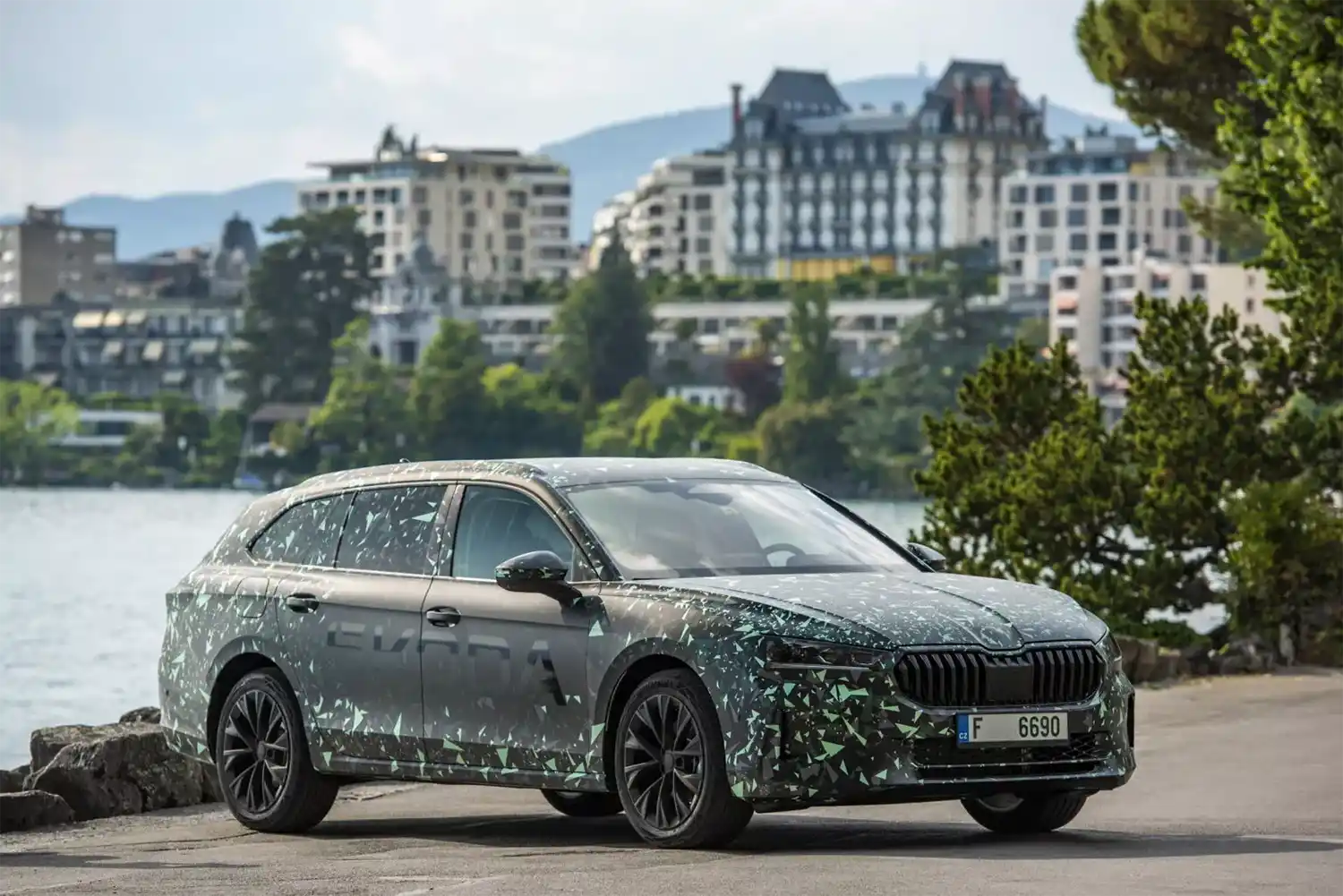 "The Superb has traditionally represented the pinnacle of Škoda design. With its new sculptural lines and athletic proportions, the fourth generation is even more elegant, evocative and dynamic than its predecessor. Key updates include slimmer headlights and tail lights, which incorporate new crystalline elements creating a three-dimensional look. In the interior, the customer is the centre of attention and the Škoda Design team has combined the best of both worlds – manual and digital controls. Everything has been designed with the aim of further simplifying the overall user experience."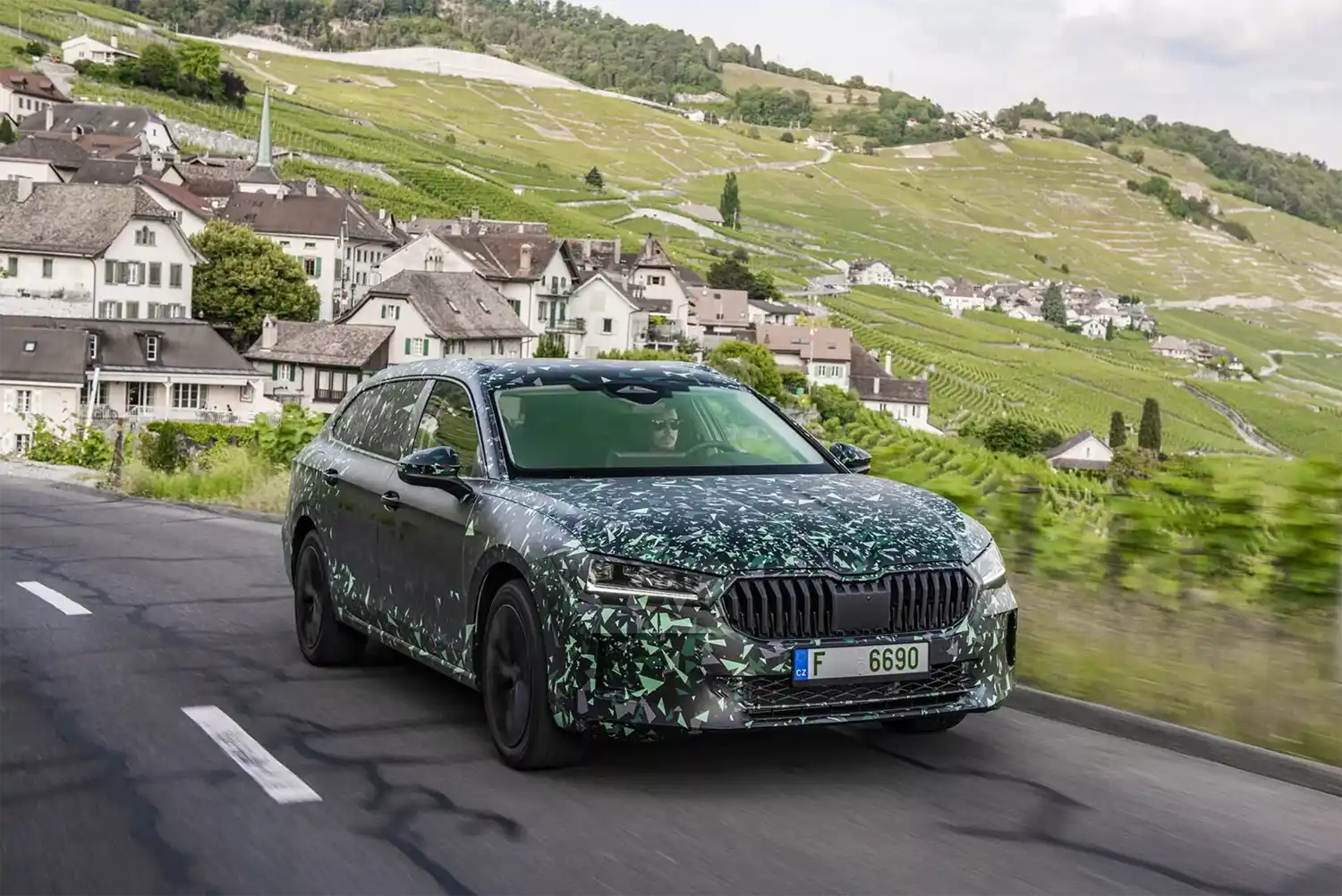 Oliver Stefani, Head of Škoda Design
Sculptural design, new headlight and tail light design, redesigned interior for optimised user experience
In the new Superb, Škoda has upgraded the brand's signature design by introducing a number of sculptural lines. The model will be available as an elegant hatchback with a practical tailgate as well as a Combi estate version. The lighting design at the front and rear has become more dynamic in all new Superb versions. The tail lights are significantly more slender than in the predecessor, and new crystalline elements amplify their three-dimensional appearance. The headlights, which have also become sharper and more crystalline, are available in two versions. The hexagonal bi-LED matrix modules of the full LED Matrix headlights are complemented by a coloured crystalline element called Crystallinium. Crystallinium is a brand new special feature that evokes coloured crystal glass, bringing a new look to the headlights. The interior of the new Superb has been redesigned with a clear focus on customer centricity. Every aspect has been enhanced with the aim of streamlining the user experience. The interior now showcases an innovative combination of manual controls and touchscreen-based digital operation. The new infotainment display measures up to 12.9″, making it the largest display ever to appear in a Superb. The gearshift lever has been mounted directly on the steering column, putting it within easy reach. The centre console has also been redesigned and now has a very clean and uncluttered look.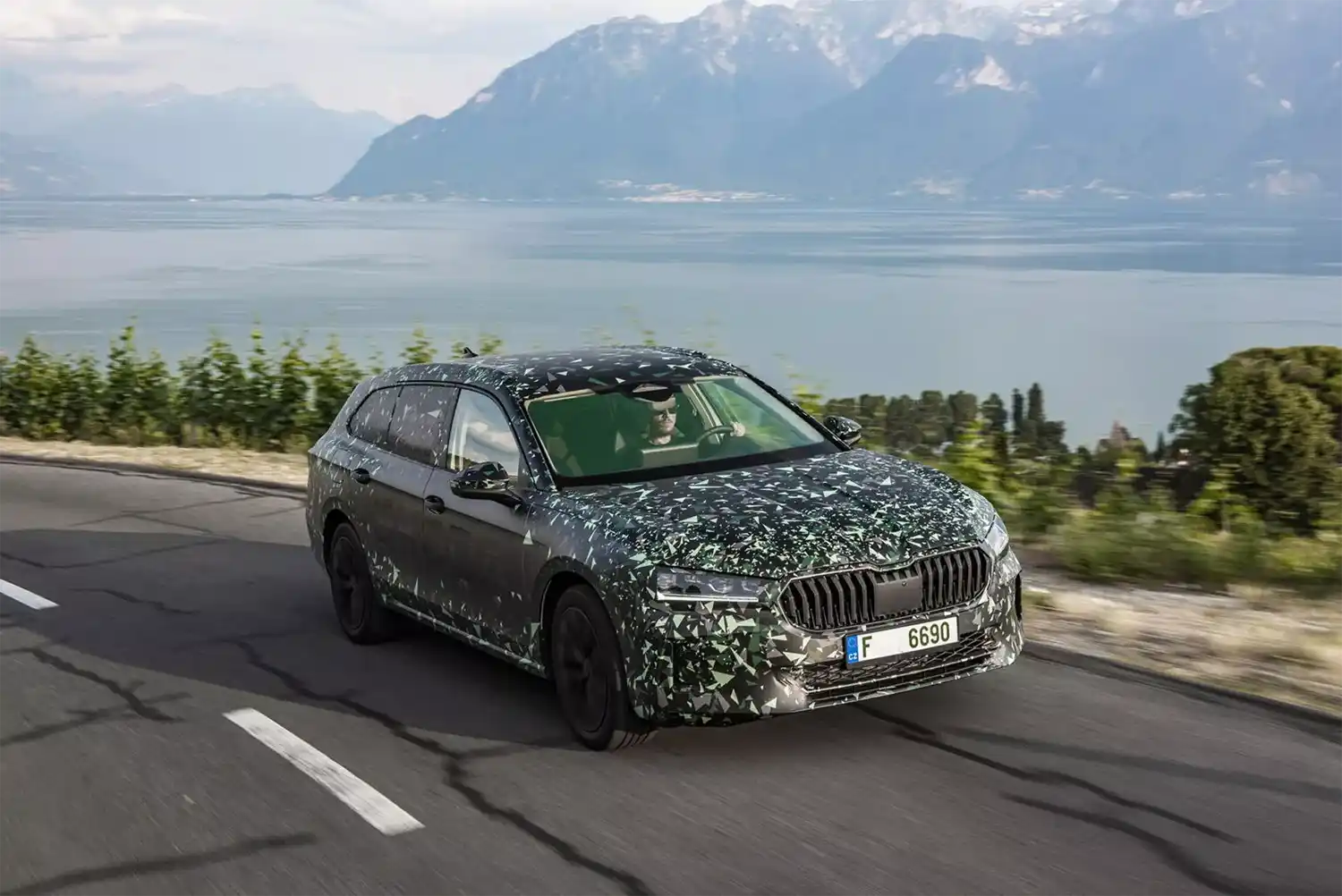 Longer and taller, with increased headroom
The new Škoda Superb is longer and taller than its predecessor both in the hatchback and the Combi estate version, while the wheelbase has remained unchanged. Headroom has grown considerably for all passengers and the luggage compartment holds a generous 645 litres in the hatchback and 690 litres in the Combi estate version.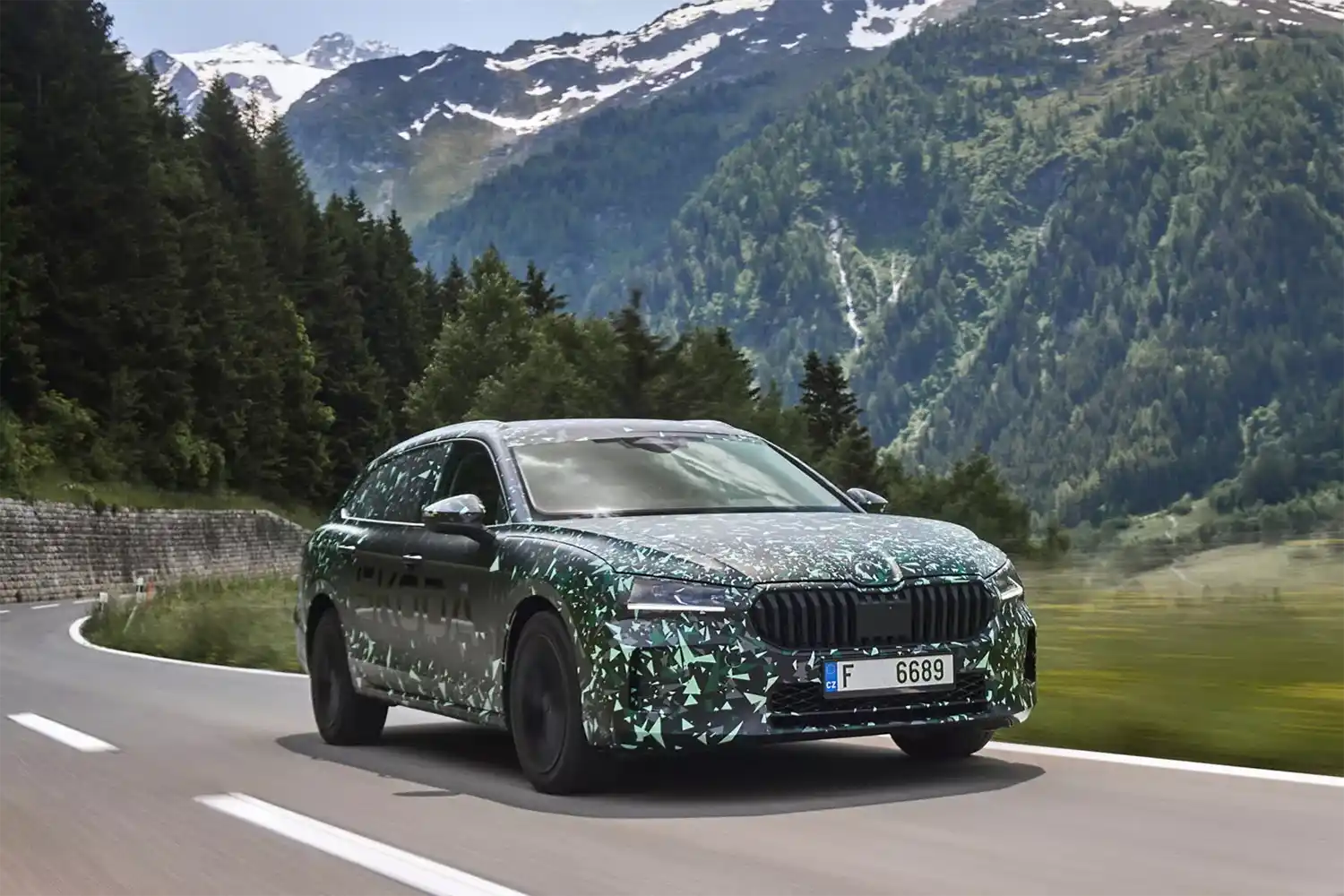 Dimensions* (comparison to the current model)
| | | |
| --- | --- | --- |
| Dimensions | Škoda Superb hatchback | Škoda Superb Combi estate |
| Length [mm] | 4,912 (+43) | 4,902 (+40) |
| Width [mm] | 1,849 (–15) | 1,849 (–15) |
| Height [mm] | 1,481 (+12) | 1,482 (+5) |
| Wheelbase [mm] | 2,841 | 2,841 |
| Headroom in front seats [mm] | 1,049 (+11) | 1,049 (+7) |
| Headroom in rear seats [mm] | 986 (+6) | 1,008 (+8) |
| Luggage capacity [litres] | 645 (+20) | 690 (+30) |
Powertrains: Modern engines, increased electric range and premiere for mild-hybrid technology
The fourth-generation Škoda Superb is not only more economical and eco-friendly than ever. It also comes with a wide choice of powertrains. The range includes three petrol engines, two diesels and a new plug-in hybrid with an increased electric range. For the first time in a Superb, there is a mild-hybrid variant. All powertrain options are mated to a DSG.
"The Superb has traditionally been the standard bearer of the Škoda brand. This is why each new model generation has been accompanied by technological premieres for our brand. Four years ago the Superb iV plug-in hybrid signalled our clear commitment to electric mobility. The upcoming new generation takes the electrification of the drivetrain a step further, with an electric range increased to more than 100 kilometres and for the first time ever in a Superb a mild-hybrid powertrain."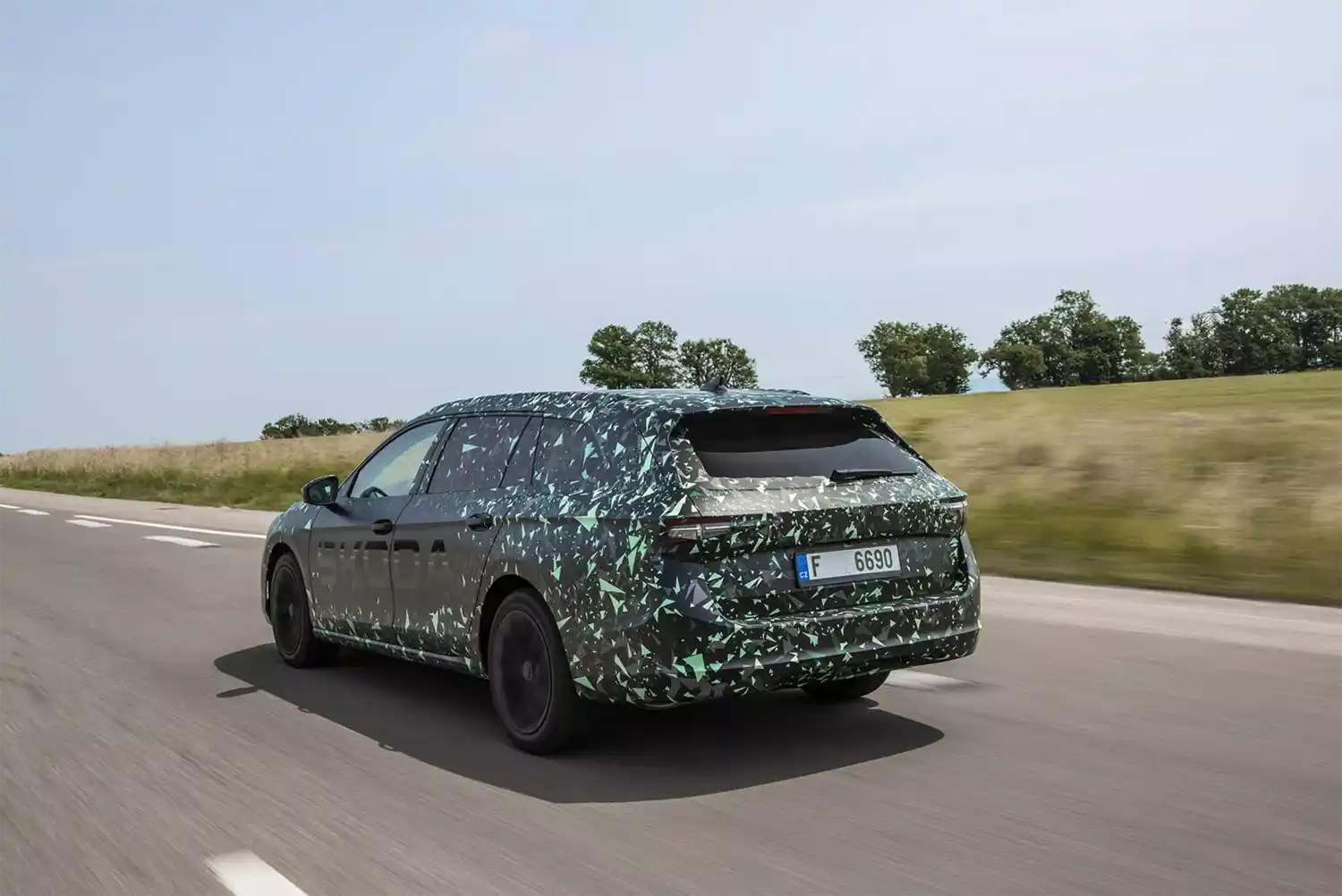 Johannes Neft, Škoda Auto Board Member for Technical Development
Best of both worlds: six powertrain options always mated to DSG, longer electric range for the plug-in hybrid and a new mild-hybrid version
Gear changes in the fourth-generation Superb are now handled exclusively by a DSG automatic transmission with a steering-column-mounted shift lever. The clutch transmits the power of highly efficient combustion engines as well as various hybrid drivetrains. And Škoda Auto keeps offering the best of both worlds to meet the needs of existing and new customers. For this reason, the powertrain portfolio for the new Superb generation includes – besides three petrol engines and two diesels – an all-new mild hybrid and a new plug-in hybrid with increased electric range. The latter is reserved for the Combi estate version, with a 110 kW (150 hp) 1.5 TSI now complementing its electric motor. The powertrain's maximum output of 150 kW (204 hp) reaches the front wheels via a 6-speed DSG. Compared to its predecessor, the high-voltage battery has grown by 12.7 kWh to 25.7 kWh, increasing the vehicle's purely electric range to more than 100 kilometres. In addition, Škoda has increased the maximum charging rate at wall boxes and AC charging points from 3.6 to 11 kW, enabling the battery to be charged more quickly. The plug-in hybrid version also allows DC charging with a maximum charging rate of 50 kW. As before, charging is also possible at 2.3 kW from a 230-V household socket. The Superb iV's fuel tank holds 45 litres. The entry-level engine is a 1.5 TSI with mild-hybrid technology and an output of 110 kW (150 hp). Both hybrid engines are from the new generation of EA 211 evo2 engines, run on the fuel-efficient Miller cycle and feature a turbocharger with variable turbine geometry. The 1.5 TSI with mild-hybrid technology also comes with latest-generation active cylinder technology (ACT+). There are also two 2.0 TSI variants delivering 150 kW (204 hp) and 195 kW (265 hp). The top petrol engine comes with all-wheel drive as standard, as does the most powerful diesel, a 2.0 TDI with 142 kW (193 hp). The entry-level diesel is a 2.0 TDI with 110 kW (150 hp). All petrol engines and diesels are mated to a 7-speed DSG, and all six powertrain options meet the Euro 6e emissions standard.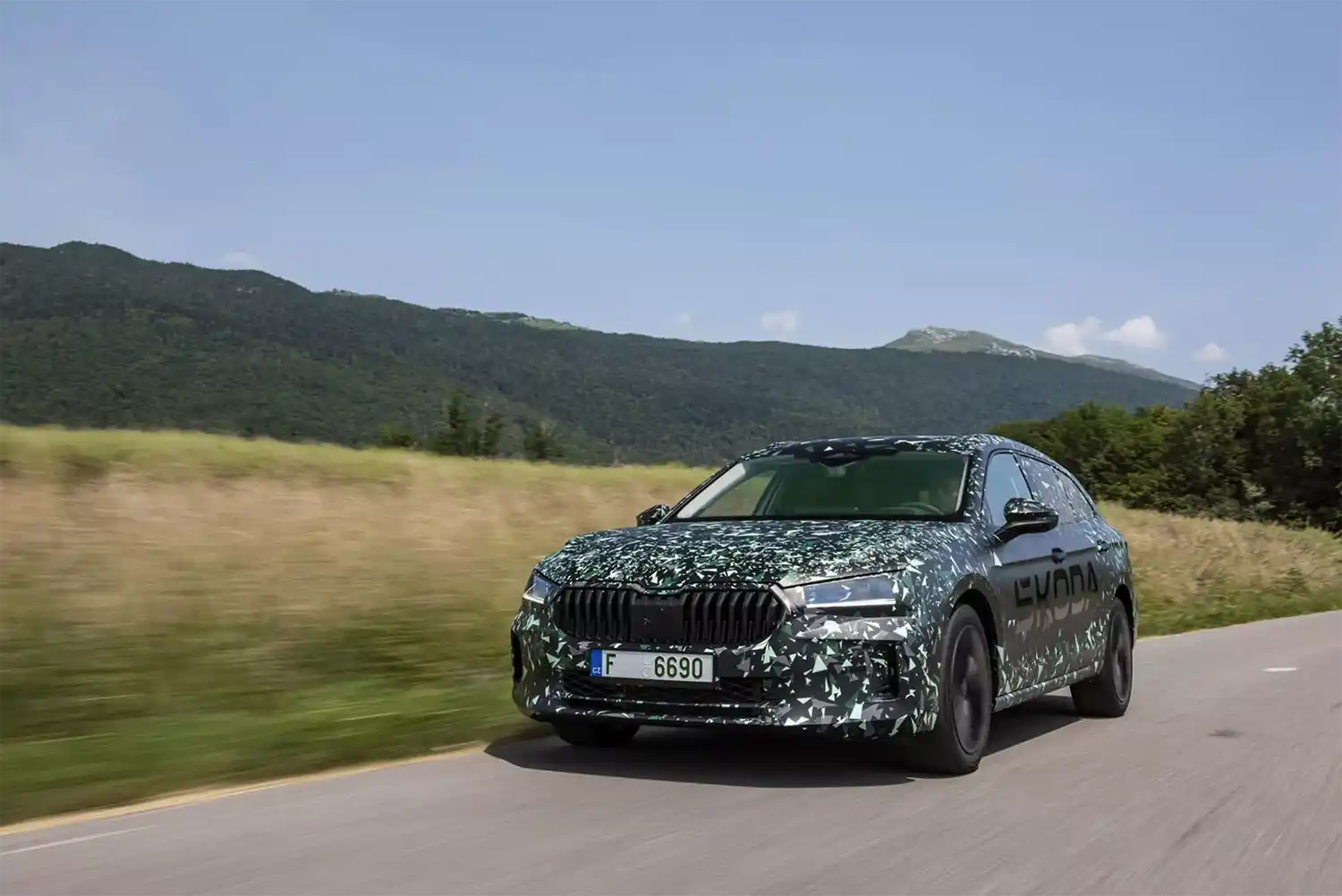 A new cooling module improves cooling performance and reduces aerodynamic drag. The maximum power rating of the fans for engines with high cooling demands has increased from formerly 800 to now 1200 W in the new Superb.
Powertrains overview
Engine
Transmission
Max. power output
[kW]
[hp]
Petrol
 
 
1.5 TSI (mHEV)
7-speed DSG
110
150
2.0 TSI
7-speed DSG
150
204
2.0 TSI
7-speed DSG 4×4
195
265
Diesel
2.0 TDI
7-speed DSG
110
150
2.0 TDI
7-speed DSG 4×4
142
193
Plug-in hybrid
1.5 TSI iV*
6-speed DSG
150**
204
Safety: Many new and enhanced safety and assistance systems
The new Škoda Superb has raised safety to a new level. It comes with numerous new or enhanced assistance systems. Turn Assist and Crossroad Assist make their debut in the Superb. In addition to the familiar Predictive Pedestrian Protection feature, the standard Front Assist now also detects cyclists. Up to ten airbags, including a central airbag, ensure a high level of passive safety.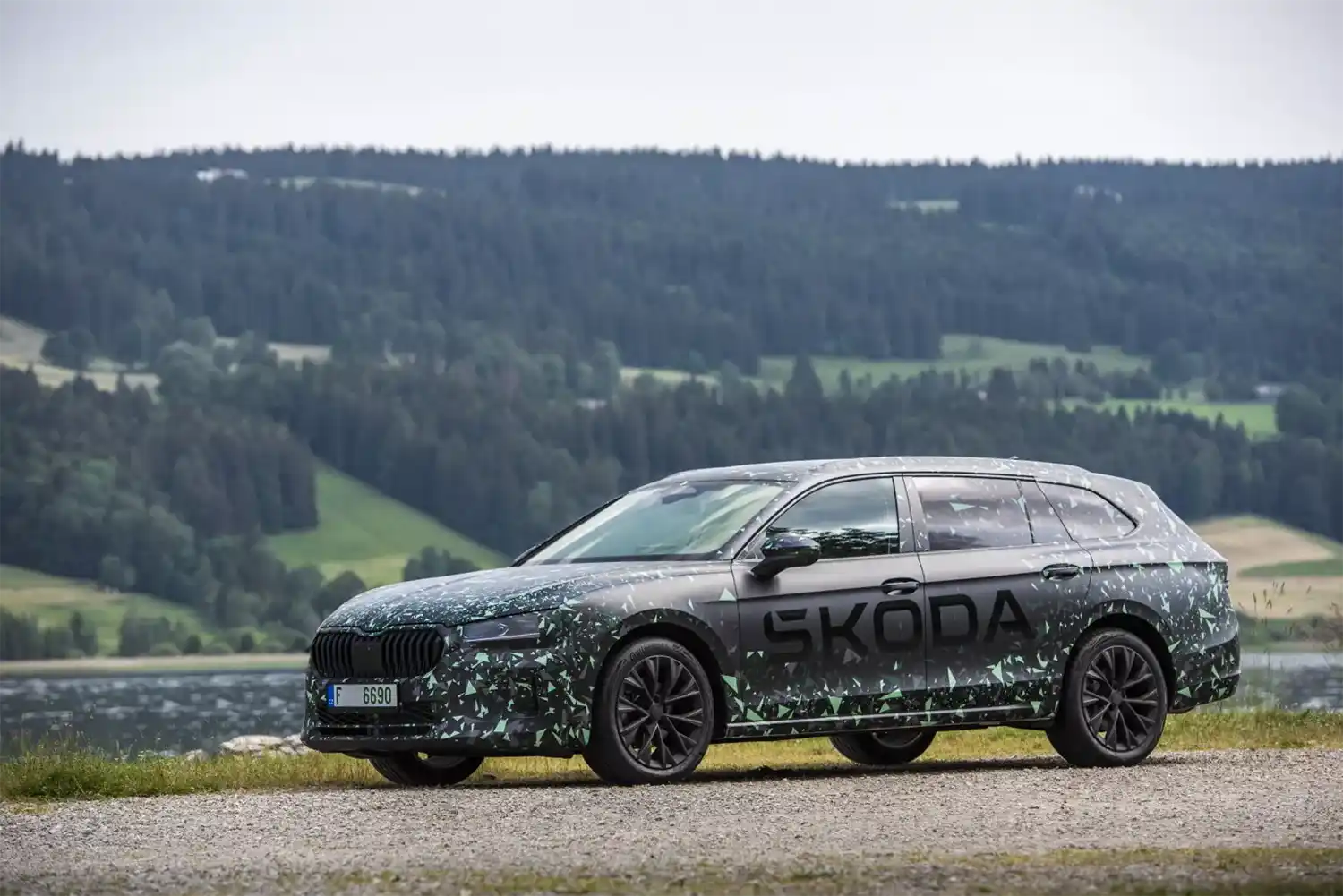 New and enhanced assistance systems
The fourth-generation Superb offers a comprehensively improved Emergency Assist feature while Turn Assist is a first for this model series. It warns of potential collisions with oncoming vehicles when turning into side streets and automatically applies the brakes. Another new feature is Crossroad Assist. This uses radar sensors in the front bumper to detect cross-traffic at intersections where visibility may be impaired and issues an acoustic alert along with a visual warning in the central display. The Front Assist system has been updated as well; in addition to pedestrian protection, it now also looks out for cyclists, thanks to the Predictive Cyclist Protection feature. The new Top View uses four cameras for 360-degree monitoring of the vehicle's surroundings, now with improved image resolution.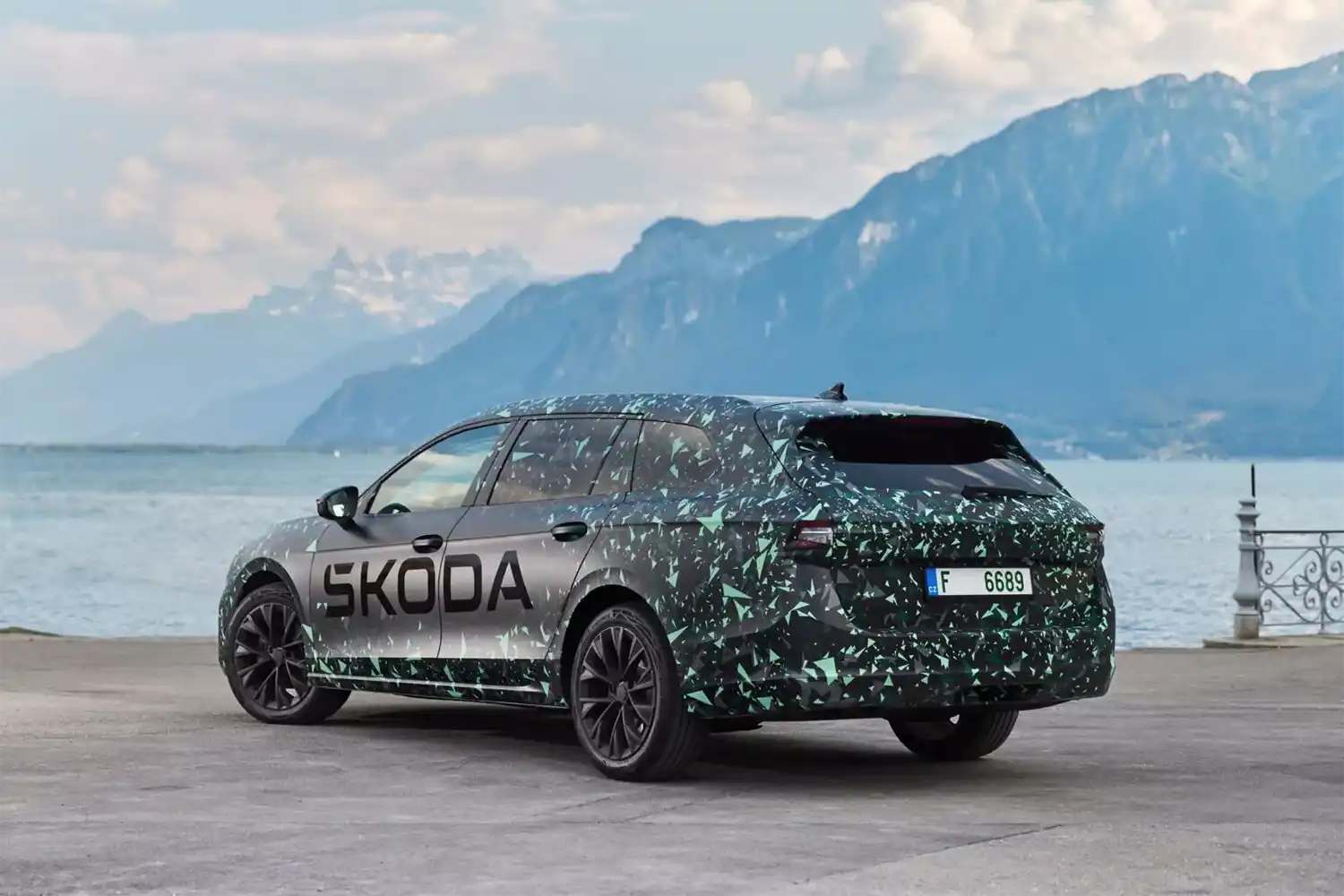 Up to ten airbags ensure a high level of passive safety: In terms of passive safety, the Superb now offers a total of ten airbags: the airbags for the driver and front passenger, the front side and head airbags and the driver's knee airbag as well as a central airbag between the front seats included as standard to prevent the front passengers from colliding with each other in the event of an accident. Two side airbags for the outer rear seats are optionally available.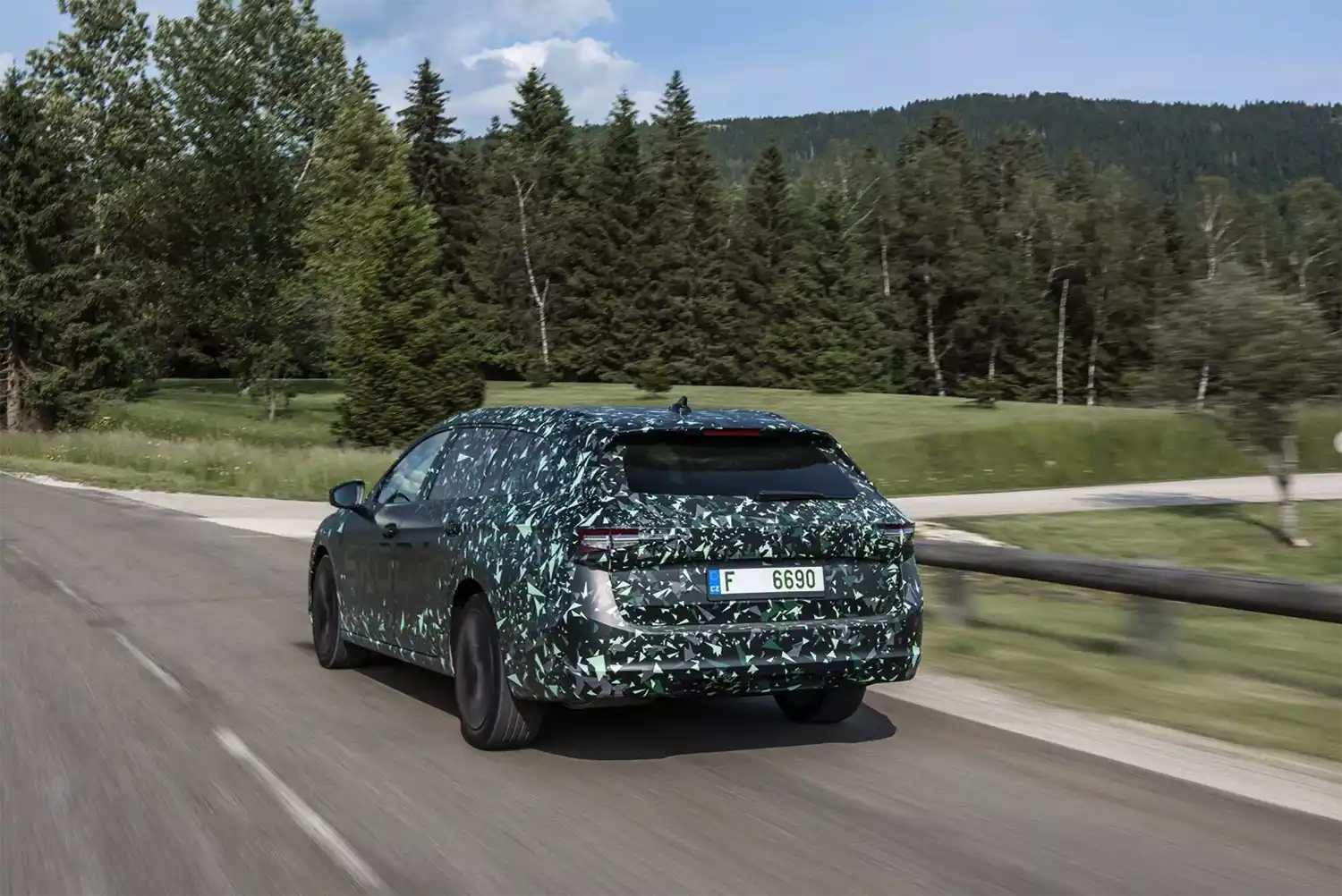 Success story: Debut of first Superb models back in the 1930s – the modern-day Superb entered the scene in 2001
The success story of the modern-day Škoda Superb began in 2001 – more than 50 years after the original Superb, which was produced between 1934 and 1949. To date, more than 1,560,000 units of the Superb have been delivered to customers worldwide, and the Superb and Superb Combi estate have won numerous international awards from renowned European car magazines.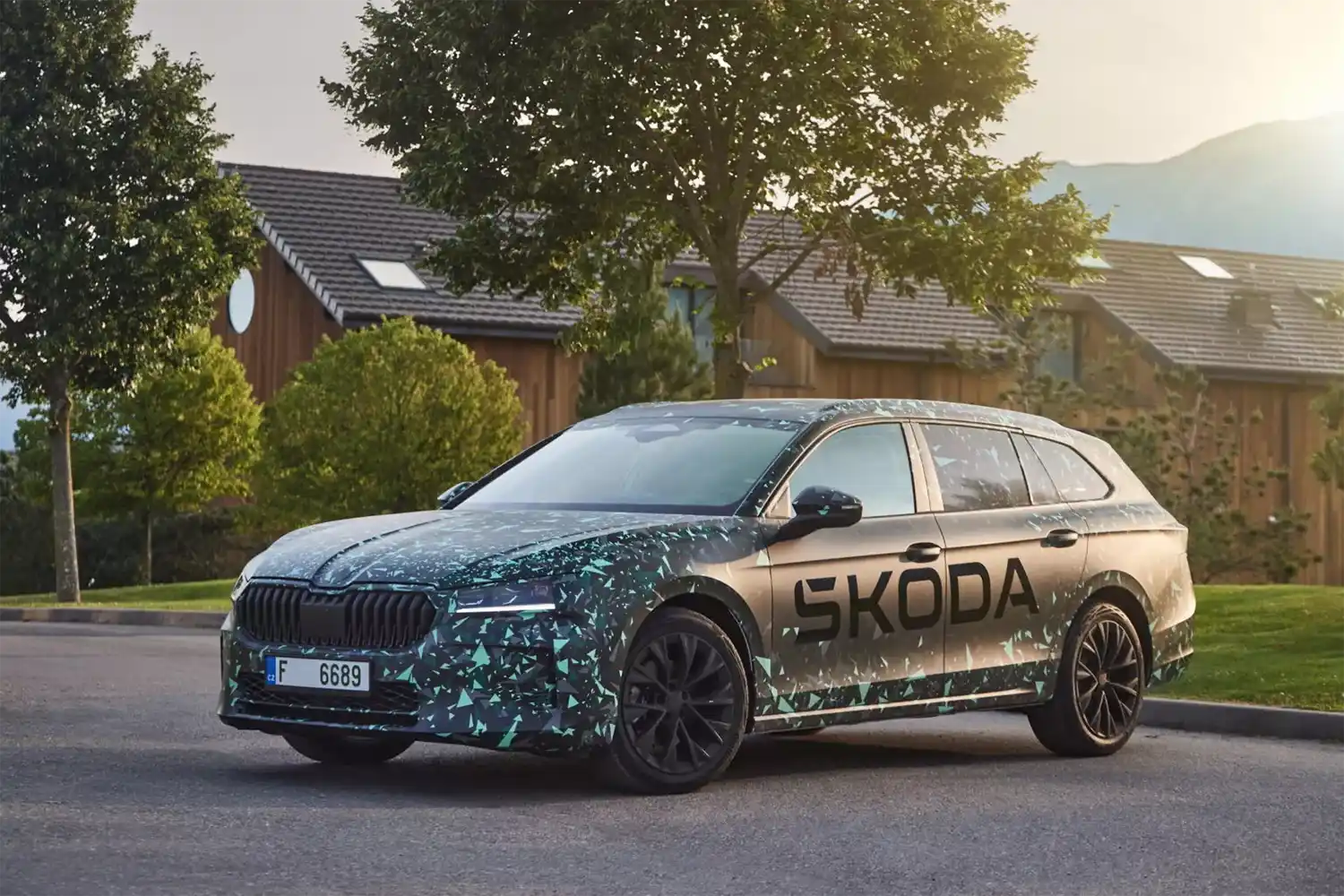 First Superb models in the 1930s
The forerunner of today's Superb models was the luxurious Škoda 640 Superb. It was launched in 1934 and at 5.50 metres in length offered plenty of space for up to eight people. It was powered by a six-cylinder engine with a displacement of 2,492 cm³ and a power output of 40.5 kW (55 hp). From 1936, this elegant, dynamic and comfortable premium vehicle bore the name Superb. In 1938 Škoda launched its new 3000 OHV engine with a displacement of 3,137 cm³ and an output of 62.6 kW (85 hp). This straight-six engine was more efficient owing to its new design concept with overhead valves (OHV). Unlike many competitor models, it already came with a modern 12 V electrical system. The Superb 3000 OHV was available as a classic notchback saloon, as a semi-convertible with fixed window frames and as a limousine with a glass partition between the front and rear seats. From 1939 to 1940, the company produced about 10 eight-cylinder Superb 4000 cars. One of these rare cars is part of the Škoda Museum's collection. From 1935 until the end of production in 1949, a total of 2,500 units of all versions were built.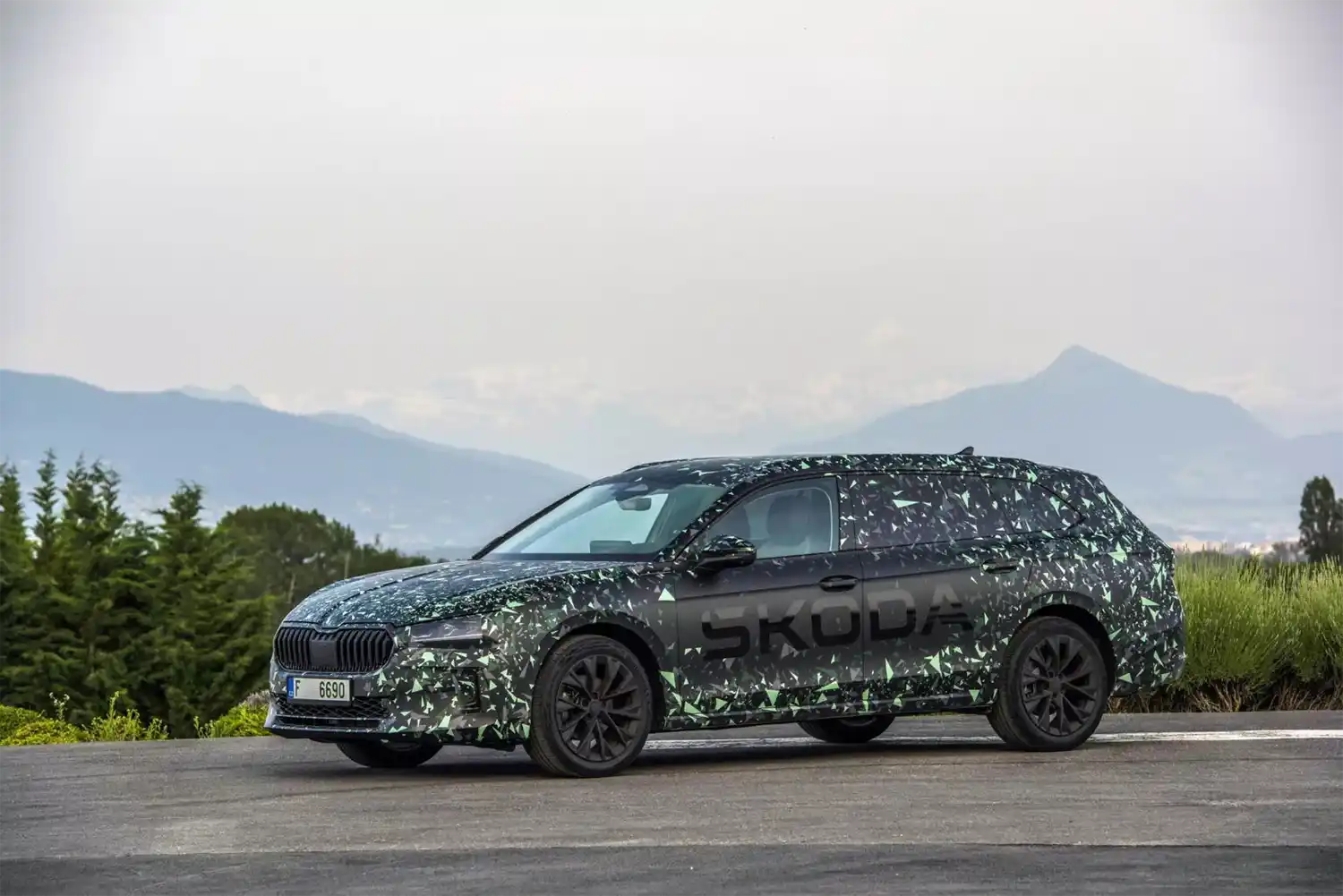 New edition in 2001
In 2001, Škoda revived the Superb model series after a 52-year hiatus. The brand has used it as its flagship model ever since. By 2008, around 137,000 units of the first modern Superb generation had rolled off the production line. It marked the introduction of many technical innovations at Škoda, such as the bi-xenon headlights with headlight washing system, the automatic Tiptronic transmission and the Coming Home function. The new Superb won head-to-head and group tests as well as numerous prestigious awards from the international media, including being named "Best Import Car" by German car magazine "Auto Bild".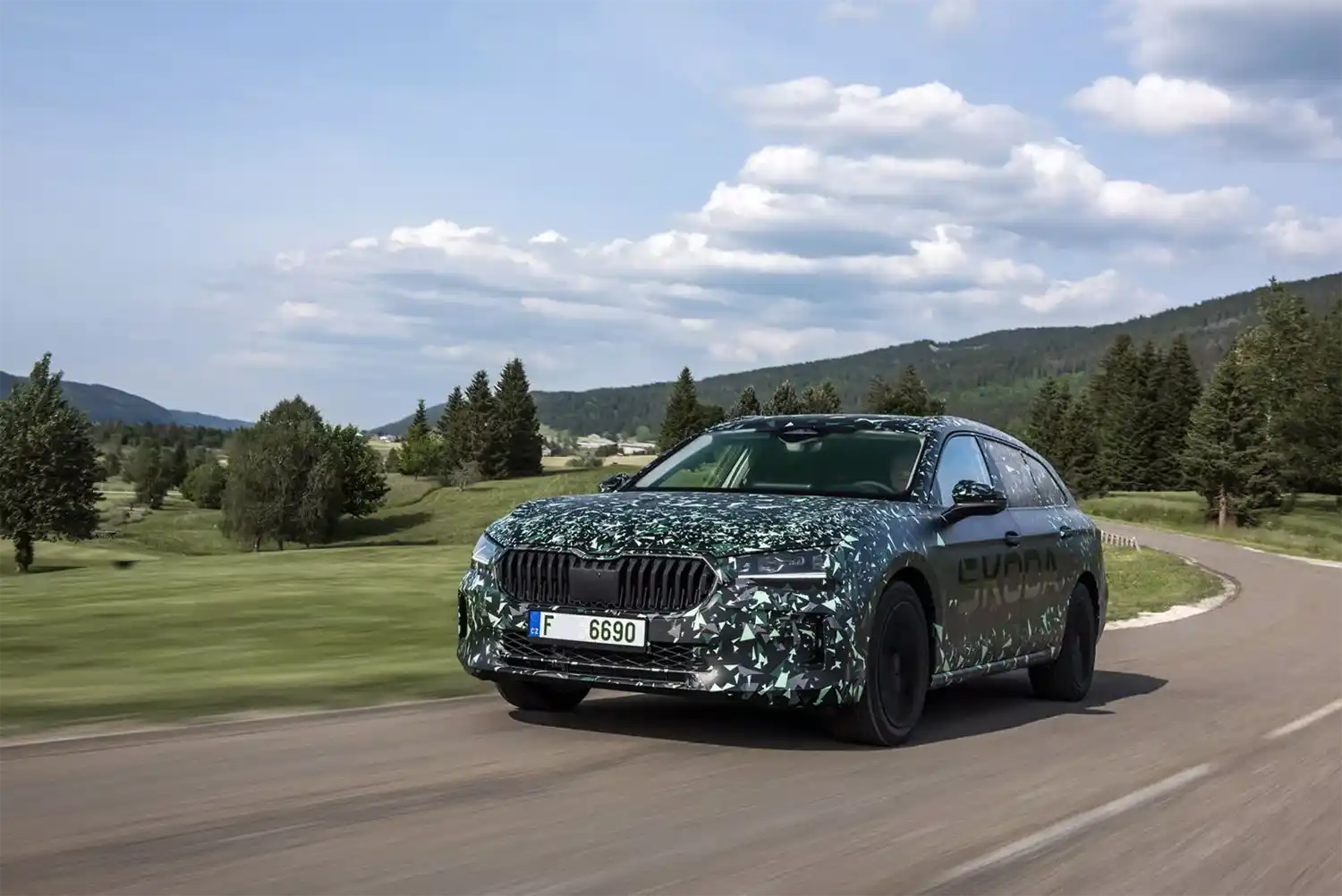 Second generation with innovative Twindoor and the first estate version
In 2008, Škoda presented the second generation of the Superb, the first to come with optional all-wheel drive and, from 2009, also as a particularly spacious Combi estate. The hatchback version of the Superb featured an innovative Twindoor, a large tailgate whose rear section could be opened separately like a conventional boot lid. The Superb thus combined the advantages of a notchback saloon with a separate boot and those of a hatchback with a large, wide-opening tailgate creating an easy-to-load, variable luggage compartment. By 2015, the second Superb generation had found 618,000 buyers and, like its predecessor, collected a bevy of international awards. British car magazine Top Gear named it "Luxury Car of the Year" in 2009, and in 2012 it won the title of "Best Import Car" in its category in the "Best Cars" readers' poll by German car magazine "auto motor und sport".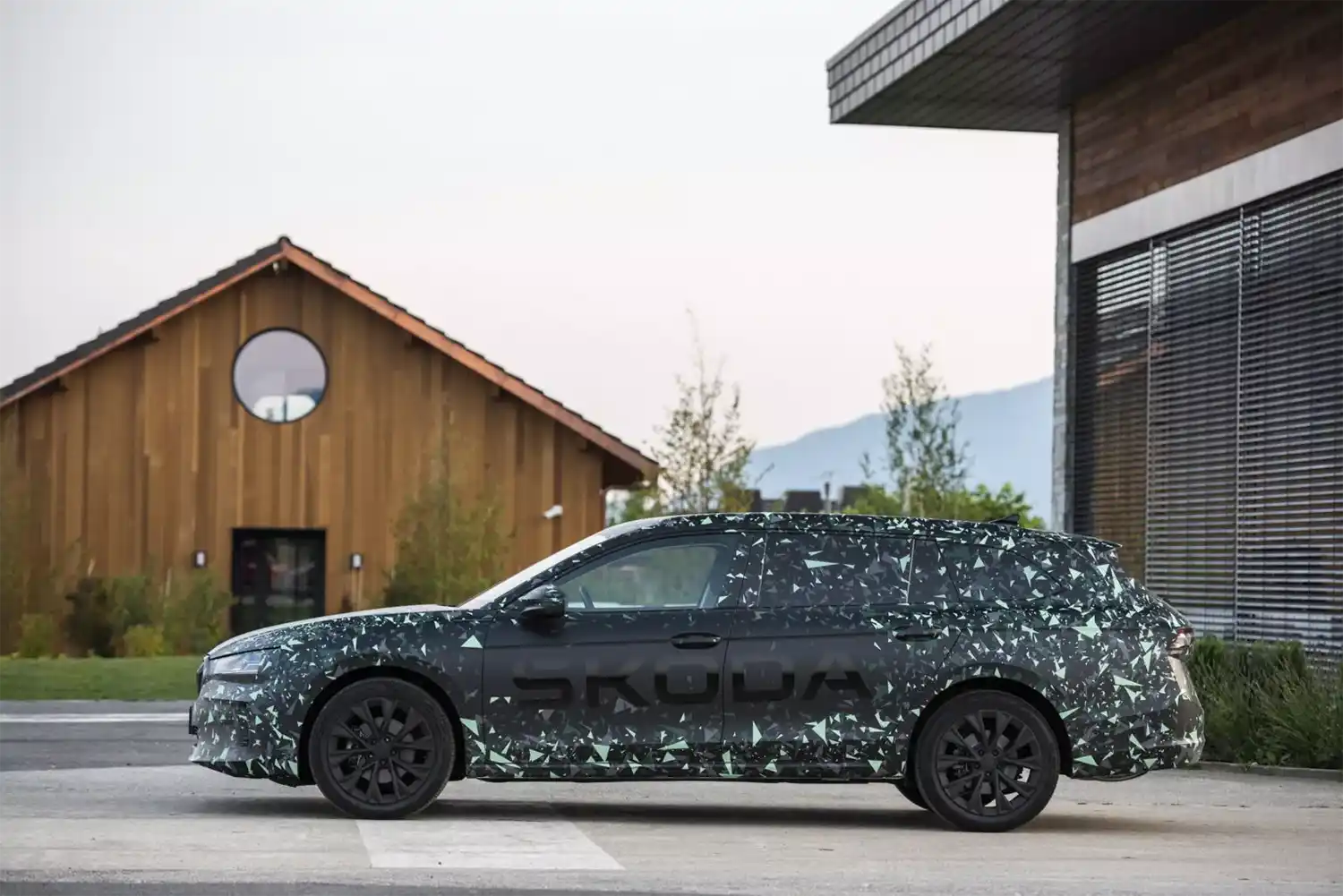 Third generation with further innovations and first Škoda plug-in hybrid model
The third Superb generation has been on the market since February 2015, with the Combi estate version following a few months later. It offers occupants and their luggage even more room and comfort along with innovative assistance systems and is more sustainable than all previous generations. This Superb was the first Škoda to be equipped with the optional Dynamic Chassis Control (DCC), a parking assistant and a 3-zone Climatronic system. In April 2017, Škoda passed the milestone of one million modern-era Superb vehicles produced. Since the 2019 model update, there has also been a Superb iV, the first Škoda plug-in hybrid model. By the end of May 2023, Škoda had delivered a total of 805,000 vehicles of the third Superb generation to customers. It has also won a range of prestigious awards. In 2016, for example, the car received the renowned Red Dot Award for outstanding product design. To date, more than 1,560,000 Superbs of all generations have been sold worldwide.