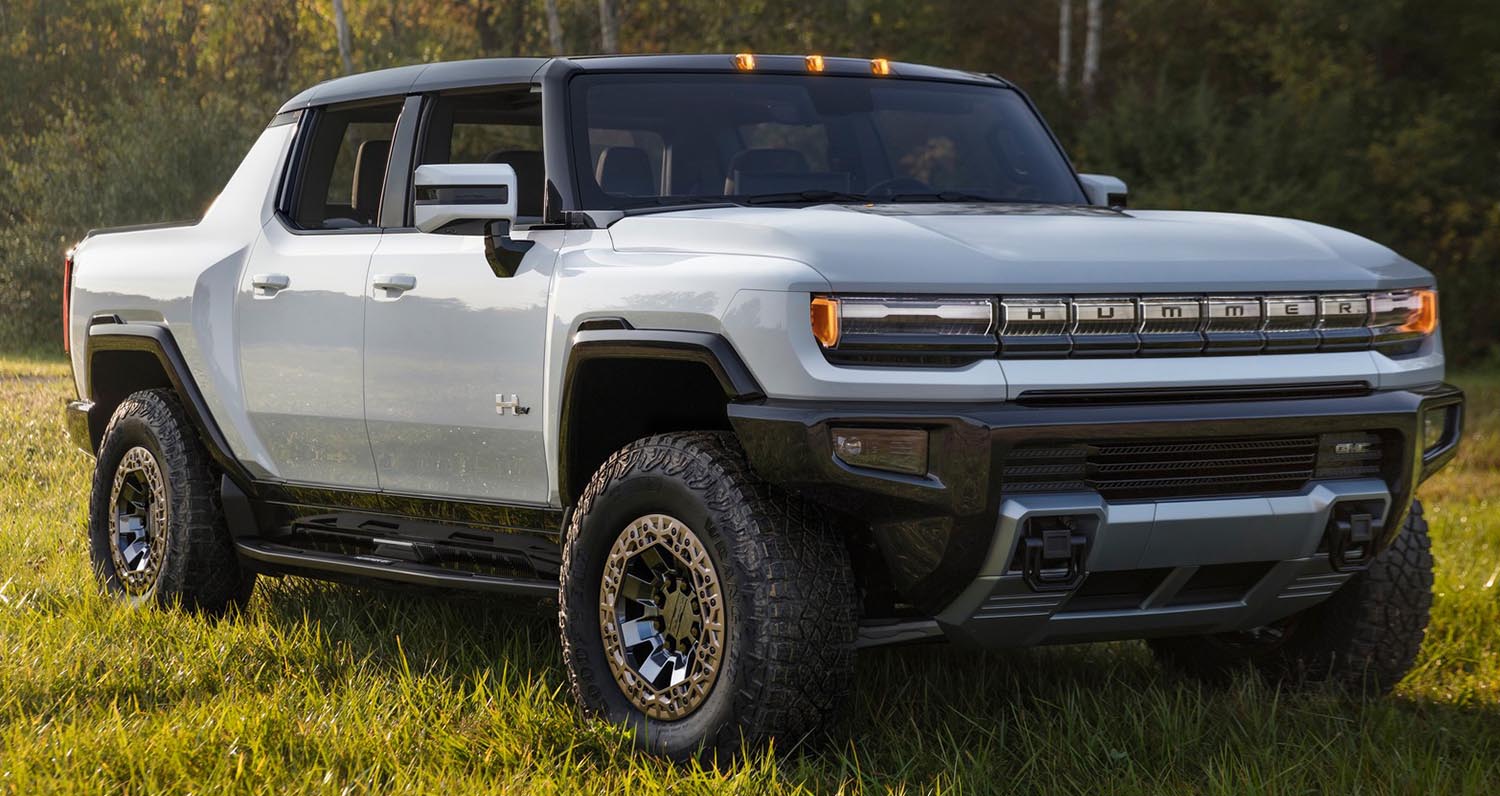 The 2022 GMC HUMMER EV experience puts drivers in the middle of every moment, with revolutionary on-road performance features enabled by next-gen EV power, head-turning looks and an unmistakable stance.
"The all-new GMC HUMMER EV will be the first of its breed – an open-air, all-electric supertruck with zero emissions and zero limits," said Al Oppenheiser, HUMMER EV chief engineer. "It will have the capability to go almost anywhere, on- or off-road, combining screaming performance with a nearly silent ride."
GMC HUMMER EV's unprecedented capabilities will blend with engaging technologies, creating a sense of intensity and drama for drivers and passengers.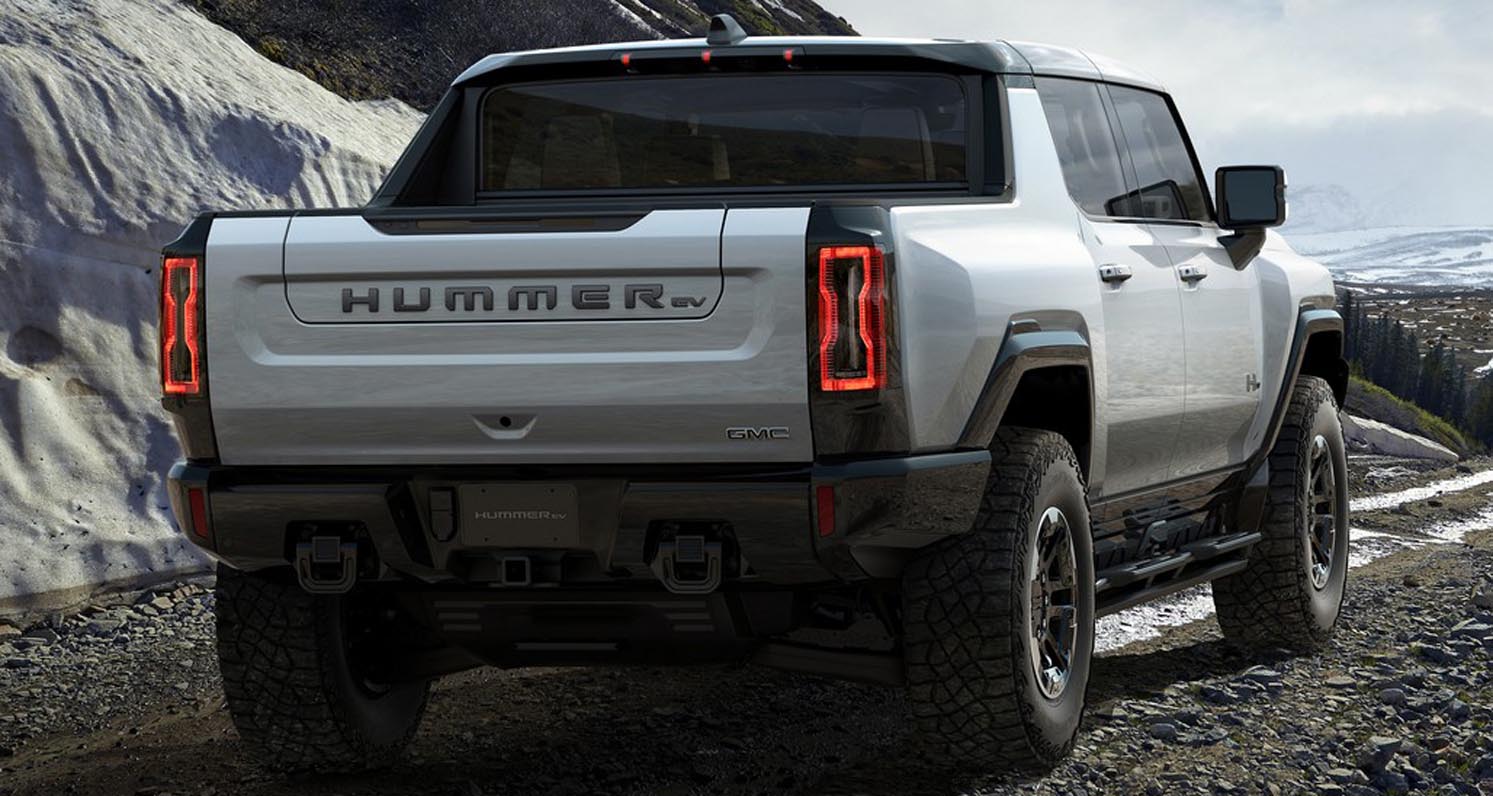 Watts to Freedom
GMC HUMMER EV's on-road performance matches its off-road chops. Three electric motors within the Ultium Drive system offer a GM-estimated best-in-class 1,000 horsepower and, when multiplied through the front and rear drive unit gear ratios, offer more than 11,500 lb-ft of torque (GM estimate) to the wheels, enabling unprecedented performance capability.
The ultimate expression of that performance will be delivered in HUMMER EV's own launch control mode, known as Watts to Freedom. This driver-selectable feature channels the propulsion system's tremendous power into acceleration bursts – including GM-estimated 0-60 mph in approximately 3 seconds.
"Watts to Freedom unlocks the full potential of the propulsion system and puts all of its available power to the pavement," said Oppenheiser. "It's an all-encompassing experience unlike anything else – purpose-built for straight-line fun."
As the vehicle readies itself for Watts to Freedom, a series of interior experiences convey the feeling of a "pre-launch countdown," including interactive controls, unique sounds through the Bose speakers and screen animations. The vehicle also lowers 2 inches to prepare for the launch, utilizing a lower center of gravity.
"It's an amazing demonstration of just how fast 1,000 horsepower and 11,500 lb-ft of electric propulsion can move you – regardless of the vehicle's size," said Oppenheiser. "It'll put a smile on your face every single time."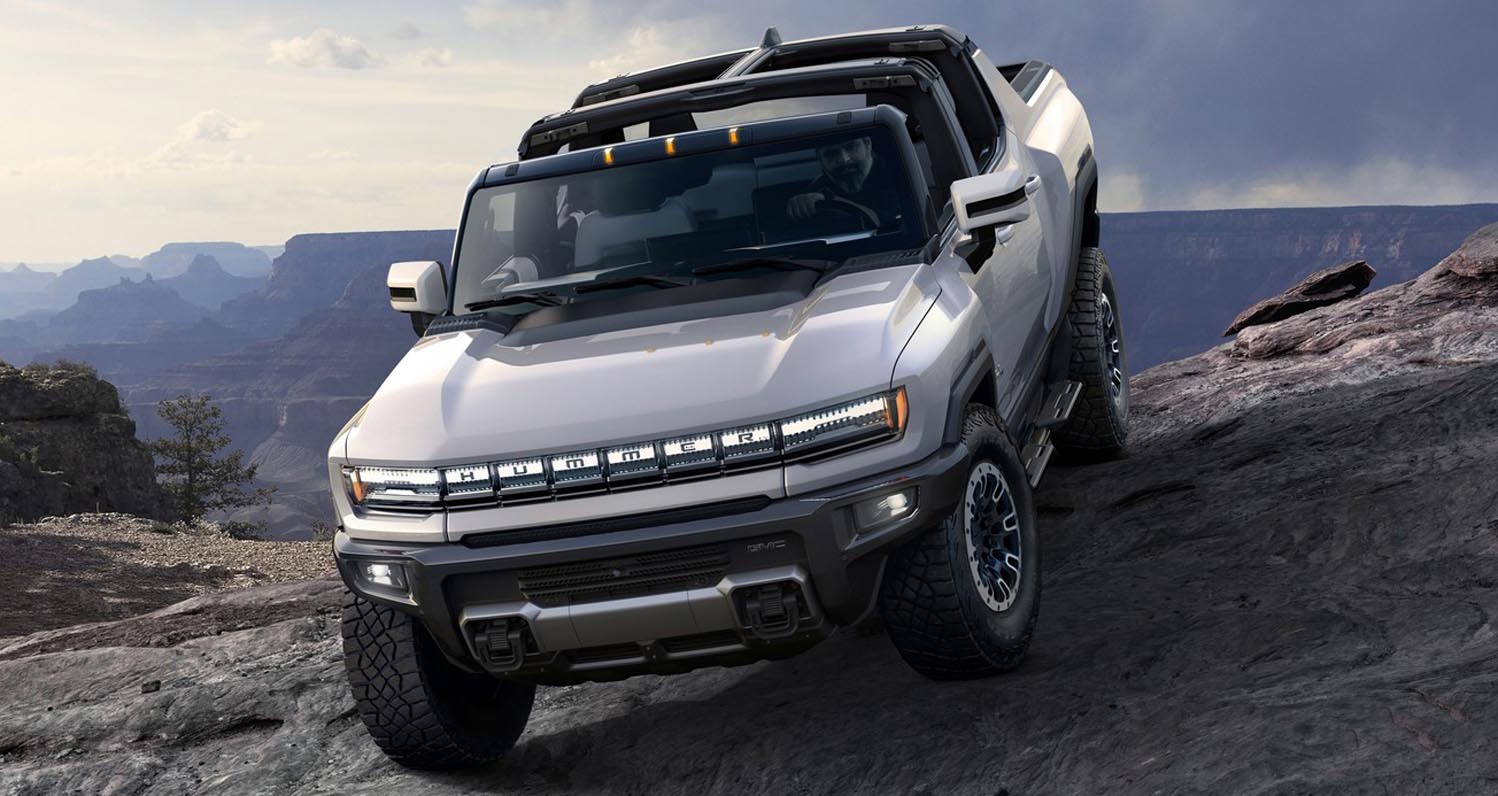 Drive Mode Control
The GMC HUMMER EV's driving experience can also be tailored by the driver for different conditions through Drive Mode Control. It includes four pre-configured modes: Normal, Tow/Haul, Off-Road and Terrain, along with the configurable My Mode – featuring a new Adrenaline Mode.
Each has specific chassis, suspension and propulsion characteristics, including the maximum torque delivered to the wheels; and along with the distinctive suspension and torque variables, the interior display screen graphics and colors, along with unique vehicle sounds, will be changeable with the different modes.
ProGrade Trailering Technology
The HUMMER EV will offer GMC's ProGrade Trailering Technology, a suite of smart, intuitive technologies, including an additional camera view designed to enhance trailering confidence.
ProGrade Trailering Technology features were proven on other GMC trucks and are adapted for the unique characteristics of the HUMMER EV's electric propulsion system. They include an in-vehicle Trailering App with Trailer Light Test, Trailer Electrical Diagnostics, Trailer Tire Pressure and Temperature Monitoring, Pre-Maintenance Reminders and Departure Checklist.
"The HUMMER EV is all about the experience – where it will go, what it can do and the feeling of freedom it will provide," said Oppenheiser. "It's meant to be an exceptionally versatile truck; and by offering features like Watts to Freedom, Drive Mode Control and ProGrade Trailering, it's also exceptionally fun."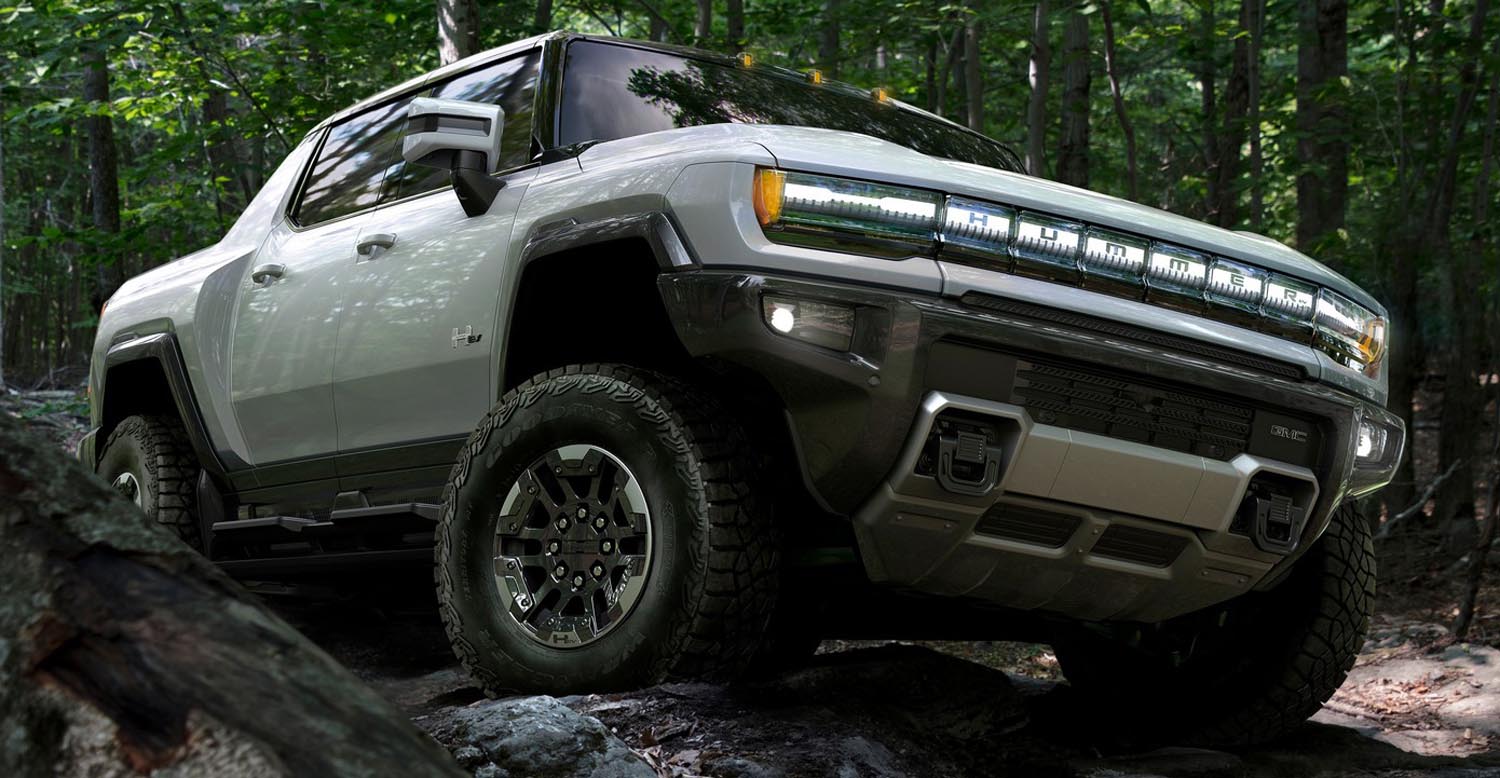 Epic, immersive technologies
In-vehicle technology is a fundamental element of the GMC HUMMER EV's immersive experience and will be responsible for everything from tracking range and locating charging stations, to monitoring vehicle performance on and off the road – and even ensuring the right soundtrack is playing on that Moab excursion.
It will all be accessible through two large displays: a 13.4-inch diagonal color touchscreen that's part of the GMC infotainment system and a 12.3-inch diagonal color driver information center display.
The cabin experience will be enhanced by advanced sound technologies, with HUMMER EV's Bose Premium sound system with Centerpoint surround signal processing and 14 high-performance speakers to deliver a powerful and immersive listening experience. Beyond music reproduction, Electric Vehicle Sound Enhancement uses Bose Active Sound Management capabilities, combining sound enhancement with noise masking to optimize the vehicle's cabin acoustic environment.
Powered by Epic's Unreal Gaming Engine, HUMMER EV's graphic HMI displays make features and selections easy to find and intuitive to navigate at a glance. The start-up animation, along with different screen colors and distinctive graphic displays for different drive modes enhance the interactivity of the technologies and apps.
"The HUMMER EV comes alive when you interact with it," said Scott Martin, HUMMER EV creative director, UX. "It involves and rewards you, enhancing the experience by making you a bigger part of it."
Some functions can be activated by voice command, while smartphone-like swipe functionality makes scrolling and feature selection simple within the infotainment system. Feature selection through the driver information center is available through steering wheel controls.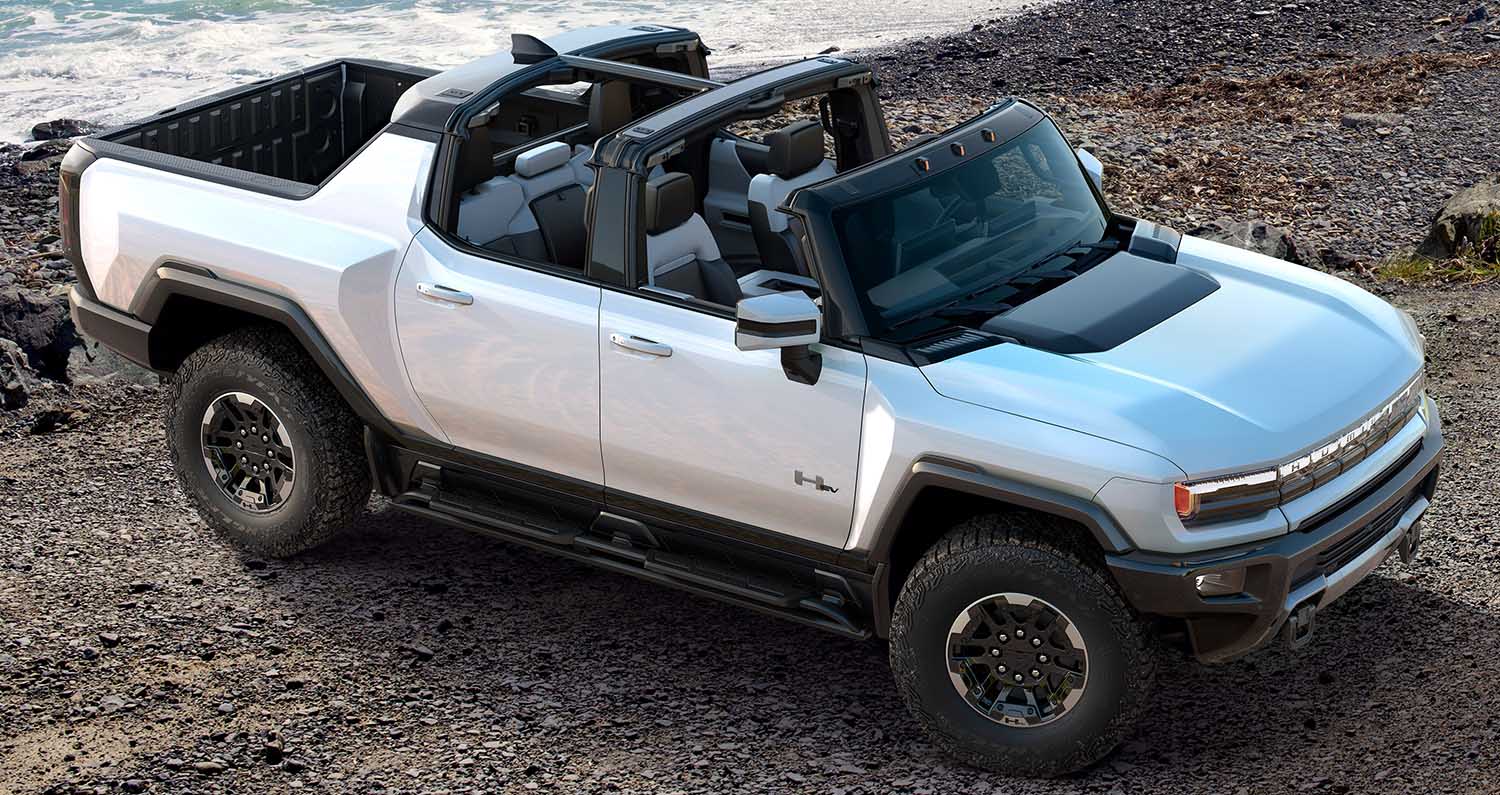 Three fundamental in-vehicle information centers help owners navigate the capabilities and selectable features of the vehicles:
Energy Assist – Monitors energy use, sets up charging schedules, battery temperature conditioning and more
Off-Road Widgets – Offer a myriad of information related to the HUMMER EV's selectable capabilities and performance readouts in off-road driving scenarios – everything from the ride height and eLocker engagement to compass headings, pitch/roll status and more
ProGradeTrailering App – Based on the Trailering App developed for GMC's full-size trucks, this widget allows the owner to create a trailer profile, perform a trailer light test, establish pre-departure checklists and more
Digital Key
With the Bluetooth and Ultra-Wideband-enabled Digital Key, owners will be able to use their smartphone as the key fob for their HUMMER EV. The technology detects the owner's phone and its location in proximity to the vehicle, enabling a number of passive operations such as approach lighting, entry unlock and vehicle operation. The technology was pioneered on GM EVs used in ride-sharing programs and is enhanced to offer greater convenience for HUMMER EV owners.
Unmistakable design
At a glance, there's no mistaking this truck as anything but a GMC HUMMER EV.
Its formidable styling cues, including wheels at the corners and a high stance, are rooted in a capability-first mantra, where off-road functionality such as approach and departure angles take precedence in the design.
"We had a unique opportunity: Create something people will instantly recognize while challenging perceptions by creating a zero-emissions, zero-limits electric truck," said Phil Zak, HUMMER EV design executive director. "The HUMMER EV is a bold design statement combined with a truly capable chassis that visually conveys an eagerness to forge a new path."
The design is infused with signature cues, from the low-turret upper, upright windshield and rugged execution. Its contemporary, muscular design also communicates a technological leap forward: The front and rear lights feature charge indication, and the front light signature serves as the face of the vehicle.
The design further incorporates clever details such as the distinctive HUMMER EV "H" motif seen in several elements, including the headlamps, taillamps and wheels.
Additionally, the industry-leading Infinity Roof is a signature element of the HUMMER EV's expressive design, offering open-air driving via modular, transparent Sky Panels. Even the I-Bar mounting frame for the panels is removable, for a totally open experience above, while a power-drop rear window takes the open-air concept even further.
Under the full-power-equipped hood, the roof panels can stow in accessory cases inside the front storage compartment known as the "frunk," when equipped with the dealer-available accessory storage tray.
"The Infinity Roof embodies the HUMMER EV's spirt of adventure," said Zak. "It figuratively and literally removes the barrier between passengers and the world, for a more immersive driving experience."
MultiPro Tailgate
Pioneered on the GMC Sierra, the HUMMER EV incorporates the six-function MultiPro Tailgate tailored specifically for the design of the all-electric supertruck. The six functions include: primary gate, primary gate load stop, easy access, wide step, inner gate load stop and inner gate with work surface.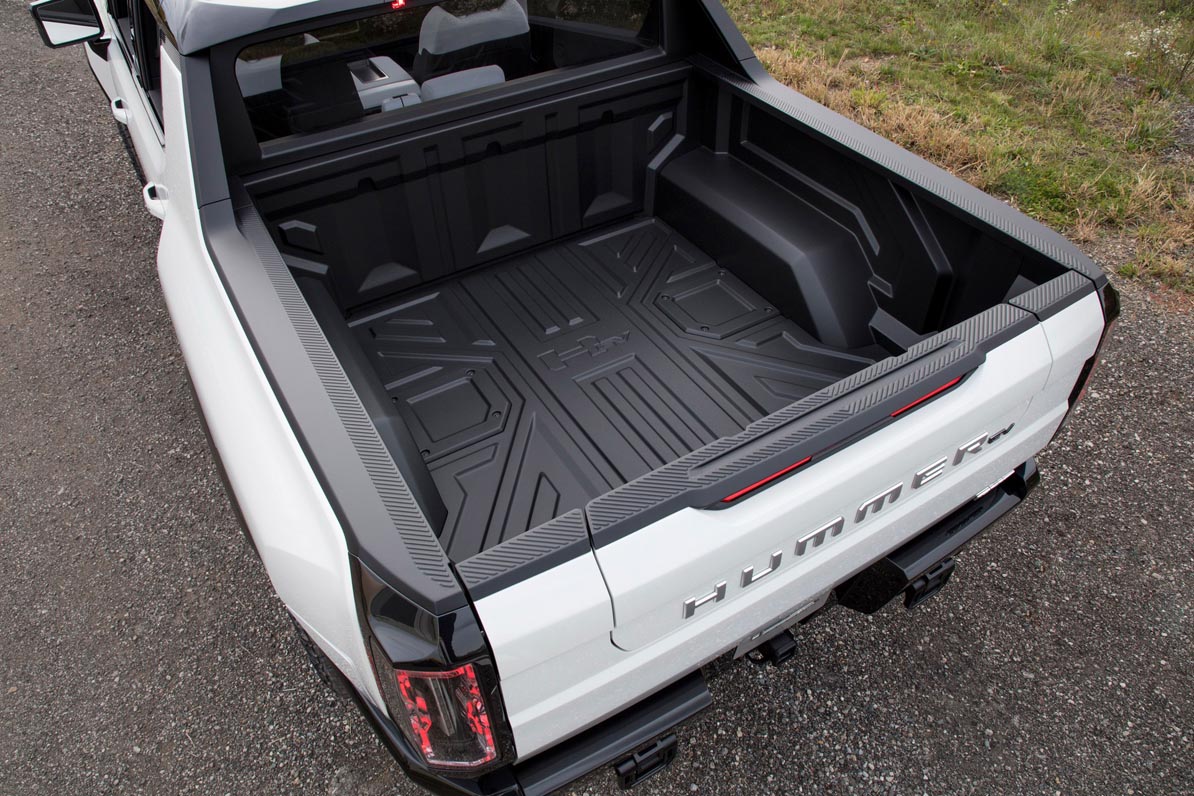 Technical interior
The five-passenger HUMMER EV's bold cabin design is geometric and textured. Its newly developed surface materials contribute to the premium look and feel commensurate with GMC's high standards for craftsmanship and ruggedness.
There's no conventional carpet in the interior, either. A versatile and easy-to-clean vinyl floor, topped with rubber flooring made from recycled material, is functional and instilled with distinctive design elements. Rubber inserts for each passenger position are designed for easy removal and clean up after a day on the trail.
"HUMMER EV will offer a refined and rugged interior for owners who want something fresh and new, yet capable enough to get dirty and handle what you throw at it," said Brett Golliff, HUMMER EV color and trim manager. "Everything we did, from visibility and seating to feature control location, was done to enhance the overall driving experience on- and off-road."
Convenience is also built into the HUMMER EV's interior, with handy storage solutions throughout, including a roomy two-tier front floor console – enabled by the flat floor of the EV architecture – along with multiple storage bins and a lockable glove box.
And like the exterior, clever design cues abound inside the cabin, including a stylized "H" for the instrument panel's central air vent and other details waiting to be discovered.
At launch, the 2022 HUMMER EV will be offered in Edition 1 trim, featuring a white exterior color, a unique high-contrast Lunar Horizon interior color and special Edition 1 interior badging. It also includes the Extreme Off-Road Package, which adds Adaptive Air Suspension with available Extract Mode capability, 4 Wheel Steer with CrabWalk, 35-inch-OD Goodyear Wrangler Territory MT tires, underbody armor, rock sliders, underbody cameras and more. The HUMMER EV Edition 1 will have a starting price of $112,595, including destination, when it goes on sale fall of 2021.
The HUMMER EV is the first full-electric vehicle in GMC's portfolio and is powered by General Motors' new Ultium battery system. Initial production begins in late 2021, at GM's Factory ZERO, Detroit-Hamtramck Assembly Center – a nearly 40-year-old facility repurposed and retooled with a $2.2-billion investment devoted to electric vehicle production. Future production vehicles out of the factory will offer zero emissions.