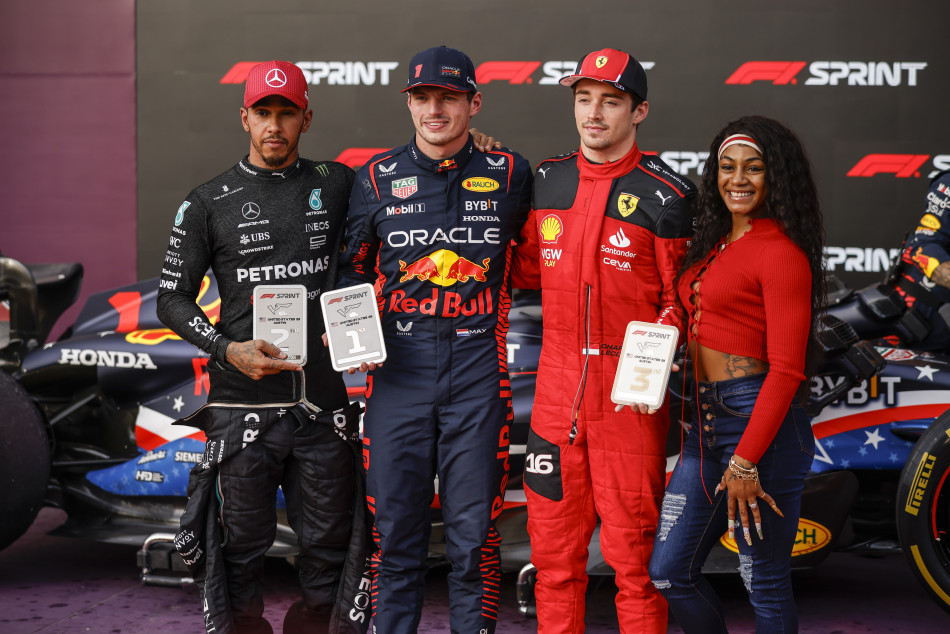 Max Verstappen took a dominant Sprint win at the Circuit of the Americas, beating Mercedes' Lewis Hamilton to the flag by more than nine seconds at the end of the 19-lap race with Charles Leclerc taking third place for Ferrari.
Verstappen's third Sprint win of the season was decided at the start. The Red Bull driver was beaten off the line by the fast-start Leclerc and Verstappen was forced to dive to the left to protect the inside line from the Ferrari driver who was pulling alongside. The pair almost went off track as they tussled but Verstappen eventually went into the opening corner in the lead.
The tussle mean that Leclerc was forced into an even tighter line into Turn 1 and as he rounded the first corner he was passed on the outside by Lewis Hamilton.
Behind the leaders Carlos Sainz, on Soft tyres, made a good start and he rose to fourth as he banged wheels with Oscar Piastri and then elbowed his way past the Australian's team-mate Lando Norris with Sergio Pérez in P6.
At the front, Verstappen began to eke out a gap to Hamilton and by lap six he had broken DRS to lead the Briton by 1.3s, while Leclerc had dropped back to three seconds behind the Mercedes driver.
Sainz and Norris were now battling for position, which allowed Pérez to reel in both and by the start of lap eight the Mexican was within DRS range of the McLaren. Sainz was beginning to suffer on his Soft tyres and on lap 10 Norris passed the Ferrari driver under DRS on the run to Turn 12 to steal P4. Pérez quickly closed the gap to Sainz and on the following lap he powered past the Spaniard at the same spot to take fifth place.
The second half of the race saw little action as the field settled into position and at the front Verstappen continued to pull away. By the start of lap 14 the Dutchman had four seconds in hand over Hamilton and over the final six laps he stretched the gap to 9.4 seconds – or an average of almost half a second quicker than his closest rival for the entirety of the race.
Leclerc took third place with Norris fourth ahead of Pérez. Sainz managed to hang on to P6 ahead of Alpine's Pierre Gasly and the final point on offer went to Mercedes' George Russell.
2023 FIA Formula 1 United States Grand Prix – Sprint 
1 Max Verstappen Red Bull Racing 19 31'30.849
2 Lewis Hamilton Mercedes 19 31'40.314 9.465
3 Charles Leclerc Ferrari 19 31'48.836 17.987
4 Lando Norris McLaren 19 31'49.712 18.863
5 Sergio Pérez Red Bull Racing 19 31'53.777 22.928
6 Carlos Sainz Ferrari 19 31'59.156 28.307
7 Pierre Gasly Alpine 19 32'03.252 32.403
8 George Russell Mercedes 19 32'05.099 34.250
9 Alexander Albon Williams 19 32'05.416 34.567
10 Oscar Piastri McLaren 19 32'13.252 42.403
11 Esteban Ocon Alpine 19 32'15.835 44.986
12 Daniel Ricciardo AlphaTauri 19 32'16.358 45.509
13 Fernando Alonso Aston Martin 19 32'19.935 49.086
14 Yuki Tsunoda AlphaTauri 19 32'20.582 49.733
15 Nico Hülkenberg Haas 19 32'27.499 56.650
16 Valtteri Bottas Alfa Romeo 19 32'35.250 1'04.401
17 Zhou Guanyu Alfa Romeo 19 32'38.821 1'07.972
18 Kevin Magnussen Haas 19 32'41.971 1'11.122
19 Logan Sargeant Williams 19 32'42.298 1'11.449
Lance Stroll Aston Martin 16 27'25.131 Brakes