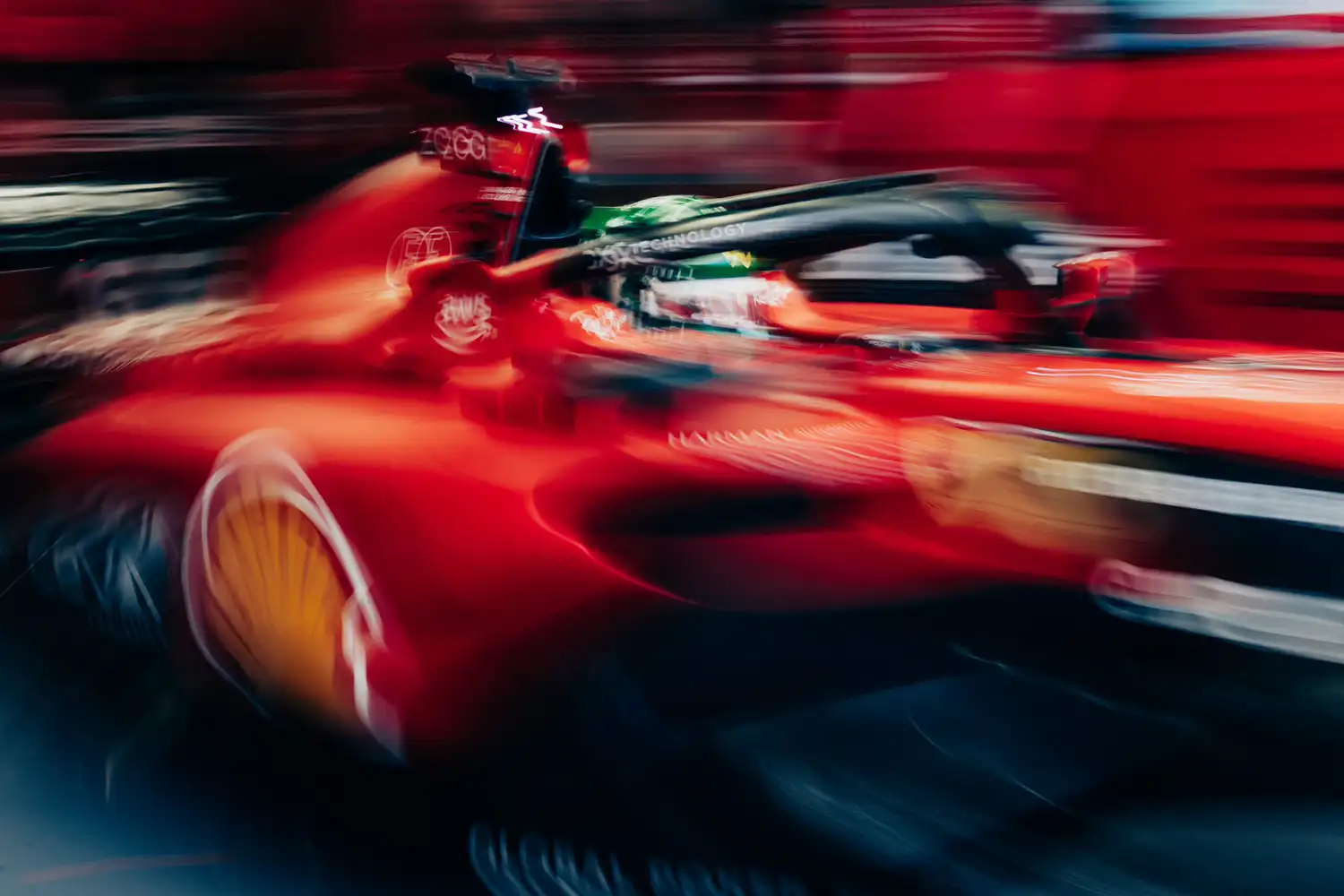 Max Verstappen will start the Sprint at the 2023 FIA Formula 1 Sprint from the front of the grid after beating Ferrari's Charles Leclerc to top spot by less than a tenth of a second. Lewis Hamilton claimed third place for the 19-lap race with McLaren's Lando Norris fourth.
Verstappen was to the fore from the start of the session and took top spot in SQ1 with a lap of 1:35.997, ahead of Friday's race pole winner Leclerc, with Williams' Alex Albon in third. Ruled out at the end of the opening session were the Haas pair of Nico Hülkenberg and Kevin Magnussen,  Alfa Romeo's Valtteri Bottas, AlphaTauri's Yuki Tsunoda and Williams' Logan Sargeant.
Verstappen was first out of pit lane at the start of SQ2 and this time on his opening run he crossed the line in 1:35.181.  Sergio Pérez, in the second Red Bull RB19, slotted into second place with a lap of 1:35.718, but the gap to his team-mate was too wide and the Mexican was shuffled back to fifth place behind the twin Ferrari's of Leclerc and Carlos Sainz and the P4 McLaren of Norris.
Verstappen went for a final run at the end of the session and it almost proved his undoing. The Dutchman initially looked on course to go quicker, but as he headed into Turn 9 he got out of shape and spun through 360˚ before regaining control. He trundled back to the pits to see out the last seconds in the garage.
Eliminated at the end of SQ2 were AlphaTauri's Daniel Ricciardo, Aston Martin's Fernando Alonso, Alpine's Esteban Ocon, the second Aston of Lance Stroll and Alfa Romeo's Zhou Guanyu.
After a quiet start to the final session, with the whole field holding fire for the first half of the eight-minutes, Verstappen headed out for a single run on Softs tyres and the champion powered to a lap 1:34.538 that proved to be enough to secure top spot for the afternoon's Sprint.
Leclerc got closest, six hundredths of a second off Max, with Mercedes' Lewis Hamilton in third ahead of the McLarens of Norris and Oscar Piastri and the second Ferrari of Sainz. That left Pérez with P7 for the 19-lap race, ahead of Mercedes' George Russell, Williams' Alex Albon and Alpine's Pierre Gasly.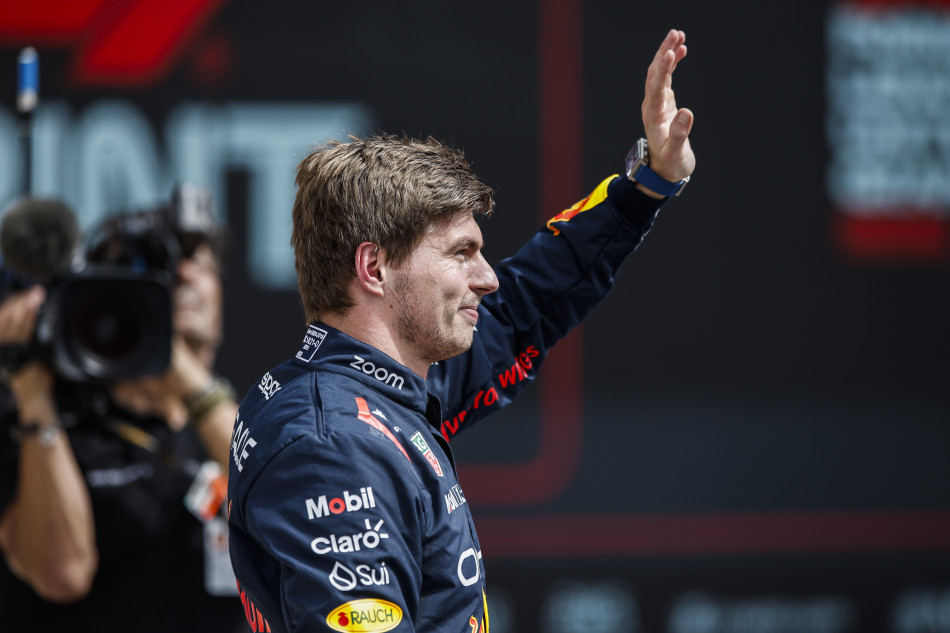 2023 FIA Formula 1 United States Grand Prix – Sprint Shootout 
1 Max Verstappen Red Bull Racing 1:35.997 3 100.000 12:37:23 1:35.181 5 12:52:29 1:34.538 3 13:12:57
2 Charles Leclerc Ferrari 1:35.999 6 100.002 12:41:46 1:35.386 5 12:53:02 1:34.593 3 13:13:48
3 Lewis Hamilton Mercedes 1:36.393 6 100.412 12:43:30 1:35.887 3 12:59:05 1:34.607 3 13:14:28
4 Lando Norris McLaren 1:36.499 7 100.522 12:42:58 1:35.594 5 12:53:55 1:34.639 3 13:13:11
5 Oscar Piastri McLaren 1:36.703 7 100.735 12:42:54 1:35.753 5 12:53:42 1:34.894 3 13:13:20
6 Carlos Sainz Ferrari 1:36.268 6 100.282 12:42:06 1:35.542 5 12:53:11 1:34.939 3 13:14:09
7 Sergio Pérez Red Bull Racing 1:36.347 5 100.364 12:37:37 1:35.718 6 12:52:50 1:35.041 3 13:14:19
8 George Russell Mercedes 1:36.281 6 100.295 12:43:27 1:35.847 3 12:57:48 1:35.199 3 13:14:44
9 Alexander Albon Williams 1:36.230 6 100.242 12:42:30 1:35.947 3 12:59:35 1:35.366 3 13:13:57
10 Pierre Gasly Alpine 1:36.595 6 100.622 12:36:41 1:35.785 3 12:59:17 1:35.897 3 13:13:35
11 Daniel Riccirado AlphaTauri 1:36.737 6 100.770 12:43:17 1:35.978 3 12:59:59
12 Fernando Alonso Aston Martin 1:36.365 6 100.383 12:42:23 1:36.087 3 12:58:33
13 Esteban Ocon Alpine 1:36.372 6 100.390 12:37:00 1:36.137 3 12:58:58
14 Lance Stroll Aston Martin 1:36.575 6 100.602 12:42:13 1:36.181 5 12:53:24
15 Zhou Guanyu Alfa Romeo 1:36.554 5 100.580 12:41:16 1:36.182 6 12:59:40
16 Nico Hülkenberg Haas 1:36.749 6 100.783 12:42:36
17 Kevin Magnussen Haas 1:36.922 6 100.963 12:42:41
18 Valtteri Bottas Alfa Romeo 1:36.922 6 100.963 12:43:04
19 Yuki Tsunoda AlphaTauri 1:36.945 5 100.987 12:36:51
20 Logan Sargeant Williams 1:37.186 6 101.238 12:43:11