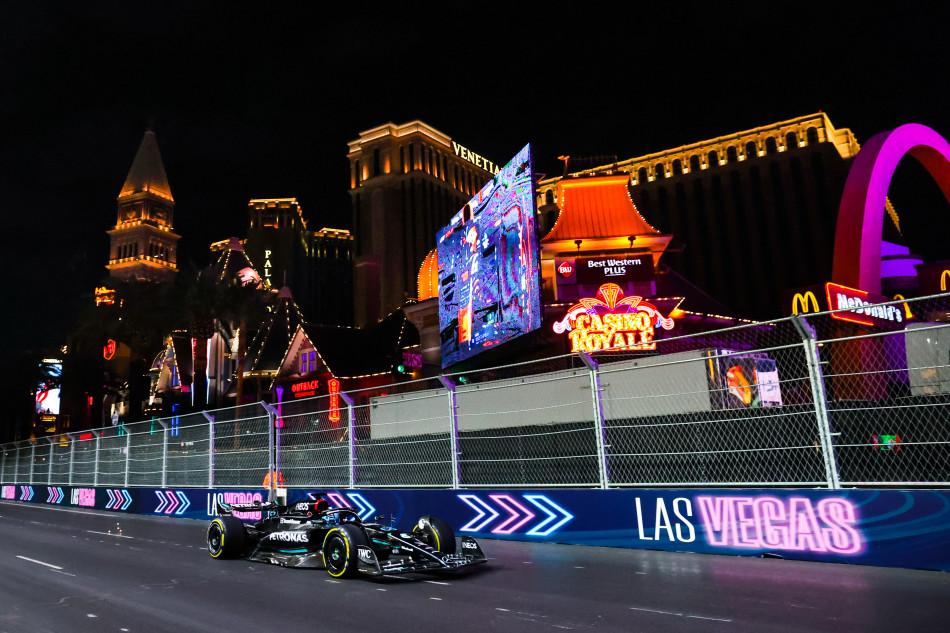 George Russell went quickest in the final practice for the 2023 FIA Formula 1 Lass Vegas Grand Prix, beating McLaren's Oscar Piastri by almost four tenths of a second in a session that ended early following a late crash involving Alex Albon.
The pace in the early part of the final hour or practice was set by Ferrari drivers Charles Leclerc and Carlos Sainz and it wasn't until the second third of the session that rivals emerged to put press on the Ferrari duo.
Red Bull's Max Verstappen and Sergio Pérez were late to the action but when they did begiun to put in times it was Pérez who took top spot thanks to a lap of 1:35.146. Verstappen was improving, however, and the world champion quickly shouldered his team-mate out of P1 thanks to a lap of 1:34.653, more than half a second clear of the Mexican.
Albon then bolted on a set of Soft tyres to jump up the timesheet and the Williams driver took place ahead of both Ferrari drivers.
After a brief lull more improvements arrives as track evolution kicked in and drivers embarked on performance runs. Russell beat Verstappen's benchmark by 0.068s. Piastri then jumped ahead of Russell before the Mercedes driver got down to 1:34.093 to take P1 for the final time before Albon's crash.
The Williams driver got momentarily out of shape into Turn 5 and though he tried to correct he hit the wall with the front left and then harder with the rear left of his car. He tried to limp back to the pit lane but lost the rear left wheel on his way back and was forced to pull over at the side of the track. With the dislodged wheel resting against the wall and with Albon's car parked in a run-off area the red flags came out. And with four minutes left on the clock, race officials ruled that the session would not be resumed.
Albon's misfortune left the door open for team-mate Logan Sargeant and the American driver took P3 ahead of Verstappen, Pérez and Albon.
Aston Martin's Fernando Alonso was seventh ahead of Mercedes' Lewis Hamilton, with Valtteri Bottas and Magnussen rounding out the top 10. Leclerc and Sainz set the best times at the top of the session and as such the gradually slid down the order as the track improved and they focused more on long running. Leclerc took P16 with his team-mate directly behind.
2023 FIA Formula 1 Las Vegas Grand Prix – Free Practice 3 
1 George Russell Mercedes 1:34.093 23 237.250
2 Oscar Piastri McLaren 1:34.491 0.398 20 236.251
3 Logan Sargeant Williams 1:34.645 0.552 17 235.866
4  Max Verstappen Red Bull Racing 1:34.653 0.560 14 235.846
5 Sergio Pérez Red Bull Racing 1:34.706 0.613 13 235.714
6 Alexander Albon Williams 1:34.726 0.633 14 235.664
7 Fernando Alonso Aston Martin 1:34.788 0.695 18 235.510
8 Lewis Hamilton Mercedes 1:34.853 0.760 24 235.349
9 Valtteri Bottas Alfa Romeo 1:34.908 0.815 18 235.213
10 Kevin Magnussen Haas 1:35.067 0.974 18 234.819
11 Lando Norris McLaren 1:35.089 0.996 17 234.765
12 Nico Hülkenberg Haas 1:35.112 1.019 17 234.708
13 Lance Stroll Aston Martin 1:35.253 1.160 20 234.361
14 Esteban Ocon Alpine 1:35.297 1.204 15 234.252
15 Zhou Guanyu Alfa Romeo 1:35.881 1.788 15 232.826
16 Charles Leclerc Ferrari 1:35.908 1.815 22 232.760
17 Carlos Sainz Ferrari 1:35.939 1.846 21 232.685
18 Yuki Tsunoda AlphaTauri 1:36.087 1.994 15 232.326
19 Pierre Gasly Alpine 1:36.485 2.392 12 231.368
20 Daniel Ricciardo AlphaTauri 1:37.778 3.685 15 228.30