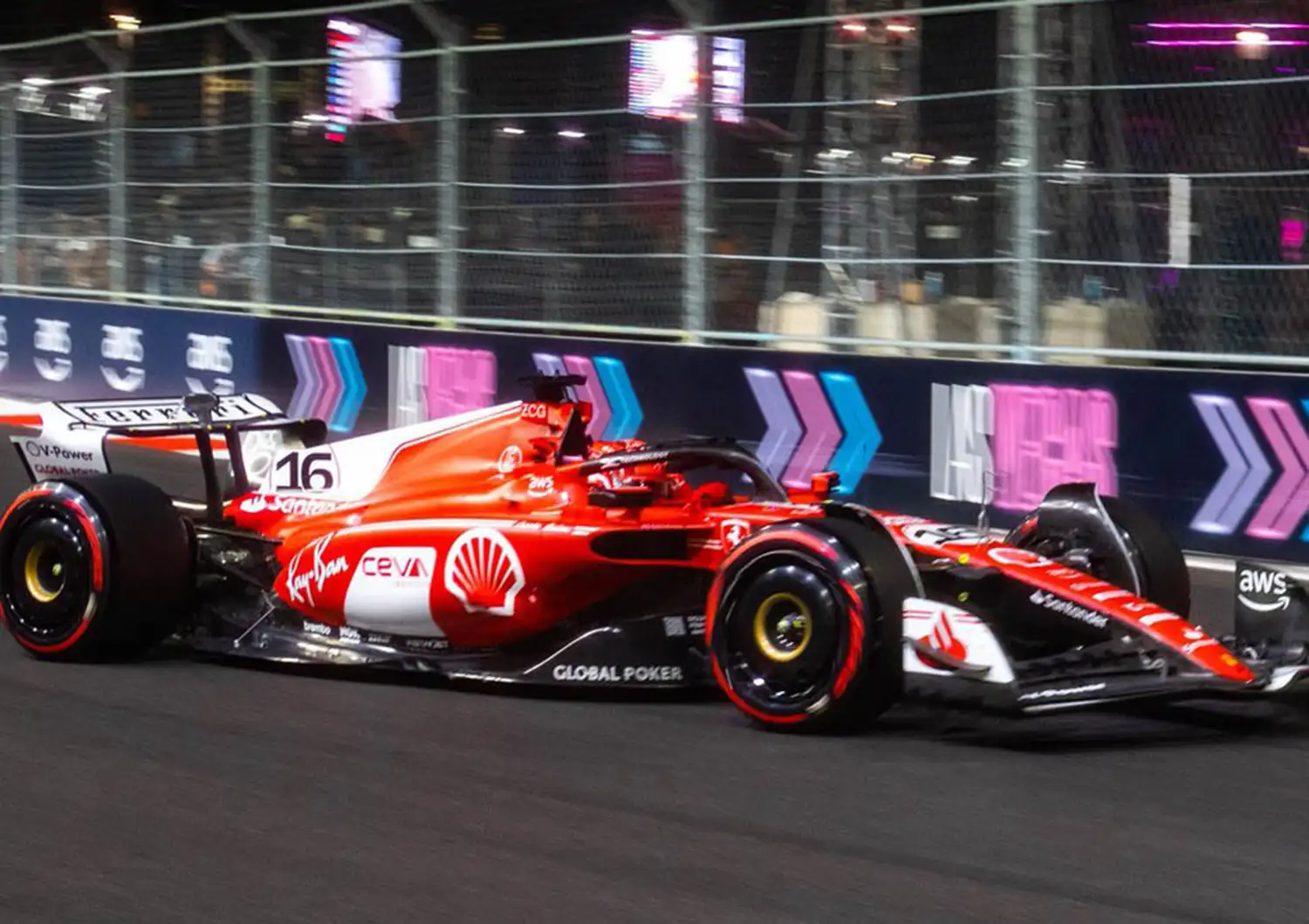 Ferrari's Charles Leclerc took a dominant fifth pole position of 2023 in qualifying for the 2023 FIA Las Vegas Grand Prix, beating team-mate Carlos Sainz and world champion Max Verstappen to the top of the timesheet, though with Sainz set to take a grid penalty the Red Bull driver will start the race from the front row.
At the start of Q1, Leclerc set the initial pace with a lap of 1:34.898. However, Verstappen was on his first flyer and when the Dutchman crossed the line, he jumped to P2 just behind the Ferrari driver.
Leclerc was already on his second run, however, and he improved significantly, stretching to nine tenths clear of the Dutchman. Sainz then moved to P2, but Red Bull's Sergio Pérez was running quicker and he jumped to second place with his second flyer of 1:34.574. Verstappen was also gearing up for a second attempt and after three personal best sectors he edged ahead of his team-mate to take P2, just 0.118s off Leclerc.
The Ferrari drivers were on track again, however, and once again Leclerc stretched the gap to Verstappen, this time to half a second, and Sainz then bumped the Dutchman to P3 at the flag.
There was no place in Q2 for either of the two McLarens, with Lando Norris and Oscar Piastri exiting in P16 and P19 respectively. Also ruled out were Alpine's Esteban Ocon in P17, Alfa Romeo's Zhou Guanyu in 18thand AlphaTauri's Yuki Tsunoda in last place.
Ferrari led the way again at the start of the middle segment, with Leclerc ahead of Sainz thanks to a lap of 1:33.965, but Pérez soon beat the Monegasque driver by 0.001s to take top spot. Aston Martin's Fernando Alonso then jumped ahead of all three, stealing P1 with a lap of 1:33.800.
Verstappen's first flyer of 1:33.607 vaulted him to the top of the order. Once again, though, the Ferrari drivers were on their second flying laps and when they crossed the line, Leclerc posted a lap of 1:32.834 to take top spot, half a second ahead of Sainz who took P2 ahead of Max.
In the final runs Leclerc found another sliver of time to top the timesheet on 1:32.775, with Sainz 0.563 behind and Russell in P3. Verstappen headed out on track for security but the Dutchman didn't improve and eased through to Q3 in fourth place.
Pérez, though, was in trouble. The Mexican pitted after his second flyer and the team opted to keep him in the garage on a 1:33.855. Track evolution was higher than expected, however, and as the flag fell the Mexican slid to P12 and out of the session. Ruled out behind the Mexican were Haas' Nico Hülkenberg, Aston Martin's Lance Stroll and AlphaTauri's Daniel Ricciardo.
In the first runs of Q3, Leclerc took provisional pole with a lap of 1:33.021, with Sainz again taking P2 just behind his team-mate. Max got close, just eight hundredths of a second off Leclerc but his lap of 1:33.104 was only good enough for P3.
In the final runs, the Ferrari pair were among the first out on track and Leclerc lowered the benchmark to 1:32.726. Seeing no possibility to beat the time, and with Sainz set for a 10-place penalty, Verstappen backed out of his final flyer and settled for a front-row spot.
Behind the Red Bull driver, Mercedes' George Russell qualified in P4, ahead of Alpine's Pierre Gasly and the Williams cars of Alex Albon and Logan Sargeant. Valtteri Bottas took eighth for Alfa Romeo with Kevin Magnussen ninth for Haas ahead of Fernando Alonso.
2023 FIA Formula 1 Las Vegas Grand Prix – Qualifying
1 Charles Leclerc Ferrari 1:32.726 – –
2 Carlos Sainz Ferrari 1:32.770 0.044 0.047
3 Max Verstappen Red Bull Racing  1:33.104 0.378 0.408
4 George Russell Mercedes 1:33.112 0.386 0.416
5 Pierre Gasly Alpine 1:33.239 0.513 0.553
6 Alexander Albon Williams 1:33.323 0.597 0.644
7 Logan Sargeant Williams 1:33.513 0.787 0.849
8 Valtteri Bottas Alfa Romeo 1:33.525 0.799 0.862
9 Kevin Magnussen Haas 1:33.537 0.811 0.875
10 Fernando Alonso Aston Martin 1:33.555 0.829 0.894
11 Lewis Hamilton Mercedes 1:33.837 1.111 1.198
12 Sergio Pérez Red Bull Racing 1:33.855 1.129 1.218
13 Nico Hülkenberg Haas 1:33.979 1.253 1.351
14 Daniel Ricciardo AlphaTauri 1:34.308 1.582 1.706
15 Lando Norris McLaren 1:34.703 1.977 2.132
16 Esteban Ocon Alpine 1:34.834 2.108 2.273
17 Zhou Guanyu Alfa Romeo 1:34.849 2.123 2.290
18 Oscar Piastri McLaren 1:34.850 2.124 2.291
19 Lance Stroll Aston Marti 1:34.199 1.473 1.589
20 Yuki Tsunoda AlphaTauri 1:36.447 3.721 4.013