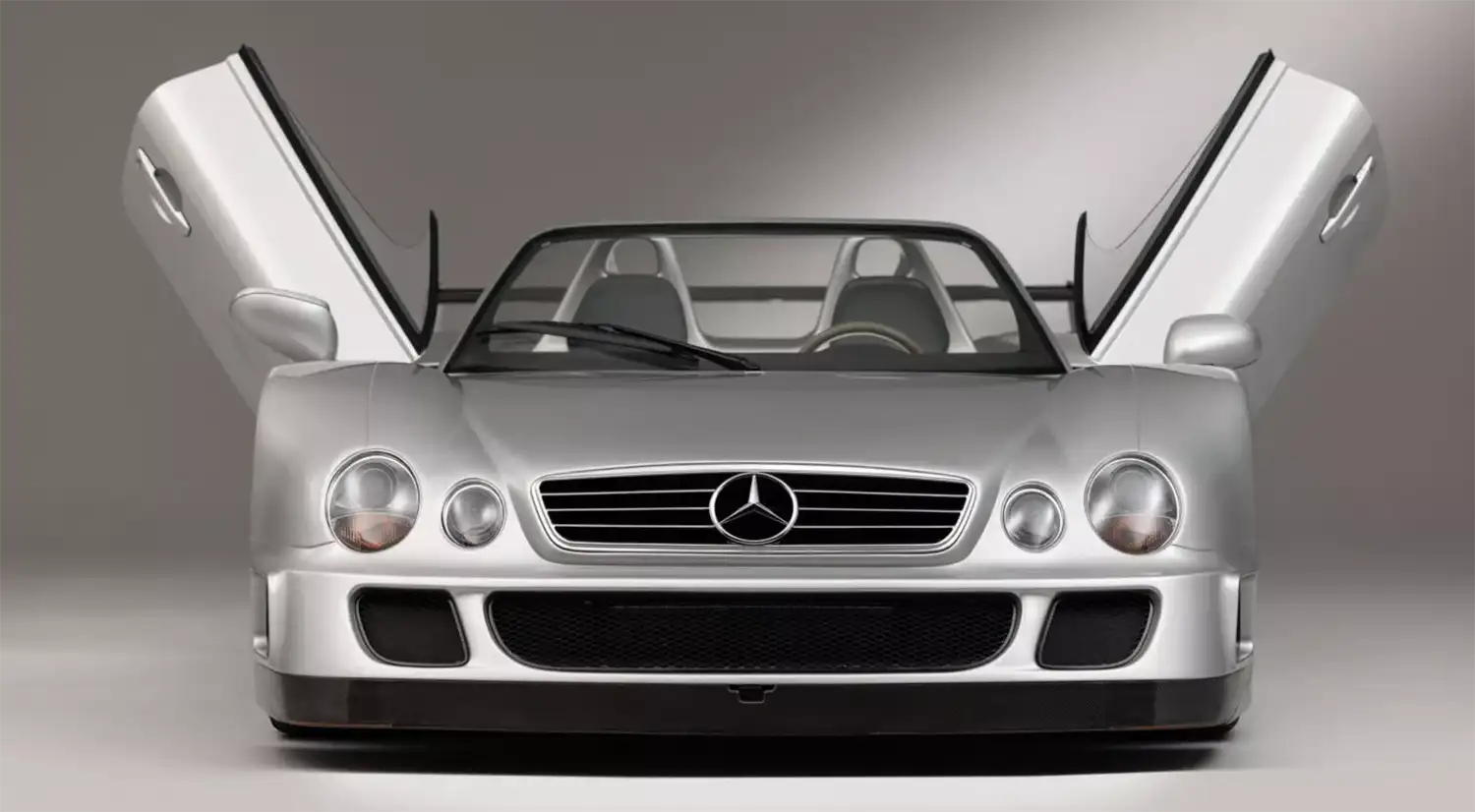 FROM COMPETITION TO CONCOURS: POLISHING A DIAMOND (source: rmsothebys.com)
Even a mere nutshell description of the Mercedes-Benz CLK GTR Roadster imparts just how special the model is: an open-top version of a homologation special whose competition iteration helped earn two consecutive Drivers' and Constructors' Championships for one of the most storied automakers on the planet.
Mercedes-Benz has left a more significant imprint on motorsports history than any other manufacturer, bar none—from the early successes of the pre-merger companies Daimler and Benz, to the record-setting interwar supercharged "Silver Arrows" of the state-sponsored factory team, to the postwar period's dominating W196 Formula One and 300 SLR racecars, up through today's seven-time F1 Constructors' Champion Mercedes-AMG Petronas. So it came as little surprise that after decades of relative abstention from factory-based competition, the Stuttgart-based automaker became a commanding winner in the German DTM series (Deutsche Tourenwagen Meisterschaft) in the 1990s with its potent C-Class racecars, the 190 E Evo variants. These cars were so unbeatable between 1994 and 1996 that the competition was literally forced to walk away, with both Opel and Alfa Romeo withdrawing from the series. Thriving on the company's newfound success, Mercedes-Benz executives wanted to continue its racing activities, but the proper venue remained a question.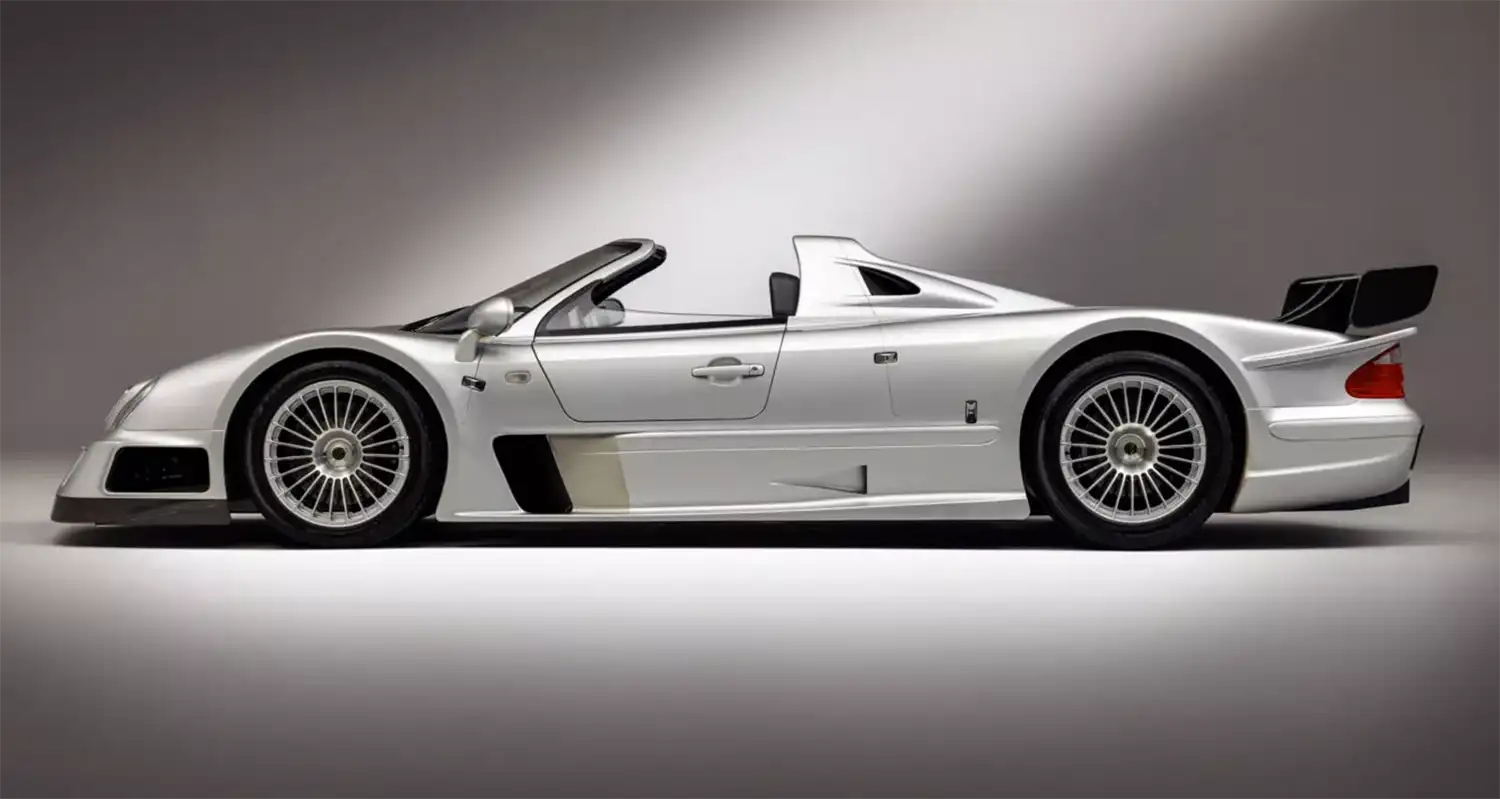 The answer came in the form of a new racing series sponsored by the FIA for 1997, the FIA GT Championship. With a very relaxed formula, this two-class series allowed for large-displacement GT1 cars that required a minimum homologation of 25 examples, and their build would prove to closely approximate the prototype racecars they were to run up against in the 24 Hours of Le Mans.
Daimler-Benz rose to this task with a lightning-fast development program that ideologically connected the new car to the successful DTM C-Class racers, even though the two models were significantly different. Freshly designed from the ground up, the CLK GTR was built with an aluminum honeycomb frame mounted with carbon-fiber body panels for a true monocoque architecture. This mid/rear-engine chassis was equipped with an evolution of Mercedes' six-liter M120 V-12, previously used in the S- and SL-Class road cars, which was fitted with titanium connecting rods and re-tuned for an increased compression of 12.0:1. In this specification, the engine developed 592 horsepower and 516 pound-feet of torque, capable of launching the car to 60 mph from a standstill in just 3.8 seconds, with an impressive top speed of 205 mph.
Power was routed through a six-speed sequential transaxle, and the chassis featured front and rear double-wishbone suspension with pull-rod coil springs, adjustable shock absorbers, and six-piston brakes with huge carbon-composite rotors. Though the CLK GTR was clearly named as an extension of the C-Class DTM examples, the new car shared almost nothing with the mass-produced CLK, save for the headlights, taillights, and rear grille.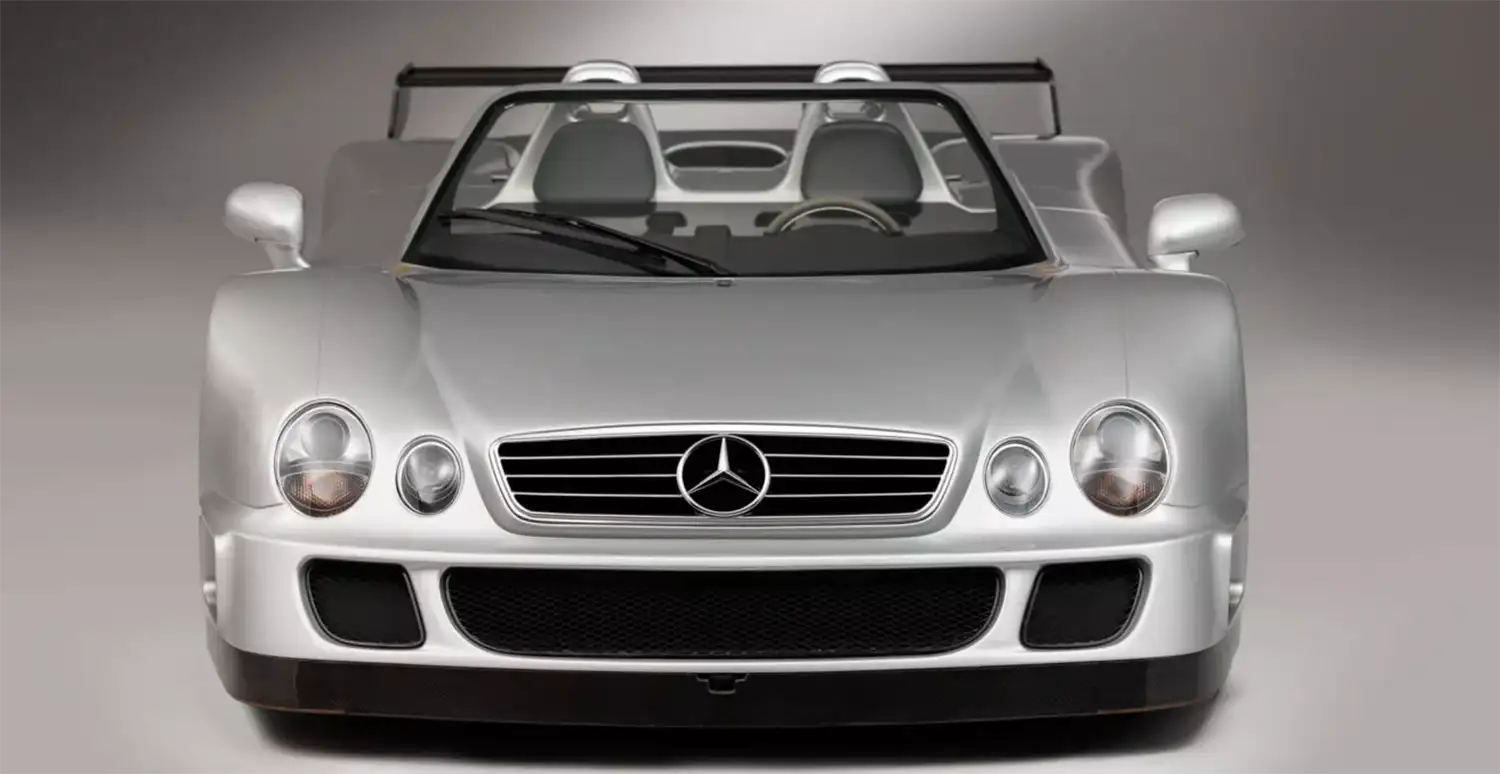 The CLK GTR more than proved its mettle on the racetrack during 1997, winning six of the series' 11 events, which were generally run as three- or four-hour races. Accumulating 13 total podium finishes across the season, the CLK GTR dominated in points, bringing Mercedes the Drivers' and Constructors' Championship in 1997 while outdueling Porsche's similarly dimensioned 911 GT1 and the accomplished McLaren F1 GTR. For 1998 the CLK GTR was factory campaigned for the season's first two events before being supplanted by a more highly developed successor, culminating in a second Driver's and Constructors' Championship.
Meanwhile, a roadgoing version of the CLK GTR, dubbed the Straßenversion, was unveiled at the 1997 Frankfurt Motor Show. Two prototypes were built after which a short production run of 20 additional cars was entrusted to the company's motorsports divisions, AMG and HWA (the latter being created as an independent racing concern by AMG founder Hans-Werner Aufrecht). For this iteration, the engine was further developed with an increased displacement of almost 6.9 liters, which improved output to 622 horsepower and 539 pound-feet of torque. Other than this improvement, the Straßenversions were mechanically nearly identical to the racecars although, as to be expected, they were far better appointed than their race-campaigned siblings, being equipped with an anti-lock brake system and offered with air conditioning, an audio system, and three upholstery options.
A single roadster version was initially built during the coupe's production run, and the result proved to be so enticing that five more examples were eventually greenlighted for production on spare CLK GTR chassis after coupe production had concluded. HWA again received a contract for the roadster build, which required a number of modifications from the original design. With the removal of the roof and its massive single air intake, the engine intakes were repositioned to the sides. Further revisions included door-mounted mirrors, integrated roll-hoops behind the seats, and a new front grille and rear wing.
As extremely rare open versions of the marque's FIA GT Championship-winning late 1990s supercar, the CLK GTR Roadster may be regarded as the pinnacle of the model's production, cementing the car's status as the apogee of twentieth-century sports car design.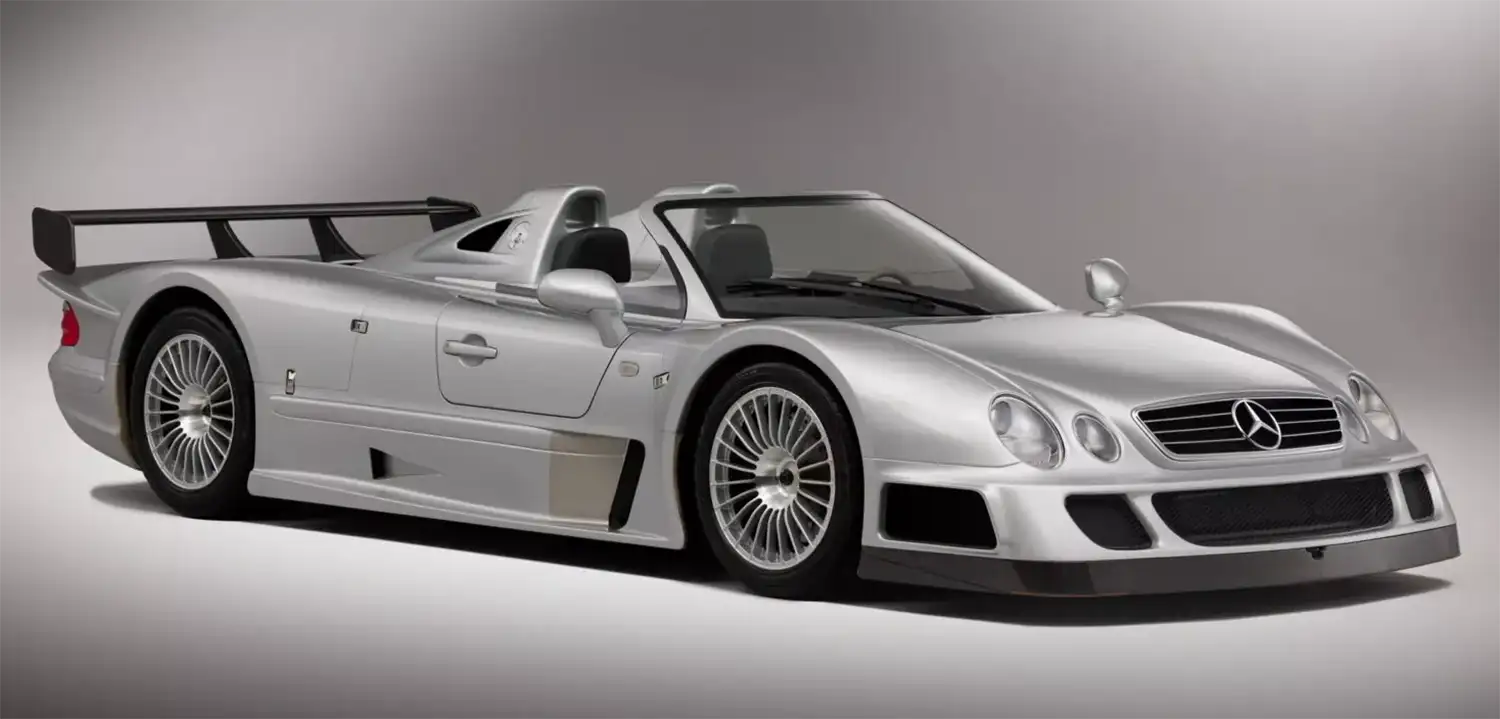 THE THIRD OF SIX
This beautifully maintained CLK GTR Roadster benefits from a life of very minimal driving use and maintenance by certified marque technicians. Chassis number 000034 is the third of the six roadster examples built, and it is finished in silver paint over a black and grey leather interior. By the early 2010s the car had been imported to the United States and federalized to conform to United States emissions standards (other than the state of California), as demonstrated by a J.K. Technologies decal. It should be noted that American bidders will have to re-register the car with the US Department of Transportation as a show-and-display vehicle only.
In August 2011 the Mercedes-Benz was titled to a collector in Wisconsin, at which point the odometer still displayed just 25 kilometers. In March 2013 this owner sold the CLK GTR to a sportscar dealer in Arkansas, who commissioned two Mercedes-Benz technicians from SPS Automotive Performance in Willsbach, Germany to fly to the United States and conduct a proper service, even though the roadster had accrued only 108 kilometers. Shortly thereafter the car was purchased by a dealer based in North Carolina and it remained there until April 2015, when it was sold to the consignor, a discerning collector based in the United Kingdom.
Displaying just 170 kilometers of driving use at the time of cataloguing, this CLK GTR Roadster is desirably accompanied by a set of fitted luggage and owner's manuals. It is documented with prior purchase contracts and titles, and a service report printed by SPS Automotive Performance summarizing their 2013 work. It should be noted that this example has been on static display since 2018 so it will require a service prior to extended road use.
Any CLK GTR Roadster coming to market is momentous. In the case of this particular example, it is even more so, given its well-documented history and extremely low mileage. For supercar completists, marque connoisseurs, or racecar aficionados seeking a singular automotive representing the reaffirmation of Mercedes-Benz's sportscar racing mastery nearly 100 years after its first successes, there is no better roadgoing model than the CLK GTR Roadster.