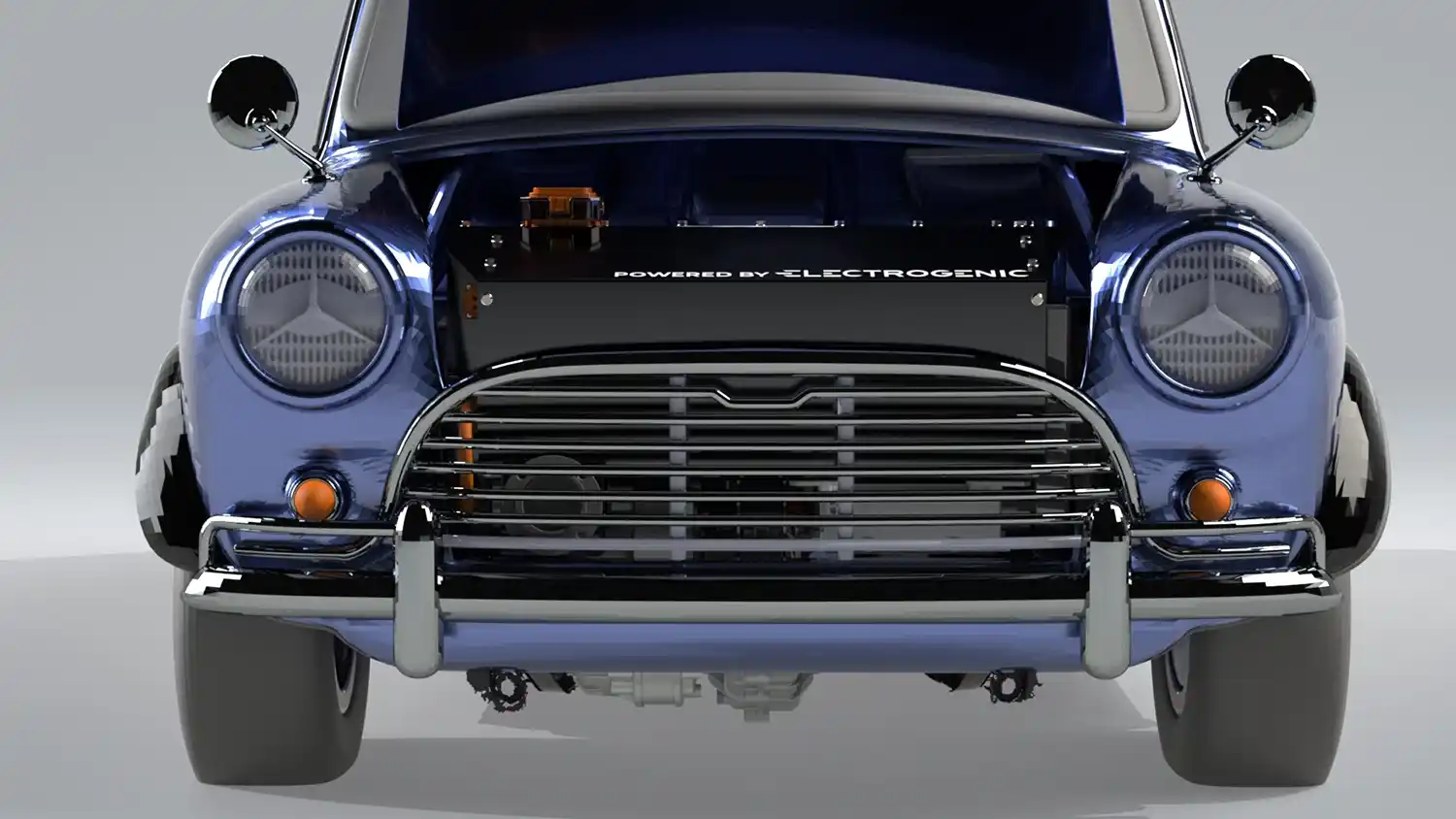 British EV technology company Electrogenic, known for its market-leading classic car EV conversions, has expanded its range of acclaimed 'drop-in' conversion kits with its most accessible yet: a cost effective 'plug and play' solution to easily electrify the classic Mini.
Electrogenic's simple to install kit converts the much-loved automotive icon to fun, clean and reliable electric drive from just £15,000 plus VAT. The drop-in Mini Kit opens up the world of electric conversions to more people than ever before.
The Mini kit further bolsters Oxford based Electrogenic's comprehensive range of drop-in packages, which already includes UK developed solutions which future-proof automotive icons such as the Land Rover Defender, Jaguar E-Type, classic Porsche 911 and Triumph Stag. The kits are offered alongside Electrogenic's bespoke conversions.
Small in Size, Packed with Tech
Electrogenic's game-changing Mini EV kit has been designed to deliver superb performance – mirroring the nippy, responsive character of the original car.
The EV technology is completely pre-assembled and pre-tested on a replacement heritage front subframe that simply replaces the old subframe with its petrol engine. It features a 60bhp, 135Nm water-cooled motor, delivering 1,000 Nm of instant electric torque to the wheels through a fixed-ratio drivetrain. The ultra-responsive electric powertrain offers great flexibility and lends the diminutive Mini real punch – ideal for navigating the cut and thrust of city driving.
Powered by 20kWh of brand-new, densely packed OEM-grade batteries, also pre-mounted on the subframe and all wired in, the electrified Mini packs 80 miles of in-town range. The Euro Type 2 charge port is also pre-mounted and can be accessed via a range of bespoke replacement front grilles.
Electrogenic will also offer an extended range option, with an additional battery pack integrated into the boot – ideal for those who want to travel a little further on their Mini adventures.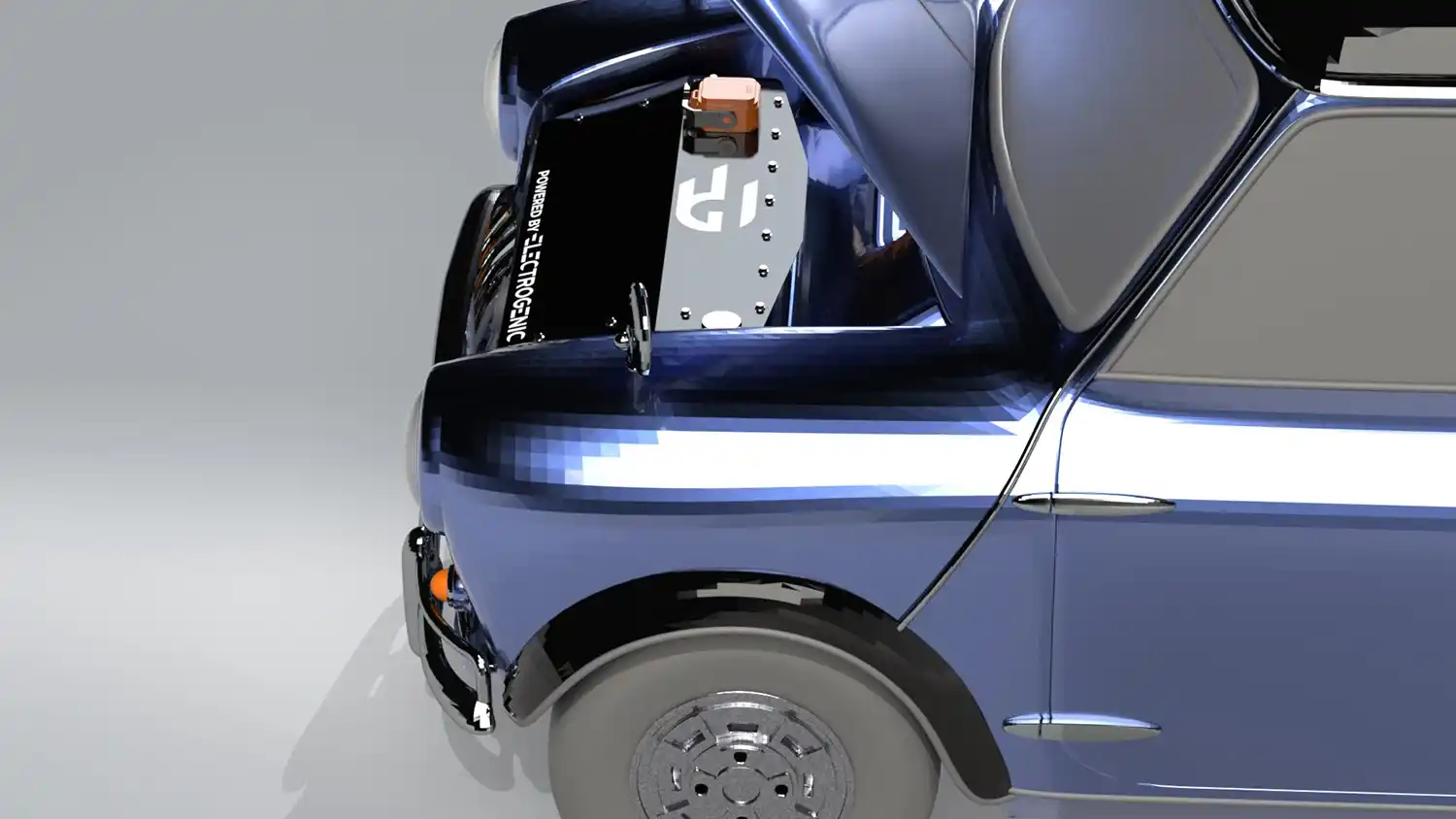 Easy to Install
Electrogenic's R&D team has also ensured the kit is as easy to install as possible; fitting can be carried out by any qualified mechanic. The package is sold as a pre-tested, fully assembled kit – entirely incorporated into a replacement front-subframe.
The installer simply bolts in the new subframe assembly and wires up the throttle and dashboard – that's it. The charging socket is also incorporated neatly into the new subframe assembly, so there's no high-voltage wiring at all.
As with all Electrogenic conversions, the cleverly packaged Mini kit slots within the existing architecture of the car, and is fully reversible.
The Mini kit will be offered via Electrogenic's fast growing global network of installer partners from Autumn 2023.
Steve Drummond, Co-Founder, Electrogenic, said: "We're delighted to reveal our game-changing 'drop-in' classic Mini EV conversion kit to the world. It delivers Electrogenic's exhaustively developed, sector-leading EV conversion technology in our most accessible package yet.
"We've converted a number of beautiful Minis over the years to electric drive, and have seen significant demand for a solution that's both easy to fit and budget-friendly. Our new drop-in kit meets those requirements perfectly; it's cost effective and simple to install, yet still delivers superb electric performance, thanks to our latest-generation EV powertrain tech.  
"It turns the iconic classic Mini into an ideal modern city machine, one that's perfect for zipping about town cleanly and reliably – and sure to bring a smile to the faces of drivers and pedestrians alike."
Background: Cutting Edge Technology, Developed in Britain
Electrogenic's drop-in kits feature the firm's sector-leading, proprietary EV technology – the tech that has underpinned the company's rapid rise and sustained growth in recent years. The kits are defined by their quality and depth of engineering, developed in-house by a research and development team comprising leading automotive engineers, programmers and electrical experts.
The range of drop-in kits reflects Electrogenic's approach of developing and manufacturing its own technology, which includes in-house designed software, printed circuit boards (PCBs) and digital dashboards, as well as vehicle management technology that can integrate any of the latest motors, battery modules, etc. to incorporate the best new tech into its conversion packages.
The drop-in kits also use highly innovative mechanical componentry, including a unique system for creating high-density battery packs, as well as exceptionally compact in-line and transverse reduction gearboxes, all manufactured in the UK. The cleverly packaged units ensure that for each 'drop-in' kit variant, the existing vehicles' existing structure and architecture is preserved. This approach ensures that all Electrogenic conversions are entirely reversible.
The 'drop-in' kit range is offered internationally through a rapidly-growing network of partner installers; these include several outfits in the USA. The kits are offered alongside Electrogenic's world-renowned bespoke conversions.