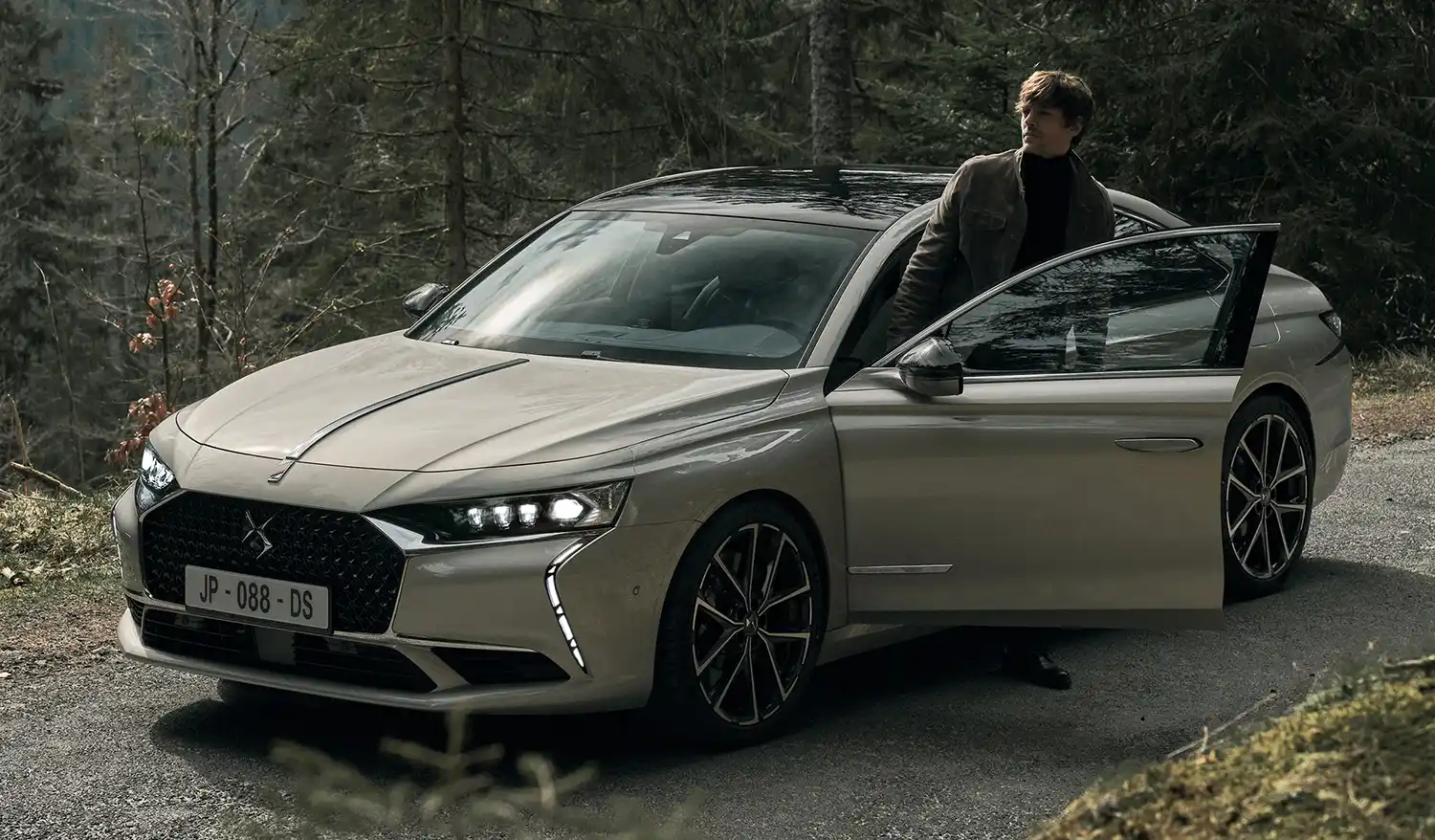 With a redesigned instrument panel, DS 9 M.Y. 23 gets the new DS IRIS SYSTEM multimedia. This features a fully revised interface that can be completely configured and personalised, and is responsive, slick and aided by IRIS natural voice recognition. The high-resolution 12″ touchscreen displays a menu made up of widgets to access all functions with a single movement controlling 3D connected navigation, air conditioning, digital audio sources and all trip data. This user-friendly screen also allows you to see a 360° view, provided by new high-resolution digital cameras, or to access the Mirror Screen, CarPlay and Android Auto functions via Wi-Fi or through two USB C ports.
Connected Navigation helps the driver by choosing the best route. It monitors traffic conditions and calculates the best routes in real time. The screen displays danger zones, including speed checks (depending on the country's legislation), weather forecasts, place and prices of petrol stations or the location of public car parks and charging stations. For open-air parking, DS IRIS SYSTEM displays the probability level of finding a parking space street by street in major cities. All updates are carried out automatically.
DS IRIS SYSTEM is connected to the MyDS mobile app which allows you to send destinations from the smartphone to the DS 9's screen, to program preconditioning of cockpit ventilation or battery charging, to consult the state of battery charge or data from previous trips, to receive proactive maintenance alerts or to use digital remote control to lock and unlock the doors, turn the lights on or sound the horn.
New OPÉRA specification
The range is growing with the creation of a third OPÉRA level of specifiation to accompany PERFORMANCE LINE + and RIVOLI +.
This range-topping offering introduces lots of standard equipment, technology such as DS ACTIVE SCAN SUSPENSION camera-controlled damping, the Extended Safety Pack with DS DRIVE ASSIST level 2 semi-autonomous driving, DS DRIVER ATTENTION MONITORING and DS NIGHT VISION, and comfort-focused such as the FOCAL Electra® sound system, the DS Lounge Pack for rear passengers, including the Premium Leather rear centre armrest, the Lounge head restraints for the outer seats, courtesy button to move the front passenger seat forwards from the rear seats, extended dual-zone automatic air conditioning and heated, massaging and cooled outer rear seats, as well as the sunroof, power bootlid, heated windscreen and alarm.
This new OPÉRA finish is offered with watchstrap design Nappa Leather upholstery in three distinct colours: OPÉRA RUBY RED, OPÉRA BASALT BLACK and a new OPÉRA PEARL GREY.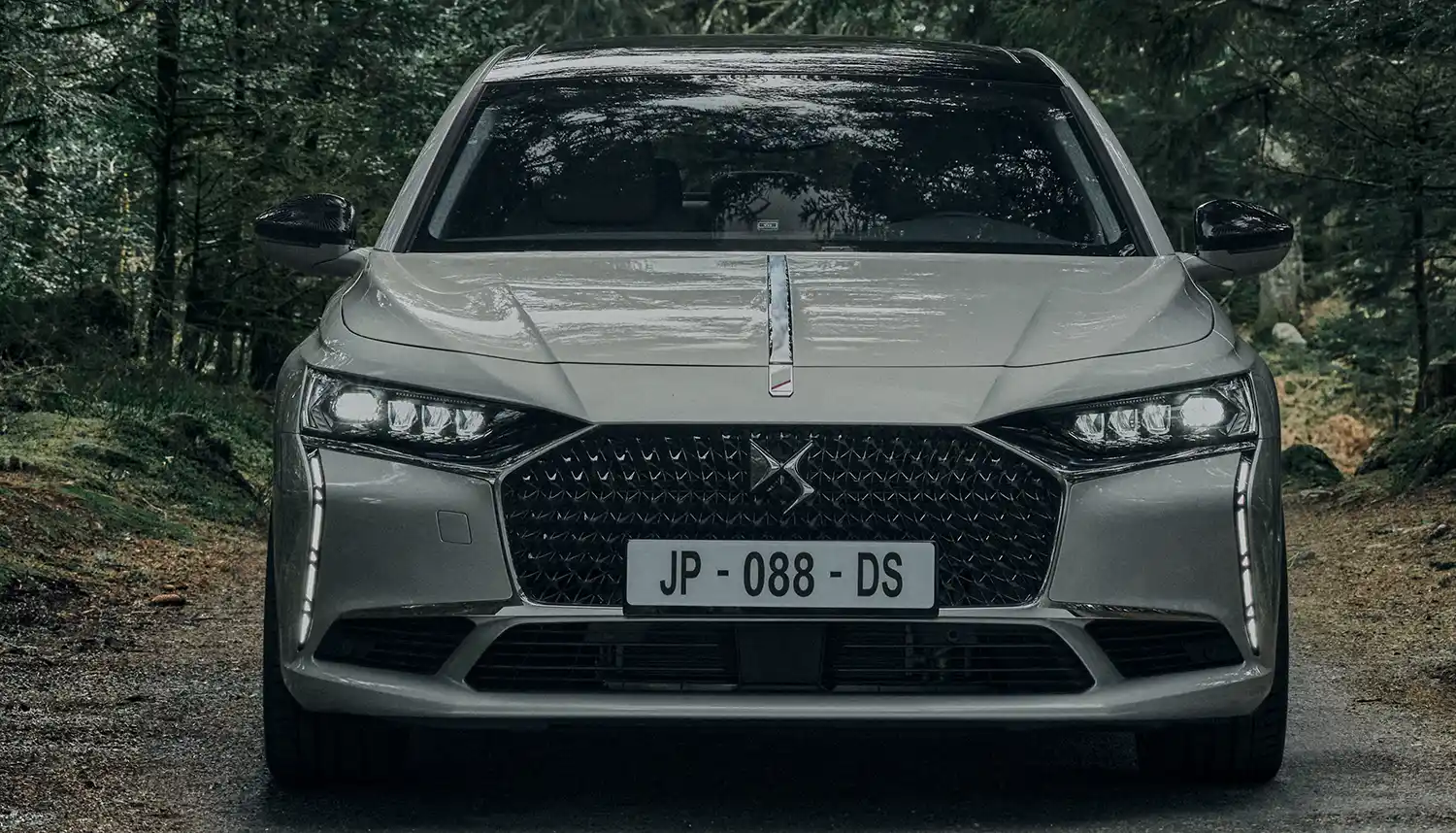 OPERA's elegance is embodied by Nappa leather on the seats enhanced with an embossed DS logo on the front of the head restraints, the centre console and the extended dashboard, regardless of the colour chosen. The RUBY RED and ART BASALT BLACK interiors also get exclusive Art Leather trim for a mesmerising look. Also new to DS 9 M.Y. 23, the Alcantara® headlining takes on a Pebble Grey colour bathing the cabin in a hushed light.
ESPRIT DE VOYAGE Collection: remarkable expertise
The ESPRIT DE VOYAGE Collection is available on DS 9 M.Y. 23. As with high fashion houses and in line with the French art of travel, DS Automobiles showcases unique refinement characterised by an exclusive pale leather interior.
Light and bright colours finish off the interior with seats entirely from Pearl Grey Nappa leather watchstrap upholstery. The centre console, dashboard and door panel trim are all in Pearl Grey Nappa Leather.
The headlining is completely clad in Pebble Grey Alcantara® and the door armrests also take up this Pearl Grey colour, as does the braid on the front and rear carpet mats, which showcase a special Zéphir stitching.
On the panel under the central screen, the Pearl Grey nappa leather is heat-embossed with a technique developed by the DS Automobiles craftspeople to give relief to this unique shape. Inherited from the iconic guilloche embossed inserts from Parisian watchmakers, Clous de Paris marks the location of the DS DESIGN STUDIO PARIS from which rays stretch tracing a map of Europe. This design created for the ESPRIT DE VOYAGE Collection is executed in multiple ways for this Collection. These lines are repeated on the sills and badges for the front doors, as well as by laser engraving on the mirror housings.
The high-quality materials accompany other cockpit features with a Basalt Black grain leather steering wheel, a Basalt Black Nappa Leather dashboard top and a Black Alcantara® rear shelf.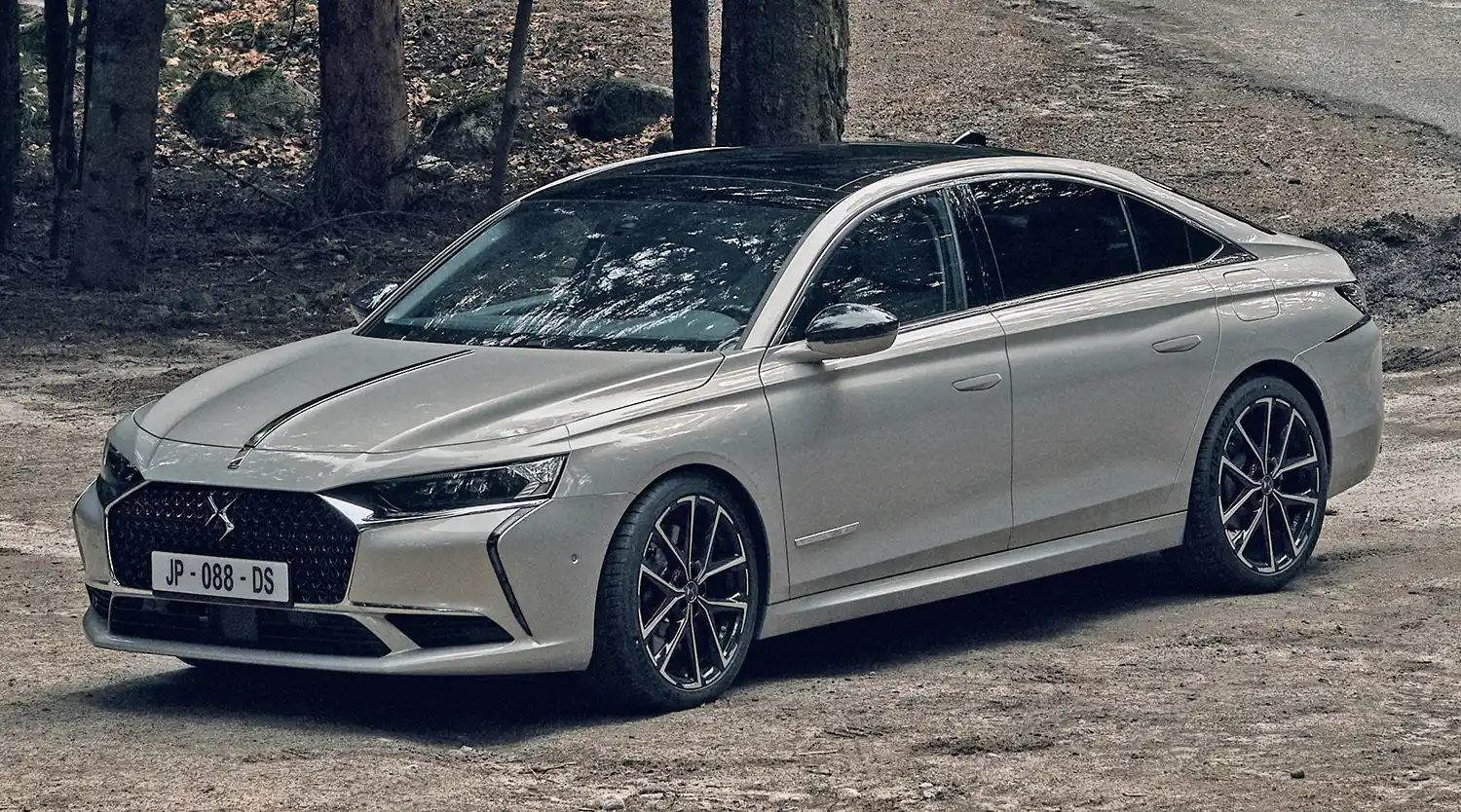 Externally, the E-TENSE 250 version stands out on new 19″ CHAMBORD wheels with matt Anthra Grey trim, while the E-TENSE 4×4 360 model retains the 20″ MUNICH wheels, fitted with Michelin Pilot Sport 4S tyres.
DS 9 M.Y. 23 ESPRIT DE VOYAGE is available in four colours: Crystal Pearl, Midnight Blue, Platinum Grey and Perla Nera Black.
100% plug-in hybrid drivetrains up to 360 horsepower
DS 9 M.Y. 23 is 100% plug-in hybrid with 250 horsepower and 360 horsepower four-wheel drive offerings.
At the top of the range, DS 9 M.Y. 23 E-TENSE 4×4 360 offers a 4-cylinder, 200 horsepower engine and two electric motors, one of 110 horsepower (integrated into the gearbox at the front) and the other 113 horsepower (linked to the rear axle), with an intelligent four-wheel drive transmission. The 15.6 kWh battery benefits from advanced management for saving energy to meet different demands.
The top speed of DS 9 M.Y. 23 E-TENSE 4×4 360 is electronically limited to 250 km/h, with the ability to reach 140 km/h on electric power alone. The 0 to 100 km/h is covered in 5.6 seconds and the 1,000-metre start-stop is completed in 25.4 seconds.
In zero-emissions mode, DS 9 M.Y. 23 E-TENSE 4×4 360 travels 65 kilometres on the WLTP urban cycle or 62 kilometres on the WLTP combined cycle. Fuel consumption is restricted to 1.5 litres / 100 km with CO2 emissions homologated to 35 g/km according to the WLTP cycle.
DS 9 E-TENSE 250 features a 200 horsepower PureTech 4-cylinder engine, accompanied by an 80 kW (110 horsepower) electric motor. The 15.6 kWh battery can travel up to 85 kilometres according to the WLTP urban cycle (EAER City used by the tax authorities) or up to 75 kilometres on the WLTP combined cycle. The 7.4 kW on-board charger enables charging from 0 to 100% in 2h23.
CO2 emissions fall to just 22 g/km with a homologated fuel consumption of 1.0 litre / 100 km according to the WLTP combined cycle.
DS 9 M.Y. 23 is sold in all DS Automobiles markets from May 2023.