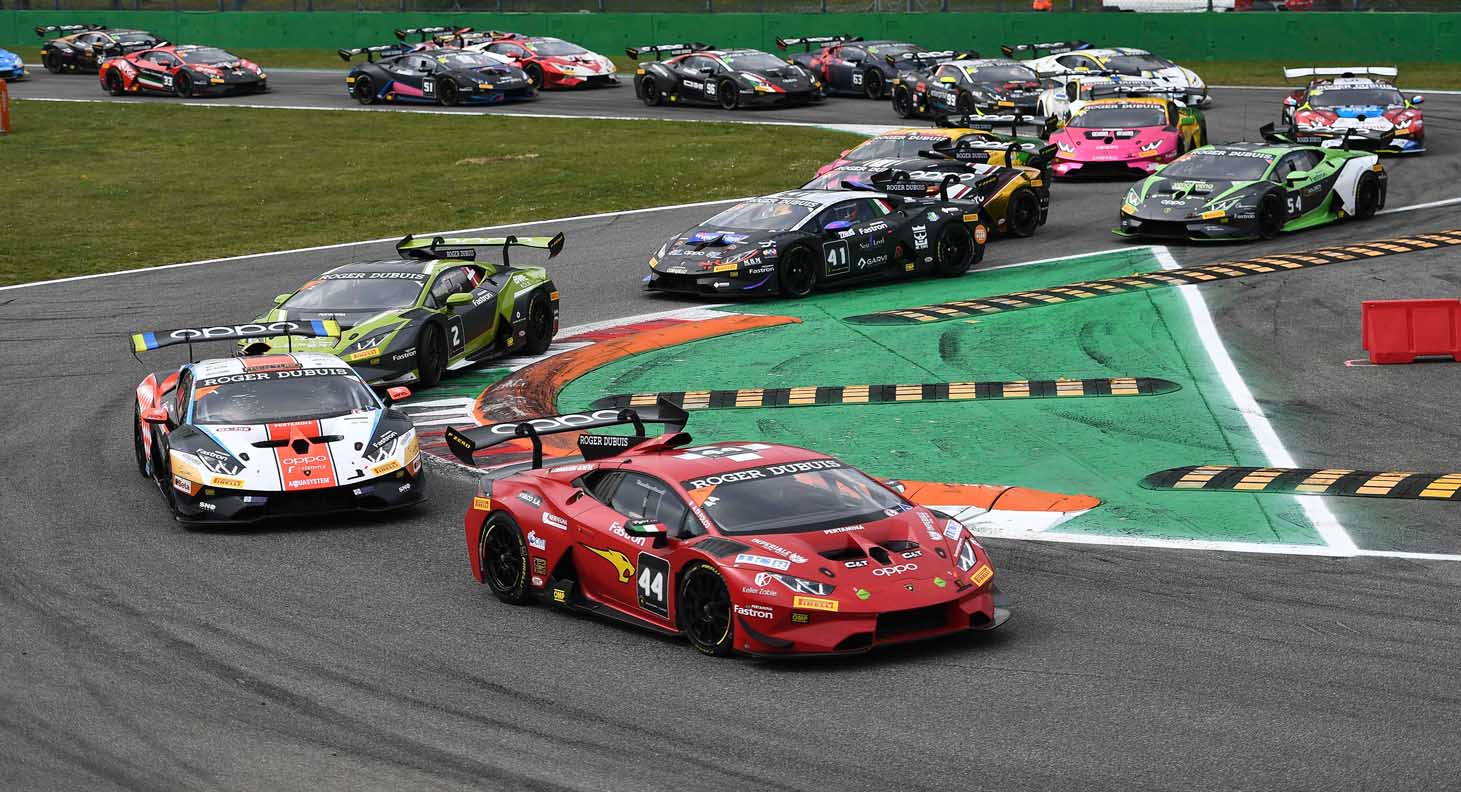 Imperiale Racing's Alberto Di Folco produced an utterly dominant performance to take a lights-to-flag victory in the second Lamborghini Super Trofeo Europe race of the weekend at Monza. The experienced Italian, driving solo, beat the Leipert Motorsport duo of Noah Watt and Sebastian Balthasar by just over eight seconds, while Raúl Guzman and Glenn van Berlo (Target Racing) completed the podium in third.
Di Folco, having taken pole position in Saturday's second qualifying session by nearly half a second, backed up his raw speed in the #44 Imperiale Racing Huracán Super Trofeo Evo by maintaining his lead off the rolling start. Unlike in Race 1, the field managed to get through the first corner without incident, as Di Folco headed the #7 GSM Racing car of fellow front-row starter Jonathan Cecotto.
Behind, Balthasar made a superb start and vaulted – almost accidently – from sixth on the grid to third at Turn 1 as the German driver in the #2 Leipert Motorsport car appeared to lock his brakes for the first corner. His subsequent recovery meant he slid past Race 1 winner Max Weering (Johan Kraan Motorsports), Milan Teekens and Guzman all in one move.
With clear air in front of him, Di Folco quickly opened up a margin of over three seconds over Cecotto who, despite having to fend off Balthasar in the early stages, remained a comfortable second ahead of the pit-stop window. Cecotto's cause was helped when Balthasar ran wide at the exit of the Ascari chicane – and briefly going through the gravel – while lapping the Lamborghini Cup #23 VS Racing entry of Kumar Prabakaran. Balthasar's excursion allowed Guzman to close up onto the back of the Leipert Motorsport car, but the places remained the same either side of the pit-stops.
Many of the top runners elected to take their mandatory stops early after the Gerhard Watzinger's #70 Leipert Motorsport Am entry went off at the second Lesmo corner while squabbling with class rival and team-mate Ray Calvin (#10 Leipert Motorsport). Race director Alain Adam was happy enough for this incident to be covered by double yellow flags and the safety car was not deemed necessary.
The safety car did, however, make an appearance for an incident at the same corner with 15 minutes remaining, as Kevin Rossel – who had taken over from erstwhile second placed Cecotto – was forced out with broken suspension following contact with Donovan Privitelio's FFF Racing Team car. It was another case of missed opportunity for Cecotto and Rossel, who struggled with set-up issues in the opening race on Saturday while running strongly. Privitelio was handed a drivethrough penalty for his part in the incident.
Although the field was bunched up for the restart, a number of lapped cars still remained between Di Folco and second-placed Watt, meaning di Folco was able to build his lead once more. He wouldn't be challenged for the remainder of the race and duly came home 8.100s clear of Watt.
The battle for third place raged in the closing 10 minutes, as van Berlo, Weering and Leonardo Pulcini (Oregon Team) worked their way through the lapped traffic. Van Berlo had been the closest challenger to Watt for second, but the Dutchman clipped the GSM Racing Pro-Am car of JM Littman at Turn 1, forcing Littman across the chicane and costing van Berlo time. Behind, Pulcini had pulled alongside Weering in an attempt to grab fourth but was boxed in behind Littman and had to hold station. The places remained as they were until the finish.
Super Trofeo Europe newcomers Daan Pijl and Erik Mayrink (#33 Bonaldi Motorsport) secured their first points in the series with a solid ninth-place finish, after being forced out on the opening lap of Race 1.
Race winner Alberto di Folco (#44 Imperiale Racing) said: "I'm very, very happy [with this victory], a one-hour race is very long so you must be fit! It's a great result because yesterday, we were a little bit unlucky to retire from the race in the first corner. I'm happy for the team because the car was mega and very fast. I want to thank all my sponsors and the team."
In Pro-Am, Karol Basz and Andrzej Lewandowski (#16 VS Racing) bounced back from their Race 1 disappointment to secure the class victory, but the Polish pairing were made to work hard from third on the grid. Class polesitters Josef Zaruba and Bromek Formanek (#66 Micanek Motorsport ACCR) led the early stages but fell behind the Oregon Team entry of Guillem Pujeu Beya and Massimo Ciglia before the pit-stops. Both dropped time in the pit-stop phase, allowing Basz – who took over from Lewandowski – to emerge in the lead. Target Racing's Andrea Cola and Dmitry Gvazava, who won Race 1, vaulted up to second and were just 1.157s in arrears of Basz at the finish.
Raffaele Giannoni (Automobile Tricolore) claimed the Am class victory after a thrilling race-long battle with Autovitesse pairing Laurent Jenny and Cedric Leimer. Giannoni started from pole but lost out to Leimer at the start and subsequently fell to third in class following the pit-stops as Race 1 winners Claude-Yves Gosselin and Renaud Kuppens (Boutsen Ginion) moved to the front. Both Giannoni and Jenny moved back ahead of Gosselin inside the final 15 minutes, with Giannoni beating Jenny by just over half a second.
Hans Fabri made it two class victories for Imperiale Racing by beating Race 1 winners Pierre Feligioni and Daniel Wasczkzinski in Lamborghini Cup, with Kumar third.