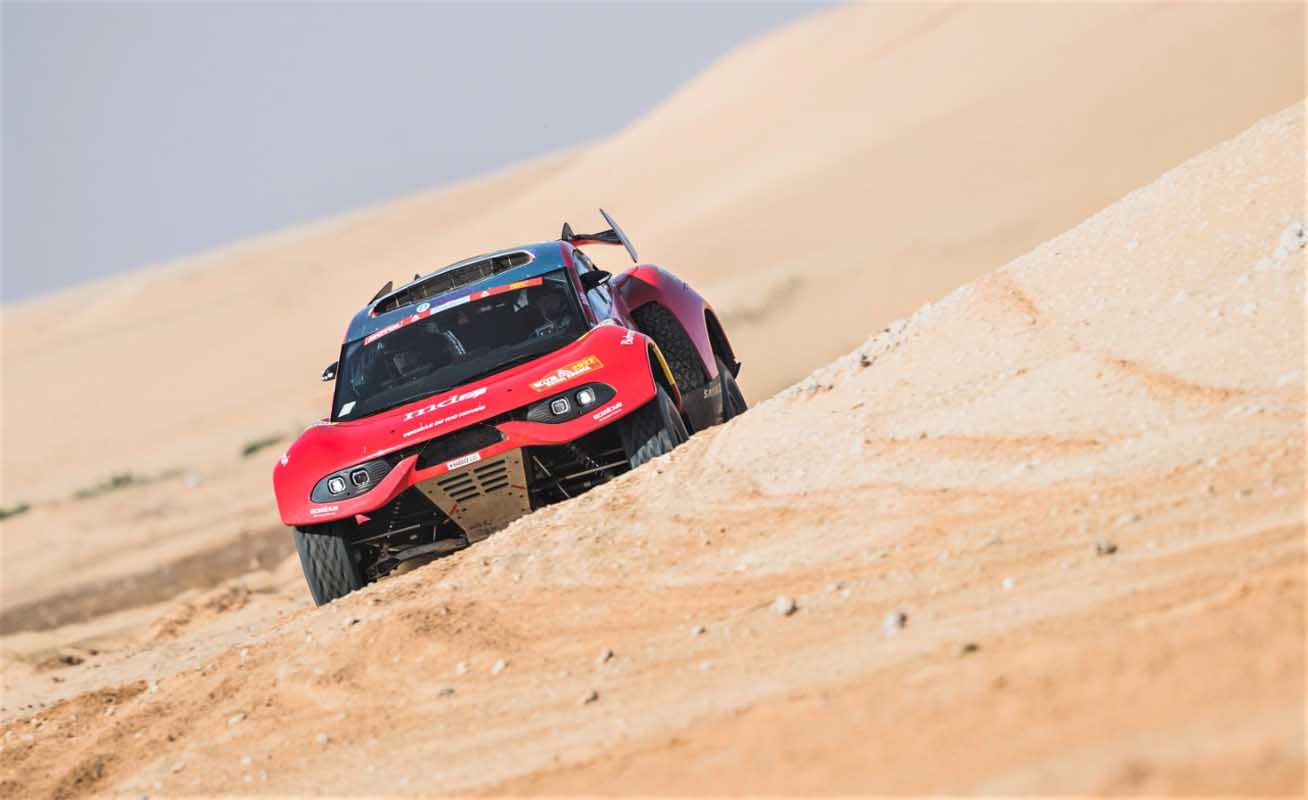 On a day when just 52 seconds separated the three quickest drivers in the world's toughest rally, Sebastien Loeb produced another inspiring Dakar display for the Bahrain Raid Xtreme to keep the pressure on Nasser Al Attiyah.
The nine-times World Rally Champion kept outright leader Al Attiyah within his sights as he recorded the second fastest time on the 465km fourth stage, just 25 secs away from the Qatari and 27 secs ahead of Carlos Sainz.
Partnered by Fabian Lurquin in one of the three BRX Prodrive Hunters, Loeb remains handily placed in second position overall, within 38 min 5 secs of Al Attiyah and 1 min 10 secs ahead of third-placed Saudi driver Yazeed Al Rajhi.
It was a fantastic reward for the whole BRX team who worked through the night to prepare the Frenchman's car for longest stage of the Dakar from Al Qaisumah to Riyadh.
The stage was a satisfying one also for Orlando Terranova and Dani Olivera, who's tenth position on the day in their BRX Hunter saw them rise to ninth place overall, with another eight specials remaining.
It could have been much better for Terranova, who was slowed when caught in the dust of Lucas Alvarez before suffering a puncture after stopping earlier to help team mate Nani Roma.
Two-time Dakar winner Roma hit a dip and rolled his car, but despite damage to a wheel managed to get going again and reach the safety of the bivouac in Riyadh where the BRX technicians quickly went to work on the Prodrive Hunter.
Loeb finished the stage to say: "We pushed all through this longest stage without taking too much of a risk, and yet still avoided the chance of a puncture or taking the wrong route. In fact, we hardly made any mistakes at all."
Terranova said: "We stopped at the start to help Nani and afterwards we had a puncture but then we had a great run passing Alvarez and Serradori, but that wasn't easy as it was so dusty."
Gus Beteli, BRX team principal, said: "With three manufacturers inside the top three and just 52 seconds between them shows how competitive this new FIA Rally Raid World Championship is.
"Seb is doing a brilliant job, and is doing what he needs to do at this point of the rally and sure there is a big gap to catch Nasser, but we're only on stage four. The car has been reliable after the problems he had yesterday so that's a great positive."